Nested in the heart of the Mayacamas Mountains, you will find the legendary Sugarloaf Ridge State Park, home of incredible mountain hikes and one of the most revered observatories in America.
Bald Moutain dominates the park, towering 2,729 feet above the landscape, and the hike to the top is pretty special. That is not the only hike in the park, far from it, there are 25 miles of trails winding their way through the mountains, made up of three different ecological systems.
Covering 3,900 acres, the area is vast, sandwiched between the Sonoma and Napa Valleys, with so much adventure packed into the landscape. Horseriding, biking, a seasonal waterfall, one of the highest peaks in Sonoma County, vistas stretching to San Francisco, all-year campsites, incredible wildflower displays, and so much more, Sugarloaf Ridge State Park has it all.
Sugarloaf Ridge State Park
---
Canyon Pony-Gate Loop
Distance: 2.1 miles
Type of Trail: Loop
Difficulty: Moderate
Elevation Gain: 653 feet
The Cayon-Pony Gate Loop takes you to some spectacular redwood forests, getting you within touching distance of these incredible, towering trees. The trail has the added bonus of featuring a seasonal waterfall, with paths bordered by mossy boulders and fern beds. It is one of the best hikes in Sugarloaf Ridge State Park.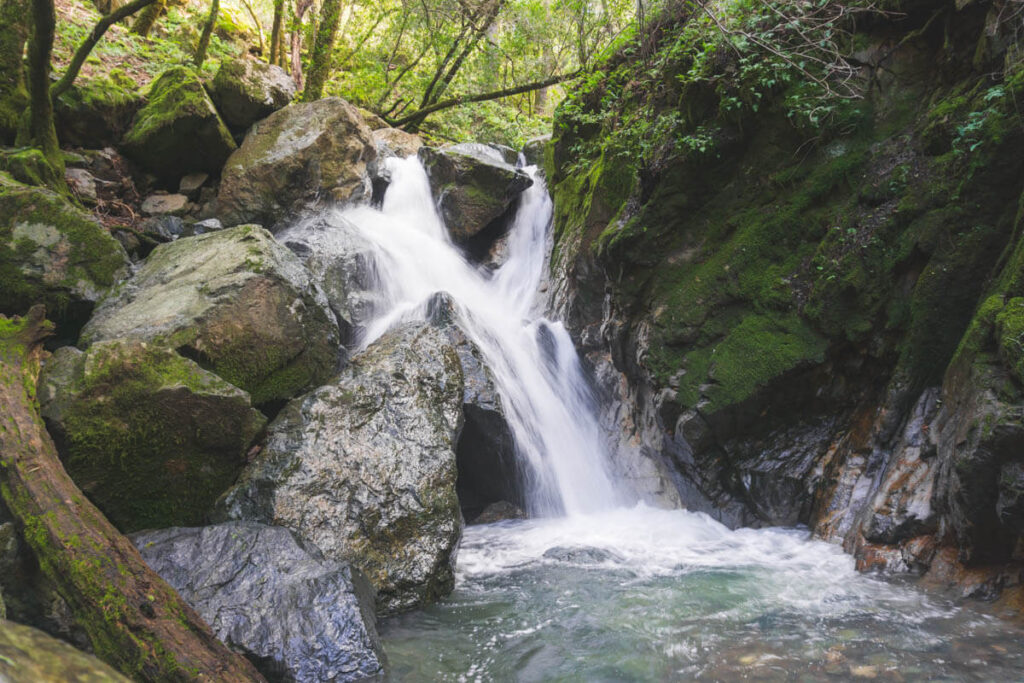 You will begin this beautiful hike by heading up a hill covered by oaks and pines, following the creek downstream. You will have the waterfall's roar as a hiking companion along much of this trail, and it won't be long until you can witness this 25-foot plunge.
The shaded trail offers the ideal respite from the hot Californian sun, although be aware what goes down must also go up, so the second half of the trail back up the Canyon Trail can be a little tiring.
Meadow Trail and Vista Trail Loop (Our Fav Hike in Sugarloaf Ridge State Park)
Distance: 4.1 miles
Type of Trail: Loop
Difficulty: Moderate
Elevation Gain: 850 feet
To see the best of what the incredible Sugarloaf Ridge State Park offers, take the Meadow Trail and Vista Trail Loop. We would describe this hike as having the perfect amount of everything, with some shade, wildflowers, meadows, creeks, and stunning views.
You will traverse several different ecosystems, with the grand finale being a spectacular vista of incredible mountain ranges.
You can take the loop in either direction, but if you go counterclockwise, you will get the steep stairs out of the way first. Once you have completed the hike, you will likely feel like you have seen the best of what the park offers. It is a good workout, so be prepared for some ascents and descents, but nothing too crazy, with plenty of views to keep you company.
Gray Pine Trail
Distance: 6.4 miles
Type of Trail: Loop
Difficulty: Moderate
Elevation Gain: 1735.6 feet
The Gray Pine Trail gives you a bit of an aerobic workout along a ridgeline. This trail shows off some of the most incredible scenery in Northern California as you head down the mountain.
As the name suggests, there are a few stretches where you will be heading into wooded sections of gray pines, but don't rely on this for much shade. You will usually be open to elements, which can often make this hike a bit tougher.
The views are beautiful throughout, which makes the strenuous climbs worth it. If it is a clear day, you can see San Francisco, over 40 miles away. While hikers are welcome, this is also a trail for mountain biking and horseback riding.
Lower Bald Mountain Trail
Distance: 5.1 miles
Type of Trail: Out & Back
Difficulty: Moderate
Elevation Gain: 1529 feet
The Lower Bald Mountain Trail is a moderately challenging route, and be aware that the majority of the first half of the trail is purely uphill. You will start going through a patch of forest, but this is all the shelter you will get, so make the most of it.
Your legs will ache, but there are incredible views the whole way up, which could make the climb a little bit easier. Most of the trail is on a fire road, so you should expect it to be in pretty good condition, and when you finally reach the top, the views will take your break away. On a clear day, you could even see San Francisco on the horizon, the ocean, the Sierras, and the south side of the Mayacamas.
Wildlife is abundant in this part of the park, and it's not uncommon for deer, hawk, and even the odd mountain lion to be spotted.
Robert Ferguson Observatory
The state park is home to the famous Robert Ferguson Observatory, well known as being one of the most incredible places to stargaze in Northern California and the largest observatory in the western United States dedicated to public viewing.
Thanks to the nightly viewings open to the public, you won't be disappointed with a visit here. If you are a real space buff, why not take a Night Sky Class, where you can learn more about the world, or many worlds, way up in the twinkling sky above?
The dark skies of Sugarloaf Ridge make it the perfect destination for the observatory. A protective ring of hills surrounds the park, meaning there is less light pollution from the nearby cities.
Sugarloaf Ridge Campgrounds
Sugarloaf Ridge State Park makes a great place to camp. There are 47 sites to pick from, and the site has plenty of comfortable amenities such as clean bathrooms and showers, picnic tables, and fire rings. It is a very popular campground, so we strongly recommend booking ahead so you are not disappointed.
The site can accommodate RVs up to 31 feet and trailers up to 28 feet, although there are no hook-ups or dump stations. If you need a tent, a tent rental service is available, and water spigots fill up the tanks.
In addition to the individual sites, there is a 50-person group site and some pretty impressive glamping facilities that feature beds, rugs, firewood, and fancy bedding.
Nearby Sugarloaf Ridge State Park
You don't have to go too far to find more things to do nearby…
Jack London State Historic Park
The Jack London State Historic Park is a park with a difference, a place where history and nature collide. It tells the story of the famous adventurer Jack London, which makes the park a fascinating place to visit. While visiting, you can explore the historic points of interest, like the House of Happy Walls Museum, Beauty Ranch, Wolf House, and the cottage.
It's not all history and ruins, though, there are 26 miles of trails that crisis cross the landscape, views for days, vineyards, places to have a picnic, seasonal waterfalls, and seas of wildflowers. No matter what time of year you visit, you are in for a treat.
Hood Mountain Regional Park
Hood Mountain Regional Park is a hiker's and mountain biker's dream. There are over 19 miles of trails in this 2000-acre wilderness, with 2730-foot Hood Mountain towering above the landscape. It has the most extensive trail system in Sonoma County, with challenging terrain and incredible vistas.
If you decide to hike here, you can expect thick forests, breathtaking meadows, tumbling creeks, and beautiful mountain landscapes. Most hikes are for experienced hikers, so ensure you come prepared and give yourself plenty of time to complete the walks.
For one of the best views, head to Gunsight Rock, outcropping above Highway 12, which offers incredible vistas of the Bay Area and the valley below. Don't forget to check out the pygmy forest!
Spring Lake Park
Spring Lake Park offers a little bit of everything for outdoor lovers. There are nearly 10 miles of trails to hike, with the most popular being the paved walk around the namesake lake, with only a slight incline, it is accessible to everyone. Other popular trails include Fisherman's Trail and Horse Loop if you fancy a path less traveled.
On hot days, people flock to the lake to enjoy the swimming lagoon, where there is even a water park in the warmer months, with lifeguards on duty during the summer. The sandy beach is inviting, with picnic sites shaded by towering redwoods.
Take your boat, kayak, or SUP and spend your day on the water, or if you don't have your own, kayaks and paddleboards can be rented directly from the park. There is also a 31-site campsite if you can't bear to tear yourself away from the beauty after only a day.
Santa Rosa
Santa Rosa is a fascinating city that lies just north of San Francisco. Its claim to fame is that it is home to the world-renowned Peanuts cartoon, and you can find out more about this in the local museum and statues around the town.
That is far from all this incredible city has to offer. There are so many museums to investigate if you are interested in learning about the history of the area, and you can't visit this vibrant city without spending some time in the iconic Railroad Square Historic District. Here you will find period buildings, cafes, and antique stores, and it provides the perfect place for a spot of people-watching.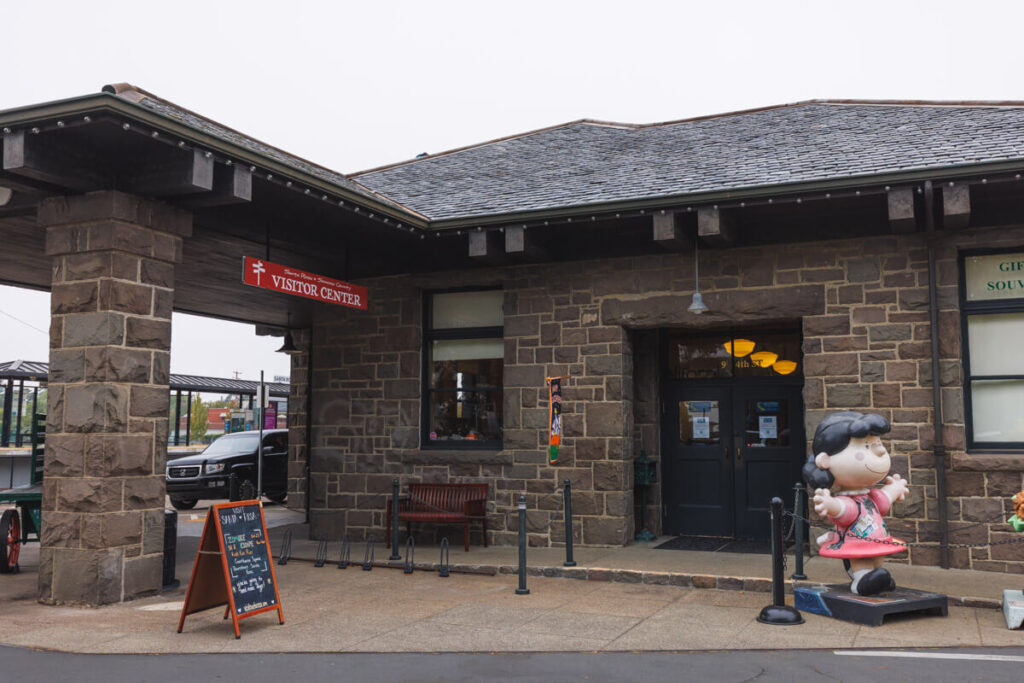 If you are in the city on a Wednesday, you are in for a treat, as the city hosts a Wednesday Night Market, where you can expect to find all sorts of delicious food stalls, live music, and other fun. It also makes for a great base to explore the many outdoor adventures that can be found around the city.
Wine and Dine!
Hey, after an adventure, you deserve it! You're right in the heart of some of California's most famous places to sit, grab a bite, and sip on wine. Obviously, Santa Rosa will be hopping with tons of options for you to choose from but don't be afraid to venture outside of the bigger cities.
Even cute little towns like Yountville have SO many places to enjoy. After grabbing a shower from exploring and hiking around Sugarloaf State Park, there are some awesome Yountville restaurants to choose from. Just north, you'll find even more in Rutherford. Honestly, your options are endless, but we're sure you worked up an appetite!
We hope this helped you plan your visit to Sugarloaf Ridge State Park!
I embark on expeditions around the world but can't get enough of California or the PNW. I'm a VW nerd with a Bug and a Bus. You can probably find me surfing or snowboarding somewhere.