With 99 miles of coastline in the county, it's hardly surprising that Monterey is blessed with some incredible beaches, chock full of outdoorsy adventures, and action-packed fun. There is a beach for about every outdoorsy activity you can think of, be it hiking along the cliffs or heading out to sea on a boat, making them all a must-visit when deciding what to do in Monterey.
Add on some marine life watching, great surfing opportunities, historically significant coastal locations, and even some of California's most gorgeous coastline and you have yourself one epic beach town to explore! I loved it here and I'm sure you'll find yourself loving it too. Here are some of the coolest things to do in Monterey…
Things To Do in Monterey
---
1. Monterey Bay Coastal Trail
To really see the beaches in all their glory, consider taking the Monterey Bay Coastal Trail, which is pretty long at 14 miles, but you can always pick and choose which parts you want to tackle. That or feel free to grab a bike and bike it instead!
The trail starts around Monterey State Beach/Castroville and ends down in Pacific Grove, and is paved for an easy hiking experience, hugging the coast the whole way. Much of the trail runs along where the tracks of the Southern Pacific Railway once ran. There are plenty of places to grab a bite to eat along the way, so you really can make a whole day of it.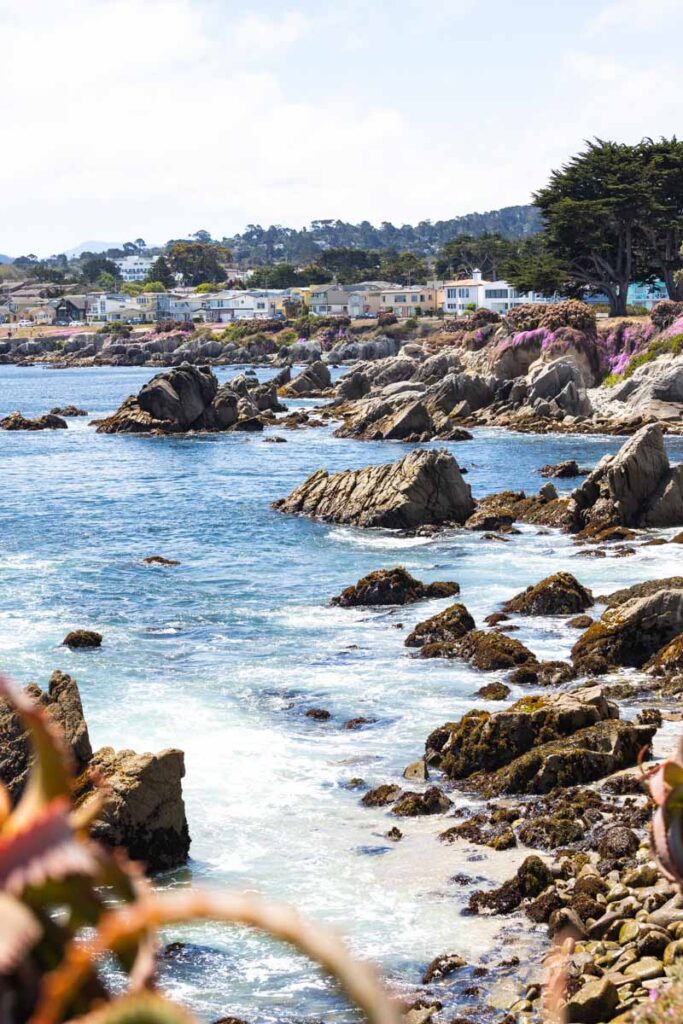 The trail will bring you up close and personal with the waves, with unparalleled views of the many fishing piers and sandy beaches. It really is a hiker's or cyclist's dream. On a weekend, you could see around 2,000 people a day hitting the trail, so head there in the off-peak season if you can.
RELATED: 27 Incredible Waterfall Hikes on the West Coast, USA
2. Whale Watching
There is something incredibly magical about seeing whales launching themselves out of the water. One of the best places to witness these majestic creatures is right off the shores, making it one of the best things to do in Monterey.
There are plenty of companies that offer whale watching tours, such as this half-day tour. Along the way, you will likely learn a thing about gray whales, humpback, and blue whales, and their habitat. You should also keep an eye out for dolphins and sea lions during your cruise.
3. Sailing Cruise
There is no better thing to do in Monterey in the evening than sailing around the shores at sunset. Live the life of luxury for the evening, sipping on a glass of the good stuff while you take in the views. Again, there are several companies along the coast that offer this kind of service.
4. Cannery Row
Cannery Row is the beating heart of Monterey and arguably the most well-known street in the city. There is no way you could plan what to do in Monterey without hitting up Cannery Row at least once, especially since it's packed with buzzing eateries, cool bars, and a number of attractions. It helps that the street is pretty attractive too.
As the name suggests, this part of the city was once the base of its booming sardine trade. It is the old canning factories themselves that have been revamped and spruced up to more than their former glory, and are now used as galleries, shops, and restaurants.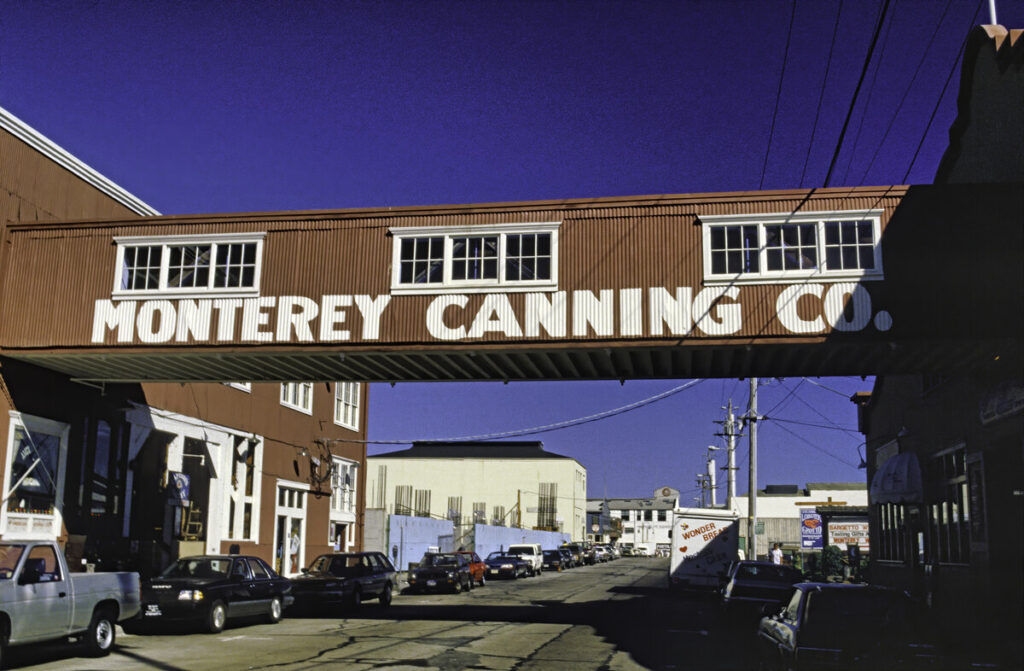 If you don't fancy taking to the streets yourself, you could also take a guided tour. For a bit of novelty value, why not jump aboard a little yellow sea car. At the very least it makes for some fantastic photo opportunities.
The car is completely GPS-guided and navigates itself, so you can cruise along the coast and into town without a care in the world, listening to fun facts about Monterey's colorful past and its many attractions.
5. Coast Guard Pier
The Coast Guard Pier juts out around 1700 feet into the bay, and on the first inspection may not look like much more than a glorified stretch of concrete, especially when comparing it to nearby bustling Old Fishermans Wharf. But for fishermen, it is nothing short of a dream.
Although the pier is open to the public, it doesn't really belong to the people. Instead, the pier seems to be owned by hundreds, possibly even thousands, of huge sea lions, taking in the Californian sun.
This is THE place to come if you want some wildlife. It is usually best to visit at low tide when the sea lions have lots of rocks to laze about on.
6. Old Fishermans Wharf
No trip to Monterey would be complete without setting foot on Old Fishermans Wharf, a feast of dining, shopping, and entertainment. You'll either love or hate it, but it's almost a Monterey right of passage.
There are tons of options for eating out, or alternatively, you can browse the many independent shops that line the wharf, with their colorful displays lining the windows.
Take your own tasting tour as you make your way down the pier, sampling endless clam chowders and delicious fresh seafood that the pier is famous for. The great thing is, you won't have to hope you get a window seat, as every table comes with incredible ocean views.
Love theater? You can even be entertained during your visit thanks to the Bruce Ariss Wharf Theatre that sits at the tip of the pier, offering a number of performances throughout the year, so you could check out what's on when deciding what to do in Monterey.
7. 17-Mile Drive (One of The BEST Things to Do in Monterey!)
Skim the edges of the Monterey Bay peninsula on this scenic 17-mile route, along which you'll hug the coastline and pass a number of incredible attractions. It's a great thing to do in Monterey and could easily take the whole day.
For a start, the natural elements on this drive are incredible, such as the rugged coastal cliffs that plunge down into the sea, magical forests, and beaches that seem to go on for miles. Although the list of stops offs along this route are seemingly endless, below are two highlights. You didn't think this was just going to be a quick round trip, did you?
Lone Cypress – The Lone Cypress is exactly as the name suggests, a Cypress standing tall and alone, battered by wind, and often cloaked in a thick fog. Although it is just a tree on a rock, it is a well-known icon of Monterey that needs to have at least one photo snapped of it to prove you've been there.
Crocker Grove – Gaze in awe at the trees towering above you when you reach Crocker Grove, home to some of the largest and oldest Cypresses in the world! Take a walk through the mist-shrouded woodlands and be transported to the world of fairytale.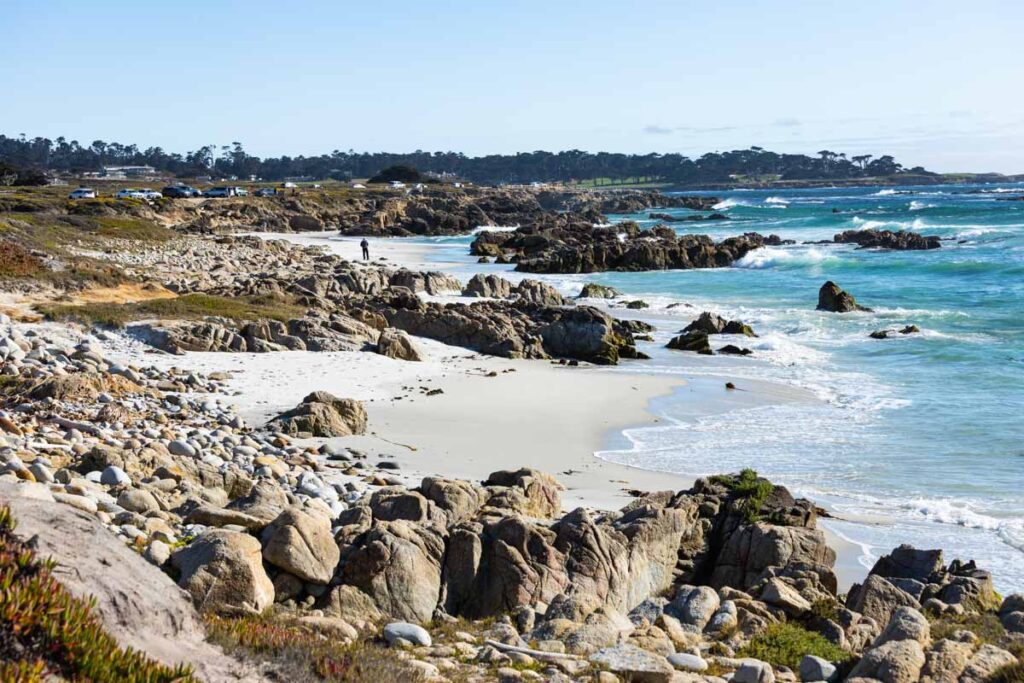 Due to its popularity, there is a small fee to take the drive, but it is 100% worth it, so pack a lunch and spend the day on the road. Although you can of course take your own car on the drive, a fun way to see the sights is on this 3-hour electric bike tour, because why not!?
8. Surfing in Monterey
You can catch some serious waves in Monterey, so don that wetsuit and hit up some of the best spots. There are options for both beginners and experts, here are a few of the best.
Asilomar State Beach
You couldn't have a list of the best surf spots and what to do in Monterey without mentioning the epic Asilomar State Beach. It is an incredibly popular stretch of beach with pounding waves the majority of the year.
Despite the waves, the waters can be full of kayakers and other vessels, so if crowded surfing isn't for you, you might want to head to one of the lesser-known surfing spots. (Or at the least get to this spot EARLY!)
Carmel Beach
Carmel Beach is another great one and offers perfect surfing conditions day after day, as well as some pretty spectacular sunsets.
The almost direct westerly orientation means the swells can be huge during the fall and winter, so tends to be visited by the more experienced surfer. It is a pretty stunning destination, located at the foot of Ocean Avenue.
Monterey State Beach
If you're a beginner surfer, then Monterey State Beach is a good bet. Be aware that you are not going to be the only one in the water, in fact, far from it.
On peak days the waves are full of kayakers, swimmers, and scuba divers, but it must be popular for a reason, right? Its saving grace is that this California beach is huge, so there should be plenty of room for everyone to enjoy the many recreational activities it offers.
Lovers Point
Another surfing hot spot with pretty consistent swells is Lovers Point. Surfing here is pretty new, but it is certainly growing in popularity, with the many picnickers along the shores settling down to watch the show.
The opposite to Carmel Beach, Lovers Point is an incredible destination to watch the sun rise over the water, one of the only spots on the West Coast, in fact. Get there early with your surfing gear to witness something pretty special.
Speaking of Lover's Point…
9. Lovers Point
When you think of Lovers Point you may be imagining a romantic outcrop where fateful lovers go to propose or gaze out at the stars. It's not exactly like that but is still a pretty cool place to visit. The park and beach is actually a hotspot for beach and boat lovers, which is definitely better.
Take a picnic, your camera, or even a blank canvas to do some painting as avid artists often do, and make use of the fact that this east-facing part of the West Coast allows you to see the sun rising over the water.
With consistent waves, surfers often make Lovers Point their Monterey go-to, whereas divers find it a good starting point to delve beneath the waves and venture into the dense kelp forests.
Lovers Point Park is the perfect spot for a bit of sunbathing, and the rocks around the park provide the perfect vantage point for views out over the bay, so add it to your list of things to do in Monterey.
Kayaking is also a huge deal in Monterey, providing a fun yet surprisingly efficient way to check out the local wildlife and get up close to the close. If you want to head up a notch on the adventure rating, stand-up paddleboarding offers similar vibes. Pacific Grove Adventures can help rent out gear for your day out on the water.
For those that are looking to experience the wonders of the kelp forest under the waves, suit up and experience a magical world full of wolf eels, harbor seals, sea lions, and anemones.
There are plenty of dive shops to kit you out but definitely call first to talk about conditions. The waters can get stirred up here and dive trips can get canceled due to visibility.
Many dive around Lover's Point but most of the shops for rental gear are just south of it.
Things To Do Around Monterey, California
10. Garapatta State Park and Big Sur
Deep within the beauty of the Big Sur area, you'll find stunning Garapatta State Park, a relatively unknown stretch of paradise, where the fact that you may have it all to yourself makes it all the more appealing.
The miles of hiking trails allow you to explore the coast without bumping into endless hoards of tourists and dog walkers, while secret paths twist their way into groves of mighty Redwoods. The Soberanes Canyon Trail is not to be missed, taking you away from the coast and offering views instead of the impressive Santa Lucia Mountain Range.
During the winter migration, whales regularly pass this section of shoreline, you won't even need binoculars from the lofty elevation of Soberanes Point.
11. Carmel by the Sea (My Favorite Thing to Do Near Monterey!)
For the unsuspecting traveler, Carmel by the Sea may seem like just another California beach town, yet its picture-perfect setting makes it a true gem. This definitely should be an add-on to your trip when planning what to do in Monterey.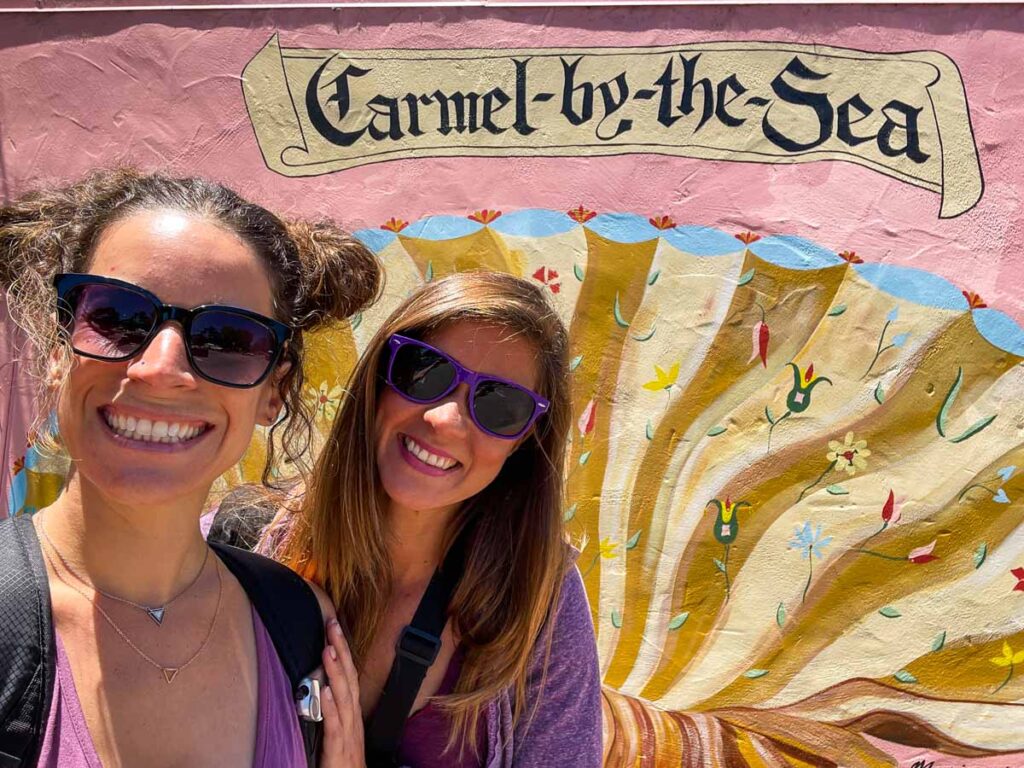 There are plenty of local restaurants to choose from, be it something a little upscale or something to grab and go to, there is an eatery for even the fussiest eater. Mission Ranch has a real reputation for its delicious brunch, so why not treat yourself?
There is an abundance of hiking trails in the area. If you're just on a flying visit then the Carmel Meadows Trail is a good option as it is relatively short, yet still packs a lot of punch in terms of beauty. Point Lobo's State Reserve is a cute little spot, and if you are quiet enough you may get a glimpse of some of the playful sea otters that frolic in the shallows around Carmel.
RELATED: California Road Trip Itinerary: 19 Must-Visit Stops!
12. Point Lobos
The Point Lobos area plays host to some pretty epic trails that will take you to the park's highlights, taking in the views and scenery along the way. There are way too many to list, so here are just some of the best.
Sea Lion Point Trail – If you fancy a short and sweet jaunt, Sea Lion Point Trail is less than half a mile. As the name suggests, it offers some of the best views of sea lions rocks, and just incredible ocean views in general, to be honest.
You should see plenty of harbor seals, and if you're lucky, maybe even the odd sea otter frolicking in the kelp. And of course, you should be able to spot the many sea lions, huddling on the rocky islets just off of the shore. You will know you are in the right place as you will hear the sea lions long before you can see them!
Bird Island, South Plateau Trail, and Mound Meadow Trail Loop – This loop is a little longer, showcasing the park's many highlights, including the chance to get up close and personal to the sea lions, and see Bird Island off of the shore.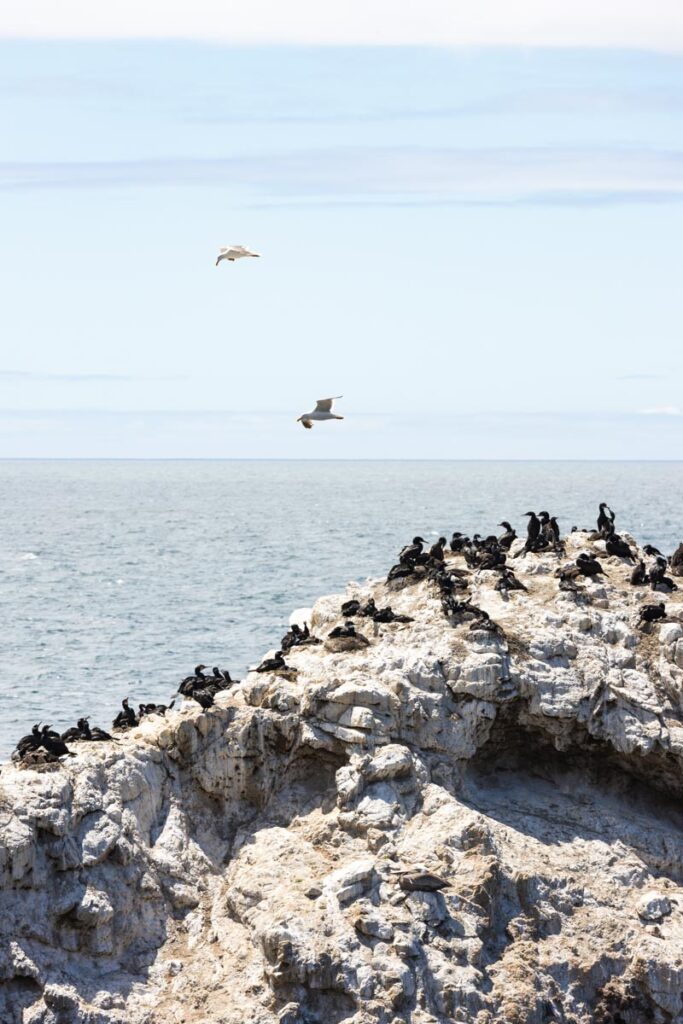 Point Lobos Loop Trail – When I say the park gets busy, I mean there is nowhere to park busy, which means you may be forced to find a spot outside the park's boundary. But that's okay because it just means you'll be able to explore the park on foot via the Point Lobos Loop Trail, which basically takes you around the entire park, with incredible ocean views around each corner.
Where to Stay in Monterey
Laguna Seca – Yes, this is a raceway and a campground in one! While this is a bit of a weird spot with nonpotable water and a raceway surrounding it, it also happens to have great views of Monterey and is one of the cheapest spots in town.
Veteran's Memorial Park Camping – Just a mile from downtown Monterey you'll find 50 acres of park with 40 campsites – 30 of them suitable for trailers.
Ocean Wave – The famous Cannery Row will be at your doorstep with this bright and modern condo.
Pacific Grove Retreat – Groups or families will love this three-bedroom home that offers ocean views from most rooms, and is just a short walk from downtown Pacific Grove.
Little Jewel Box – Beautifully renovated cottage in the heart of Monterey with a private terraced garden.
We hope this helped you find some of the best things to do in Monterey for your visit!
I've been perpetually traveling and living around the world for years but it's hard to beat California and the PNW. After years of road-tripping the area, I guess you can say I know it pretty well! When I'm not writing guides for you, you can catch me somewhere petting a dog, attempting to surf, hiking a volcano, or stuffing my face with bread and cheese.