The Big Sur drive is one of the most incredible drives in the US, no scrap that—in the world!
The views are incredible, with hundred-foot cliffs plunging to an angry ocean, smashing against the unique rock formations and coves. Although you could do the 90-mile drive without getting out of the car and still be blown away, there are endless things to do in Big Sur, with places to stop and take it all in.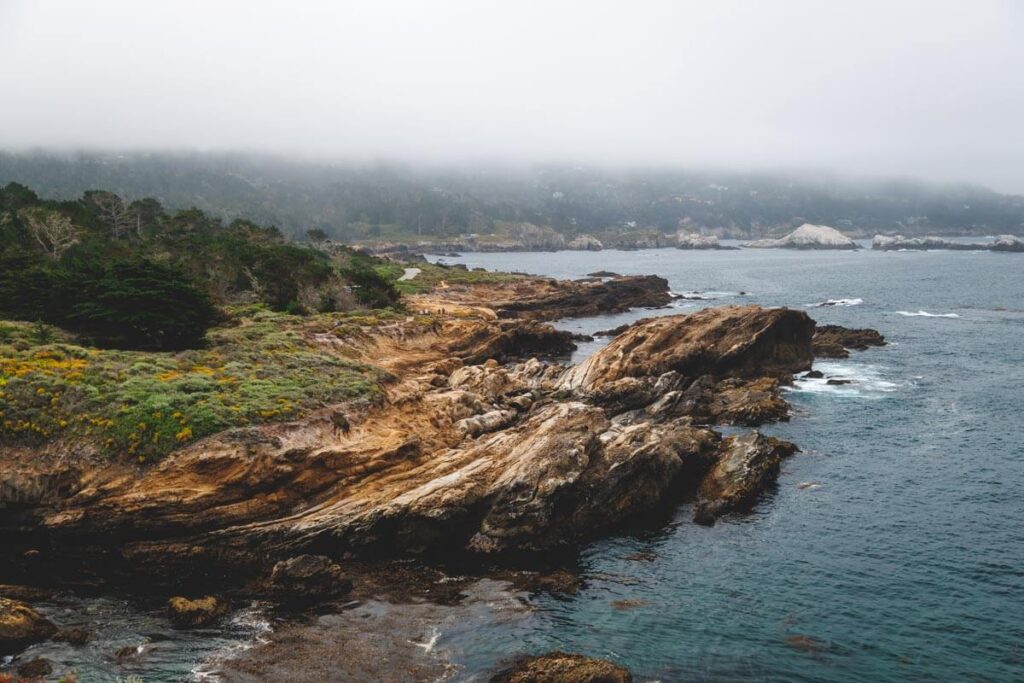 If you have the time, you would be silly not to stop at least a couple of times to explore the fog-shrouded redwoods, hidden hikes to stunning coves, and some of the best overlooks of the Californian coast that you will ever witness.
But what is Big Sur? It can be quite confusing as it's not a defined thing. It's not a town, it's not a road… it's just sort of an area and a beautiful one at that. The area stretches between Carmel and San Simeon, with the wide expanse of the Pacific Ocean to the west and the Santa Lucia mountains to the east.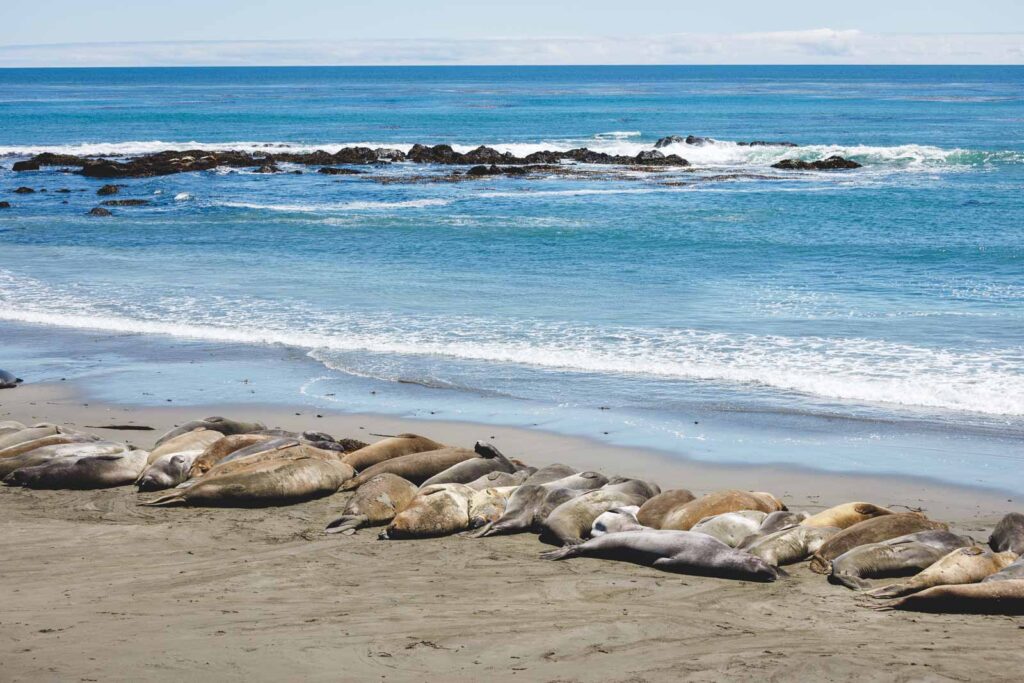 Despite being one of the most popular places to drive in California, this whole coastline remains mainly unpopulated and undeveloped, giving you the perfect chance to take in California's beautiful, rugged, and wild coastline via the easily drivable Highway 1.
The name 'Big Sur' may seem a little random, but it was named by Spanish settlers who were living on the Monterey Peninsula and often referred to this stretch of land as 'El Sur Grande,' and to this day, when you take this coastal drive, you will be able to see why 'The Big South' name stuck.
Big Sur Drive—Everything You Need to Know!
---
If you couldn't tell from above, this just might be one of our favorite drives in the world! And we travel A LOT. The Big Sur drive is well worth it, but we can't lie, this area can get hectic, and you should be prepared before coming here so you can better plan your trip.
Before we get into the things to do in Big Sur, here are some tips to keep handy.
Tips for Driving Big Sur:
Take Your Time: Highway 1 through Big Sur offers breathtaking vistas at every turn. Don't rush; plan extra time in your itinerary to stop and enjoy the views.
Fuel Up: Gas stations can be scarce in Big Sur, so fill up your tank before you head out. Fill up in Cambria in the south and Monterey in the north.
Check Road Conditions: The road can occasionally be closed due to landslides or other natural events. This is very common for the road in Big Sur! Check here before driving (enter "1").
Stay Alert: The winding roads and steep cliffs require your full attention. Avoid distractions and be cautious of oncoming traffic.
Pack Essentials: Bring essentials like water, snacks, and a first-aid kit, as services are limited in some areas.
Drive Safely: Adhere to speed limits, and be aware of wildlife on the road, especially during dawn and dusk.
Respect the Environment: Leave no trace. Keep the area clean, stay on designated paths, and don't disturb wildlife.
Overnight Stays: If you plan to stay overnight, make reservations well in advance, as accommodations can fill up quickly, especially during peak seasons.
Check Weather: Big Sur's weather can be unpredictable. Check the forecast and be prepared for changing conditions.
RVs and Campers: Note if you're a big rig, you won't be able to stop too often as most pullouts are small, and some lots can't accommodate large RVs.
North to South: If you have a choice, we recommend going from North to South when driving Big Sur. Simply because all the pull-offs will already be on your side, making stopping easier and safer.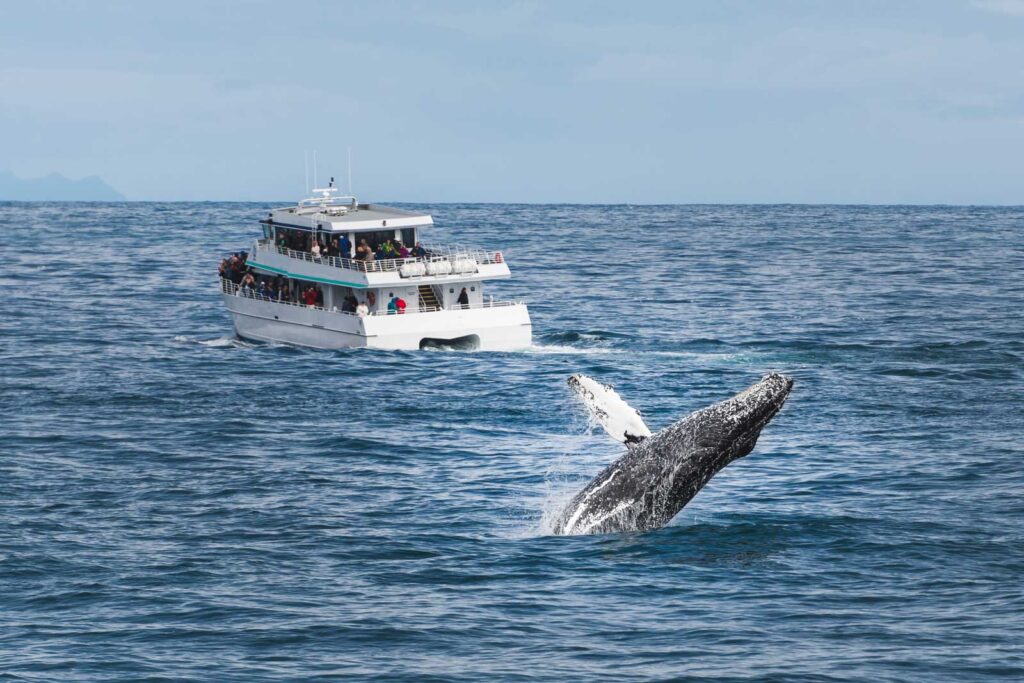 Best Time to Drive Big Sur:
Big Sur's beauty is on display year-round, but the ideal time for your visit depends on your preferences:
Spring (March – May): Spring is a fantastic time to visit. Wildflowers bloom, and temperatures are mild. It's less crowded than summer, making it easier to find accommodations.
Summer (June – August): Summer is peak tourist season with warm, sunny days. However, it can be crowded, so book accommodations well in advance if you plan to visit during this time.
Fall (September – November): Fall offers pleasant weather and fewer crowds compared to summer. The foliage starts to change colors, creating a beautiful backdrop.
Winter (December – February): While it's the off-season, winter in Big Sur can be surprisingly serene. The landscape is green, and you'll have more solitude, but be prepared for cooler temperatures and potential rainfall.
Whale Watching: If you're interested in whale watching, visit during the winter or spring months when gray whales migrate along the coast.
The Best Things to Do in Big Sur!
OK, finally, let's get into it! For the purpose of this post, and since this is the way we always drive Big Sur, we are starting in the north and making our way south. This is our recommended way of doing this trip if you have the option!
1. Discover All There is to Do in Monterey
Okay, technically, Monterey is not part of the Big Sur drive, but if this is where you are starting, it is where you are going to want to fill up the car and pack the snacks. It is the last bit of profound civilization you are going to see for a while.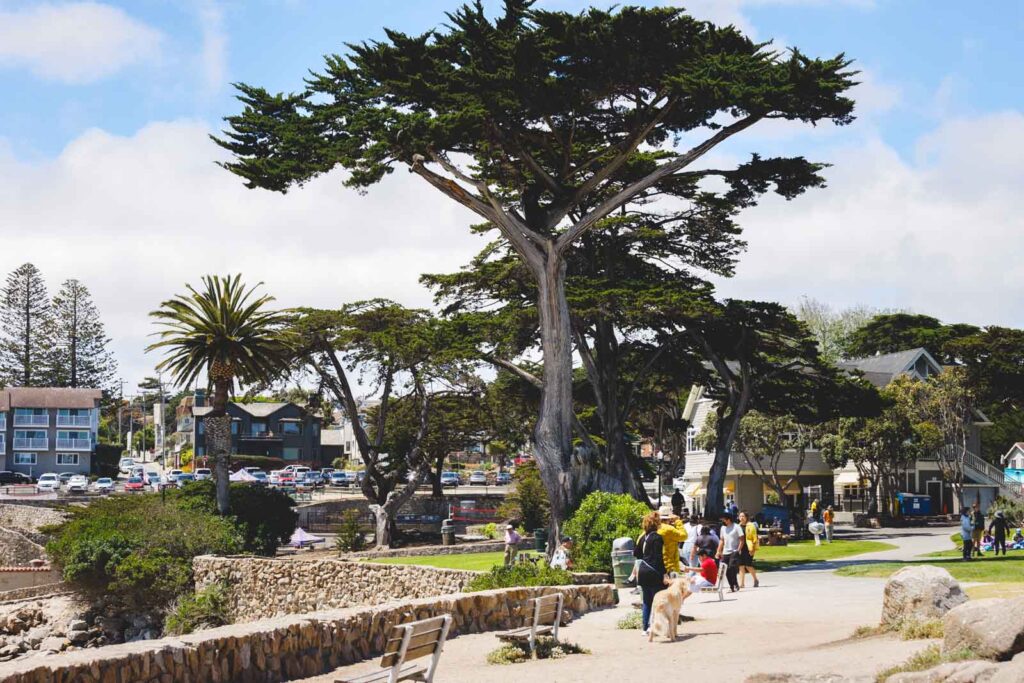 Many people know Monterey for its world-renowned aquarium or for the delicious, creamy clam chowder served right out of a steaming bread bowl, but this vibrant coastal town is so much more than that. You could spend a week in Monterey and still not see all that it has to offer.
The historic town is lively and full of culture throughout the year. Cannery Row, likely the most photographed road in the town, is a must-visit.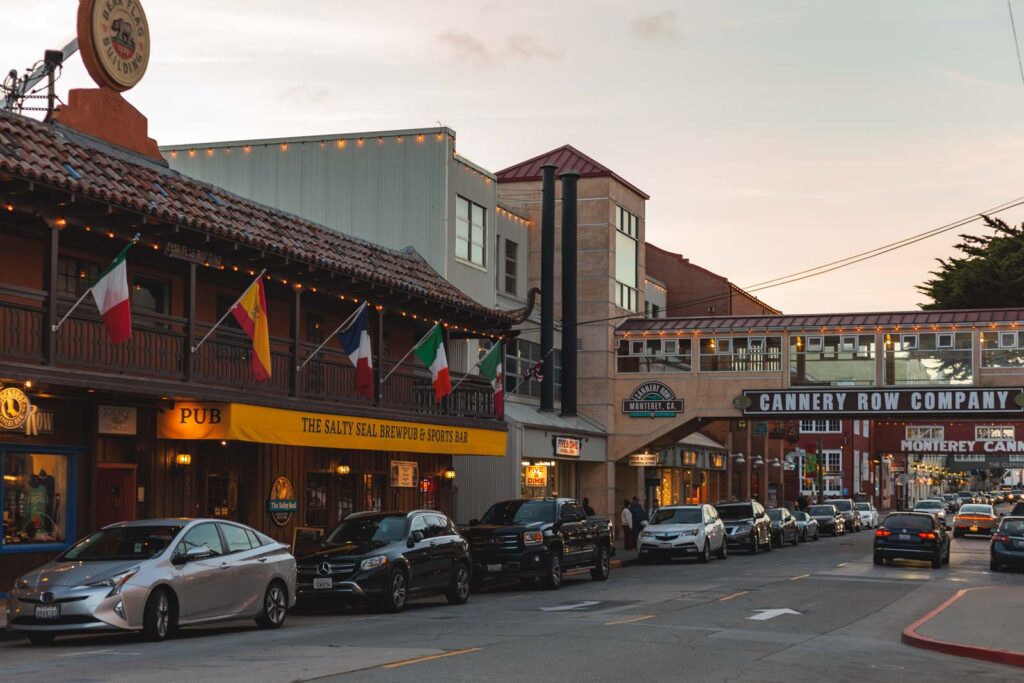 The buildings down this street were once canneries, canning the many fish caught off the coastline. However, all the factories have shut down today, and the street has transformed into a vibrant hub for eateries, shops, bars, and more. It does help that it is particularly photo-worthy.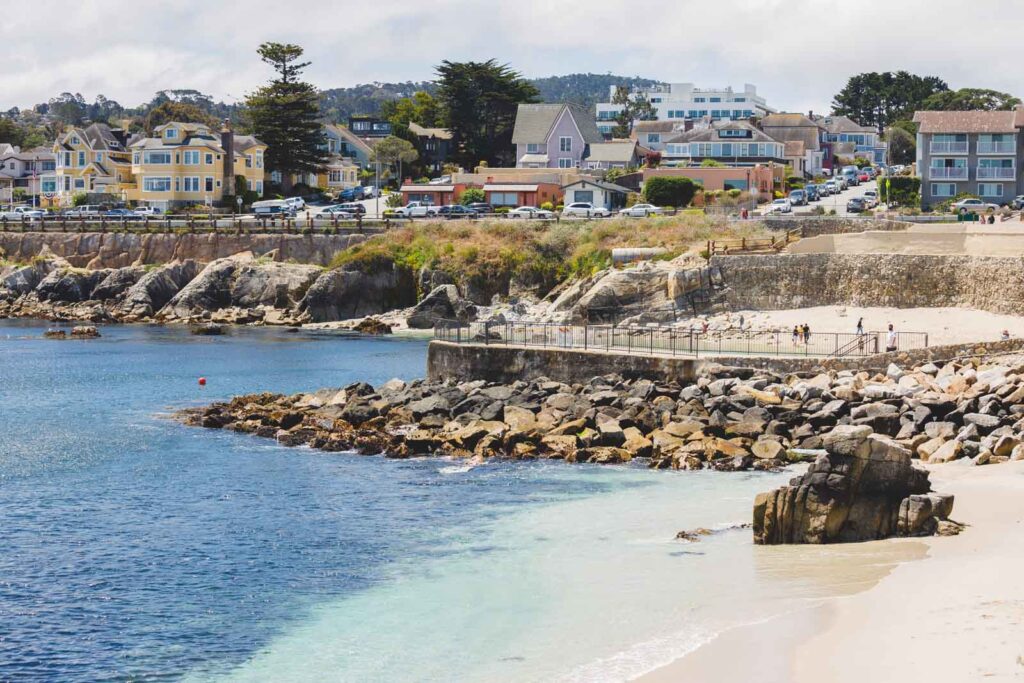 The coastal trail that runs right along the front of the town gives you the perfect combo of urban and wild, with views stretching out over the bay. The waters around Monterey are rich in minerals, meaning they are also rich in wildlife. Divers come from all over the world to experience these waters, which could be an option for you, too!
Although not technically part of Big Sur, it would be a shame to miss this incredible town, seeing as you are so close. Especially as there is so much to see and do!
---
RELATED: 12 Marvelous Things To Do in Monterey, California – California is for Adventure
---
2. Visit the Fairytale Town of Carmel-by-the-Sea
Carmel-by-the-Sea is a small town that lies very close to Monterey and could be described as the gateway to the Big Sur drive if you are coming from the north.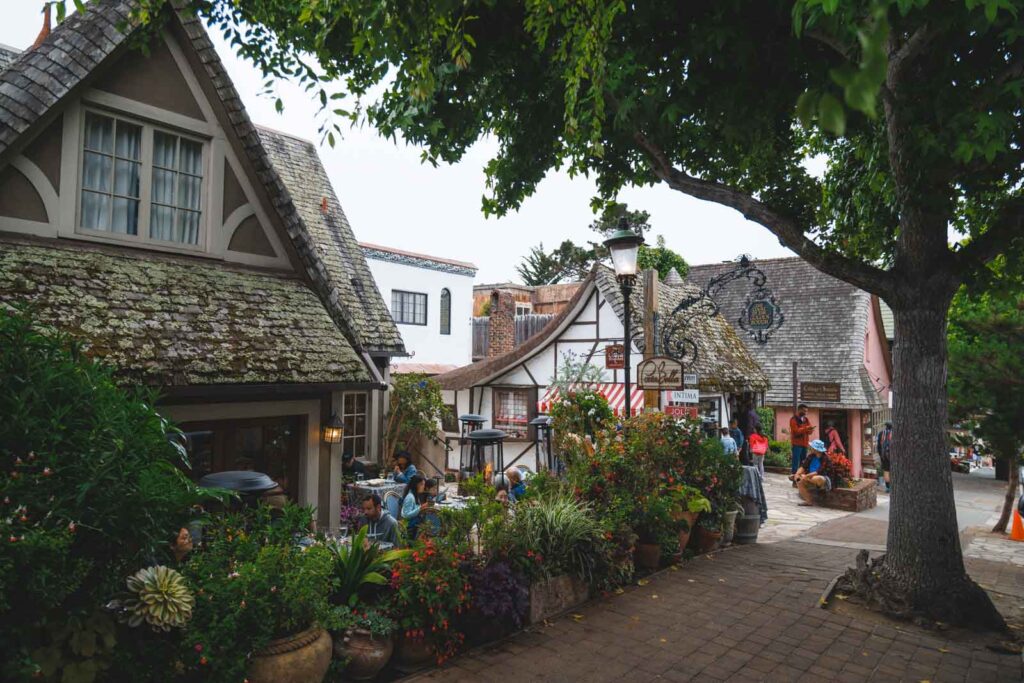 Word of warning: it is not your usual beach town! Upon entering, you will likely feel like you have stepped off the pages of a fairytale. The streets are full of quaint fairytale-style cottages, and just walking around the town admiring them all is a pleasure. The town gets even better thanks to the white sands of the beaches and quaint cobblestone streets.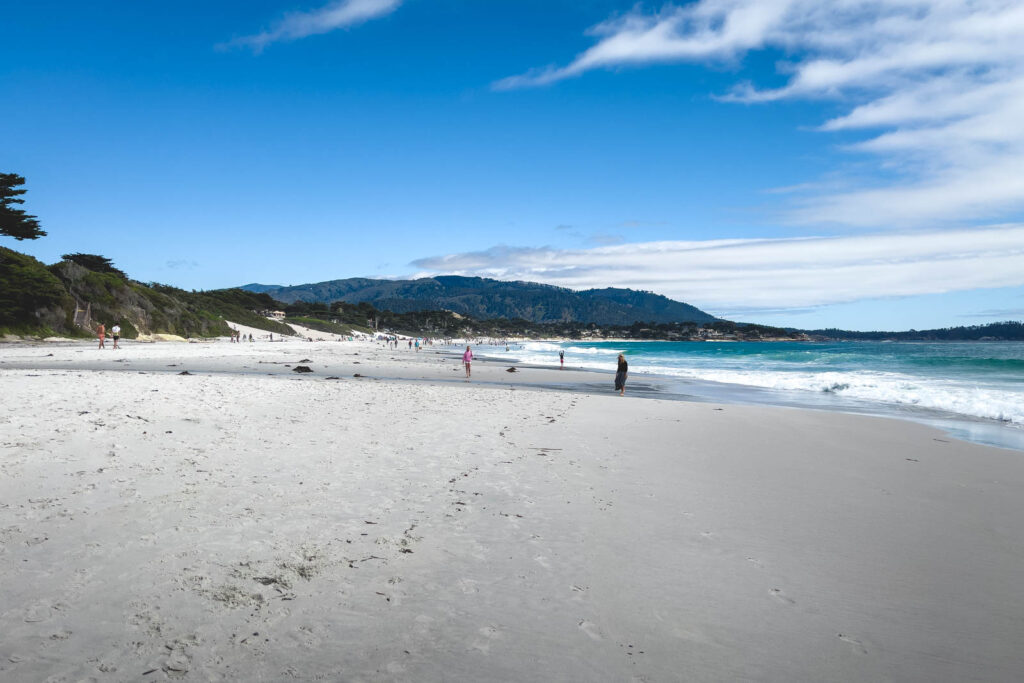 There is plenty to do in Carmel for it to be a destination in itself, but if you only have a short time to explore as part of a longer Big Sur drive, just make sure to have a relaxed stroll along Carmel Beach and Ocean Avenue. Ocean Avenue is Carmel's main street where all the magic happens. Pop into the wineries, the coffee shops, and the huge number of art galleries.
This is your last chance at true civilization as well! After here, you won't get much in terms of resources.
3. Take a Coastal Hike in Point Lobos
Distance: 6.4 miles
Type of Trail: Loop
Difficulty: Moderate
Elevation Gain: 679 feet
When driving Big Sur, you don't want to miss a visit to Point Lobos, although make sure you give yourself enough time to enjoy at least a couple of the hikes this incredible park offers. Located very close to Carmel, it can get busy, and the parking is a bit of a nightmare, but it's worth going through the struggle of finding a space.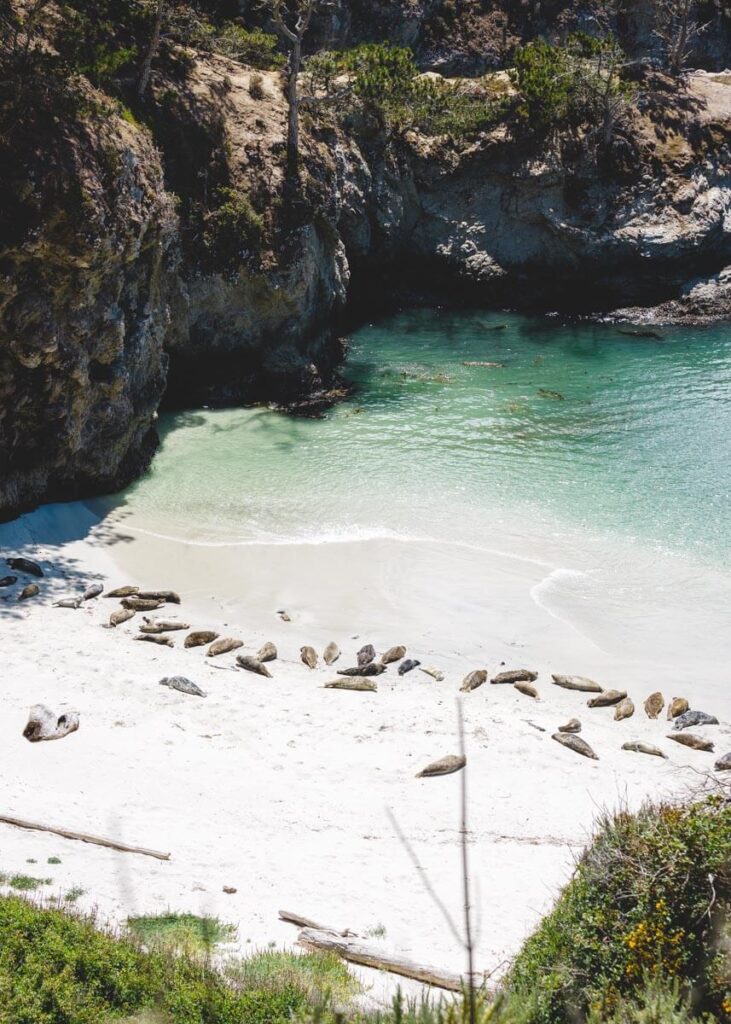 Many small trails make up a much larger trail system within the park, and if you have the time, we recommend taking the entire Point Lobos Loop Trail to see the best the park offers. The trail snakes you around the coast and the bays, with many incredible stops. You have to add this to your list of things to do in Big Sur.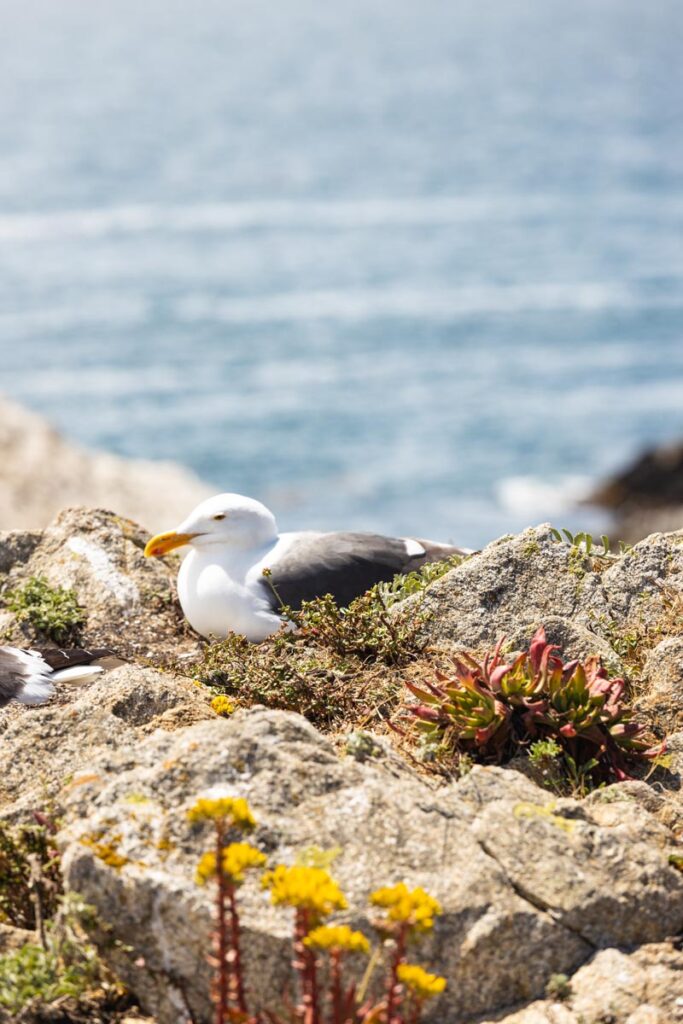 Head through a forest of Monterey pine located on a neighboring peninsula, take in the views of Whaler's Cove and learn more about the area's mining history in the small museum. You shouldn't miss a hike on the Bird Island Trail, which takes you very close to the shore and to Bird Island, a vast rock sitting close to the land, always covered in bird life.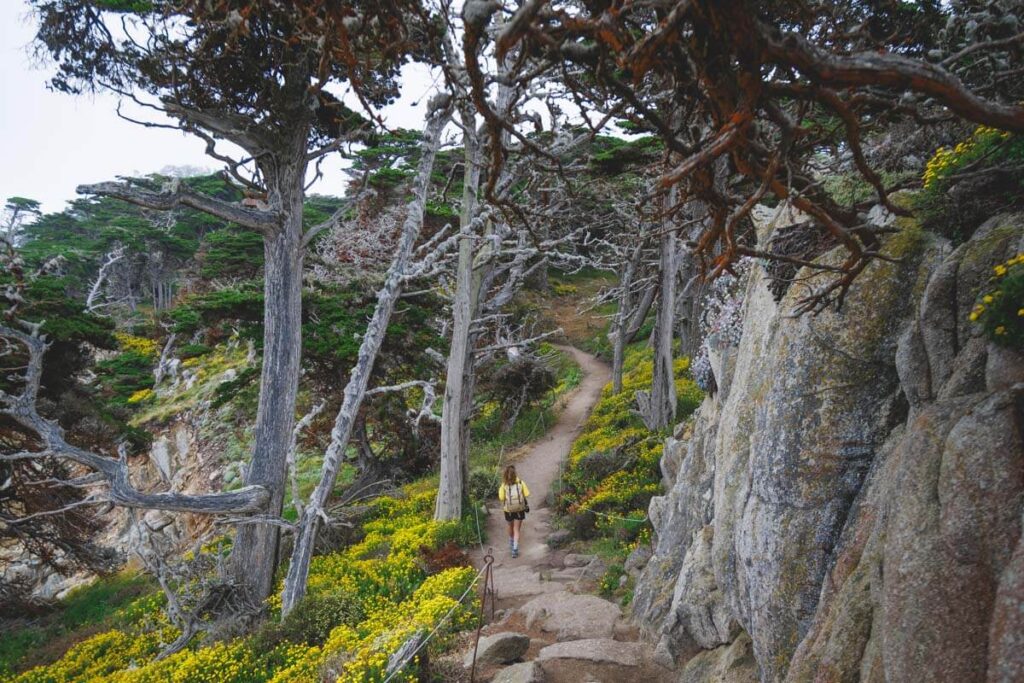 There is much to do and see, with hikes and trails for all abilities. It would be very easy to spend the day here and take as many trails as possible, spotting as much wildlife as possible.
As well as bird species, you have a good chance of spotting seals, sea lions, dolphins, whales, birds, and more, soo don't forget to bring your binoculars if you want to see some up close.
4. Enjoy the Natural Beauty of Garrapata State Park
Garrapata State Park stretches for two miles along the Big Sur coast and is home to hikes, beaches, and bays. Yet despite its beauty, unless you know about it, there is a good chance you will just drive right on by!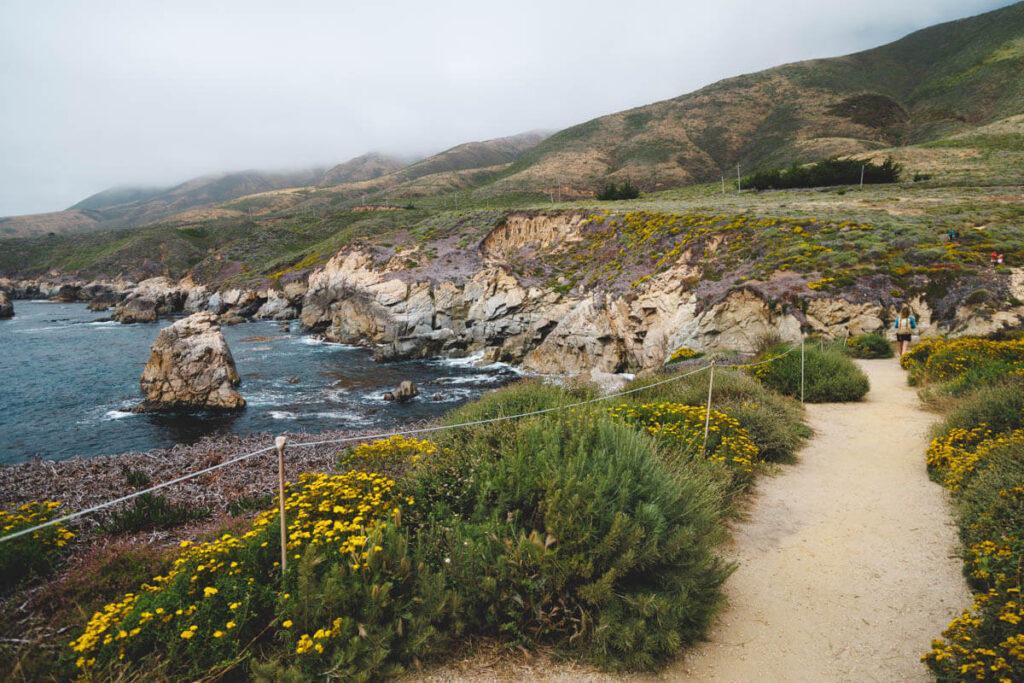 Despite its beauty, the park has very little signage, and the 'parking lot' consists of a few dusty pullouts on the side of the road. There are no amenities either, yet this adds to its charm. It's one of the best-kept secrets along Big Sur, and if you want it pretty much all to yourself, let's hope it stays that way!
Make sure you take the short flight of wooden stairs down to Garrapata Beach. Despite the white sands, the beach never gets crowded. Above the beach are so many cool trails to enjoy, such as Soberanes Point, a trail that looks around the headlands. The trails are beautiful throughout the year, especially in spring and summer when the wildflowers bloom. Look out for Indian Paintbrush, California Poppies, and bush lupine.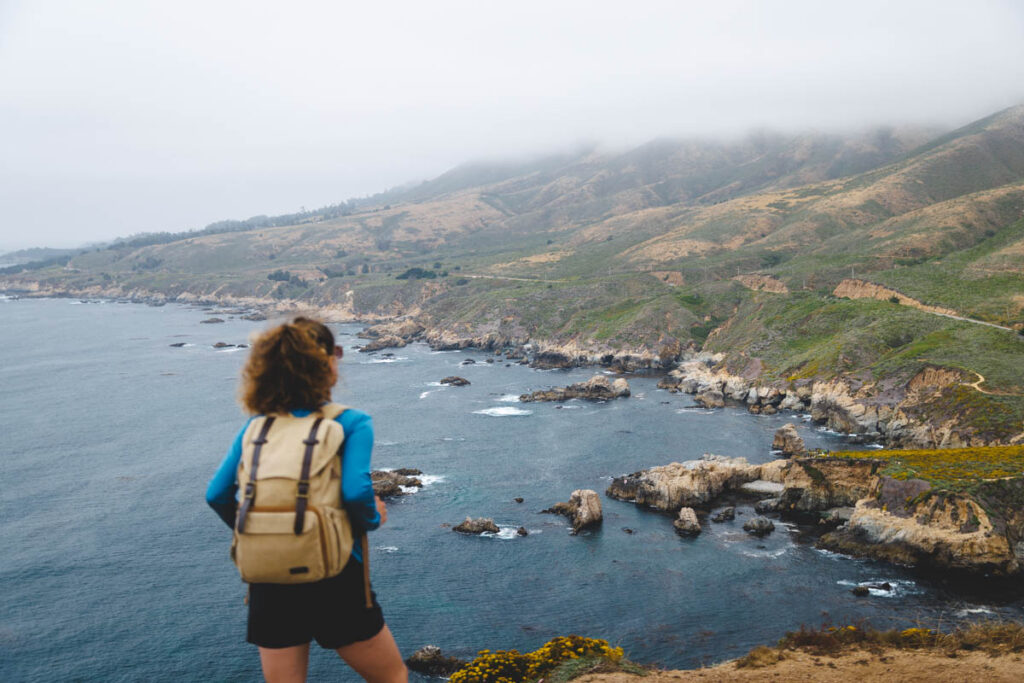 One of the most picturesque parts of the park is Cala Lilly Valley in the spring when these majestic flowers are in bloom. You can walk down to the valley via a few different trails, and it is one of the most picturesque things to do in Big Sur.
5. Take a Pic at Bixby Creek Bridge
If you ever see a photo of Big Sur, Bixby Creek Bridge will likely be featured. It has been in endless films and TV shows and is often considered the iconic landmark of Big Sur. Sure, it's a pretty impressive bridge, the issue is, if you are driving on it, you won't be able to see it.
For this reason, many people choose to stop and admire the bridge before continuing their journey, making parking a bit of a nightmare! A few legal pullouts give you a spectacular vista.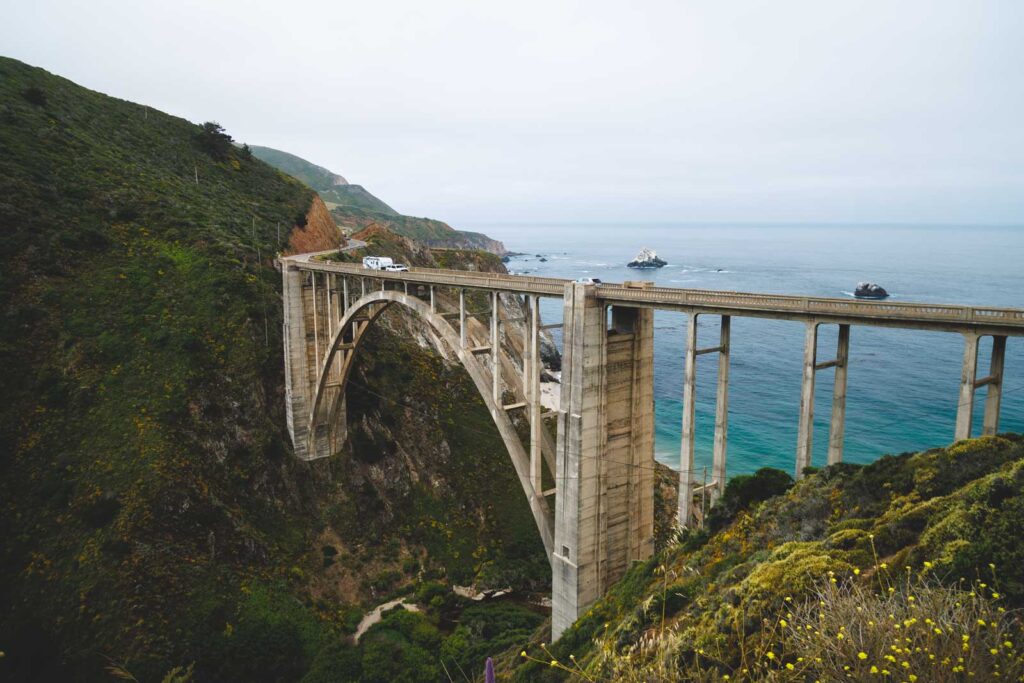 TIP: Try to park at the north end of the bridge for some incredible sunset views or come at sunrise to avoid the crowds.
Essentially, it is just a bridge that allows you to continue your Big Sur drive and cross this part of the coast with relative ease. Still, when you combine the specular surrounding scenery and the fact that it is one of the highest concrete span bridges in the world, it is easy to see why people clamor for a spot to capture that classic shot!
6. Explore Andrew Molera State Park
With 20 miles of epic Californian hiking trails, there is a good chance that Andrew Molera State Park will be more than a short stop on your Big Sur drive. It is the biggest state park on the Big Sur coast, with a ton of different landscapes to explore and a huge number of hikes.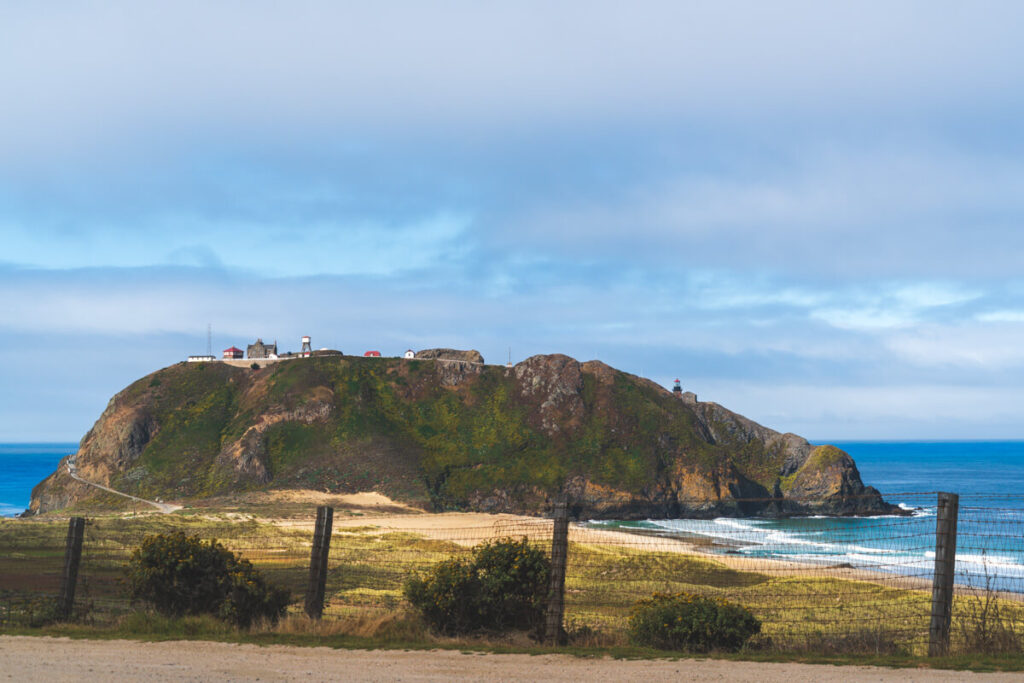 One moment, you could be trekking along the rough coastline, and the next, snaking your way through twisting pathways bordered on each side by grassy meadows. Or you could be following the lines of the streams that flow through the area or even forests of redwoods.
The hikes cater to all levels of hiker, from novice to expert. If you want a nice leisurely, flat stroll, you should give Beach Trail a go. The trail ends with access to the beach and is a pleasant walk alongside the Big Sur River.
The East Molera Trail could be for you if you are up for a challenge. It has some serious elevation gain, as you will climb over 1000 feet in a mile. The climb is worth it, as you'll reach the crest of a towering ridge overlooking the park, shaded by a thick redwood glade.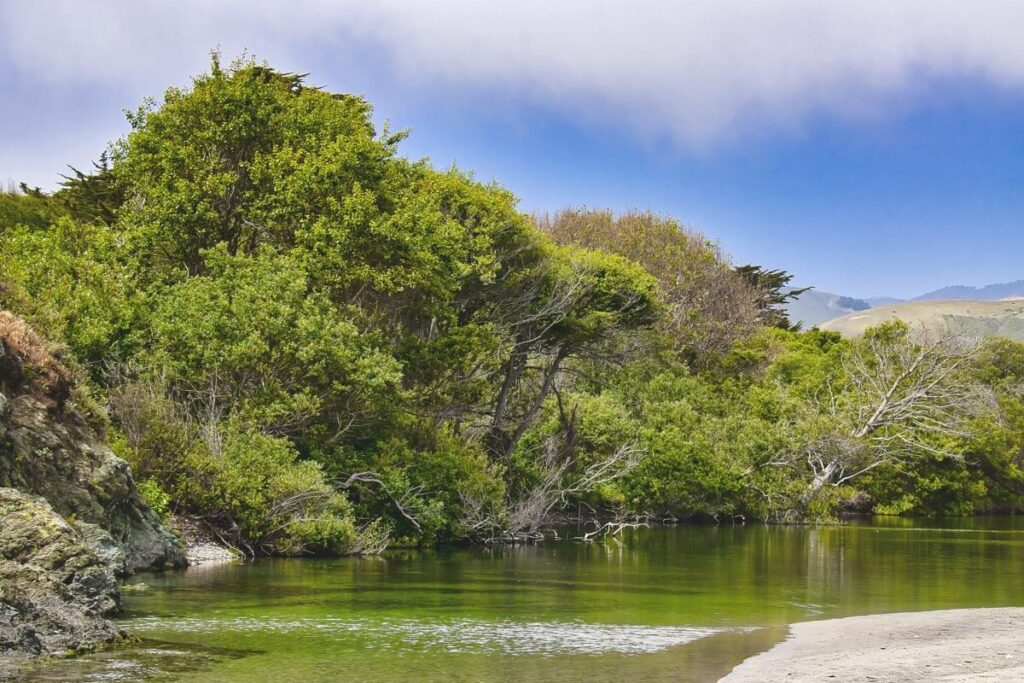 If you are passionate about wildlife, pop into the California Condor Discovery Center to learn more about the area's wildlife and tour the facilities. History buffs will enjoy the California Condor Discovery Center to learn more about the heritage of this stretch of coastline.
7. Unravel The Mystery of Pfeiffer Beach
Have you ever seen purple sand? You will if you head down to Pfeiffer Beach as part of your Big Sur road trip! It is one of the more unique things to do in Big Sur.
The purple hue of the sand is by far the only reason that Pfeiffer Beach is a must-stop. The beach is rugged and beautiful, with impressive craggy cliffs and the incredible Keyhole Arch just off the shore.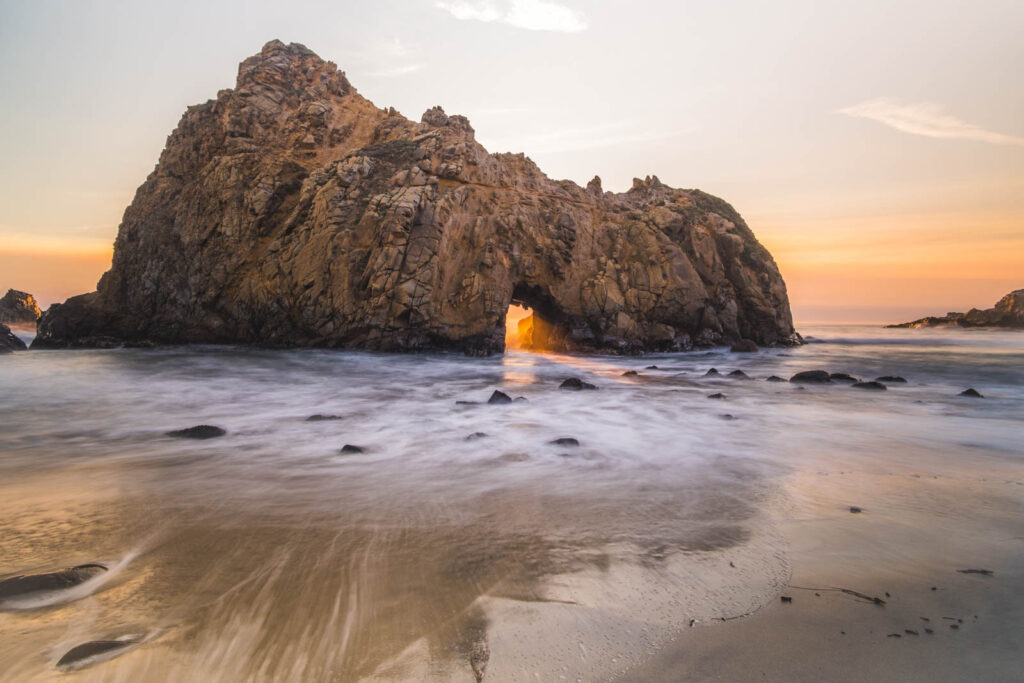 The arch is so remarkable, as the rock surrounding it is huge, and the 'hole' is a perfect little door, allowing the waves to rush in and out with force. If you are lucky enough to catch a sunset, you may witness the streams of sunlight cascading through the arch, so get that camera ready.
Now, let's talk more about this purple sand—The sand got its unique hue due to the manganese garnet deposits rolling down from the surrounding hills. If you have the freedom to be picky, try and visit the beach just after it has rained, as the beautiful colors are much easier to see rolling down towards the sea.
Although many people know about Pfeiffer Beach, it is a bit of a hidden gem purely because it isn't very well signposted, so if you were just heading along Highway 1, it is highly likely you would just drive on by.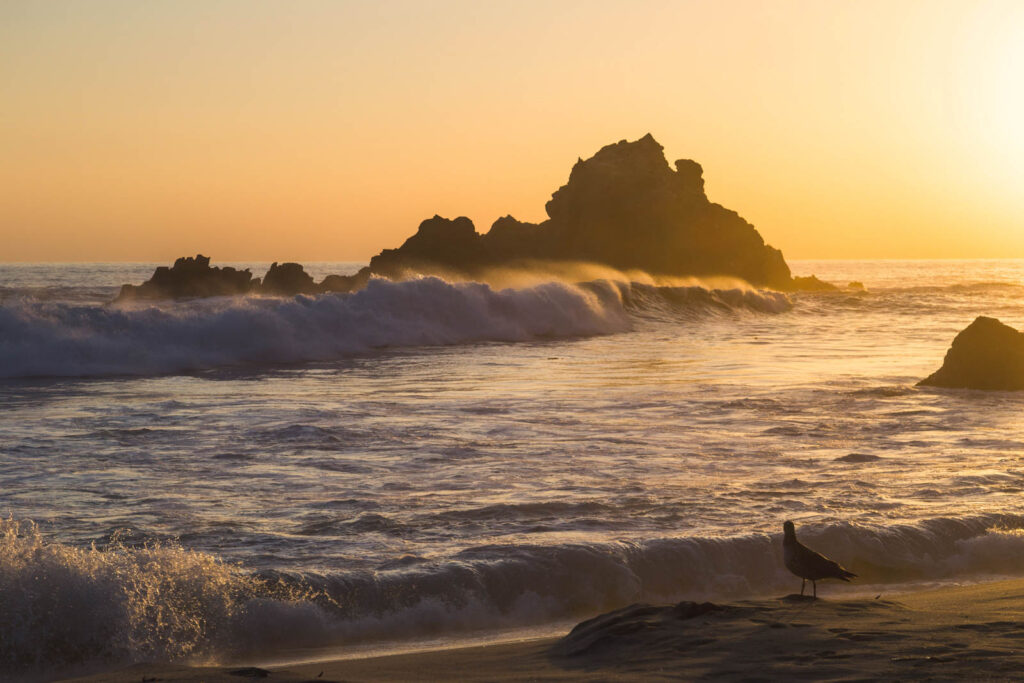 Swimming is not advised on the beach, but plenty of other things keep you entertained, such as admiring incredible rock formations, sunny strolls along the sand, tide-pooling, and birdwatching.
You can park in the small parking lot to reach the beach, although be prepared to pay quite a hefty parking fee for the privilege. The turnout to the parking lot is notoriously hard to spot on a Big Sur drive. It can be found on the west side of Highway 1 with a little sign that says 'Narrow Road.'
8. Hike The Trails in Julia Pfeiffer Burns State Park
Julia Pfeiffer Burns State Park is one of the major and most well-known things to do in Big Sur, named after Julia Pfeiffer Burns, an early pioneer and rancher in the Big Sur region.
Although Bixby Creek Bridge might be the biggest icon of the Big Sur region, Mcway Falls, found in Julia Pfeiffer Burns State Park, must be a close second.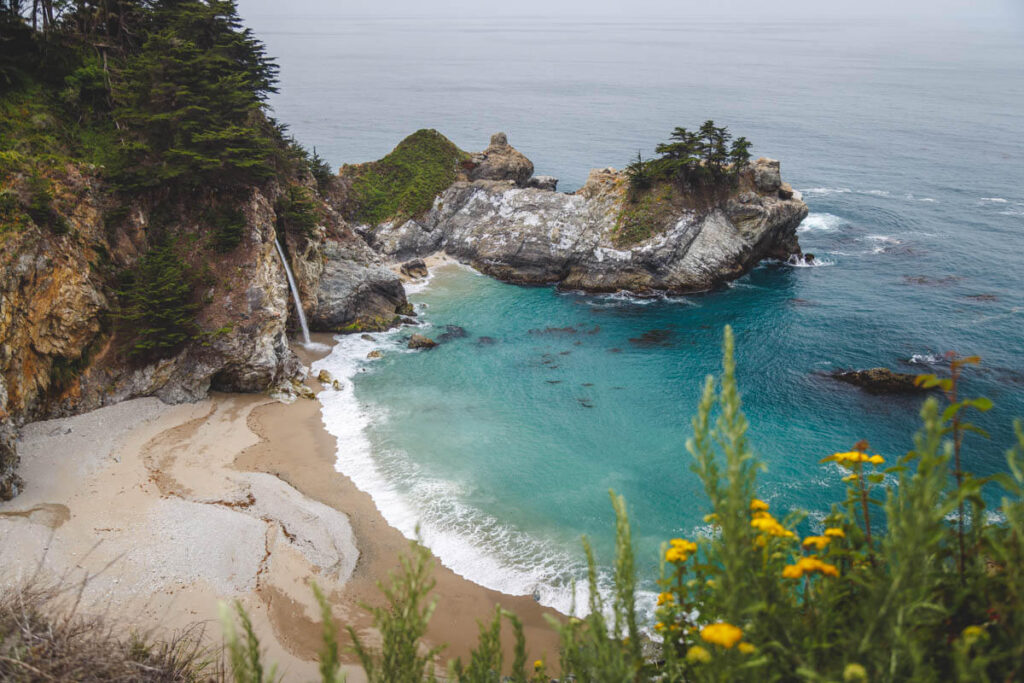 From the parking lot, it is just a short walk down a well-trodden path to reach the falls overlook, where you get a clear view of the 80-foot falls as it flows over the rocks and directly onto the beach of a small cove. If you are lucky, you may also see the migrating whales during the winter, topping off an incredible day.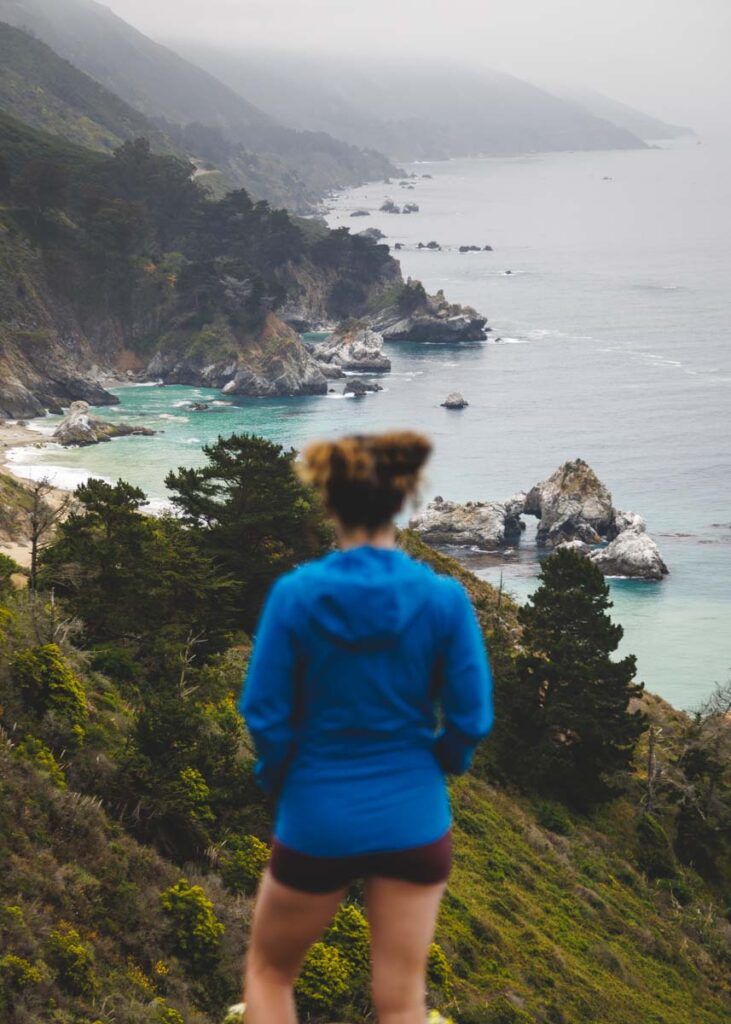 The park is a feast for the eyes, with around seven trails to choose from that will take you through winding paths of redwood forests to hidden covers and incredible overlooks or along clifftop bluffs. You can also explore the area under the water, as it is one of the only places along Big Sur where scuba diving is allowed.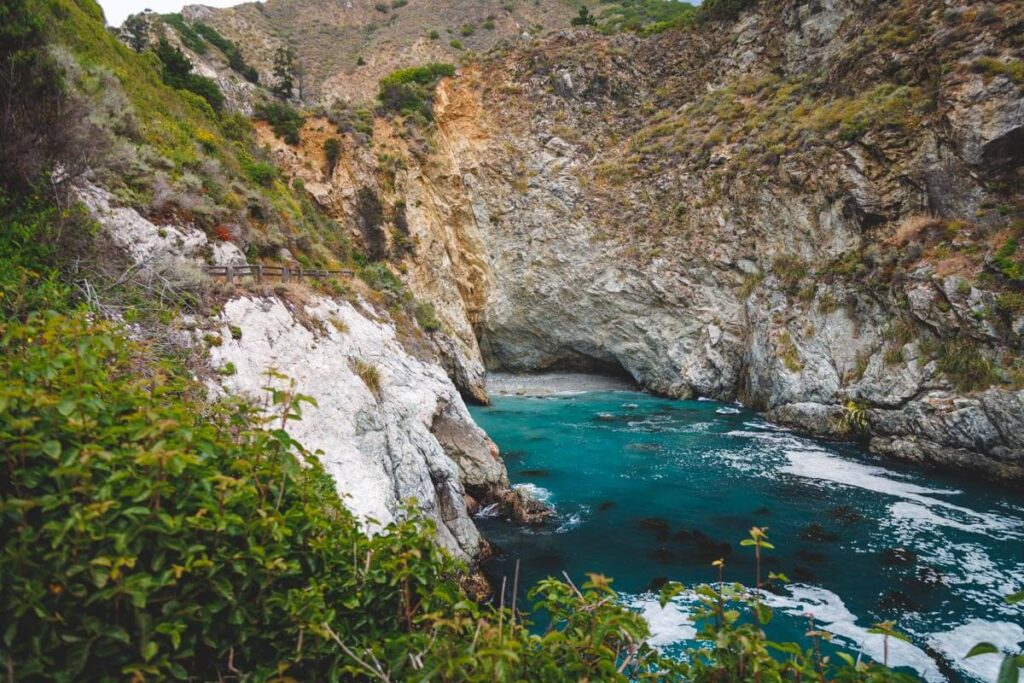 In addition to the Falls Overlook Trail, the Ewoldsen Trail is beautiful, taking you along McWay Creek and through thick redwood forests, or the Partington Cove Trail, which is a short but scenic path down to a stunning, small cove and overlook.
There are two small campsites within the park if you want to spend the night in this beautiful area.
Big Sur Drive Half Way Point
Woo! You've made it halfway! You're probably thinking why I'm disturbing the middle of this article… I have my reasons!
A lot of people turn around here and go back up OR just drive on through without stopping because there's not much left in the day.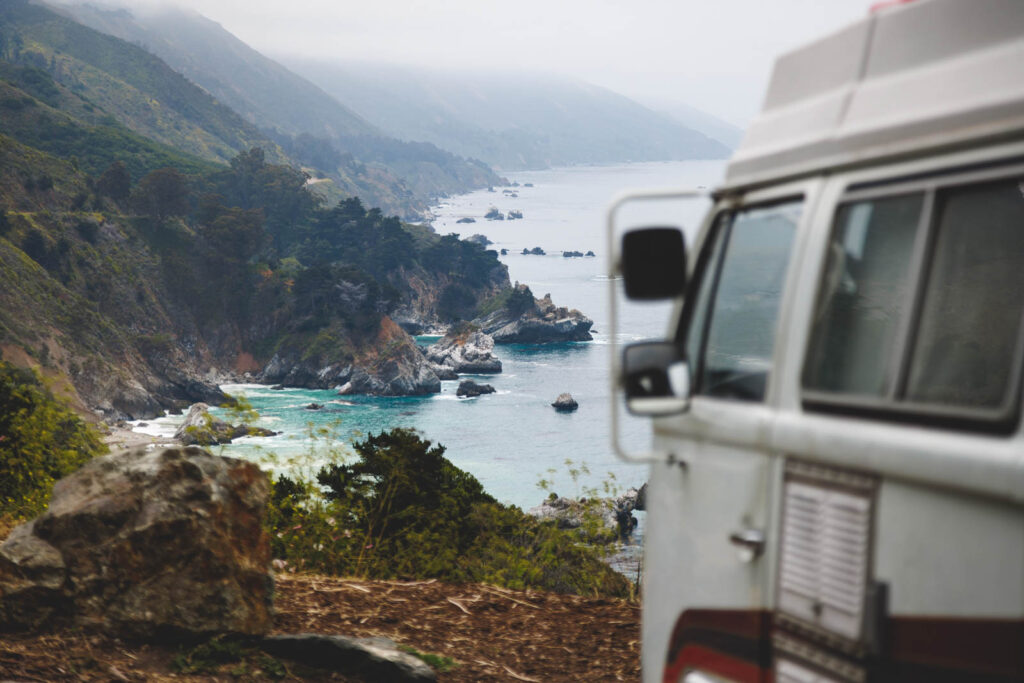 There are still a lot of things to do in Big Sur left, so if you can, we recommend you push on or find some camping in the area (not easy, actually, more on this soon) so you can continue the next day.
The stops are less frequent, and this is arguably the "not as cool part," but we beg to differ. You'll soon see it was worth pushing on! Now, let's continue our Big Sur drive…
9. Uncover History at Limekiln State Park
Head to Limekiln State Park to visit the steepest coastal canyon in the continental US. Fun fact fact, many of the buildings you will see standing in Monterey and San Fran were constructed using the lime quarried directly from the park.
Even with an interesting history, the park has much to offer those taking the Big Sur drive. The canyon is lined with huge forests of redwoods, and the cascading creeks that run down the canyon are beautifully crystal clear.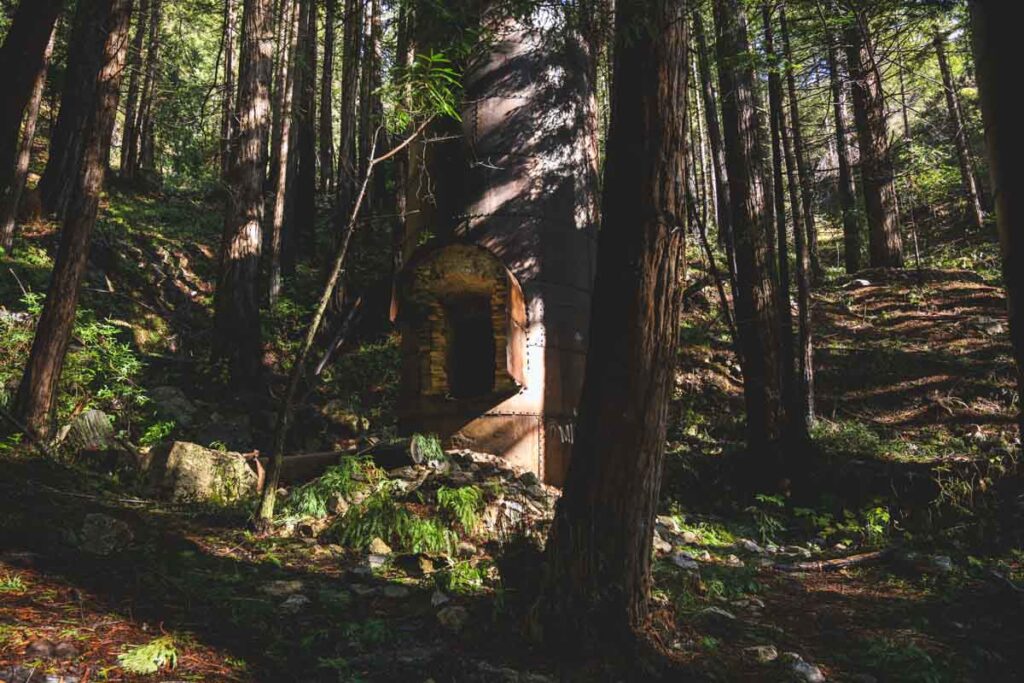 There are two incredible trails to hike in the park, the Hare Trail and the Limekiln Trail, both completely different but incredible hikes. The first follows the namesake creek, which bubbles and ripples over the rock, surrounded by giant redwoods. The Limekiln Trial eventually takes you to the stone and steel kilns used in the 1870s and 1880s to quarry the limestone.
The skatepark also has a fantastic beach, and the 100-foot Limekiln Falls is worth visiting.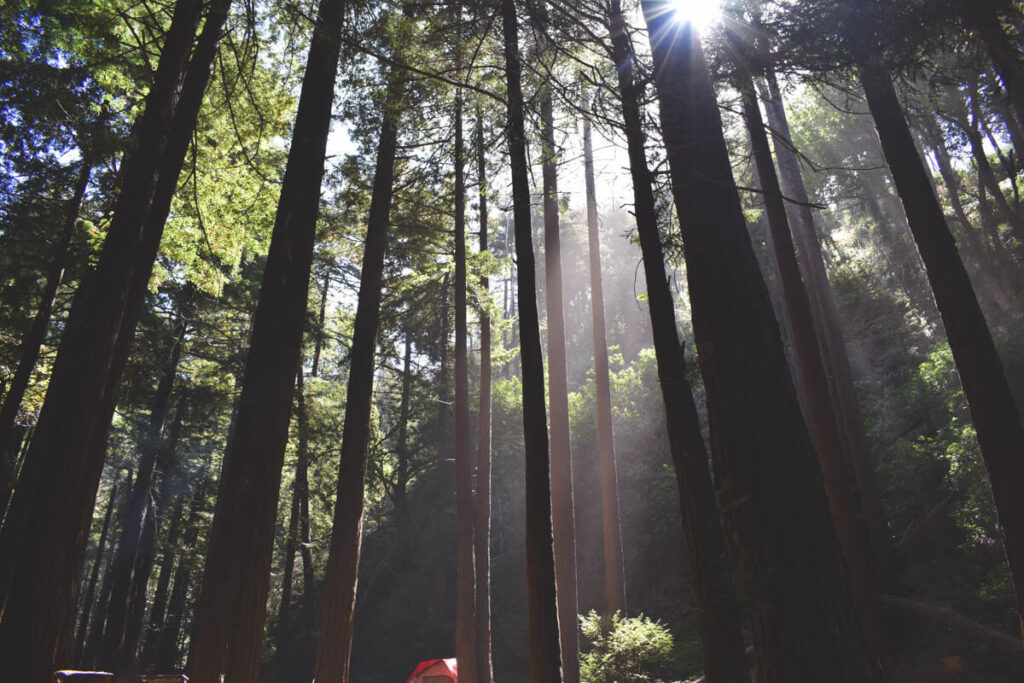 Compared to the more well-known state parks up north, you should find Limekiln a lot quieter, and you won't have to fight *as hard* for a parking spot. You will quickly fall in love with the park, so much so that you may want to consider camping overnight in the onsite campgrounds that have 25 sites right near the beach.
10. Spend the Day on the Sand at Sand Dollar Beach
Sand Dollar Beach may not be what you would usually think a Californian beach would look like. The long arch of sand is very narrow, especially during high tide, but that doesn't make it any less beautiful, especially with the contrasting orange cliffs surrounding the waters.
Although the Big Sur is a coastal drive, accessing the coast is not always an easy ride, but there is no better place to feel the sand between your toes than Sand Dollar, making it one of the best things to do in Big Sur.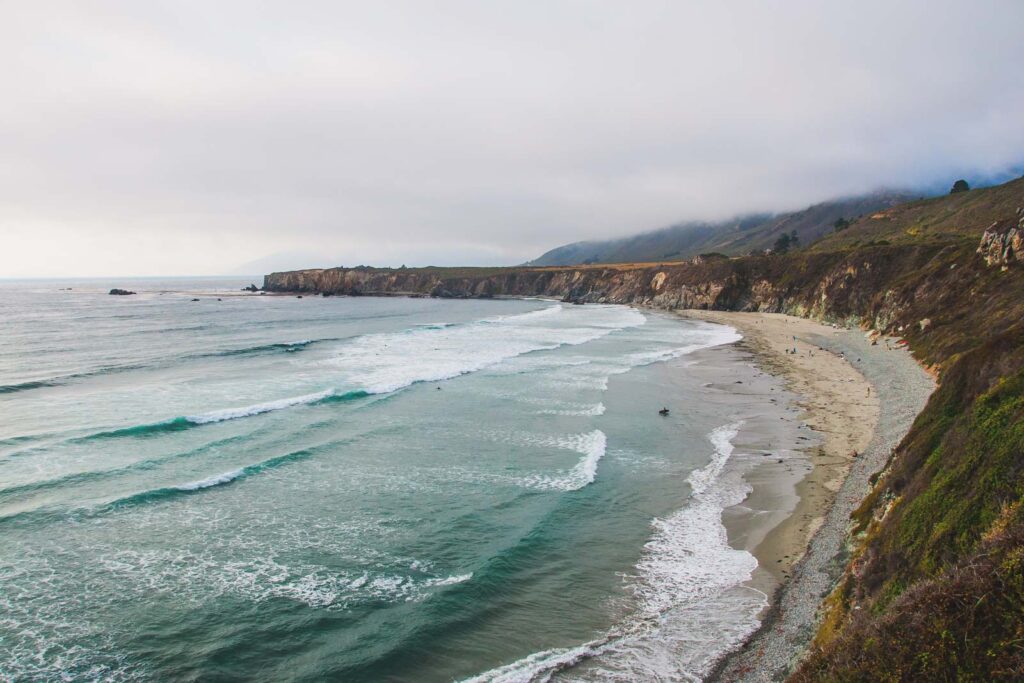 To start the hike, begin at Sand Dollar Beach Day Use Area, where you can get your parking, picnicking, and toileting done. You'll have to take a short hike through the classic Monterey pines that cover the area to reach the beach. Head down the gravel path towards the coast, pulling over to take in the sand, cliffs, and offshore rocks from the strategically placed beach overlook.
11. Go Waterfall Chasing at Salmon Creek Falls
Who doesn't love a waterfall? A Californian drive wouldn't be complete without a waterfall stop, and Salmon Creek Falls is one of the best along the route; it is very easy to get to. To reach the 120-foot falls, you only need to take a quarter of a mile round trip along the Salmon Creek Falls Trail.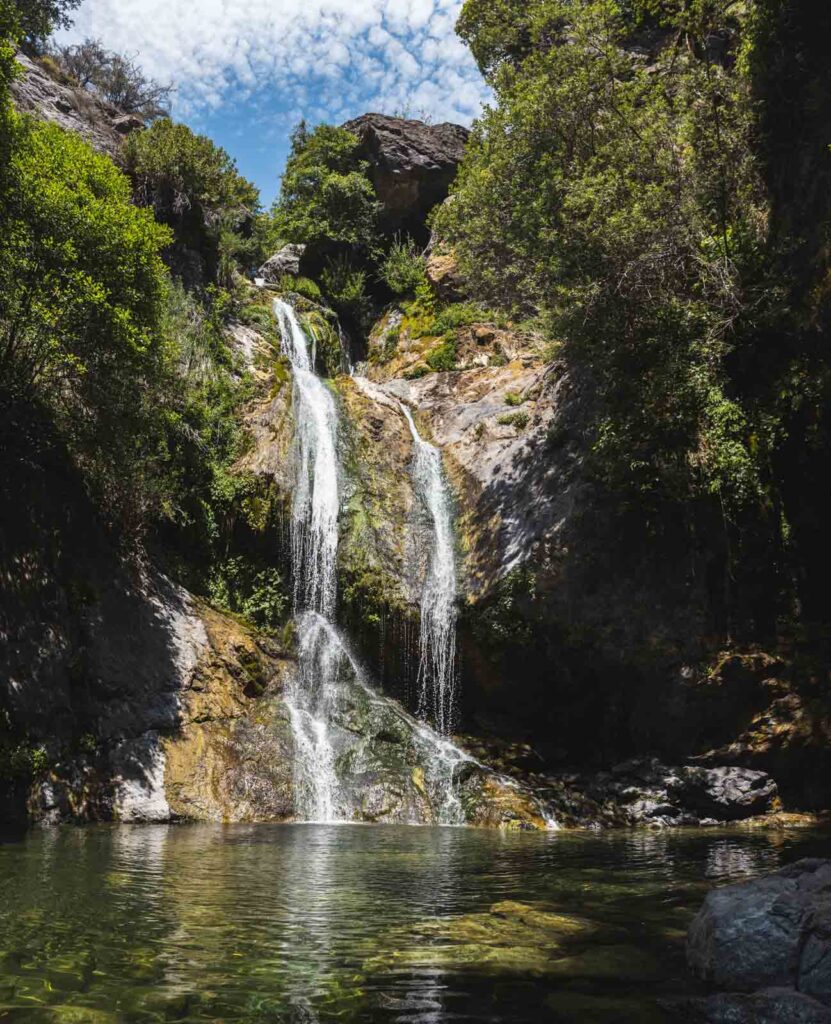 The parking area of the falls is little more than a small dirt pull-off on a bend of the highway. Follow the signs down to this incredible waterfall that seems to roll down the rocks between a steep-walled canyon.
12. Take in The Sea Views at Ragged Point
If you are traveling the Big Sur, you can't not stop at Ragged Point. Like most southern stops, they are much less popular than their northern counterparts, and we can't understand why.
There are a few hikes here. One of the best trails, the Fire Road Trail, starts at Ragged Point Inn and is a serious uphill climb along the graded fire road with spectacular views when you reach the hike's highest point.
We are talking about a 1700-foot elevation gain, but when you see the rolling hills and blue Pacific stretching out before you, you will forget all the pain in your thighs.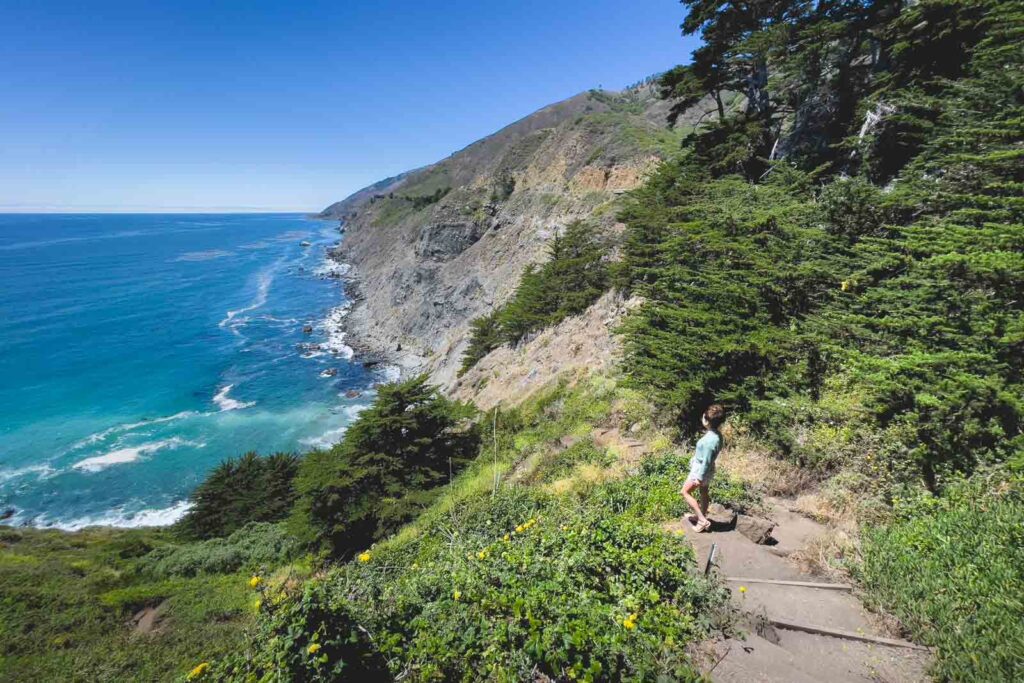 Another incredible hike in this area is the Ragged Point Trail, head down the steep trail, and you will be greeted with a wide, black-sand beach and the chance to get to the foot of Black Swift Falls. An impressive seasonal waterfall that towers at 300 feet!
13. Learn About The History of Piedras Blancas Light Station
The Piedras Blancas Light Station stands as a sedentary monument to years of sea service and is still used today. The small lighthouse sits on a rocky, perusing point of land and has stood in place since 1875, guiding seafarers safely along the Californian coast. It got its name from the mariners who used the white rocks of the coast to navigate.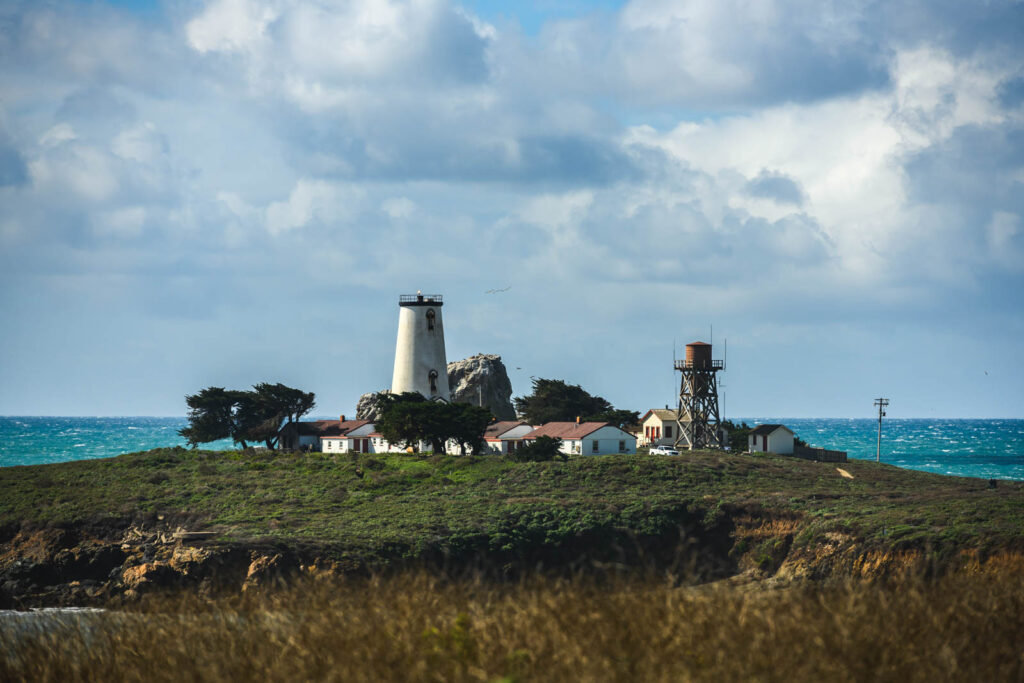 Listed in the Register of Historic Places, the lighthouse is well worth making it one of your things to do in Big Sur. If you want to get a closer look, you can take a two-hour guided tour of the interior and the grounds, which includes about half a mile of walking as you make your way around the grounds that surround the light.
14. Go Wildlife Watching on the Boucher Trail
The short and sweet Boucher Trail is filled with wildlife and wildflowers, a wild coastline, and epic views.
Elephant seals, elephant seals, and more elephant seals are what the Boucher Trail is all about. This scenic trail hugs the craggy bluffs in the San Simeon area and leads you to the biggest elephant Seal rookery in the continental U.S.
Chances are, you will hear these bellowing giants before you actually see them, and combined with the crashing waves, it can be a very noisy trail in all the best ways.
There are many opportunities to view the seals along the trail away from the main Rookerie lookout, meaning you have a much better chance of viewing these amazing creatures without the crowds.
At just under 4 miles, the Boucher Trail is a lovely hike, giving you enough chance to experience your surroundings and take in the seals and plenty of time to hit the road and continue your Big Sur drive. In addition to the seals, you'll also get a perfect vantage point of the Piedras Blancas Light Station.
I didn't walk far before I got to hear and then see them, so if you're on a schedule, you could pop by and just do a portion of the trail to see them before continuing your Big Sur drive.
15. Uncover History in San Simeon
Whether it's your gateway to the Big Sur or the end of your journey, technically, Big Sur stops here. Once you've reached San Simeon, you can say you have reached the end of Big Sur, or it is just the beginning if you are heading northwards!
Above all, the biggest attraction in San Simeon has to be Hearst Castle, which almost feels like it should be somewhere in Europe rather than California. It draws visitors from far and wide with lush gardens, cascading pools, and an incredible art collection. The town is also quaint and historic, with plenty of places to grab food and go wine tasting.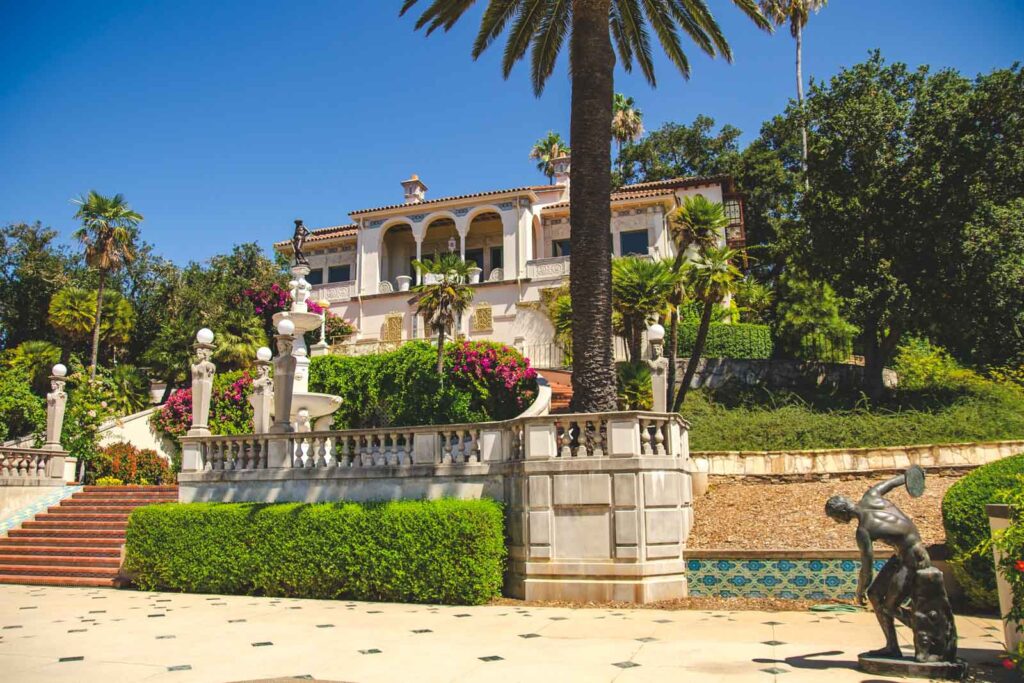 Plenty of hiking options in and around the town, such as the Cliffside Trail, will take you along the clifftops 400 feet above the waves. Although it is a small village, it boasts incredible natural beauty and many things to do.
The beaches are arguably some of the most beautiful in California, and you can take a walk down San Simeon Pier and check out the Discovery Center to learn more about the wildlife around the town.
Just a short walk from the pier, you will find the trail to San Simeon Point, offering views down onto the cove and white beach below. Keep an eye out for the monarch butterflies that roost in the Eucalyptus trees along the coast, which may just be flashes of bright orange.
16. Enjoy the Beautiful Beaches of Cambria
Although Cambria isn't TECHNICALLY on Big Sur grounds, we are including it because, other than Monterey, it is pretty much the only civilization you'll see on the trip, so use this to your advantage and stock up and fill up if you are driving the Big Sur the other direction and starting here.
It's also a town you'll have to drive through to get off of Highway 1 anyway, as well. Oh no—Your Big Sur Drive is coming to a close!
Cambria is a pretty cool destination in itself. In addition to 'townie' things, such as plenty of excellent eateries, hotels, and places to drink and shop, Cambria is a great base for exploring the great outdoors.
The town is known for its beautiful Moonstone Beach and meandering coastal hikes along the bluff. The Moonstone Beach Boardwalk Trail is just one of the most charming trails in the area, hugging the ocean for its entire length while still being relatively flat, it's the perfect spot for an afternoon stroll. You'll have background noise of crashing waves and calling seabirds, and you can't get much better than that.
When strolling on the beach, keep an eye out for agate, jasper, and jade, which can be found on the shore, hidden amongst the other brightly colored, smooth stones that gave the beach its name.
One of the best ways to spend the day is to walk through Downtown Cambria, which is full of cute stores and galleries asking to be browsed.
The pottery and skincare stores are some of the best, as is the pie shop! If you want to know more about the town, visit the Cambria Historical Museum, which is housed in Guthrie-Bianchini House.
Where to Stay Along Your Big Sur Drive
Are you camping or grabbing hotels on your trip? We have you covered for both, just book soon!
Camping:
If you want to camp along your Big Sur trip, I have some bad news, you don't have that many choices, and you need to book VERY early! But these spots are worth it…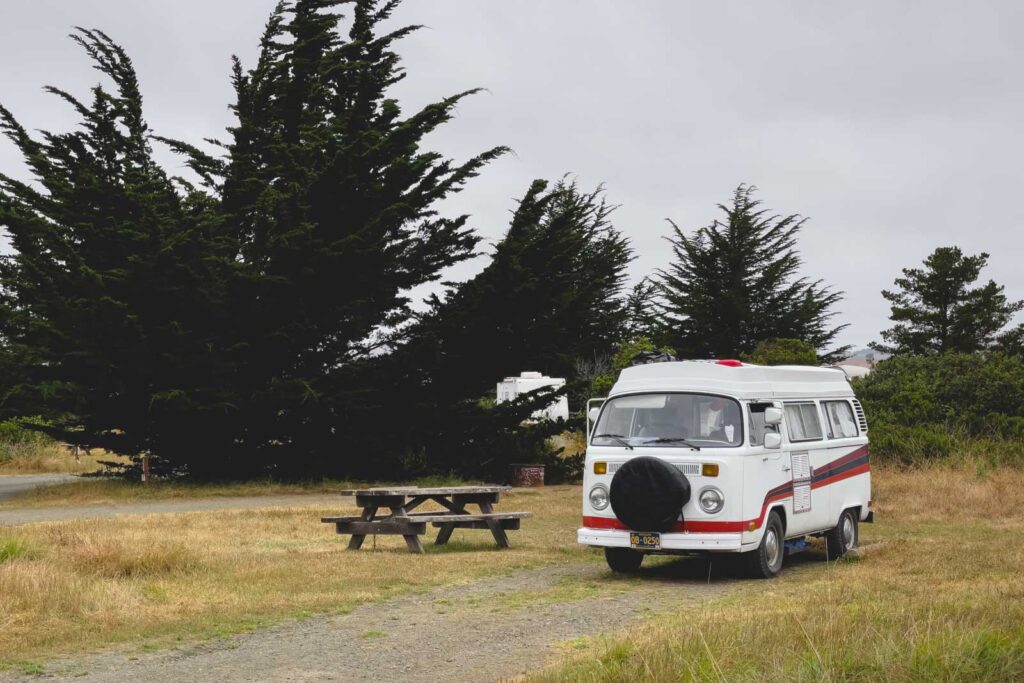 Pfeiffer Big Sur State Park Campground: This is a well-known campground with beautiful redwood trees. It's a great option for tent and RV campers.
Kirk Creek Campground: To get prime real estate right along the coast, this is the campground to book!
San Simeon Creek Campground: This campground offers a no-frills experience with access to a beautiful beach. We camped here when we were in the south of our Big Sur Drive.
Laguna Seca in Monterey: I honestly kind of don't want to mention this one here because it's not that great of a campsite, but if you're more of a last-minute planner as we can be, it was a good backup camping spot in the north before we headed south.
Hotels and Resorts:
If you prefer more comfort and amenities, there are several hotels and resorts in Big Sur but again, your options are slim, AND you must book very early to nab a spot.
Alila Ventana Big Sur: Your ultra lux option, Ventana Big Sur, offers elegant accommodations, a spa, dining options, and it's adults only!
Fernwood Resort: This charming resort offers cozy rooms with sun terraces and mountain views.
Ragged Point Inn: Situated on the southern end of Big Sur, Ragged Point Inn boasts breathtaking ocean views and a restaurant.
If you're reading this and you missed booking a spot along Highway 1 while you're on your Big Sur road trip, don't worry, you have other options!
You can look for accommodation at the start or the end of Big Sur Drive. So in Carmel-By-The-Sea or Monterey in the north or in Cambria or Morro Bay in the south.
👉 More Accommodation Options in Big Sur
We hope this helped you plan your Big Sur drive now that you know all of the things to do in Big Sur!
I've been perpetually traveling and living around the world for years but it's hard to beat California and the PNW. After years of road-tripping the area, I guess you can say I know it pretty well! When I'm not writing guides for you, you can catch me somewhere petting a dog, attempting to surf, hiking a volcano, or stuffing my face with bread and cheese.