There are tons of cool things to do in Carmel-by-the-Sea, making it one of our favorite towns in the state!
The charming small-town vibe and coastal location make it a desirable vacation destination, and that's before even mentioning the fairytale cottages, wineries around every other corner, and an incredible beach to relax on.
The town is located on the Monterey Bay Peninsula, attracting artists and creatives since the early 1900s. These artists helped shape the town into the whimsical, bohemian destination you can see today.
With cobblestone streets and pristine white sand, it is clear that the town is very well looked after. In keeping with its artist roots, there are about 100 art galleries dotted around this small town, plus historic buildings and plenty of eateries boasting local fare.
You won't run out of things to do in Carmel-by-the-Sea in a hurry, we assure you!
Things to Do in Carmel-By-The-Sea
---
This just might be one of the cutest towns in California! After numerous visits and falling in love more each time, here are the best things to do in Carmel, plus some epic things to do just outside of town.
1. Take a Walk Down Ocean Avenue
It is hard to miss Ocean Avenue, even without really looking for it. With a name like Ocean Avenue, it is easy to guess where it will lead you. Essentially, it is the main road that will take you from Highway 1 all the way through the town and to the beach, giving you the quickest overview of the town in just a short walk.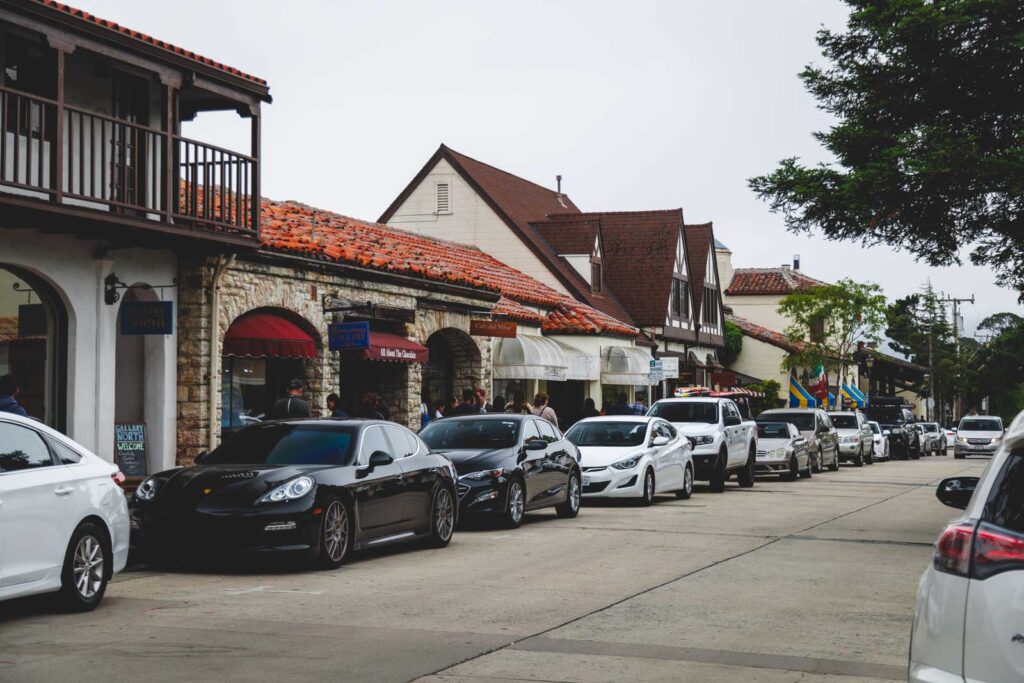 However, there is a very good chance that it won't be a short walk at all! The street is lined with no end of cool places to grab a drink or a bite to eat, as well as art galleries and quirky little shops. A walk down Ocean Avenue will set you up with ideas for all the other things to do in Carmel.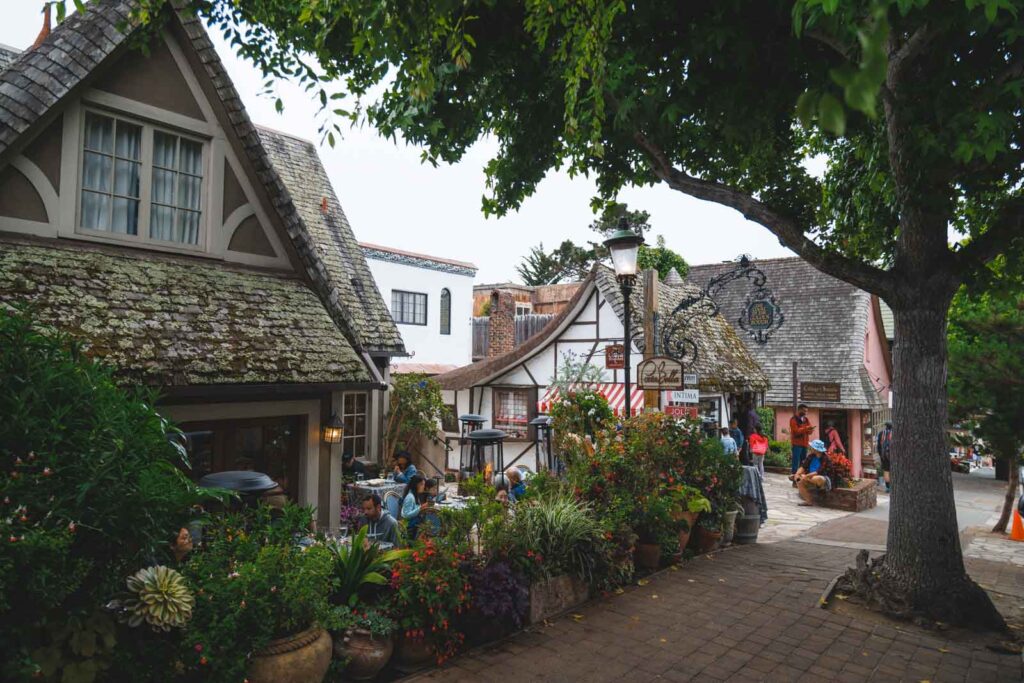 On my first visit to Carmel, I didn't make it down this street to the beach without stopping for a delicious brunch, a glass of wine, then some window shopping, and a stop for ice cream!
2. Explore The Town on a Walking Tour
Sometimes the very best way to get to know a place is to take a walking tour. With a knowledgeable guide by your side, you'll learn fascinating facts about places you would have otherwise just walked right past.
All tours differ slightly, but all should take you past the main points of interest, such as Church of the Wayfarer, Tuck Box, and Hog's Breath Inn.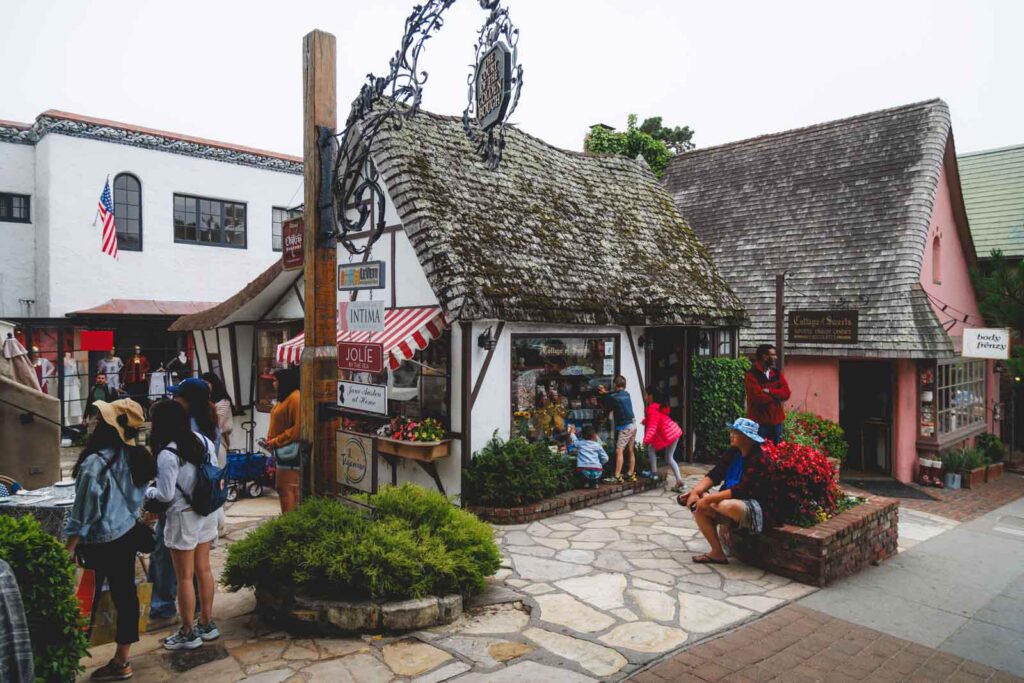 The town has an interesting history, with unique buildings and points of interest. If you have never been to Carmel, you will instantly notice how it differs from most other American towns, complete with whimsical, fairytale cottages and artist studios.
Once you have taken your working tour, like this one, you'll know your way around the town a little better and know where you should go back to and where you can give a miss.
3. Walk and Beach Bum on Carmel Beach
It would be sad to have such an amazing coastal town without a beach, and luckily enough, Carmel has two. Carmel Beach is the main beach and can be found by taking a stroll or a drive down Ocean Avenue. The beach is sandy and wide, backed by the cypress trees the area is known for.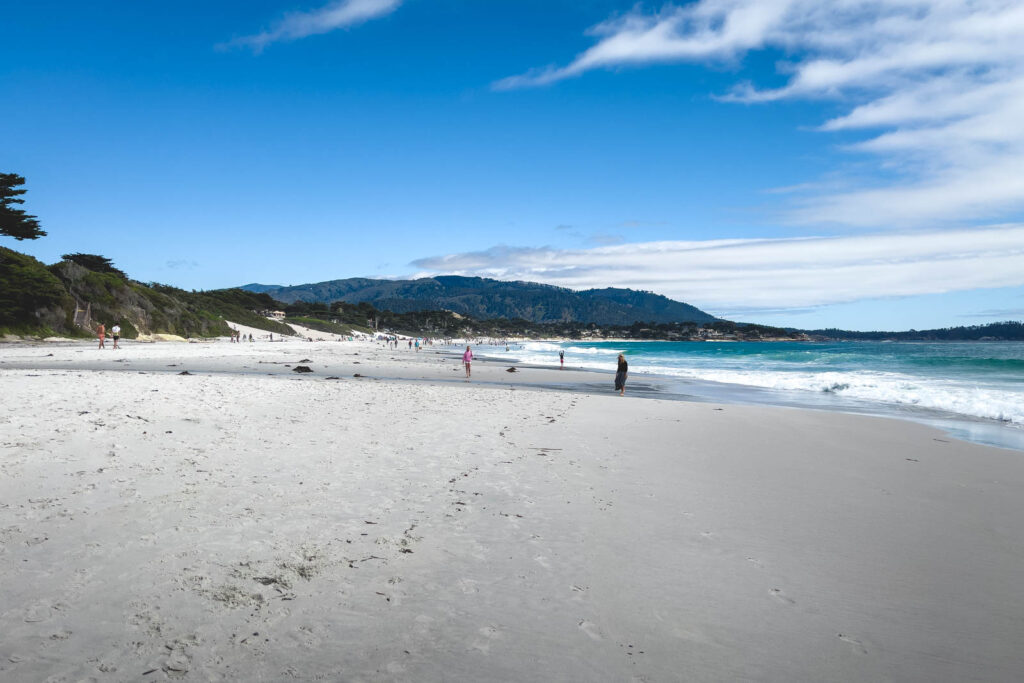 Although the beach can be busy, it is big enough that you won't feel crowded, and there is plenty of room to take a stroll down by the water's edge and dip your toes in if you are feeling brave enough.
Be aware that there are no lifeguards, so swimming is not particularly recommended, although surfing is quite popular.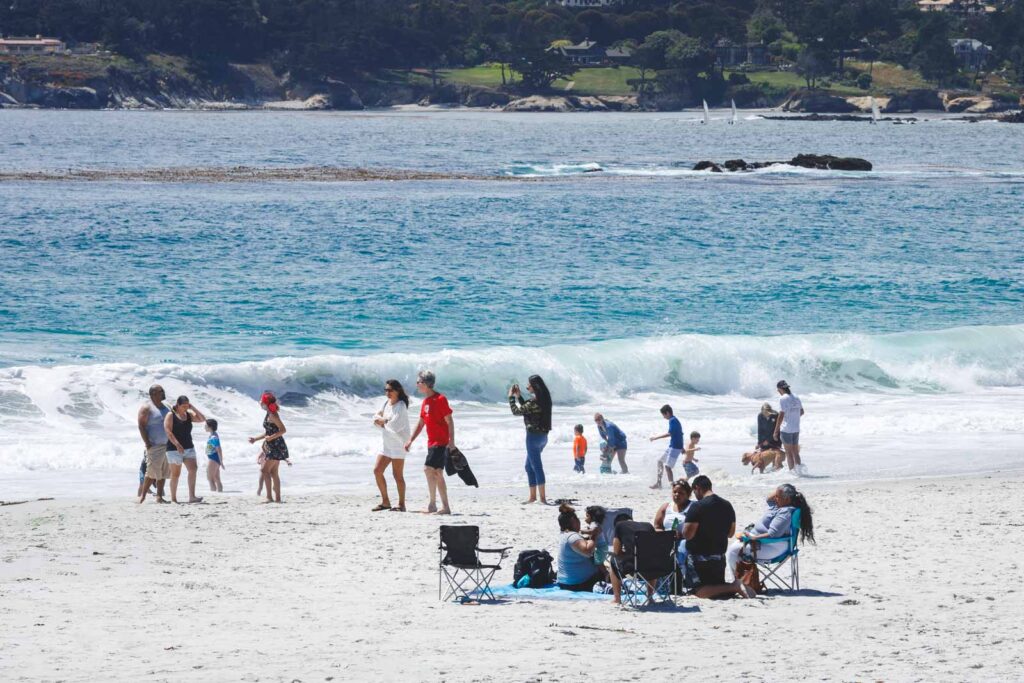 If you stick around long enough to see the sunset, you have the perfect view right from the beach.
4. Discover Carmel River State Beach and Bird Sanctuary
The other beach is Carmel River State Beach, which is another beautiful crescent of sandy beauty. Although just as beautiful as Carmel Beach and large at a mile long, it doesn't seem to get as busy. Most people head here if they fancy a little more solitude.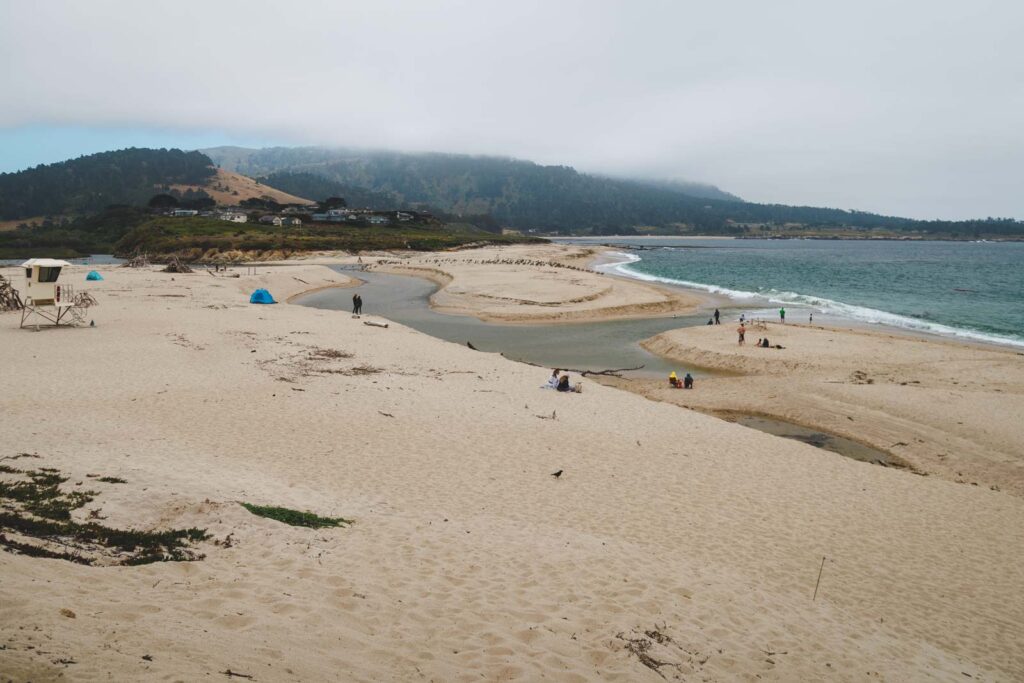 The beach got its name thanks to the fact that the Carmel River flows into the ocean right here. Although the water may look tempting, it is not advised due to the strong and dangerous rip tides, so it is best to observe from afar.
Due to the length of the beach, it is a wonderful place for a walk or a picnic, with incredible views stretching out into the ocean and the Monterey coastline. You can park here in the small parking lot, but be quick if you want to secure yourself a spot!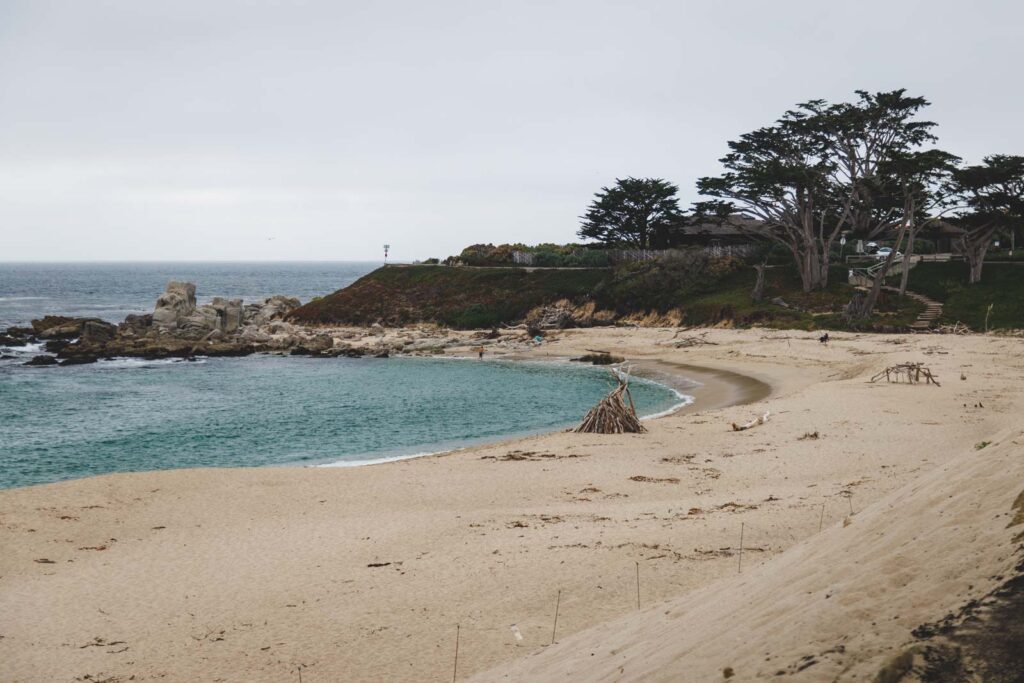 Also, near the beach, you will find the Carmel River Bird Sanctuary. Can you think of any day more wholesome than a visit to the beach, followed by a visit to a bird sanctuary? The sanctuary comprises a large lagoon and a stretch of river and is always full of local bird species, so don't forget those binoculars!
Pelicans are a solid bet, as they swoop in huge numbers, while Western gulls, ducks, and Brandt's cormorants are also common visitors. In fact, 350 species of bird have been found here, so maybe bringing a camera wouldn't be a bad idea as well?
5. Sip Some of The Finest Carmel Wines
Wine tasting in Carmel just hits different, in a very, very good way. With around 20 tasting rooms all within one square mile, you could be in for a very memorable (or not so memorable!) day. There is even a dedicated wine walk mobile guide to get you special offers at the tasting rooms, so you know they are serious about their wines.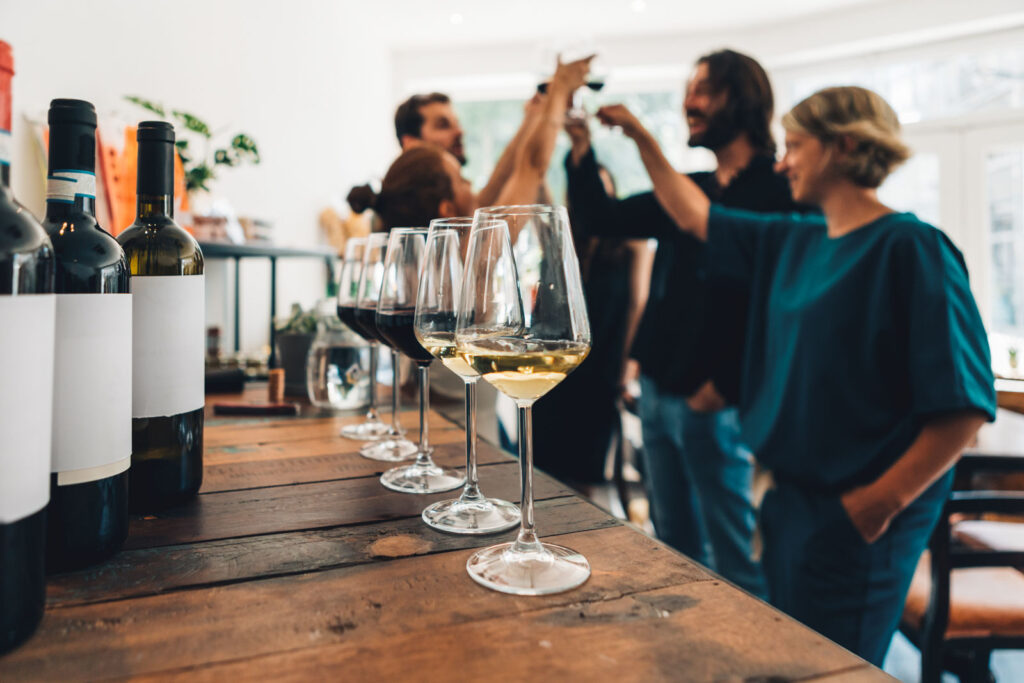 There are so many quality wines to try in cozy tasting rooms, such as Wrath Wines, Galantes Vineyards, and Mazoni Terrace Tasting Rooms, to name a few. If you don't have a plan, just have a wander around the town, stepping into any winery that takes you fancy and savoring every last drop of the local wines.
Some are bright, airy, and modern, where you sip on a flight in contemporary surroundings, while others are all dark wood paneling and leather. The staff are knowledgeable, and you may even get the chance to talk to the winemakers.
6. Take a Hike at Point Lobos State Reserve
Point Lobos State Reserve offers some of the best coastal hiking opportunities in California, and no, we are not exaggerating, it really is that epic. Parking can be a bit of a nightmare, so we advise that once you have a space, you stick with it.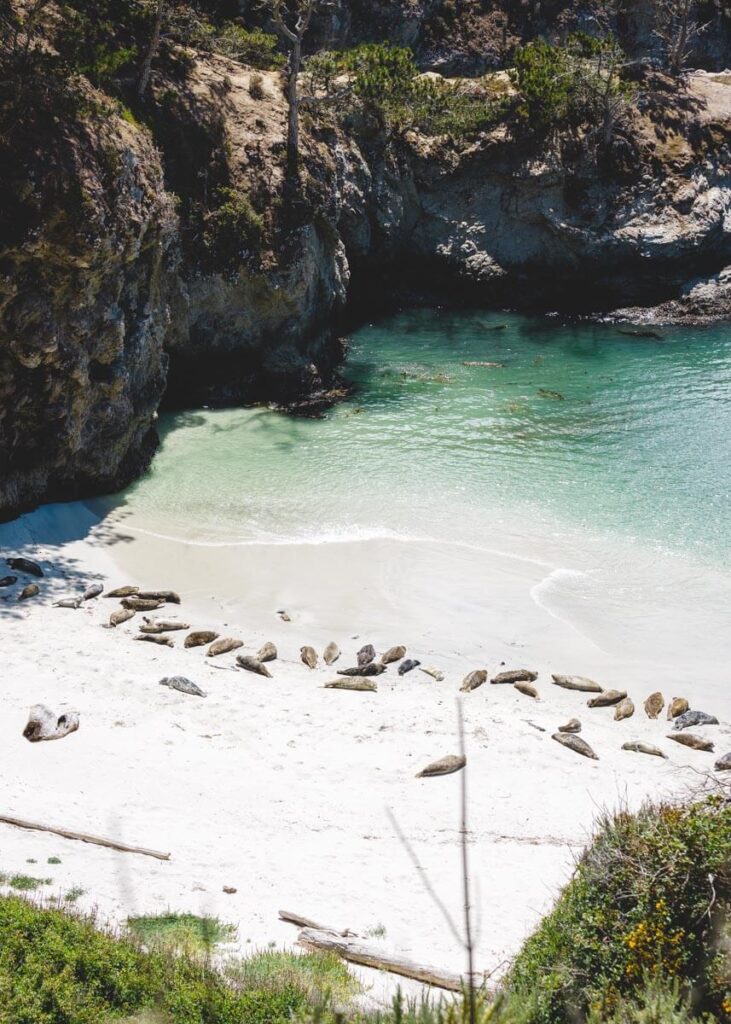 There is one hike that takes you around almost the whole reserve, although this can easily be broken up into smaller sections depending on where your interest lies.
Although we recommend spending the whole day in this epic park and attempting to see as much as possible, if you are short on time, there are a few highlights you shouldn't miss. Whatever you do, add it to your list of things to do in Carmel-by-the-Sea.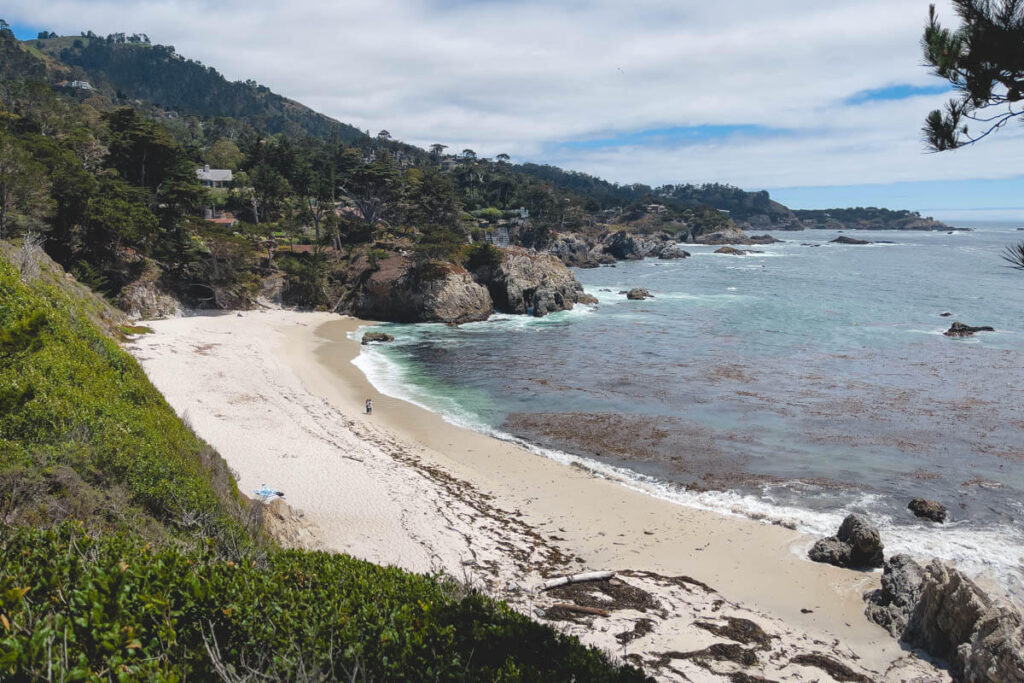 The Cypress Grove Trail is a popular favorite. This loop trail takes you around a grove of some of the finest Monterey Cypress, scattered with sea and coastal views, it is one not to skip, especially when a light fog hangs in the air, giving the whole area a mysterious feel.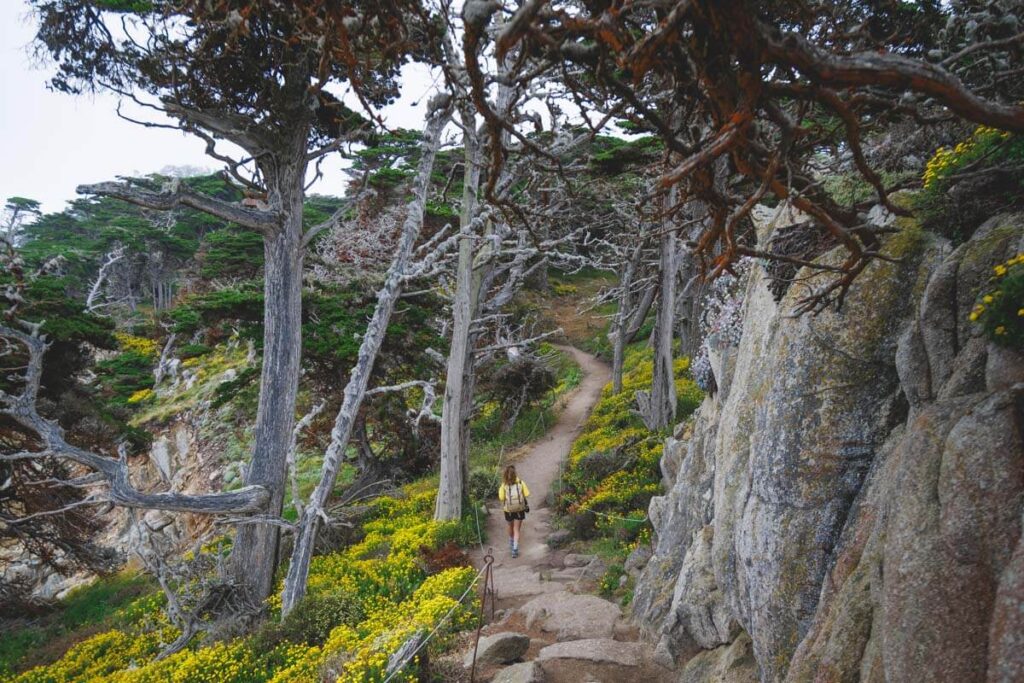 The Sea Lion Point Loop Trail is another must-hike in the park, as you'll head to the spot where sea lions and seals are most often spotted within Point Lobos. These slippery creatures are large, noisy, and numerous, and very hard to miss.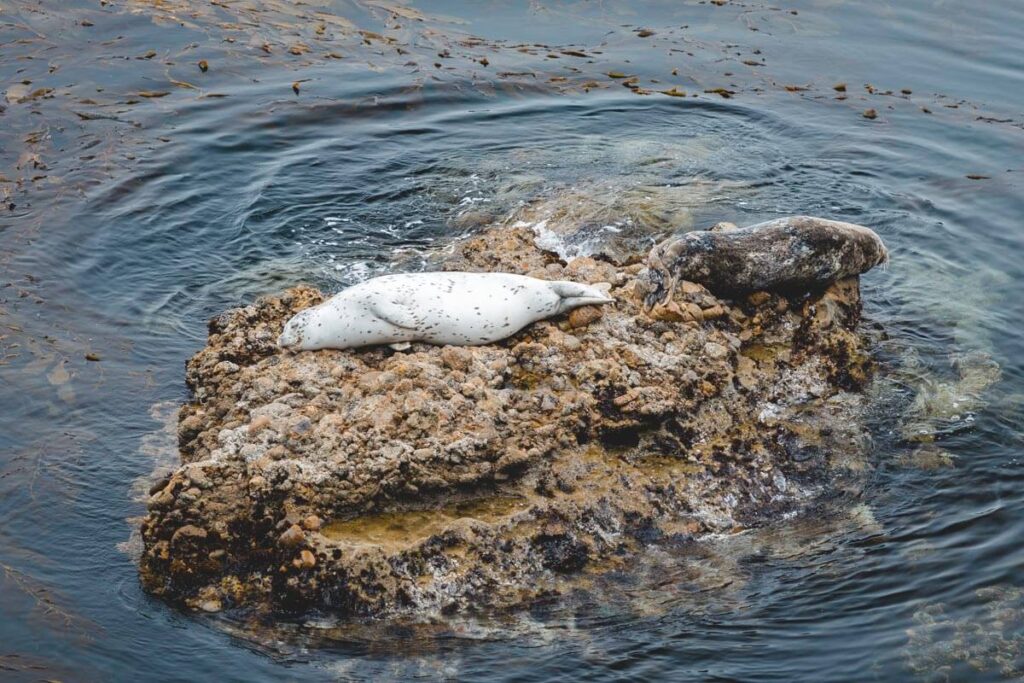 For even more nature, the Bird Island Trail is a mecca for seabird spotting, and although some of the inland trails don't boast views of the bays and blue waters, they give you a chance to escape the crowds and be at one with nature.
7. Check out Carmel's Art Galleries
Visiting the local art galleries is one of the best things to do in Carmel, and they are everywhere. If you walk around the main downtown area, it will almost seem like there is one around every corner.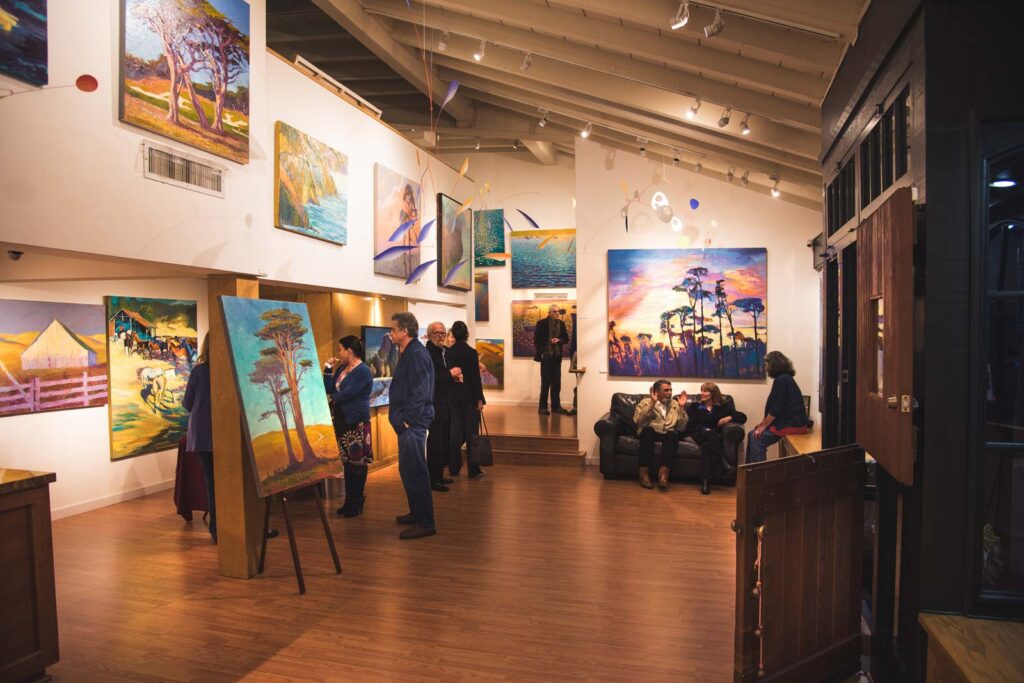 There are more than 80 galleries in one square mile, and they feature anything from world-renowned artists to Californian legends. One of the best ways to take in these galleries is to take the self-guided art walk, which should take about an hour.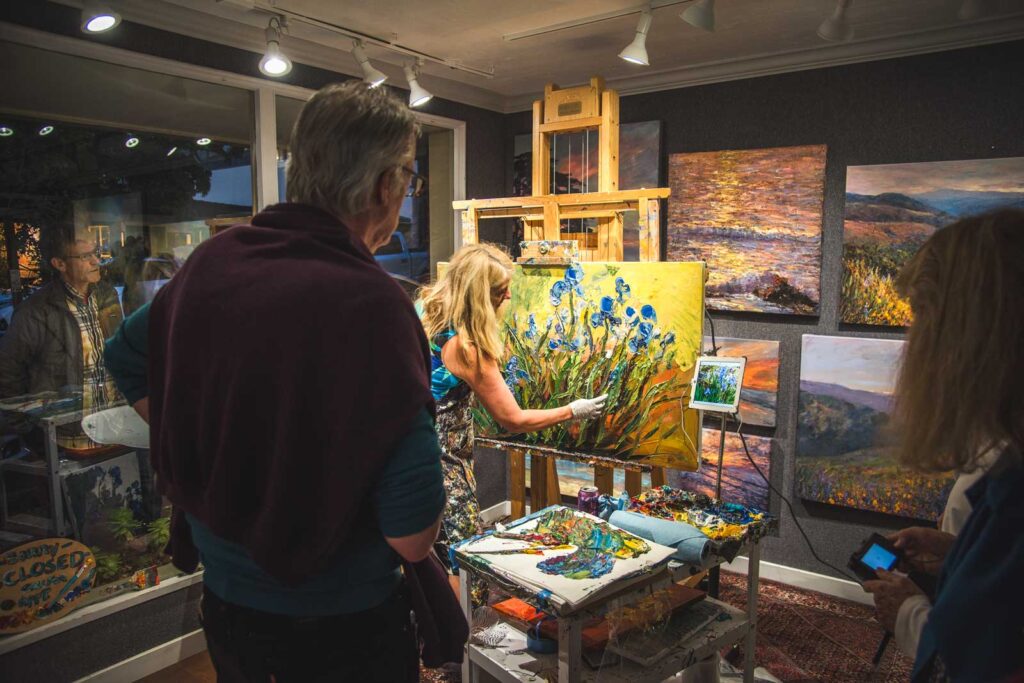 Alternatively, if you want to see the odd few, we suggest these:
The Dawson Cole Fine Art Gallery features some really cool contemporary artworks from both American and European artists, such as Henri Matisse and Pablo Picasso.
The Weston Gallery is primarily a photo gallery and in fact, is one of the oldest photo galleries in the world. Both vintage and contemporary photographs feature here, so it might be worth stopping in.
8. Admire the Shell Mural
The Carmel Shell Mural is a town icon and is a favored backdrop for photos for those visiting this quirky little town. The Carmel Shell, as it is widely known, was painted back in 2020 by local artist Marie-Clare Treseder Gorham and has been loved ever since.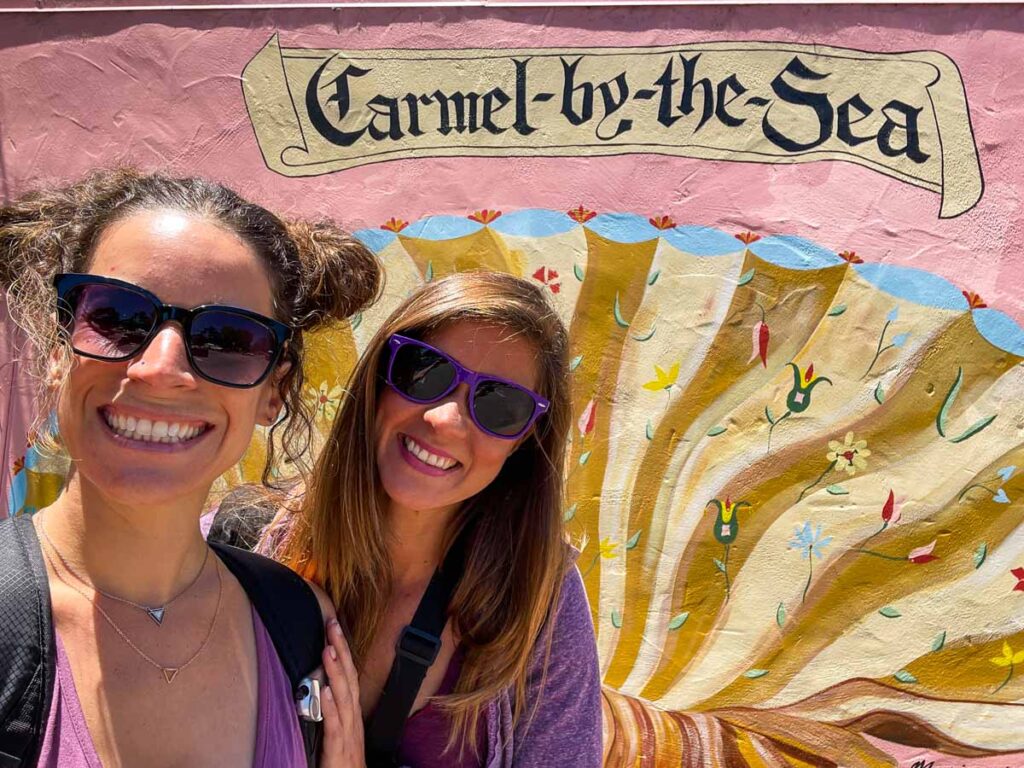 Next to the shell, take a look at the artist's inspiration map, which depicts the historical and artistic points around the town that inspired the final artwork.
9. Take a Hike in Mission Trail Park
If you are just looking for somewhere to get out and stretch your legs for a while, Mission Trail Park may be just the thing to do in Carmel-by-the-Sea.
The small park, well, small in comparison to some of the other parks in the area, is a haven for walkers. There are three miles of trail to enjoy, and is well-used by both Carmel inhabitants and visitors to the area.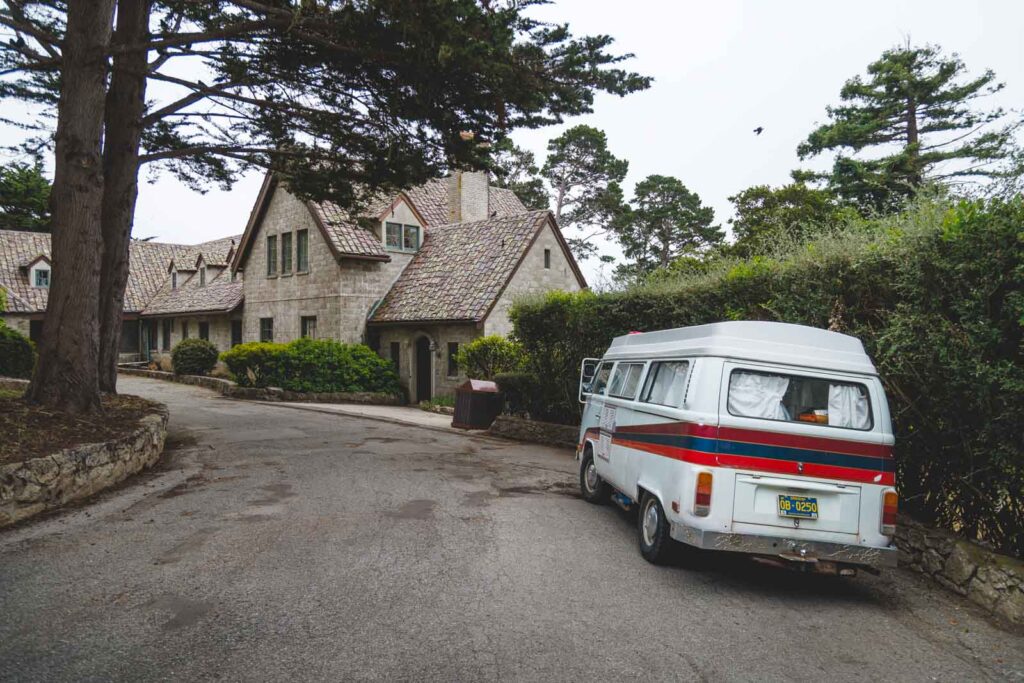 The park was actually once a sprawling estate and is even home to an exotic plant garden, in addition to its more rugged pine woods and meadows. Take a stroll, have a picnic, and admire the beauty of nature without having to stray too far from civilization.
10. Take in The Sights Along The Carmel Meadows Trail
The Carmel Meadows Trail is a beautiful short-loop trail that runs parallel to one of the pristine beaches of Carmel. Located right near a housing community, it is easy to get to and offers some very scenic views out over to Monterey and beyond.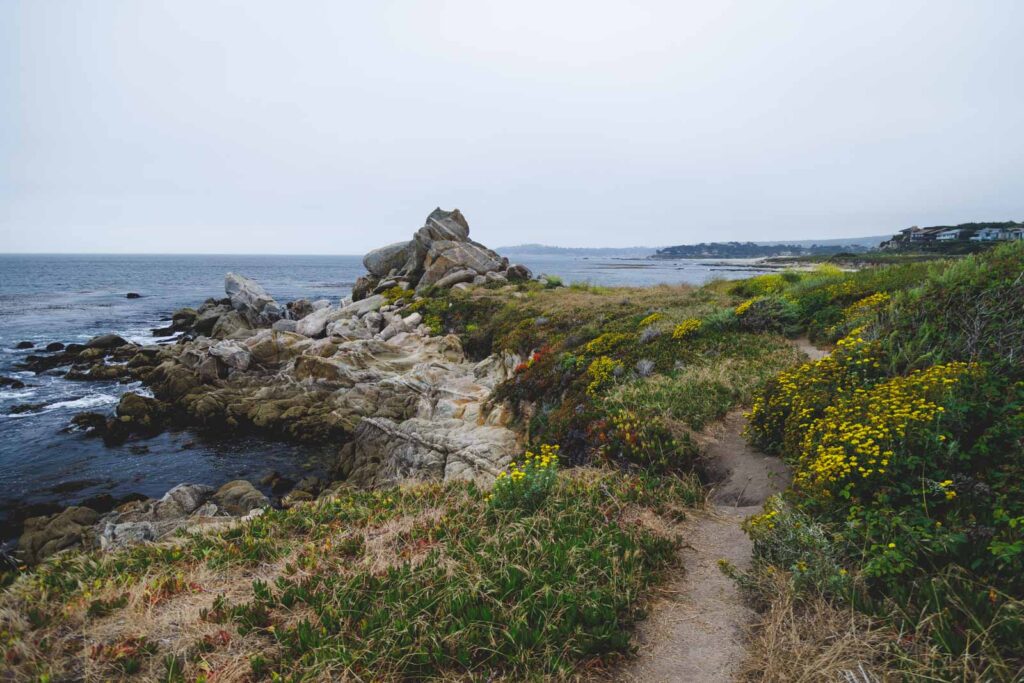 Start the hike from the southern edge of Carmel River State Beach and start walking along the trail. If you fancy venturing down onto the sand at any point, there is easy access at several points along the walk, where you'll probably find the beach to yourself.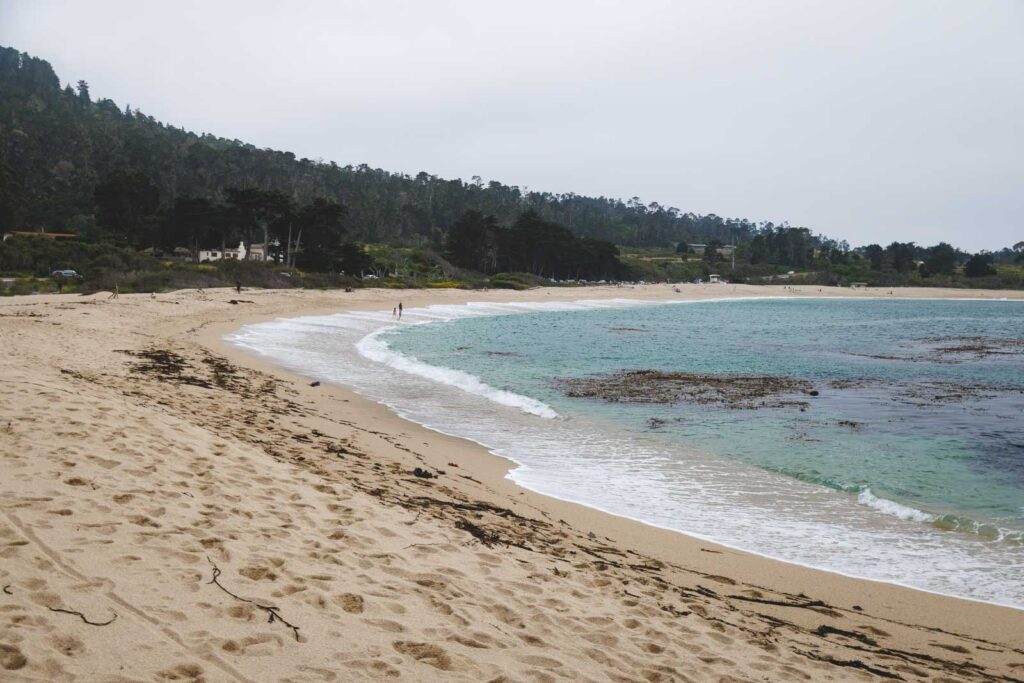 Depending on whether the tide is out or not, you may be able to find some sea life in the rock pools and admire the dramatic sea stacks on the beach from a different angle.
11. See More of The Town Via e-Bike
One of the best ways to explore Carmel is by bike, as you'll be able to cover more ground and have a great time along the way. Cycle from downtown and along the Carmel coastline along Scenic Drive.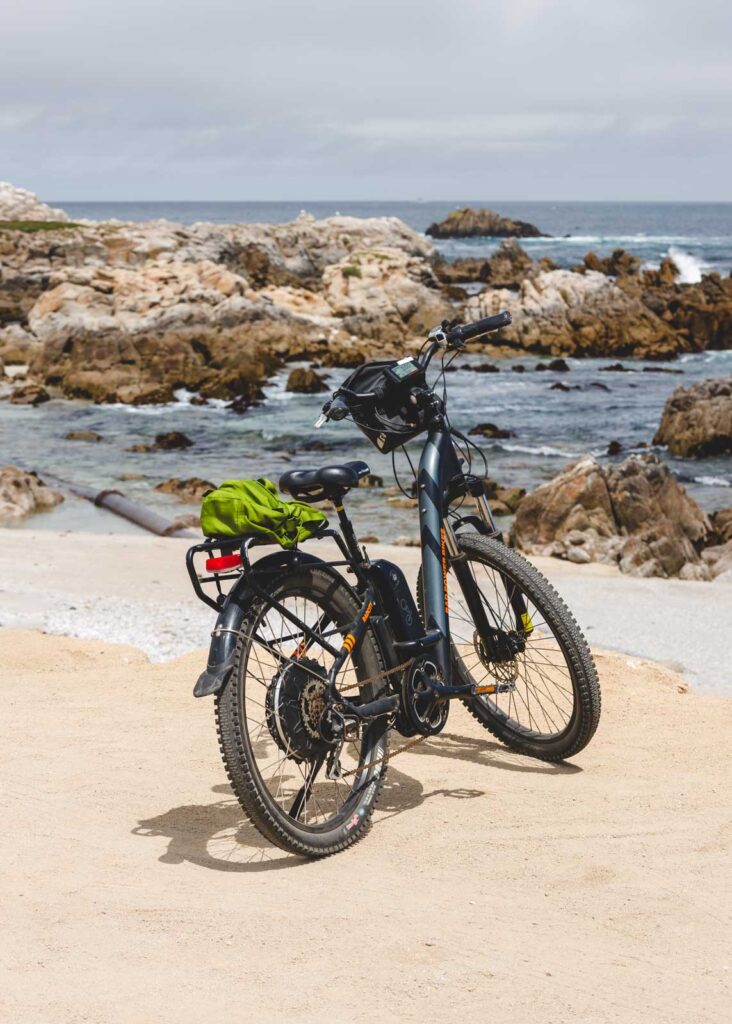 With your knowledgeable guide leading the way, you will pass by some of the town's biggest attractions, such as Tor House, Butterfly House, the Carmel Mission, and Clint Eastwood's Mission Ranch, to name a few. You can also take in the views as you cycle past Carmel River State Beach.
There are so many places you'll stop at or cycle by on this tour, including Fairy Tale Cottages of Hugh Comstock, the Cottage of Sweets, the House of Hasel & Gretel, the Village of Fae, Carmel Beach Boardwalk, the Butterfly House, Lincoln Green Inn, and more.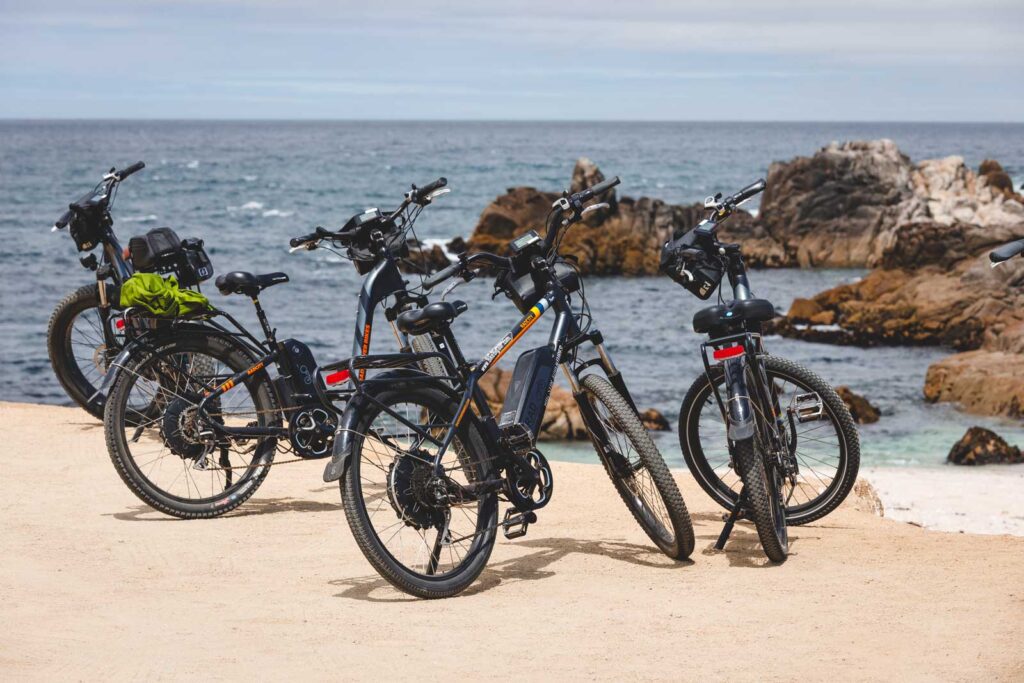 Bike hire is included in the ticket price in most tours like this one, and seeing as it is an e-bike, it will be a lot easier on the legs for you, leaving you with plenty of time to take everything in and ask any questions you have.
12. Make Delicious Macarons
It may not be the first thing you think of when researching things to do in Carmel-by-the-Sea, but macaron making is a lot of fun, and you will end up with a tasty snack at the end of your session. The problem is cooking a macron to perfection can be tricky business, but these classes will help guide you every step of the way.
In a macaron-making class, you will learn how to make this fancy French goodie from scratch, with plenty of tips provided to help you make the perfect macarons every time.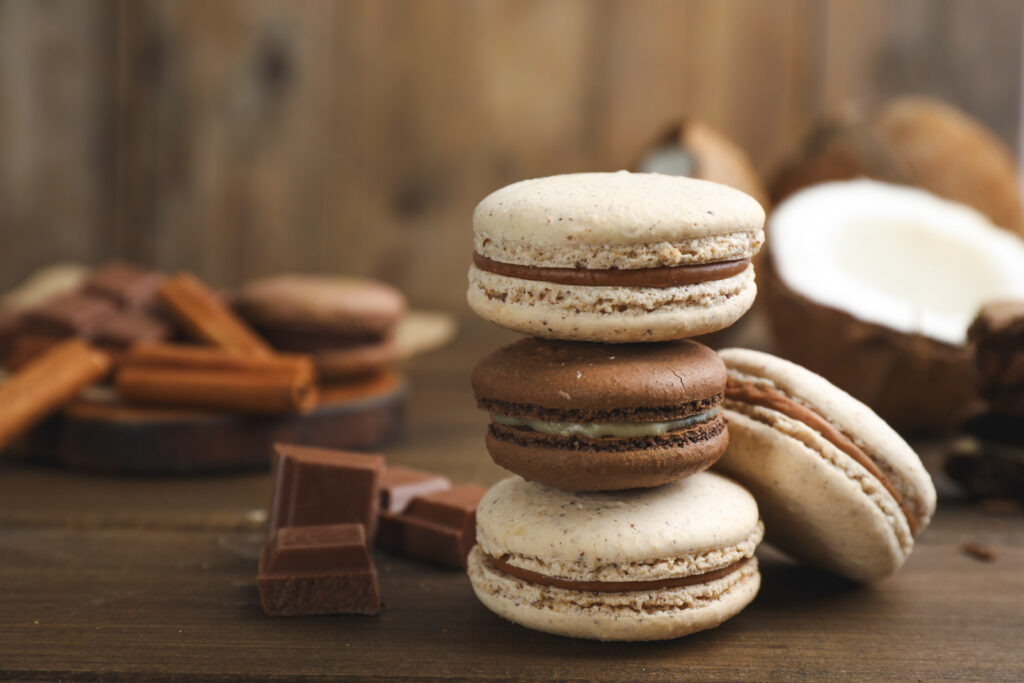 With a small class size, you will get the attention needed for a completely hands-on experience from start to finish. From assembling ingredients to perfect piping, you will learn the whole process and become a baking master in no time.
13. Get Cultural on a Food And Wine Tour.
The people of Carmel treat food and wine very seriously, and you can sample some of the best on a food and wine tour like this one. Hit the streets with a knowledgeable foodie guide and learn a bit about the town while you pop in and out of local eateries.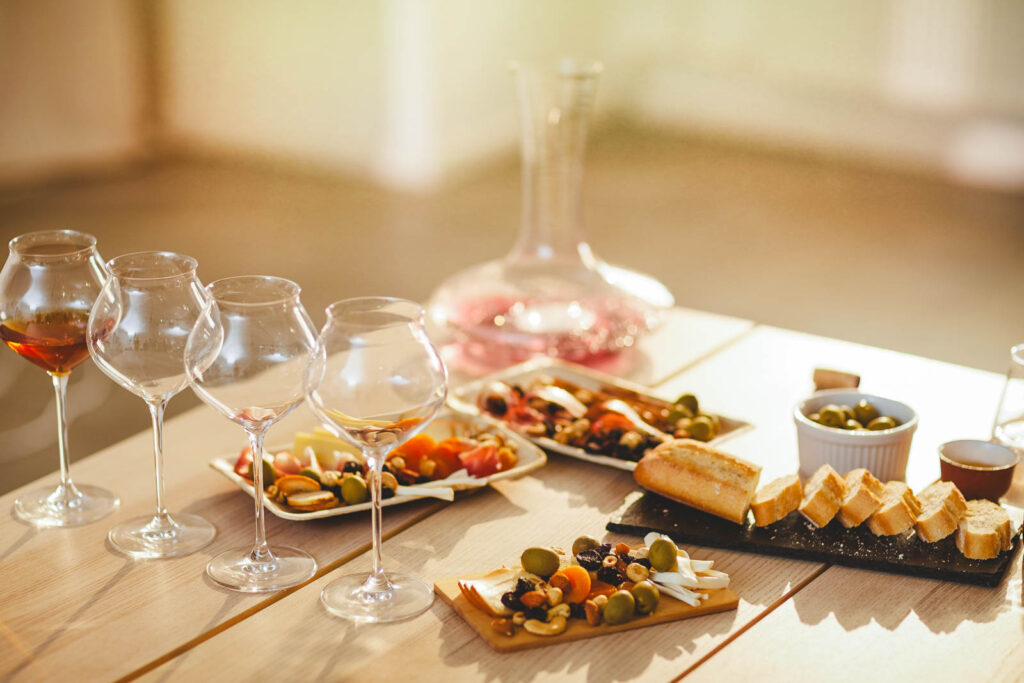 In total, you will visit around 6 or 7 places to eat, learning all about the town and its history. Due to the small tour sizes, you will have many opportunities to ask questions and tailor the tour to your interests.
Come hungry! You can sample some delicious dishes such as rich pasta, flavor-packed olive oils, chocolates, and local wines as you walk. All the food and wine in the tour are included in the price, so you won't have to worry about splashing out for food on top of the tour price.
Nearby Things to Do in Carmel
You won't have to go too far to see even more cool things to do in Carmel. Since Monterey and Big Sur are in Carmel's backyard, in 15-30 minutes, you can explore a whole new world on the California Coast!
Give yourself about an hour, and you can even reach other cool places like California's most underrated national park and other epic coastal cities without having to pack everything up and leave.
Here are some more of our personal favorite nearby things to do in Carmel…
14. Take The Scenic 17-Mile Drive
If you want to see the incredible coastal landscapes around the Carmel area but don't fancy getting out of your car, you must take the 17-mile drive. It is one of the most incredible drives in California, with plenty of opportunities to stop if you want to stretch your legs and take in the sights.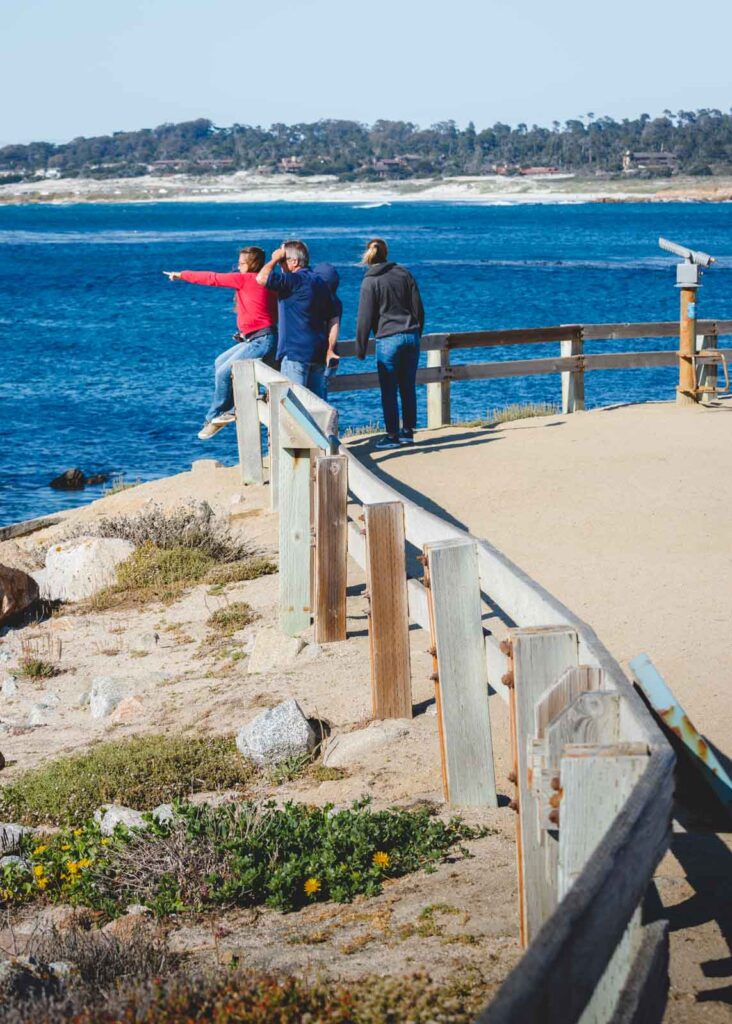 Spanish Bay Beach is one of the most stunning stops along the drive, with powdery white sand and a boardwalk offering beautiful views. Get your wildlife fix at Bird Rock, which sits out to sea. The surrounding sky is often filled with abundant bird life, and the waters with seas and sea lions.
If you are going to make other stops on the drive, you have to make it to the Cypress Point Lookout for stunning views of the coast, followed by a visit at Lone Cypress.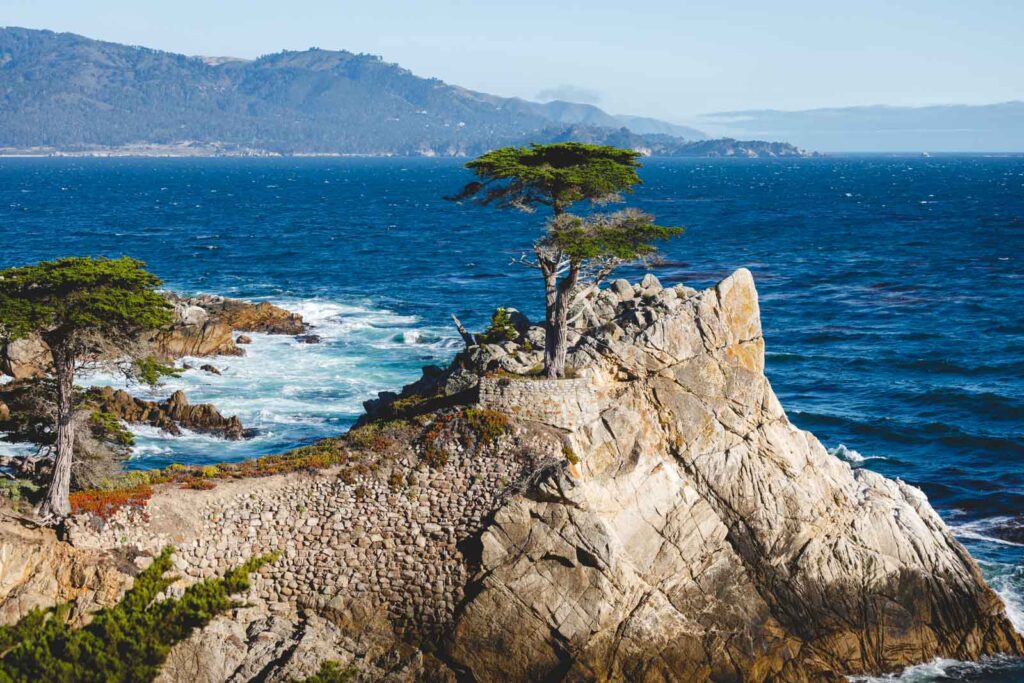 The single tree is likely the most iconic and photographed tree on the Californian coast. It is guessed that the tree, which sits alone on an outcropping of rock, is around 250 years old. Head to the Ghost Trees to see some more cool trees. This time, the Monterey Cypress trees are ghostly white, stripped by the harsh winds and sun.
It is a seriously cool drive, and we have only touched on some of the coolest stops. You could easily spend the day taking in the sights. The drive costs $11.75 and is well worth it, you can get more info here.
15. Check Out Nearby Monterey and Cannery Row
Monterey is so much more than a Californian beach destination. The town has so much to offer visitors, with a bay teeming with local wildlife, some of the best dive spots in the state, bucket loads of history, and many places to grab a bite to eat and do some sightseeing. A trip to Monterey should be on your bucket list of day trips from Carmel-by-the-Sea.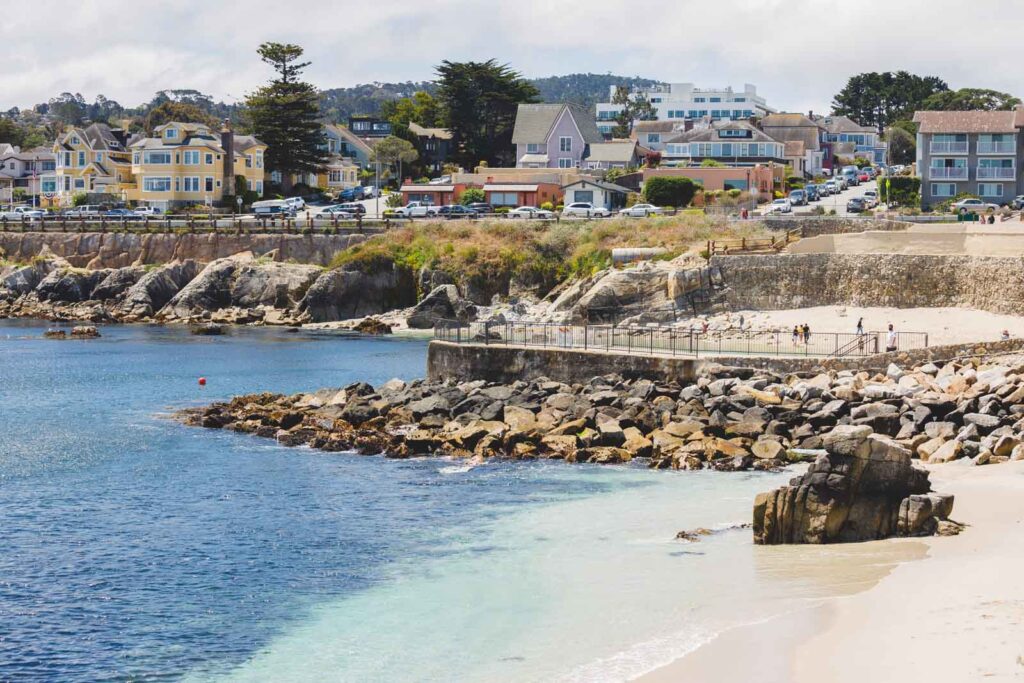 On the top of any list of things to do in Monterey will certainly be Cannery Row, and for good reason. This part of the city is just gorgeous, giving a little glimpse into the area's history.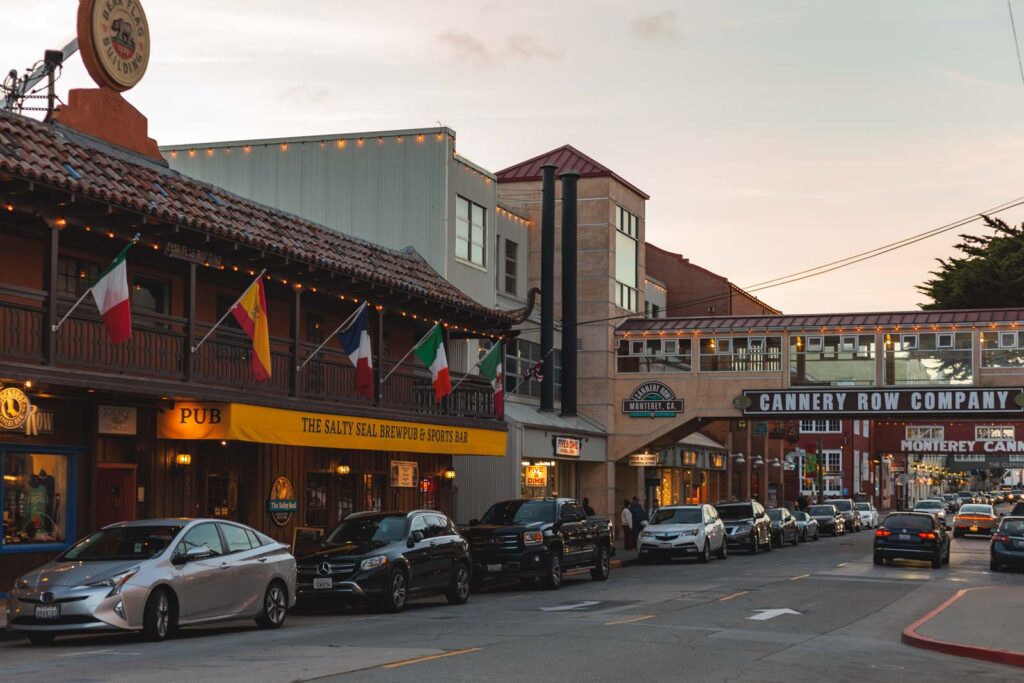 The photogenic street is filled with old cannery buildings, the last of which closed up shop in the 1970s. Instead of becoming derelict, the street has been transformed into the heart of city life, filled with classy places to stay, endless eateries, and the world-famous Monterey Bay Aquarium.
Once you have finished exploring Monterey Bay, make sure you leave enough time to Fisherman's Wharf and walk at least a part of the Monterey Bay Coastal Recreational Trail, which takes you to some of the best spots along the Monterey Bay coastline.
---
RELATED: 12 Marvelous Things To Do in Monterey, California
---
16. Get Spooked On a Ghost Tour
Are you up for something a little bit scary and a little bit different? Take a Monterey and Carmel ghost tour and scare yourself silly as you learn about a range of haunting goings on in the area.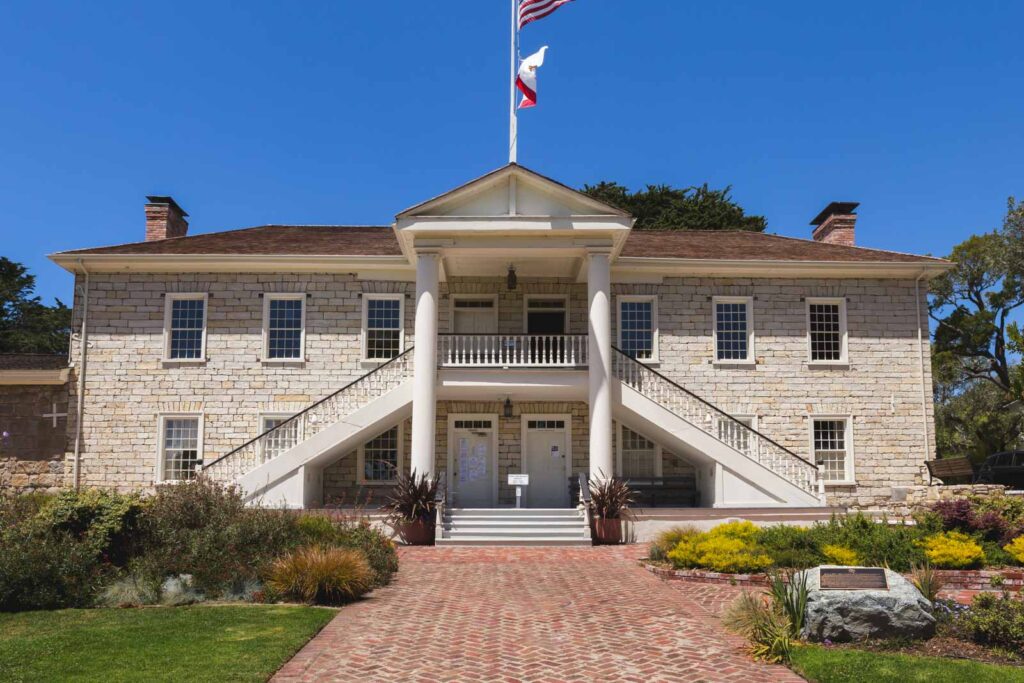 Take a creepy walk through the areas where real killings and spooky goings-on have occurred. You'll hear stories from locations such as haunted hotels, empty jail cells, and empty theaters, which are creepy enough without someone explaining some weird events that went on within the walls.
You'll head to several destinations that look and feel completely different by day compared to when the sun sets, such as Old Fisherman's Wharf, the Colton Hall Museum, the Monterey Museum of Art, and the Monterey Hotel Spa, hearing chilling tales of ghosts and spirits along the way.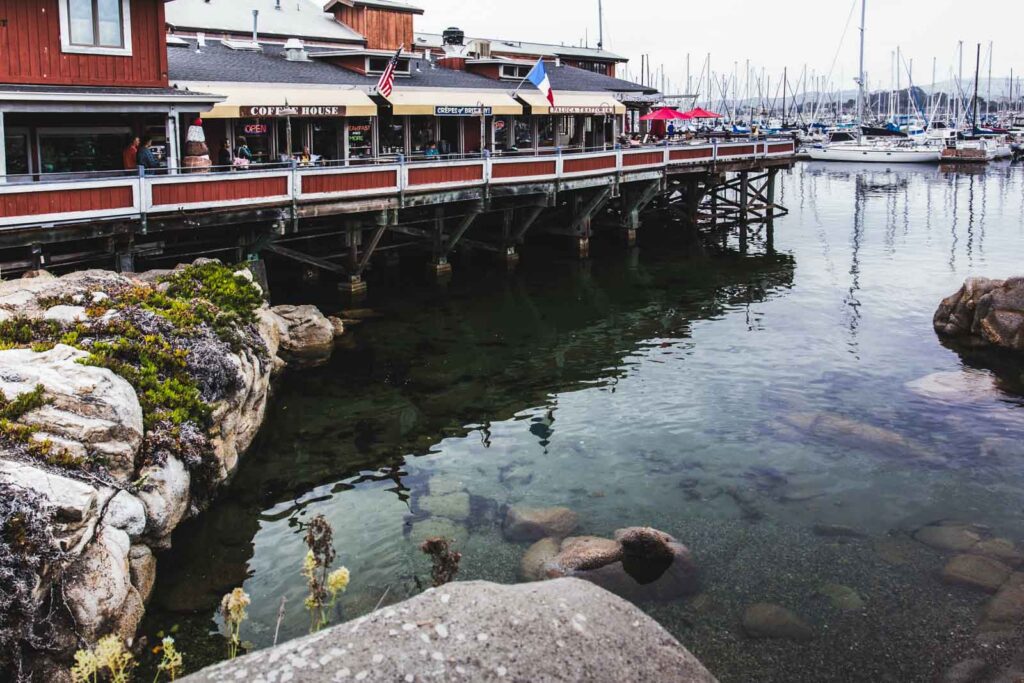 If you don't do well with spooky, this one is not for you, but it is a lot of fun if this is your jam!
17. Scan the Waters on a Whale-Watching Tour
Did you know you can go whale watching from Monterey? The seas around the town are swimming with marine life, big and small, with some of the biggest creatures being majestic whales!
A variety of tours and operators run whale-watching tours, most with up to a 99% success rate, so you are almost guaranteed to see whales! It is not just one type of whale you will see either, as usually humpback, blue, killer, and sperm all share the same waters around the city.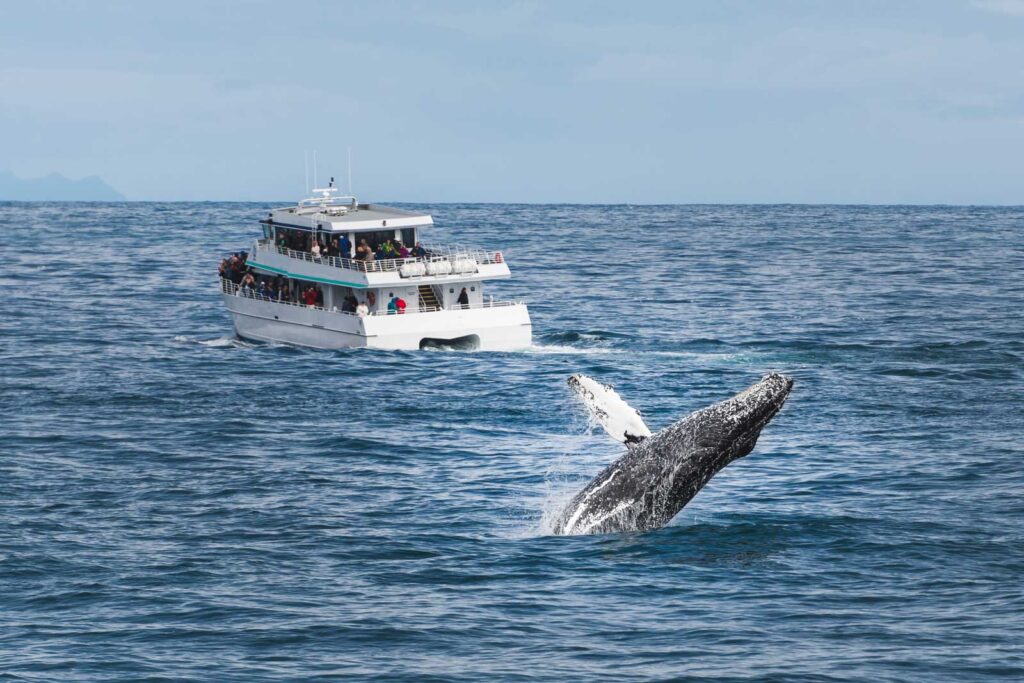 You are also highly likely to be able to spot other incredible sea creatures like dolphins, sea lions, and sea turtles. We will be very surprised if you come back disappointed with your sightings!
18. Go Surfing or Take a Surf Lesson
Monterey is known for its surfing culture, and there are many ways to experience this thrill and get out on a board! We love surfing, even in chilly coastal waters.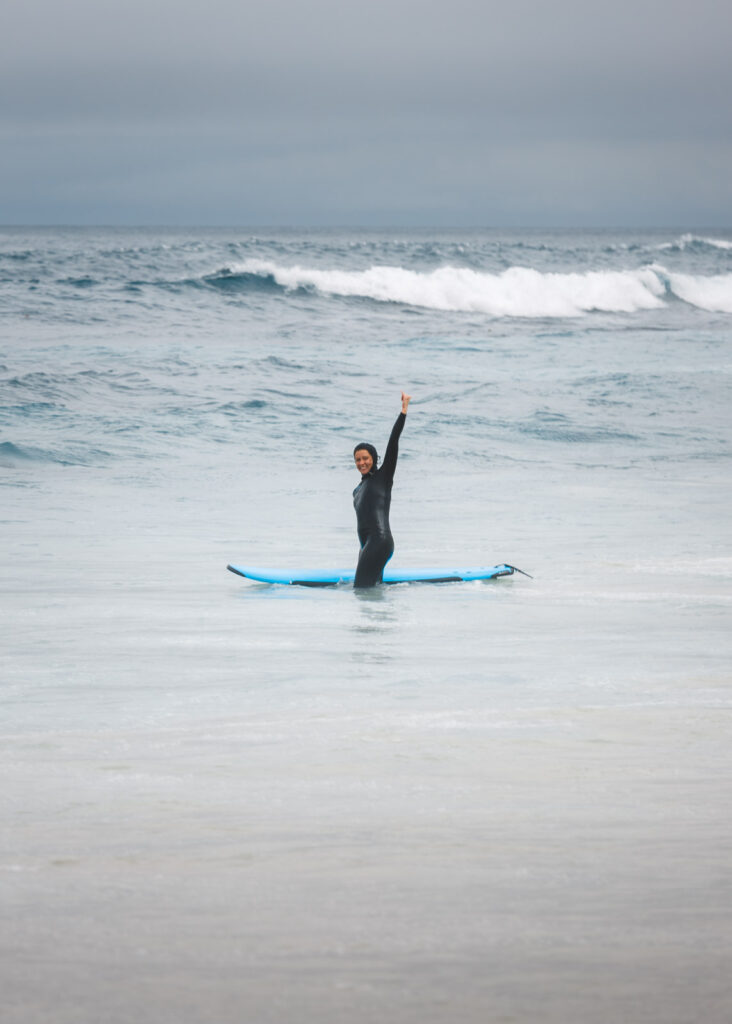 If you are new to surfing or want to hone your skills, we recommend taking a surfing lesson. You'll learn the basics with a well-trained instructor, such as positioning and paddling, before having the chance to get out on the water.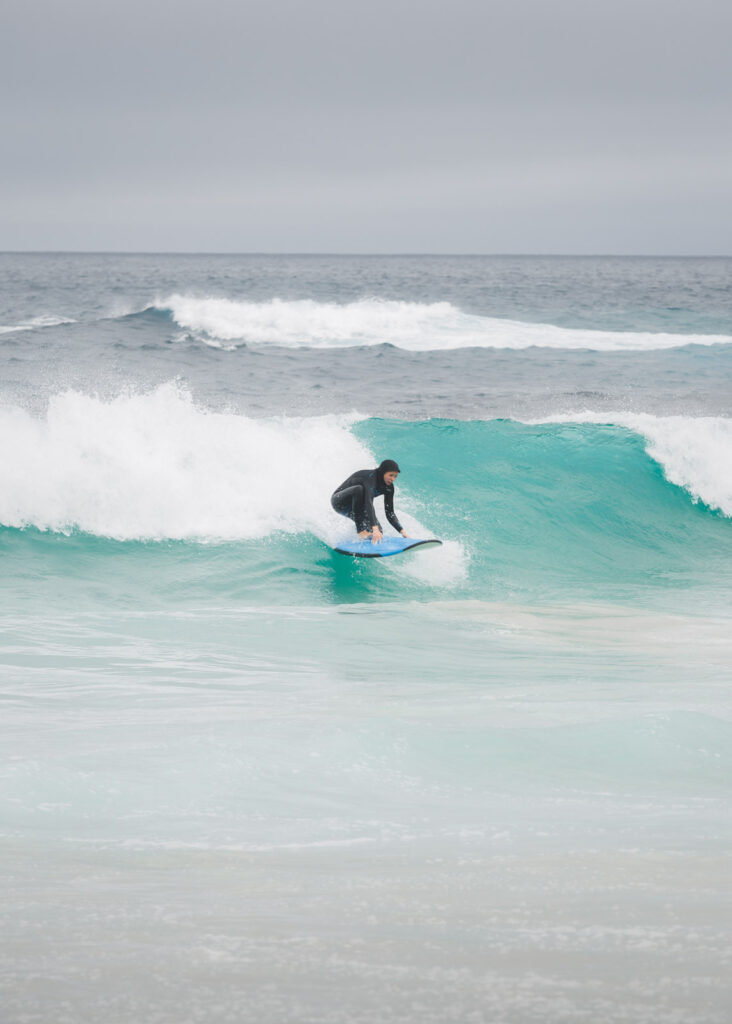 There are a few different options. You could choose to have a private surf lesson where you will quickly learn the fundamentals of surfing. Even after the first lesson, you should be able to surf confidently. Alternatively, choose a private or larger group lesson, depending on your budget and group size.
If you are already a confident surfer, bring your own or rent a board and head into the active waters yourself. Monterey and Carmel Beaches have some of the best swells during the fall and winter months!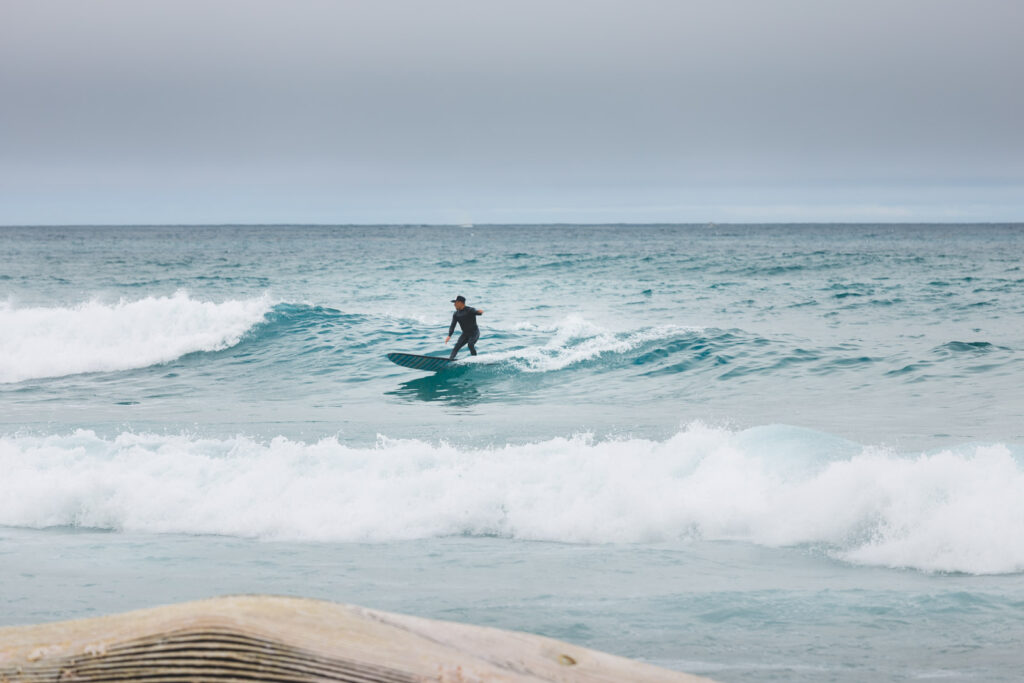 If you fancy trying something a bit more off the beaten path, then Moss Landing and Ghost Tree are fun spots to try and will have you tackling challenging waves in the freezing waters.
19. Discover Life Beneath the Waves
Monterey Bay offers a very different diving experience to colorful tropical waters, but there must be a reason more than 65,000 divers from around the world choose to visit.
The Monterey Bay Sanctuary offers one of the most unique underwater landscapes, filled with a thick forest of kelp, deep underwater canyons and most importantly, an abundance of wildlife.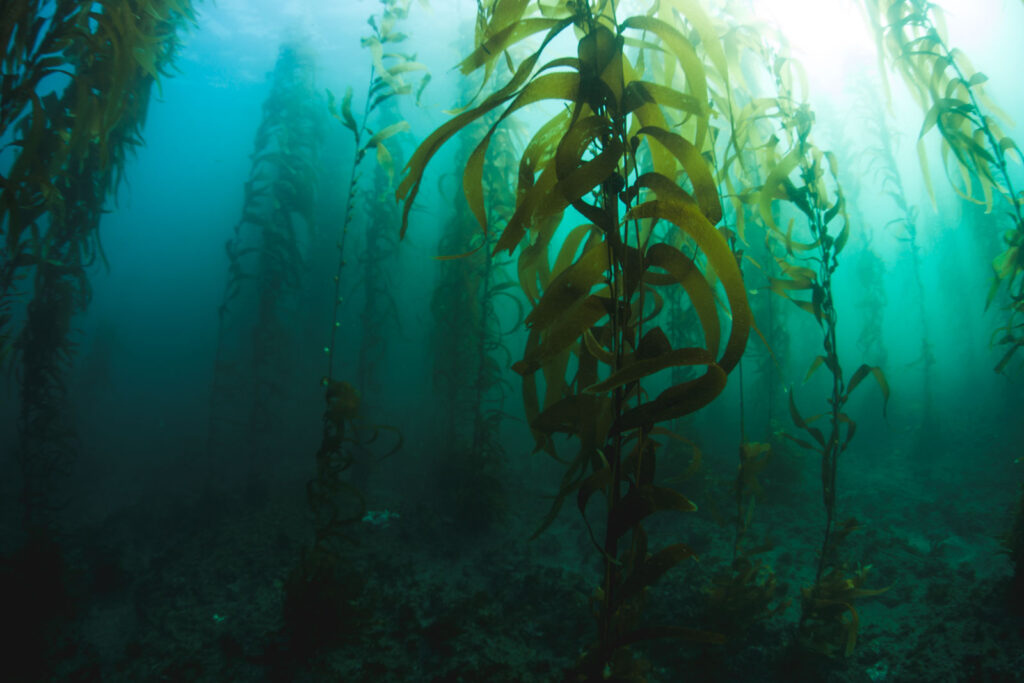 You could spot sea anemones, bright corals, seals and sea lions, whales, porpoises, dolphins, sea nettles, turtles, and if you are lucky, a few playful otters!
There are many diving sites around the Monterey Bay area, most offering excellent visibility of between 10 and 30 feet. The water around the bay is rich in nutrients, which is why there is such an array of marine life.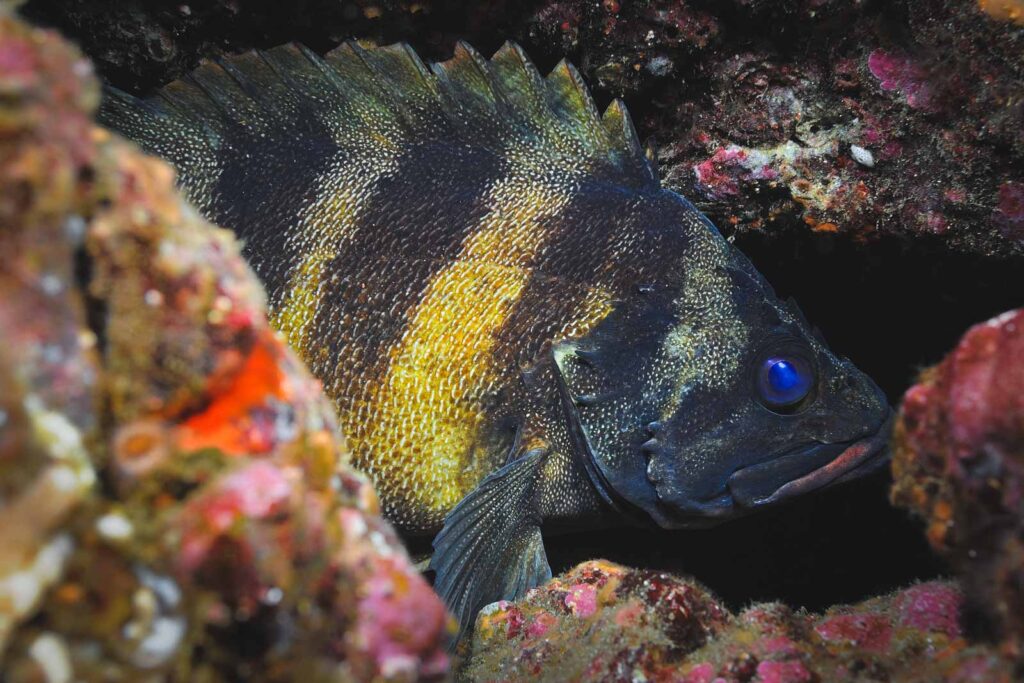 You could head out into the waters at Lover Point, San Carlos Beach, and McAbee Beach, to name a few top locations, with plenty of dive schools that offer tours and training courses, so you can still experience the underwater world of Monterey even as a newbie.
20. Hike to The Viewpoints in Garrapata State Park
Garapatta State Park boasts a beautiful waterfront position, with trails that will have you weaving between redwoods and discovering almost hidden paths that split you out at the beach.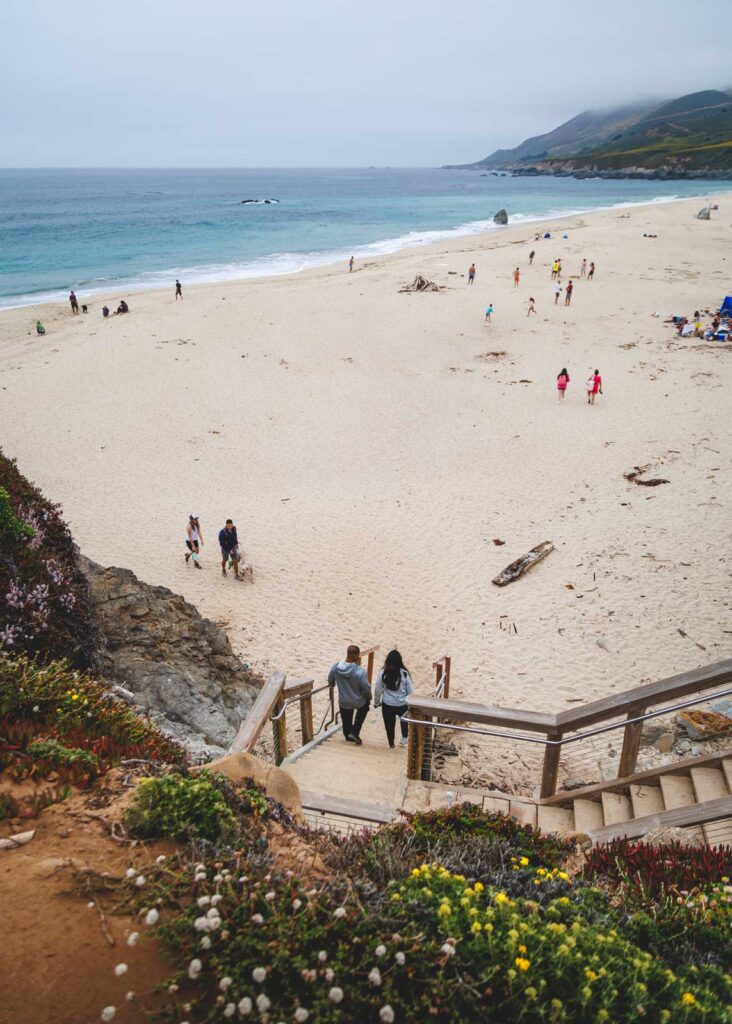 It's not just the odd other human you may encounter on your visit. Wildlife is abundant in the park, with common sightings of sea lions, seals, and grey whale sightings, depending on the time of year you visit.
The park is relatively small, with two miles of beachfront, but it packs a lot of punch with the area that it does have. The impressive coastal headlands are the main draw to Garrapata, such as Soberanes Point, which can be reached via a scenic hike.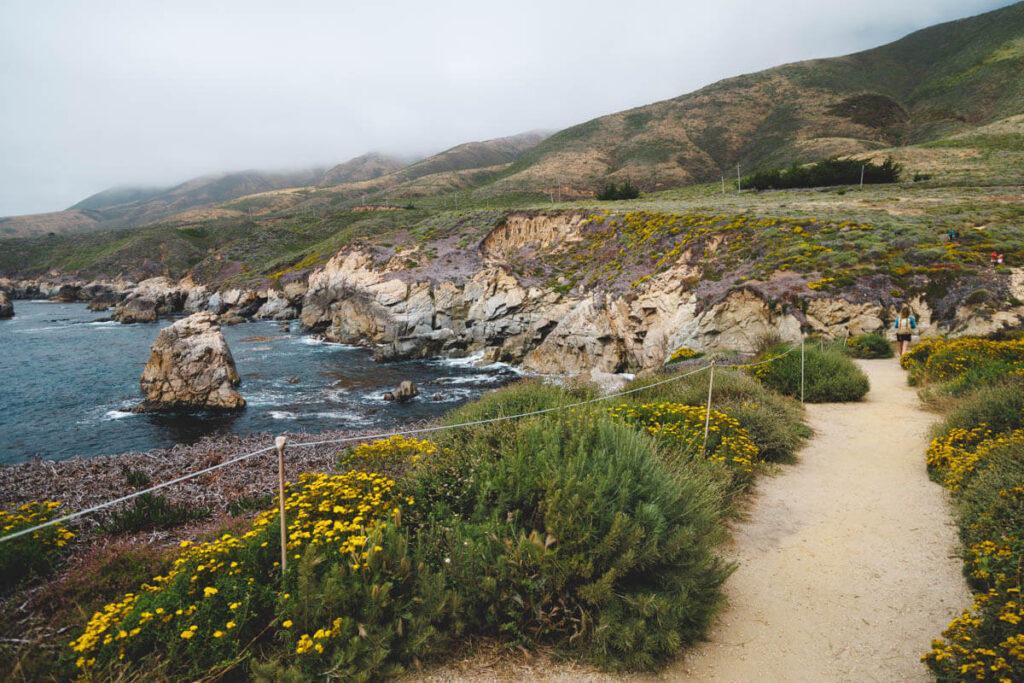 Compared to some of the most well-known parks in the region, Garrapata is relatively undiscovered, with less populated hiking trails along the coast and inland. One of the most incredible hikes is the Soberanes Canyon trail, which takes you inland to the redwoods and the Santa Lucia Mountain Range.
21. Enjoy the Great Outdoors in Andrew Molera State Park
Get out and about and explore the great outdoors at Andrew Molera State Park, one of the most underrated stops on the Big Sur. The park is huge at 4766 acres, so if you are just on a day trip from Carmel, you won't have a hope of seeing it all, but you can certainly check out the highlights.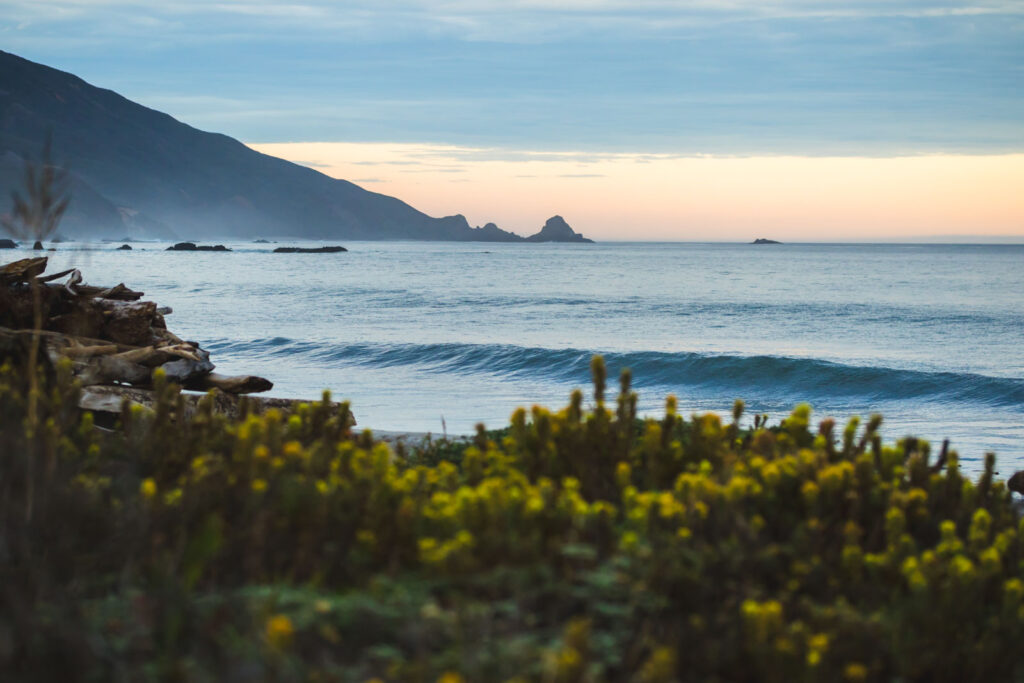 The options for outdoor experiences are numerous. Some people come here for the surfing culture, while others hike the paths that twist their way through the trees and along the rivers to get to the ocean. Biking is popular, as is nature watching and camping.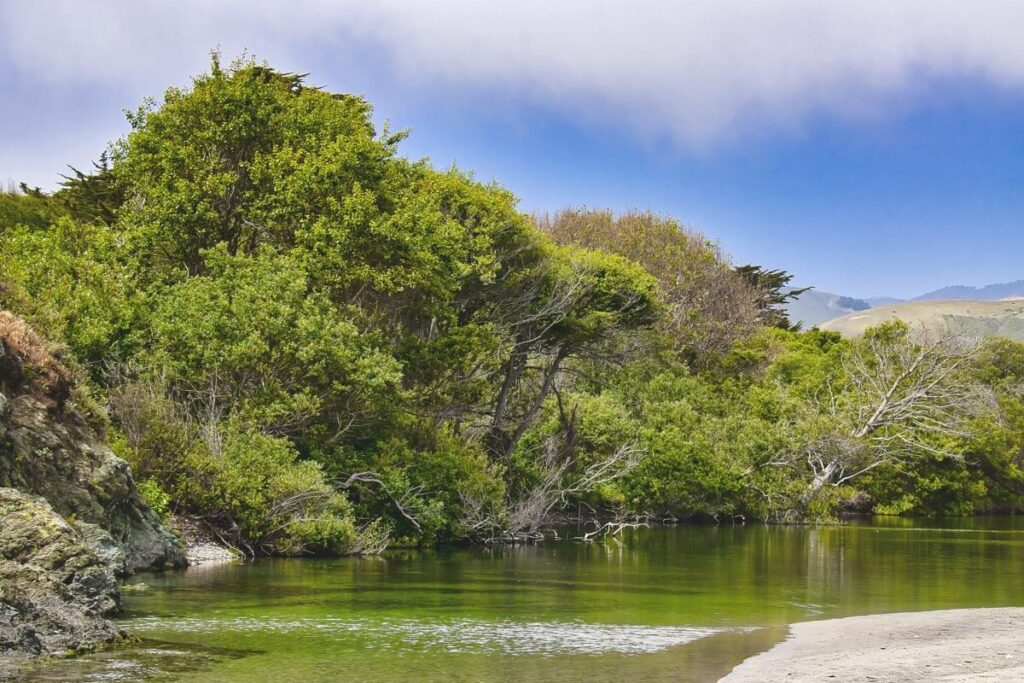 There are 20 miles of trails within the park alone, with anything from shoreline trails only available during the low tide to steep tricky trails like the Panorama Trail, which takes you through a pygmy forest to incredible views of the rugged Big Sur landscape.
For a little bit of culture, you can visit the original Cooper Cabin, the oldest standing structure in Big Sur, constructed in 1862. You should also stop at the Andrew Molera Ranch House Museum to learn more about Big Sur's heritage and the Ventana Wildlife Society's Discover Center to improve your wildlife knowledge.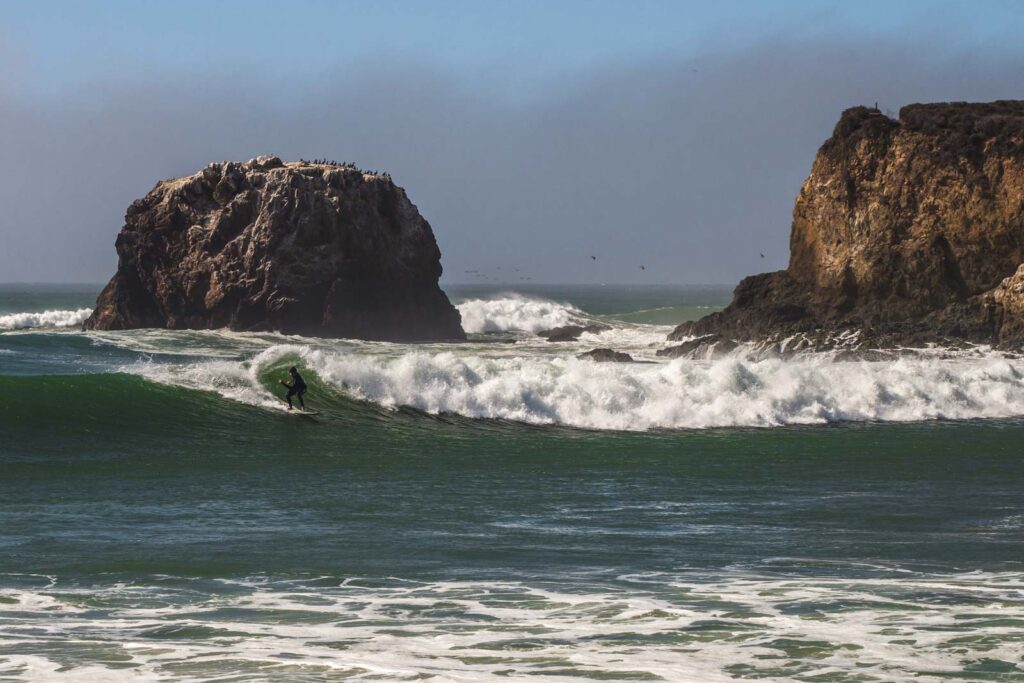 With so much to do and see, there is a good chance you will want to spend the night. Trail Camp is a hike-in, and that will just add to the sense of adventure.
22. Hike to a Waterfall in Julia Pfeiffer Burns State Park
Julia Pfeiffer Burns State Park is an incredible state park along the Big Sur coastline, complete with nearly 3000-foot ridges, waterfalls, and some great hikes. Some of the hikes will take you through thick forests of redwoods and tan oaks, while others will take you down to picturesque coves, beaches, and overlooks.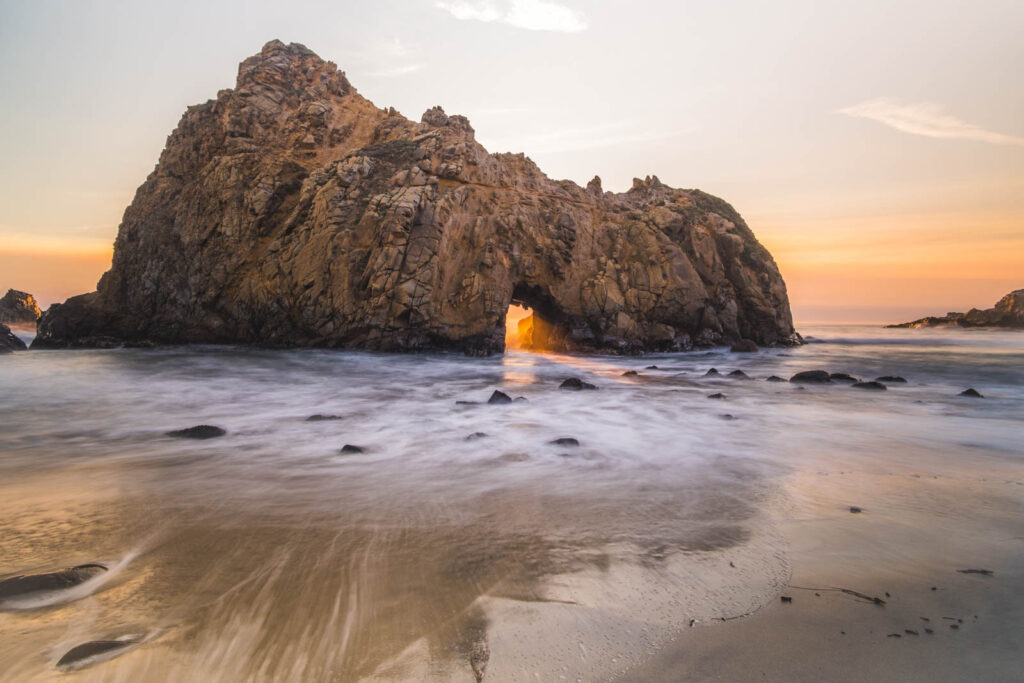 There are so many incredible things to do in the park besides hiking. Bring your binoculars and keep your eyes on the horizon for whale watching. If you time your visit with the whale migration, you can see some of these huge creatures.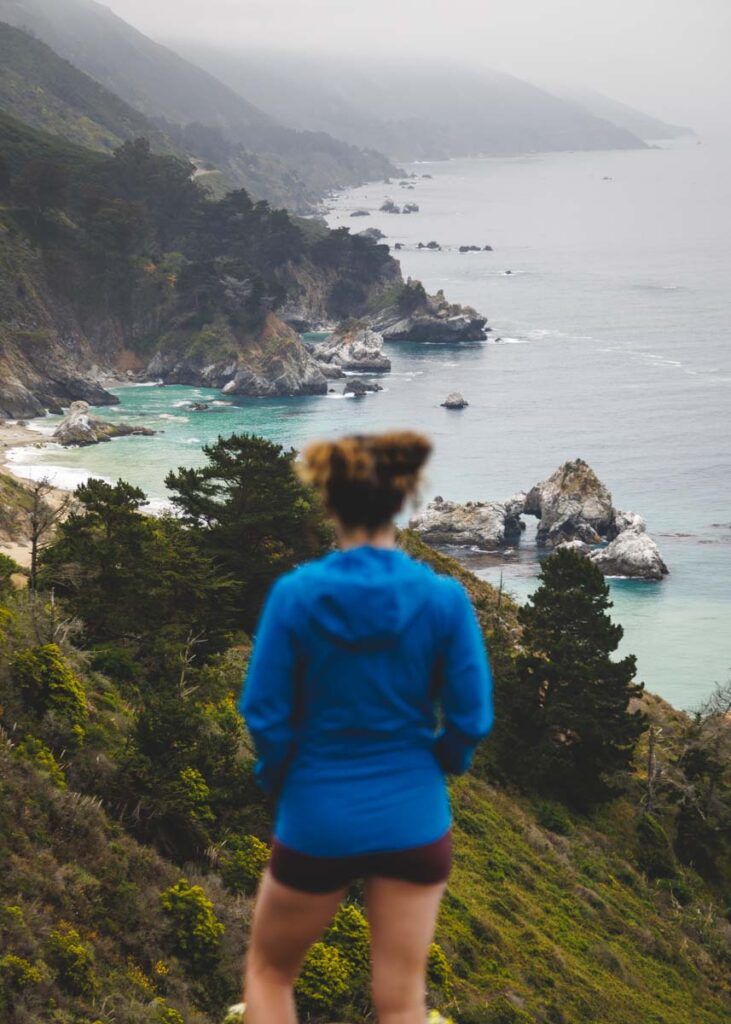 One of the most popular things to do in Julia Pfeiffer Burns State Park is to visit Partington Cove and then head to the Mcways Falls Overlook via a short trail.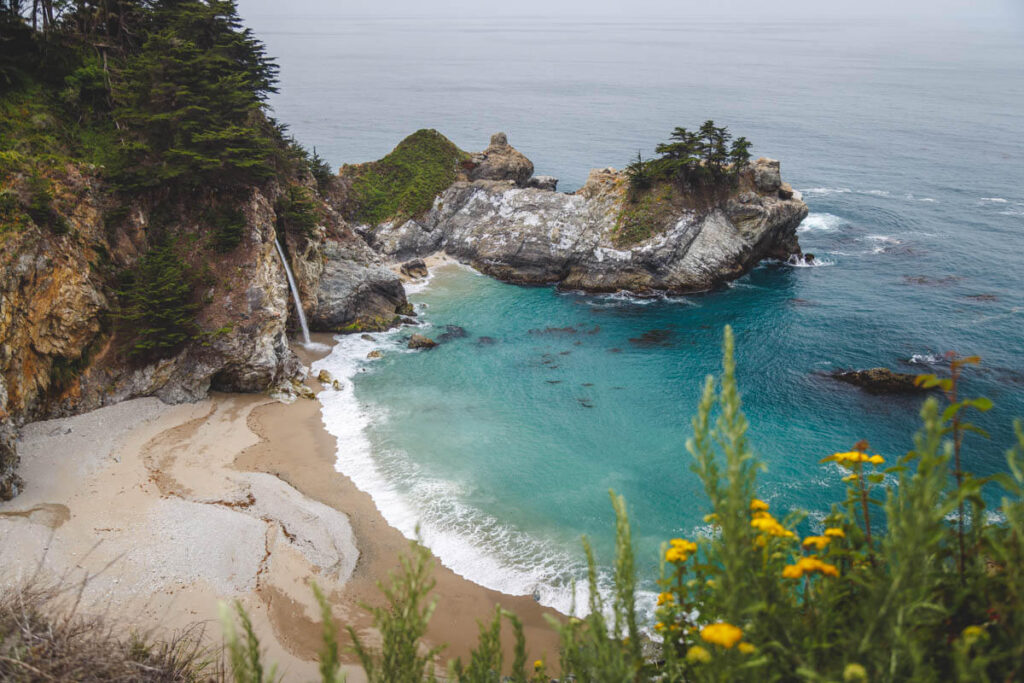 The waterfall is one of the most well-known landmarks in the Big Sur region because the water cascades over the rocks directly onto a beautiful white sand bay before rolling down the sand into the Pacific. The hike to the overlook is short and sweet, and the unique vista will take your breath away.
23. Drive The Epic Big Sur!
The Big Sur drive is one of the best road trips in California, actually, scratch that—It is one of the best road trips in the entire US, and we are not just blowing it up, it is that awesome!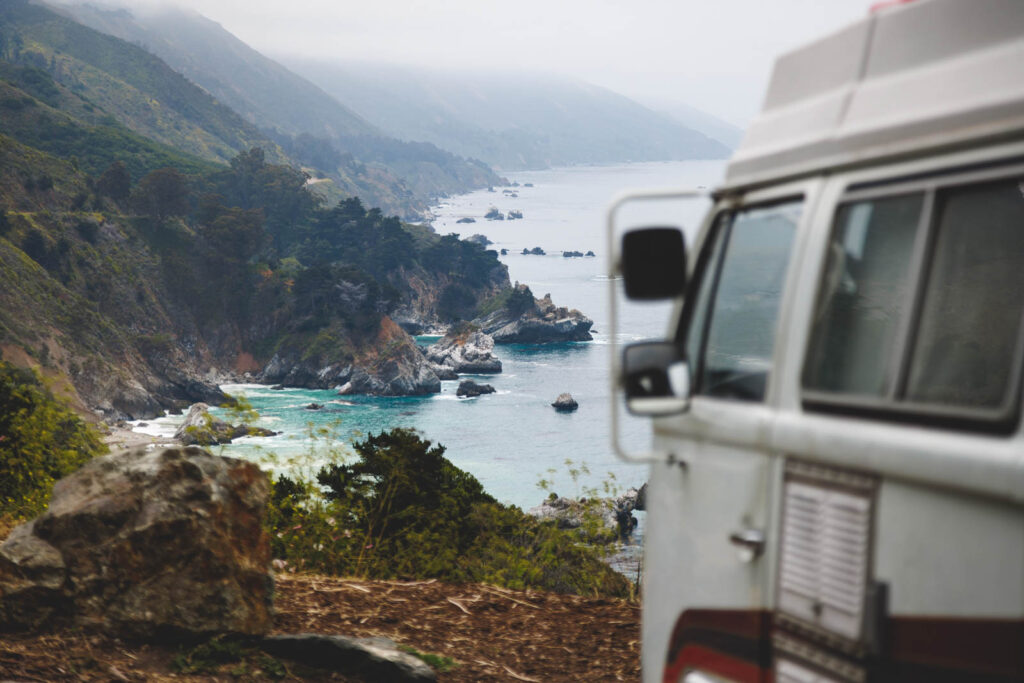 Despite being hugely popular, the area is still home to some of the most stunning, untouched coastline, complete with beaches, towering cliffs, waterfalls, state parks, ravines, redwood groves, and more the list goes on.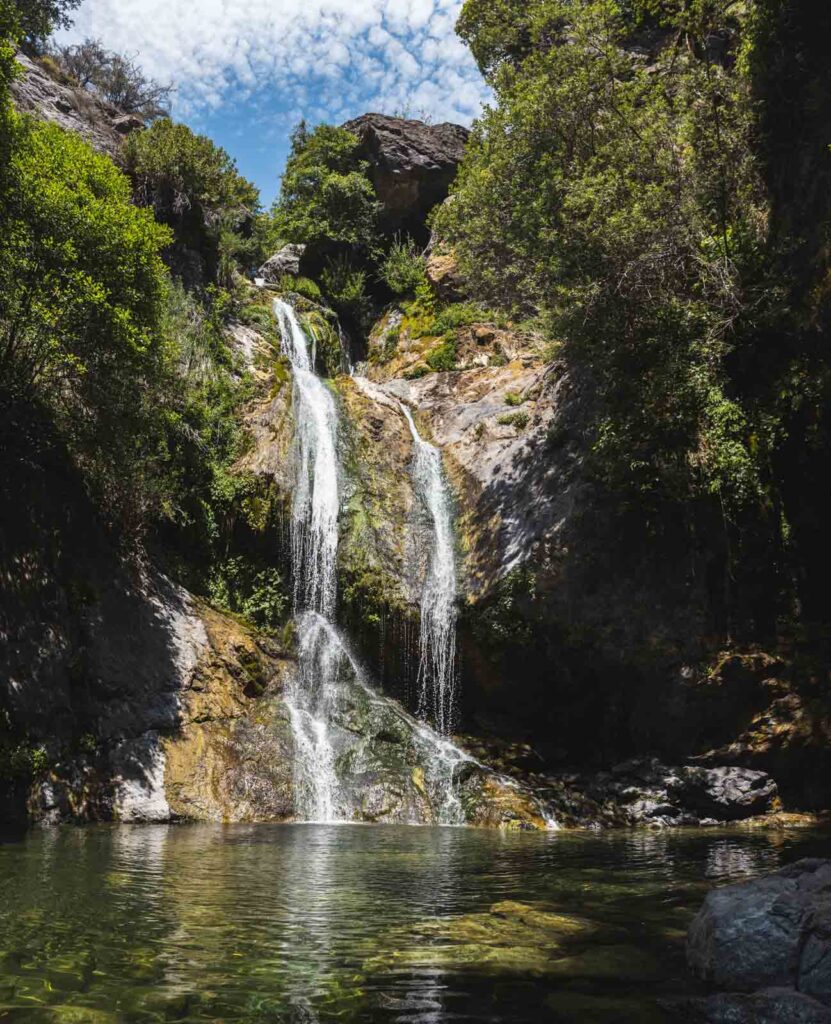 If you have never heard of Big Sur, you are in for a treat. The entire drive consists of around 90 miles down the central coast, between Carmel-by-the-Sea and San Simeon, and you will be surprised at how much is squeezed into this coastal stretch. In addition to the three state parks mentioned above, there are many other lesser-known parks and coastal overlooks, like the famous Bixby Creek Bridge.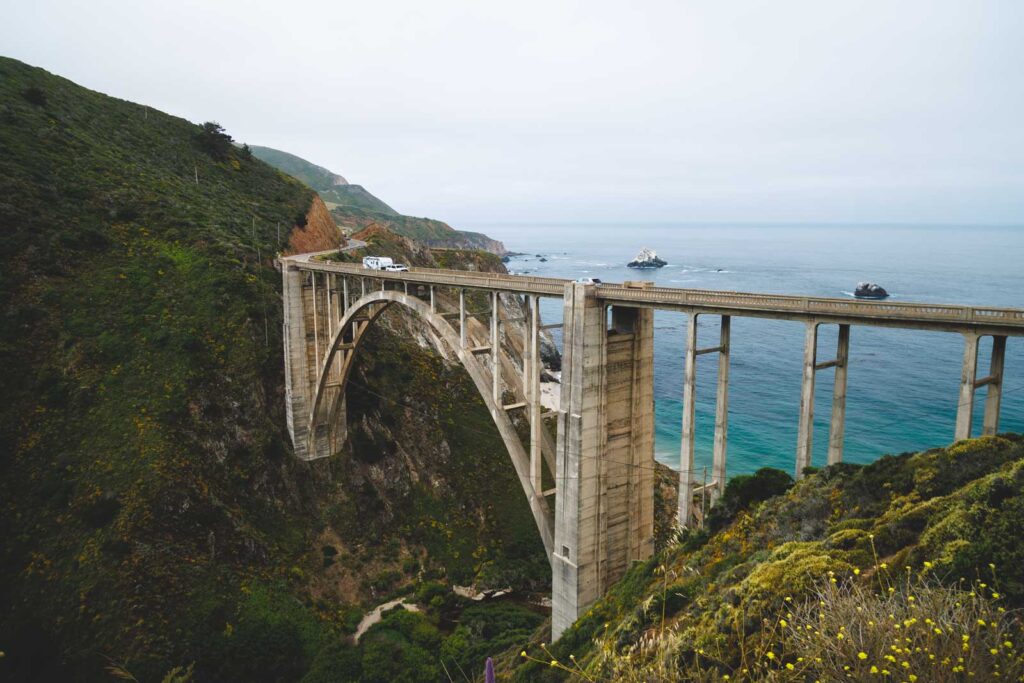 You could easily do the drive in a day, but what a waste that would be! There are so many incredible places to stop that you could easily spend the days on the drive.
24. Take a Day Trip to Santa Cruz!
Santa Cruz provides a fun-filled and short day trip from Carmel-by-the-Sea. The town is a self-proclaimed land of surf, mountains, and hippy culture, with such a laid-back culture, you will be instantly chill from the moment you arrive.
One of the best things to do is to walk along the Santa Cruz Beach Boardwalk, a famed attraction that has starred in its fair share of movies. The old-fashioned funfair is a great place to spend a few hours, take some snaps of the vintage rides, like the spinning carousel, and try a few classic fairground snacks.
Another incredible thing to do is to head inland to the mountains and take an incredible steam train ride through the redwoods, using the tracks that were once used to move the redwood logs down the mountains.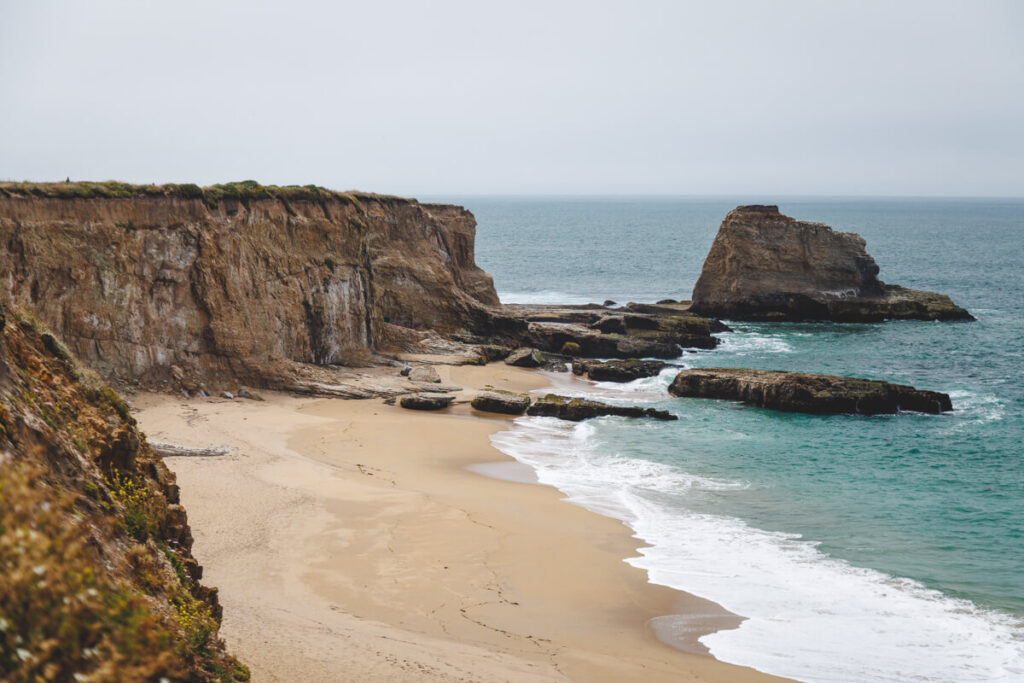 Santa Cruz is also an epic surf spot if you are a surfer, or if you are not, it is a fantastic place to watch people try and catch a wave. If you are inspired by those on a board, you could join a school and learn and discover more about the sport at the surfing museum.
There is no end to the things you can do in Santa Cruz, but one of the best ways to while away the hours is to stroll the downtown area, shop at the farmers' markets, and head for a hike along the coast.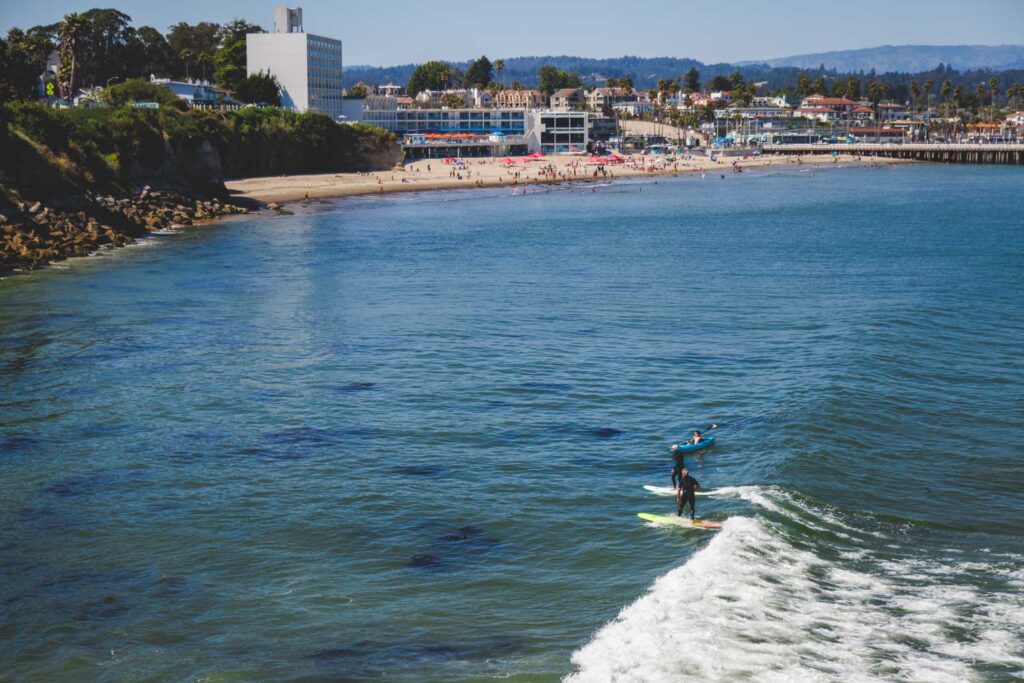 If we're being honest, I think Santa Cruz is possibly our favorite California coast city!
25. Visit One of The Country's Newest National Parks – Pinnacles National Park
The west side of Pinnacles National Park is easily reachable from Carmel-by-the-Sea. Although both sides of this rocky park are incredible, venturing from one side to the other is not a short drive. There are no roads that connect the two sides of the park.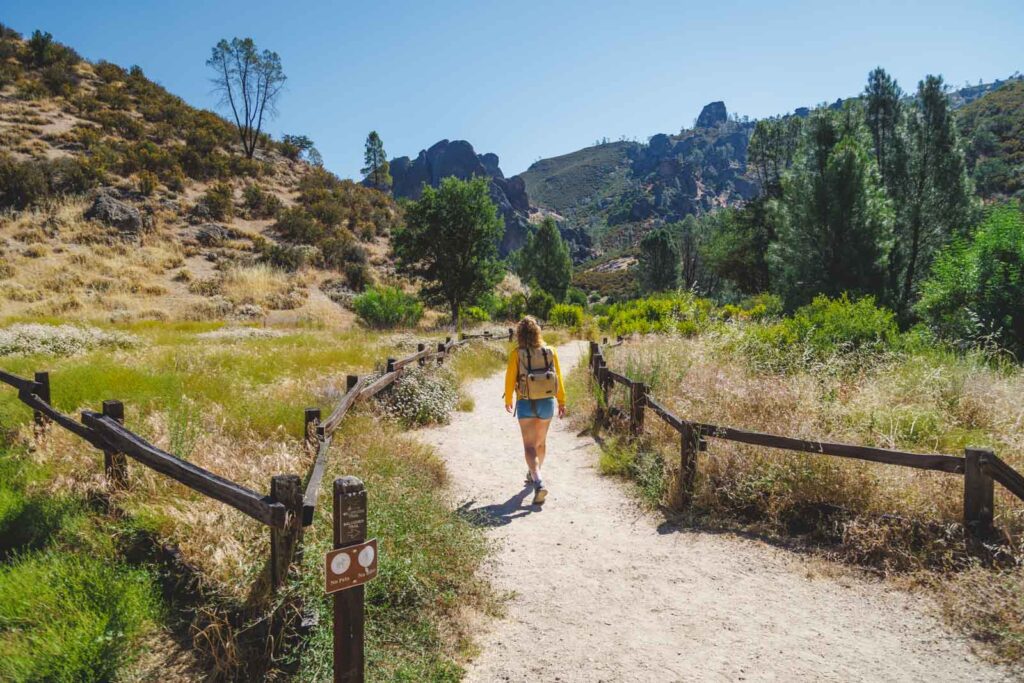 Luckily enough, there is plenty to see on the west side to entertain you, and you're only about 1-1.5 hours away when coming from Carmel.
Both sides are filled with incredible rock formations with hiking trails that snake around the towering pinnacles. There are opportunities for wildlife watching, delving into the dark caves that scatter the park, and climbing to new heights up some of the rocks.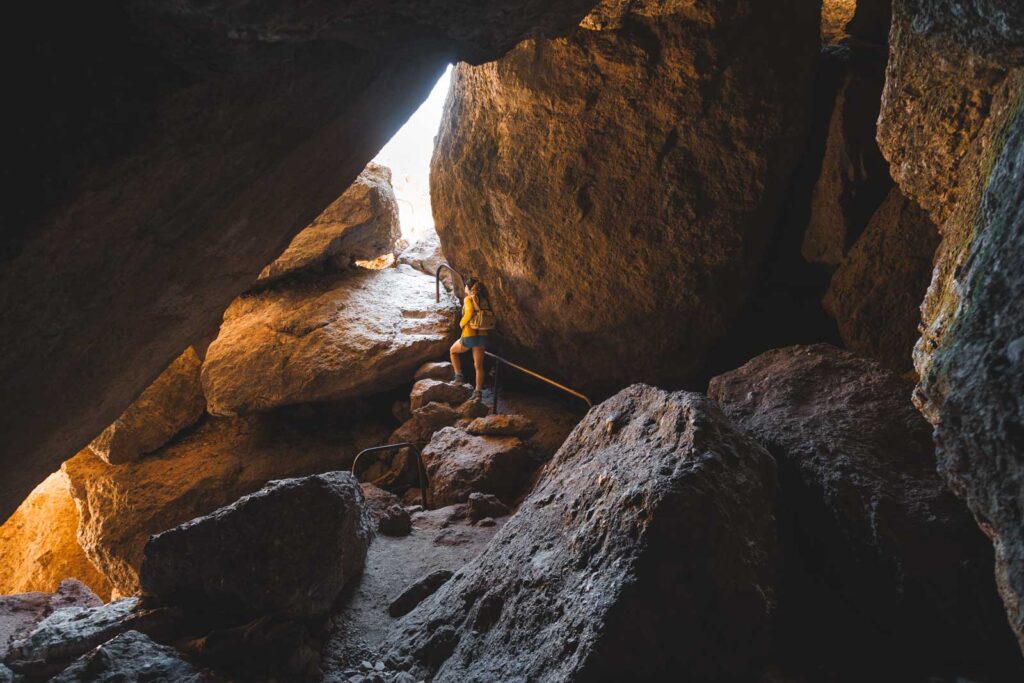 Some of the best hikes are located on the west side, including the Balconies Cave Loop Trail and the High Peaks Trail, which take you to the park's extremes. Be sure to bring binoculars, as North America's largest bird calls the park its home.
These huge Californian condors were released in the park as part of a strategy to avoid extinction, and now you have a good chance of spotting some in the park.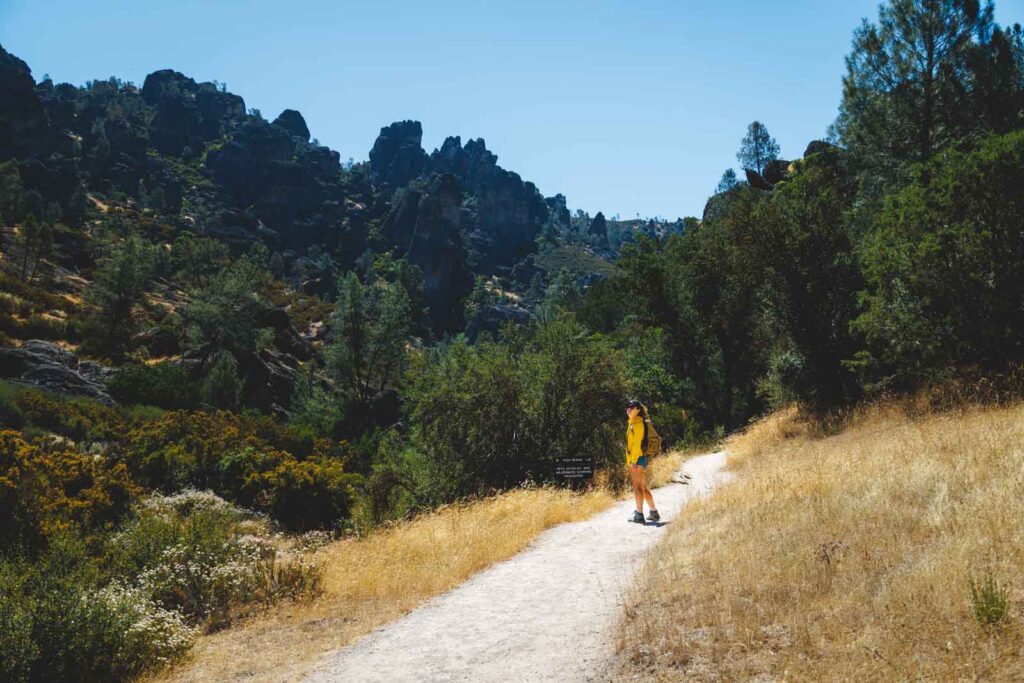 Pinnacles is one of the country's newest National Parks, only established in 2013, and one of the smallest, so you don't need to worry about putting aside a lot of time to see the geological wonders this park offers.
Where to Stay in Carmel
👉 More Accommodation in Carmel-By-The-Sea
Where to Eat in Carmel
Alvarado Street Brewery & Bistro – We never pass up a brewery! They have plenty of classic fares and a cool courtyard to dine in.
La Bicyclette Restaurant – Unpretentious European eatery serving up breakfast, lunch, and dinner. The woodfire pizza is a sure bet!
Grasings – Serving up elevated new American cuisine is what they do here. Bring your pup and sit out on their back patio.
The Best Time to Visit Carmel
Spring (March to May): Carmel's spring offers mild weather and vibrant blossoms, making it perfect for outdoorsy stuff to do. The town is less crowded than in summer.
Summer (June to August): Summer is the busiest time, marked by warm, sunny weather, ideal for beach lovers and outdoor events. However, be prepared for higher hotel prices and larger crowds.
Fall (September to November): Fall brings pleasant weather and fewer tourists compared to summer. The foliage transforms into stunning autumn colors, making it an excellent time for wine tasting and exploring the picturesque 17-mile Drive.
Winter (December to February): Carmel is at its quietest during winter, offering budget-friendly options with cooler temperatures.
We hope this helped you choose which things to do in Carmel you want to tackle!
I've been perpetually traveling and living around the world for years but it's hard to beat California and the PNW. After years of road-tripping the area, I guess you can say I know it pretty well! When I'm not writing guides for you, you can catch me somewhere petting a dog, attempting to surf, hiking a volcano, or stuffing my face with bread and cheese.