You will be spoilt for choice when it comes to options for hiking in Monterey.
The town and surrounding area are full of coastal beauty, offering you an incredible opportunity to experience the real California coast and all the rugged beauty and wildlife it brings.
You'll find coastal hikes right on the town's waterfront, blufftop treks with crashing waves below you, scenic waterfalls, and gentle strolls in the local park. We think the hikes in Monterey really do have it all!
If you are prepared to stray a little further afield, the hikes and surroundings get even more picturesque, if that is possible, with some incredible state and national parks along the Big Sur drive.
Get those hiking boots on and let's head out!
Best Hikes in Monterey, California
---
Here you'll find all of our favorite hikes in Monterey. We have all the hiking stats and info you'll need below to tackle these hikes.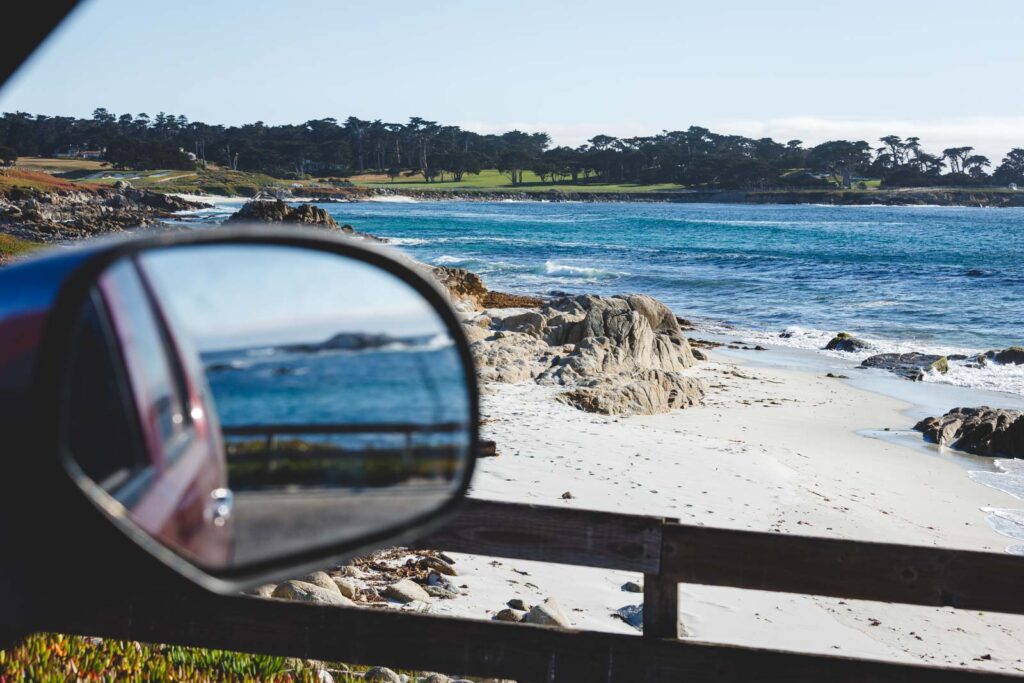 If you're up for a day trip to some hikes, we also have you covered there—we have more hikes that are just an hour outside of Monterey!
Before we start though, here are a few tips to keep in mind.
Tips for Hiking in Monterey:
Download Trail Map

Use Alltrails or Maps.Me as a way to track yourself on some of these hikes. You won't get great service just outside of Monterey.

Check Trail and Even Road Conditions:

Before heading out, check the current trail conditions, weather forecast, and any trail closures or alerts. The weather along the coast can be variable.
Road closures are common along Highway 1, check before heading out.

Dress Appropriately:

Wear comfortable, moisture-wicking clothing in layers to accommodate changing weather conditions.
Don't forget to wear sturdy, comfortable hiking shoes or boots with good traction.
It can get chilly on the coastal hikes, no matter what season!

Bring Essentials:

Pack essentials like water, snacks, a first-aid kit, a map or GPS device, a fully charged phone, and sun protection (hat, sunscreen, sunglasses).

Respect Wildlife:

Monterey is known for its diverse wildlife. Keep a safe distance and never feed or approach wild animals.

Leave No Trace:

Follow the principles of Leave No Trace: pack out all trash, stay on designated trails, and avoid disturbing plants and wildlife.

Be Mindful of Tides:

If you're hiking near the coast, be aware of tide schedules, especially if you plan to explore tide pools or rocky shores.
✋ HOLD UP! Don't Forget…
You need some wheels! It's nearly impossible to get around the USA and check out the best adventures without a car! Here are our top recommendations…
🚗 Rent a car
If you don't have your own, renting a car is your best bet!
🚐 Rent a home on wheels
For the more adventurous, rent a van or RV and ditch the hotel.
OK, now that that's done, let's get into the best hikes in Monterey!
1. Monterey Bay Coastal Trail
Distance: 13.3 miles
Type of Trail: Out & Back
Difficulty: Easy
Elevation Gain: 380.6 feet
The Monterey Bay Coastal Trail is a right of passage in Monterey, taking you all the way from Monterey State Beach, through the town, and then to Point Pinos, past endless attractions and viewpoints that the area of Monterey boasts.
Don't let the length of this hike in Monterey scare you! You can just do parts of it.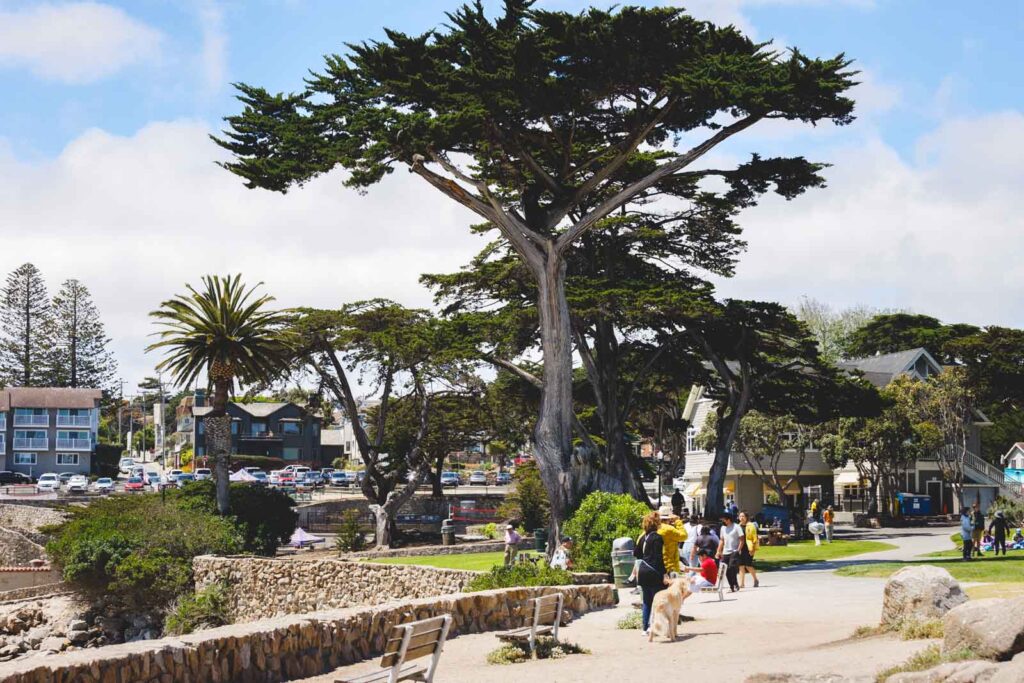 You can either hike the parts that interest you or take the route by bike, which will allow you to cover more ground. The paved path is a wonderful way to enjoy the sights, running almost entirely along the coast on the trail that was once the Southern Pacific Railroad.
There is so much to see along the route, it would take days to cover all that it has to offer, and the interpretive signs along the path will help bring you up to speed with the history of Monterey and the magical marine life that has put the town on the map.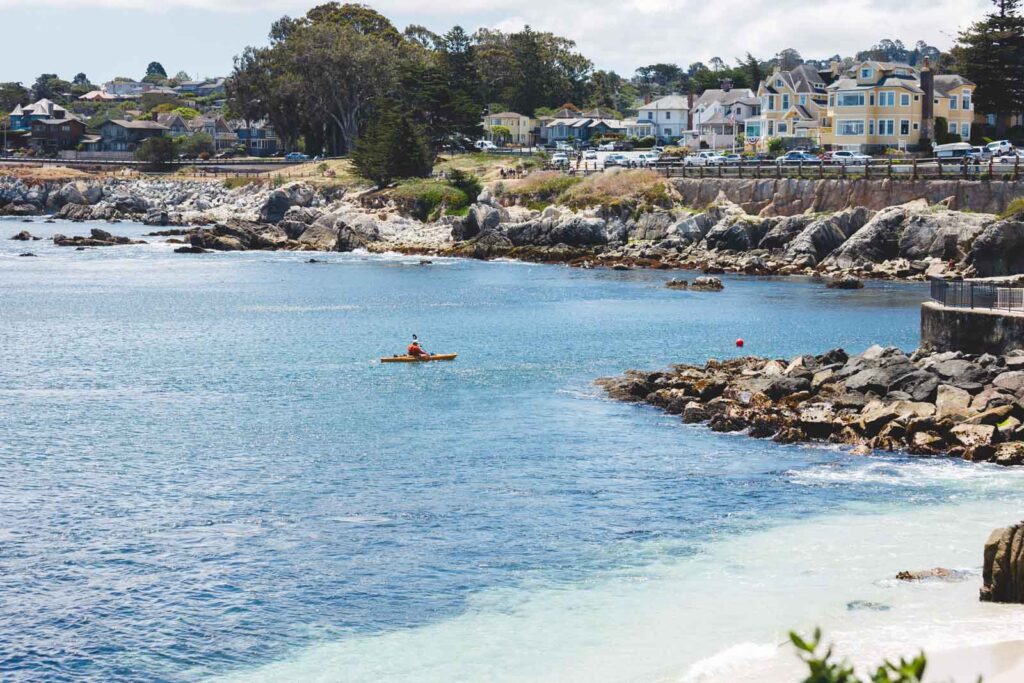 The trail provides access to vast expanses of sandy beaches and busy marinas bursting with life. Listen out for the sound of sea lions barking, sea birds squawking in the air above you, and, if you are lucky, whales splashing out to sea.
Stop off in Monterey and visit the classic attractions like Fisherman's Wharf and Cannery Row, and grab a classic clam chowder before continuing on this hike in Monterey.
Out of town, the path skims Fort Ord Dunes State Park and takes you through a beautiful grove of eucalyptus, with several parks and places to rest, like beautiful Lovers Point Park and Kissing Rock Viewpoint, all with incredible views out over the bay. It certainly is a top contender when it comes to hiking in Monterey.
2. Monterey Waterfront City Walk
Distance: 4.4 miles
Type of Trail: Out & Back
Difficulty: Easy
Elevation Gain: 75.5 feet
Get the perfect mix of city vibes and nature on this hike in Monterey. The Waterfront City Walk is a shorter version of the Monterey Coastal Trail, focussing on the busy, world-renowned city of Monterey.
Follow the paved path right along the waterfront, offering incredible views out over the huge expanse of the Pacific Ocean and Monterey Bay, which is brimming with life just below the waves.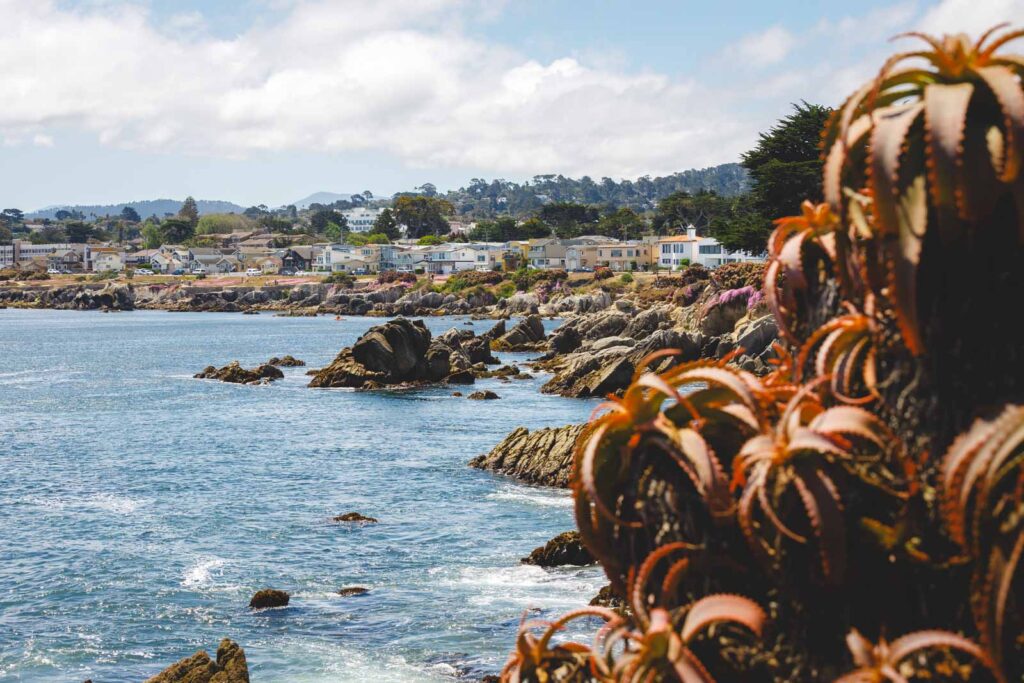 The great thing about this trail is that at any point, you can stop off at one of the local restaurants or grab a beer if you are feeling thirsty as it is not exactly a wild one, yet despite having town vibes, you'll still feel immersed in nature as you stop to look at the colorful starfish in the tide pools, the bird life overhead, and incredible geological formations.
The trail is easy and mostly flat and paved, meaning many people also use it for their morning running route, as who wouldn't want to have incredible sea views while jogging?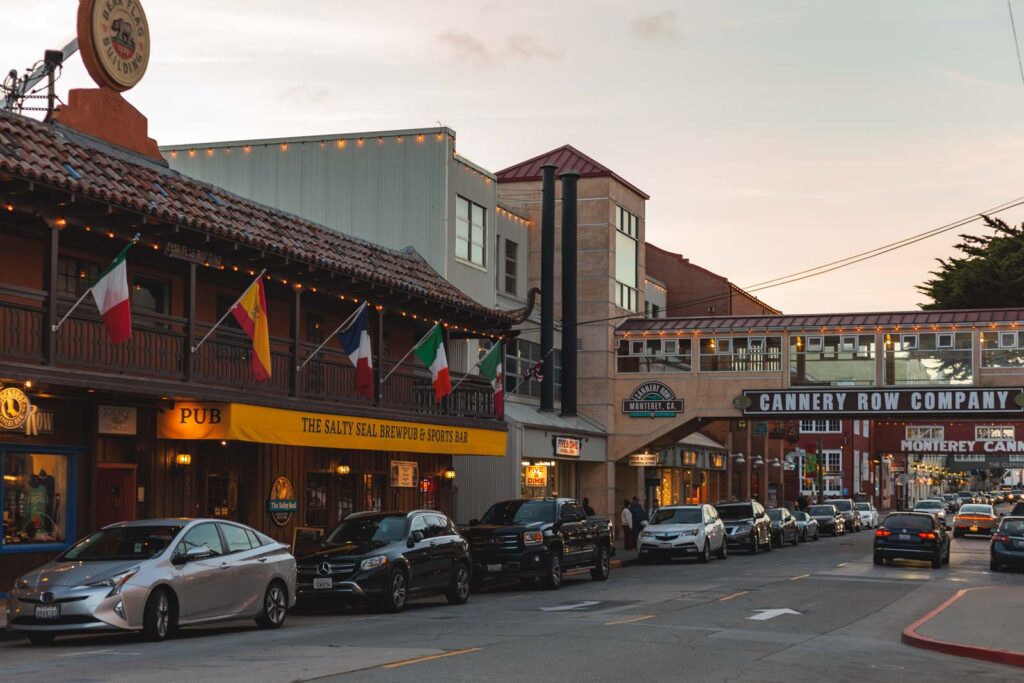 The walk or run will take you past the harbor seals catching some rays, through the historic Cannery Row and the scenic Lover's Point Park. Do it all or do a bit, but whatever you decide, do at least some of this incredible city hike in Monterey.
3. Monterey Peninsula Trail and Asilomar Ave Loop
Distance: 3.9 miles
Type of Trail: Loop
Difficulty: Easy
Elevation Gain: 137.8 feet
Taking you from Lover's Point Park to the end of Monterey Peninsula, this hike takes the section of the Monterey Coastal Trail west of Monterey. It turns it into a neat loop, showcasing the highlights of this beautiful stretch of coastline.
This is a much smaller section of the Monterey Bay Recreational Trail, with more of a focus on nature and the coast rather than city life. This is our favorite part of the coastal trails in Monterey, so if you're low on time, this is the one to do!
The walk is nice and easy, with a paved path and easy access, so you could essentially join the trail at almost any stage. Give yourself plenty of time for this one, as you will underestimate how often you want to stop and snap a photo or two (or 100).
It is an incredible way to go hiking in Monterey and witness the crashing power of the Pacific while staying close to the city.
— 👉 TIP —
If you're saving your legs for some other hikes in Monterey, you could always cruise this area instead in a Sea Car!
4. Ford Ord Dunes Trail
Distance: 6 miles
Type of Trail: Out & Back
Difficulty: Easy
Elevation Gain: 380 feet
Ford Ord Dunes State Park is a beautiful stretch of coastal dunes that offers incredible views over Monterey Bay. Escaping to the dunes on this hike in Monterey is the perfect way to get out of the noisy city for a while and join the meandering trails and boardwalk that the park provides.
The trails within the park take you to the best bits, like a clifftop viewpoint that showcases the incredible ocean and the dunes stretching out before you.
You will also head to crumbling Fort Ord, where you can get your history on and learn a little more about the Fort and its part in the history of Monterey.
Depending on the time of year you hike, you may be able to spot some snowy plovers and red-tailed hawks who use the sandy dunes as nesting areas. There are plenty of areas to lay down a picnic and turn your hike into a longer day out, with the sounds of the crashing waves as your backdrop.
5. Mission Trails Park Loop
Distance: 1.5 miles
Type of Trail: Loop
Difficulty: Easy
Elevation Gain: 183.7 feet
Weave in and out of the trees at Mission Trails Park on this easy and relaxing trail. Not all hikes have to be challenging. Sometimes, it is nice to go for a short walk to get immersed in nature. In fact, the most strenuous part will likely be having to clamber over some downed trees.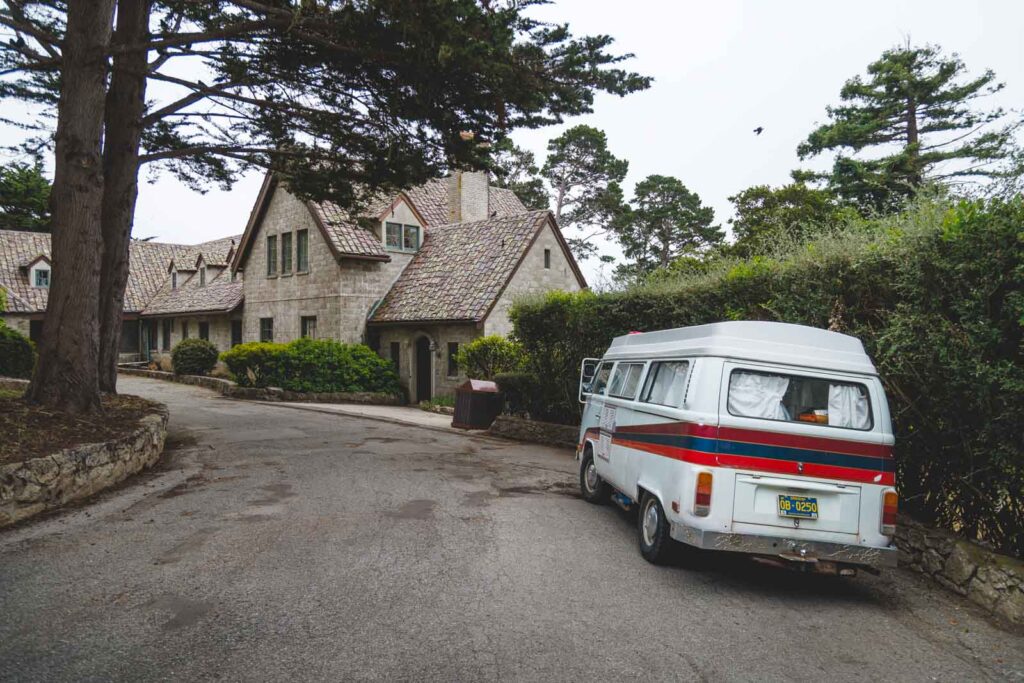 The park is beautifully well-kept, and the trail takes you around some of the best bits. Head through the Monterey pine forest and exotic plant gardens shaded by towering trees. The city maintains the park beautifully, making it a nice place to stretch the legs or walk the dog.
6. Carmel Meadows Trail
Distance: 0.6 miles
Type of Trail: Loop
Difficulty: Easy
Elevation Gain: 26 feet
Head down to Carmel Meadows for an easy on-the-feet and easy on-the-eyes short loop trail. Think of it as a walk to the beach, with beautiful views.
Start from the Carmel Meadows Trailhead, which is just off of the Carmel Meadows housing community, and start hiking parallel to the beach, with incredible views reaching out over Monterey Bay.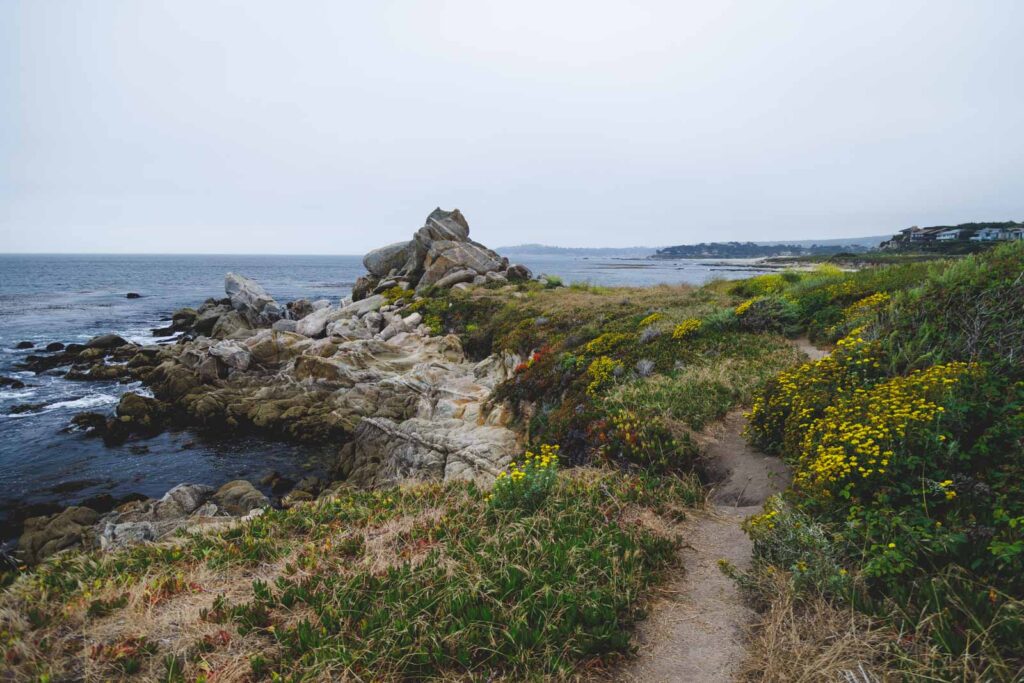 The Carmel Meadows Trail is a hidden gem in plain sight, mainly frequented by locals and the odd few who know about it.
Sitting at the southern end of the Carmel River State Beach, it has amazing rock formations and plenty of wildlife, offering some of the best hiking in Monterey. Keep an eye out for the high-end homes that line the path some of the way.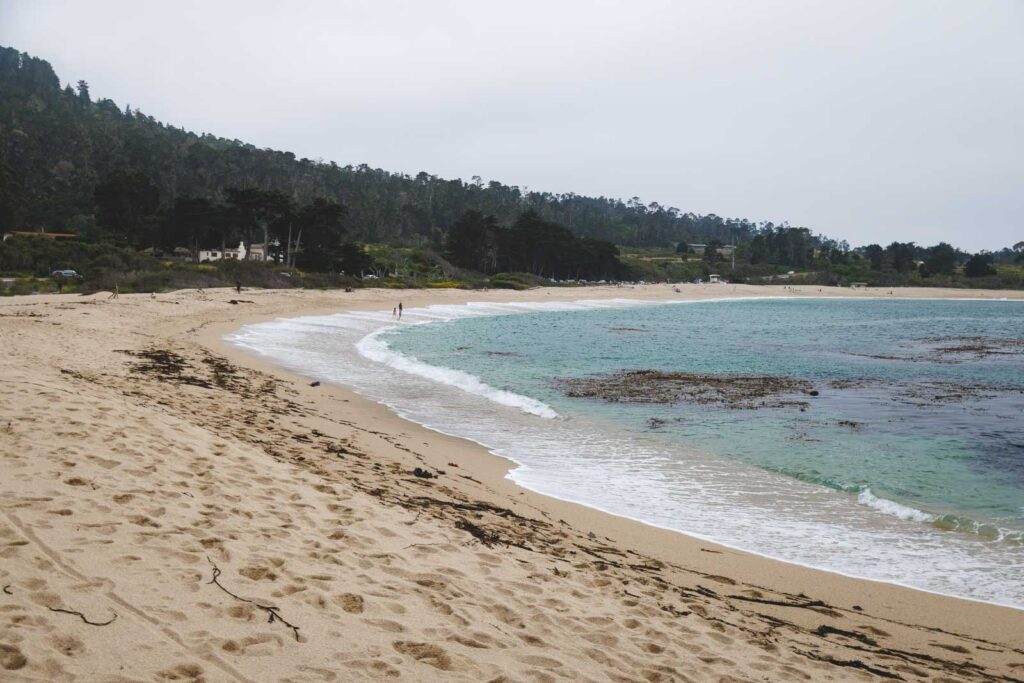 There is easy stair access down to the beach directly from the trail, and it is an excellent alternative to the busy beaches found in the area surrounding Monterey, such as those in Point Lobos and Carmel Beach.
If the waves are behaving themselves and the tide is out, peek into the rock pools to observe the colorful sea life, or admire the rock stacks from a closer angle.
7. Carmel River State Beach
Distance: 1.4 miles
Type of Trail: Out & Back
Difficulty: Easy
Elevation Gain: 45 feet
The Carmel River State Beach Trail is easy to miss since it's a little off the usual tourist path. Especially as the trailhead is hard to find, we feel it is a welcome change to some of the more popular hikes in Monterey. Just a few feet from the ocean, you can look down at the churning water and tide pools below you.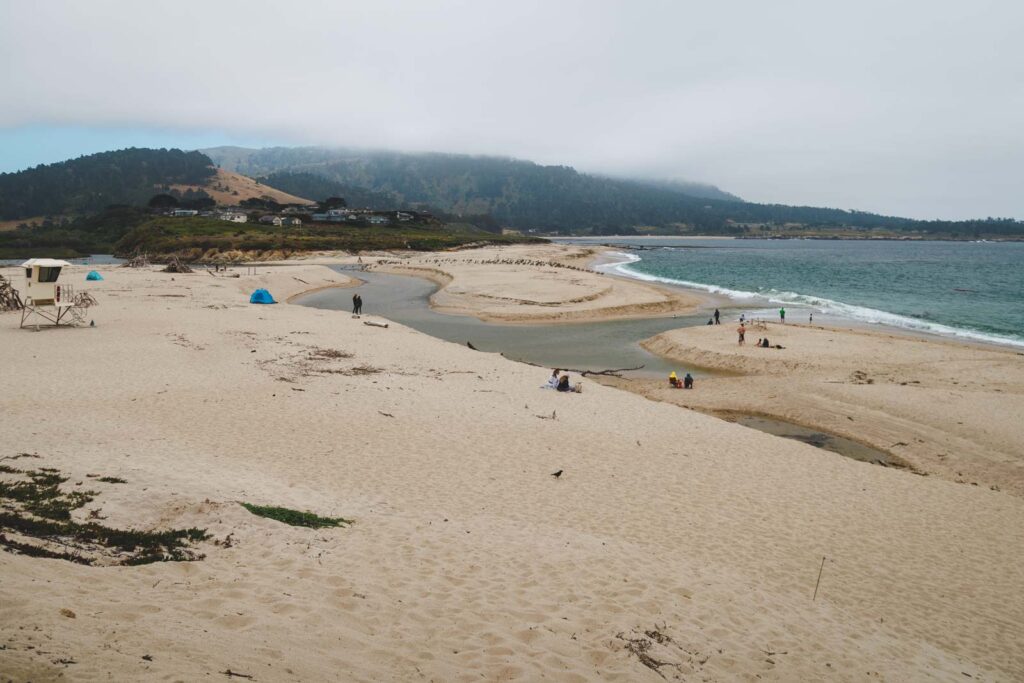 Along the route, plenty of small spur trails will take you places to sit with a few, making it the perfect, relaxing beach walk.
Start the hike at the parking lot just off Monestry Beach and Highway 1, and walk away from Monestry Beach and towards Carmel River State Beach, running parallel to the ocean. Keep going all the way until you reach Carmel River. The very end of the trail could be made into a lollypop loop before joining the trail again and heading back the way you came.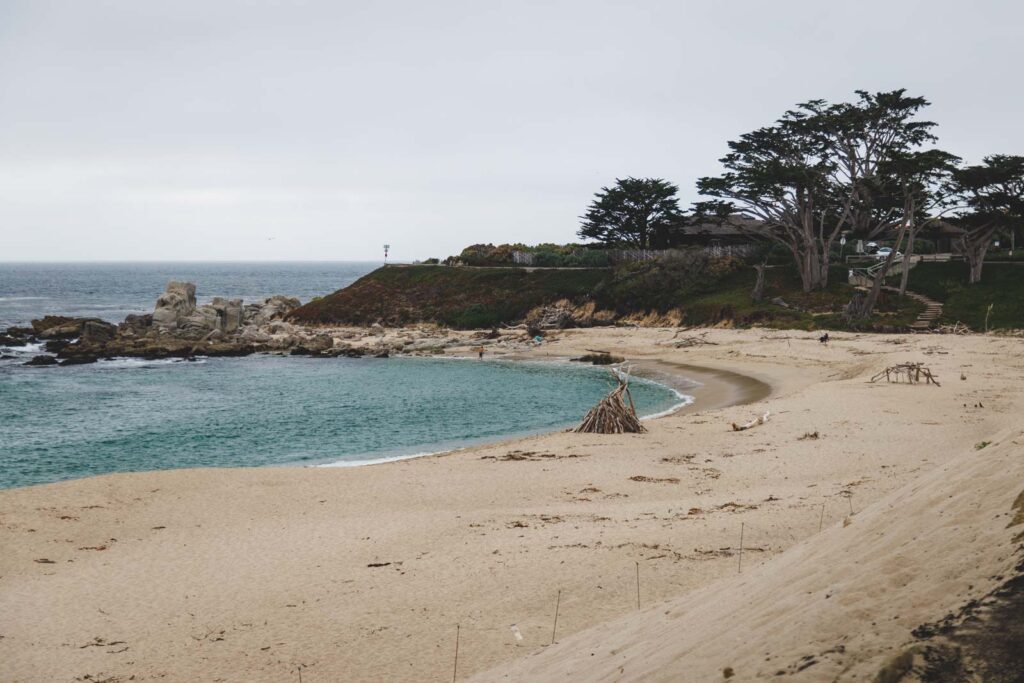 On the way back, you could even walk a portion of the hike on the sand. There is nothing like feeling the sand between your toes, and the great thing is, there is a good chance you will have the hike almost to yourself.
8. 17 Mile Drive (Kinda Sort of a Hike in Monterey)
So, as the name suggests, the famous 17-Mile Drive near Monterey is actually a drive… but there are many places to get out and stretch your legs at the numerous stops. And we highly suggest stopping many times.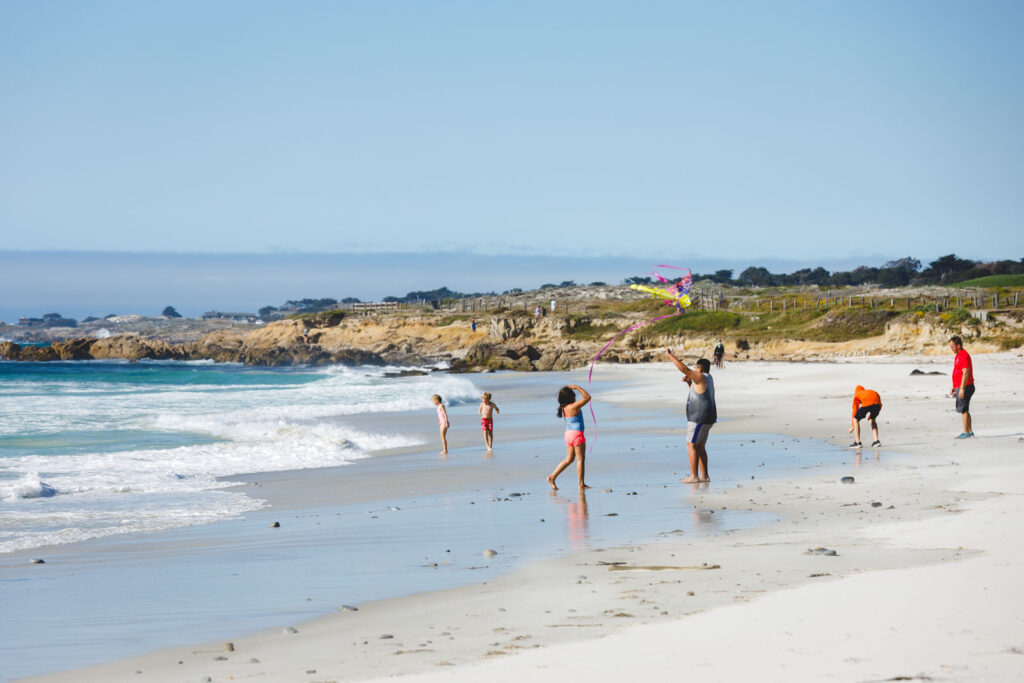 Most of the best views require you to get out and walk to them. Therefore it deserves a spot on this list! The route will take you to picturesque beaches, towering cliffs, and thick forests. There are way too many stops to list here, and probably more than you will be able to fit in, but let's look at some highlights.
Shepherd's Hill takes you to a viewpoint overlooking beautiful Monterey Bay that is worth stopping at. The drive then takes you to the sea, and you can take a short walk to Spanish Bay Beach and the Restless Sea, one of the area's most turbulent sections of coastline.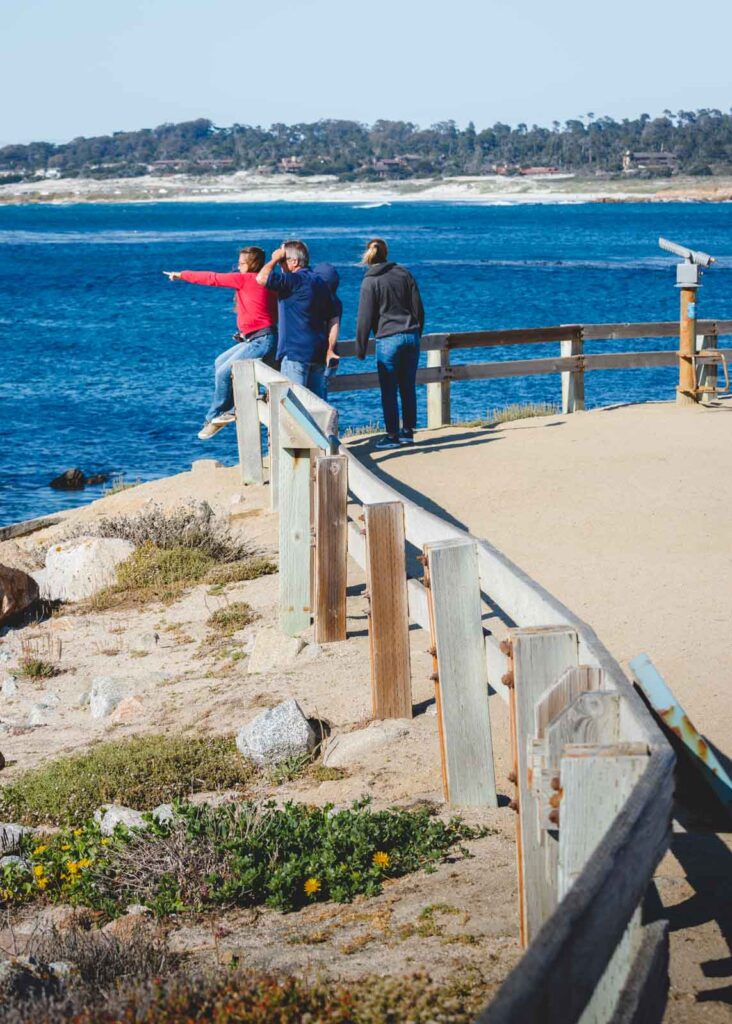 Make a quick stop at Bird Rock to check out the local wildlife, such as sea birds and roaring sea lions, and then on to Seal Rock, where you can walk on a boardwalk to a Gingerbread House.
You have to visit Crocker Grove for a peaceful walk through the trees. This area is home to the largest and oldest Monterey Cypress trees in existence. The Lone Cypress is also pretty cool, sitting for over 250 years atop its loft perch.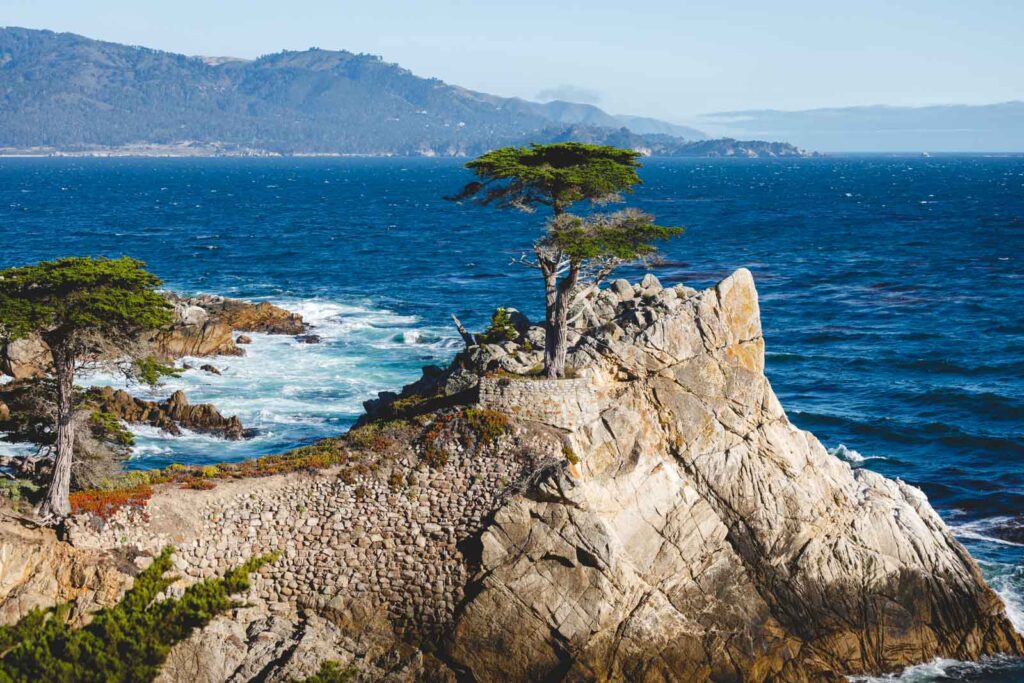 There is a small fee to drive the road, but you can spend the whole day exploring, and it is so worth the price, especially if a few of you are in the car and you can spread the cost.
— 👉 TIP —
If you're saving your legs for some other hikes in Monterey, you could e-bike 17-Mile Drive instead!
9. Earl Moser Madrone Rhus Iris Coffeeberry Pine Sage Loop (Jacks Peak County Park)
Distance: 5.6 miles
Type of Trail: Lopp
Difficulty: Moderate
Elevation Gain:1062 feet
If you are up for a longer hike in Jacks Peak, this hike covers you. It offers a great overview of the park, taking you along numerous trails with several ups and downs to keep things interesting. You can get some great views of Monterey Bay as you hike, with various narrow paths and those that are wider and flatter.
Unlike most of the hikes in Monterey on this list, this is not a coastal route. Instead, you will find the park just to the south of Monterey, yet despite this, if you hike on a clear day, you will be able to see Monterey Bay in both directions, the blue of the water glinting in the sun.
It's not just the bay that the peaks give you views of. Gaze down over Carmel Valley on one side, followed by Point Lobos. It is a pretty good workout, but plenty of tree coverage exists.
It is perfect if you are looking for something slightly different in the Monterey area without having to travel too far from the bay.
10. Jacks Peak and Skyline Trail (Jacks Peak County Park)
Distance: 0.8 miles
Type of Trail: Loop
Difficulty: Easy
Elevation Gain: 121 feet
If you don't have time to explore the park in full but want to see all the hype, this hike is a good quicky. Start the hike on Jack's Peak Trail before joining the Skyline Trail in a neat little loop.
The Skyline Trail traverses the summit of Jack's Peak, offering absolutely incredible views across the bay. The worst of the climb is at the beginning and is well marked throughout, the perfect hike to stretch your legs and take in some views.
11. Point Lobos Loop Trail (Our Favorite Hike in Monterey!)
Distance: 6.4 miles
Type of Trail: Loop
Difficulty: Moderate
Elevation Gain: 679 feet
Known as the jewel of the state park system, Point Lobos State Park has A LOT to live up to. It offers longer hikes and short strolls for those who want to stretch their legs. You won't get much better hiking in Monterey than Point Lobos.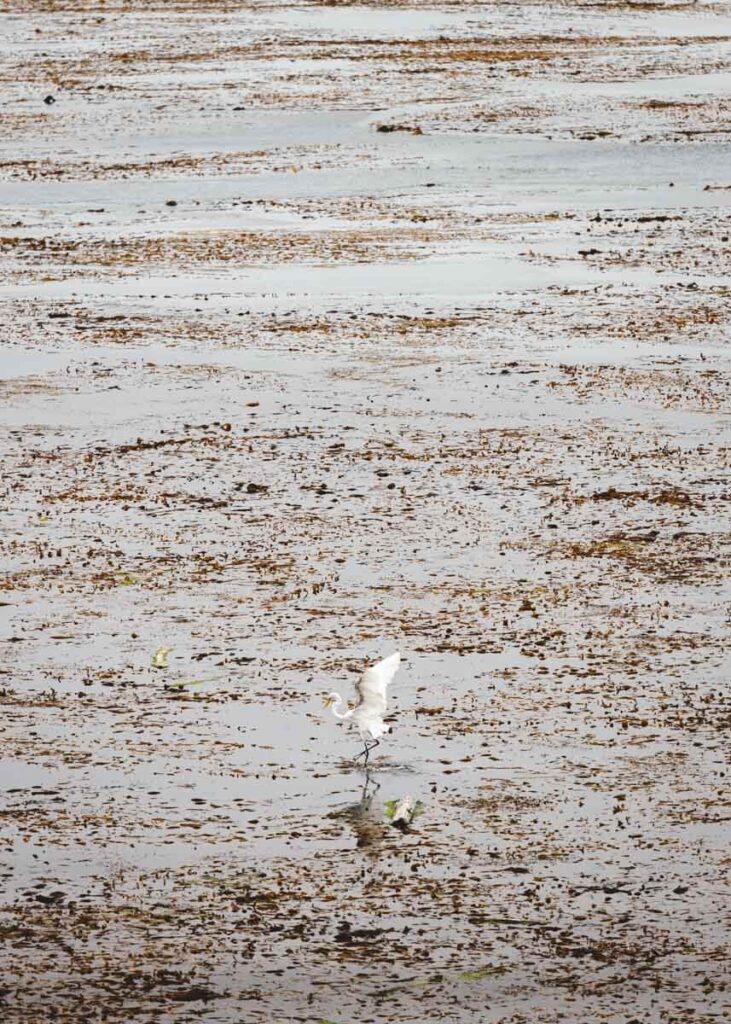 The Point Lobos Loop Trail is quite a long hike, but you don't have to walk the whole thing at once, as it is pretty easy to split up into smaller sections. With that said, if you have the time, we think the whole thing really is worth it!
From the get-go, you really will be on an adventure along an epic stretch of coastline, with something new to see around every corner. Think stunning ocean views, thick cypress groves, forests, and tide pools, with a menagerie of wildlife calling it home, such as noisy sea lions and tons of sea birds.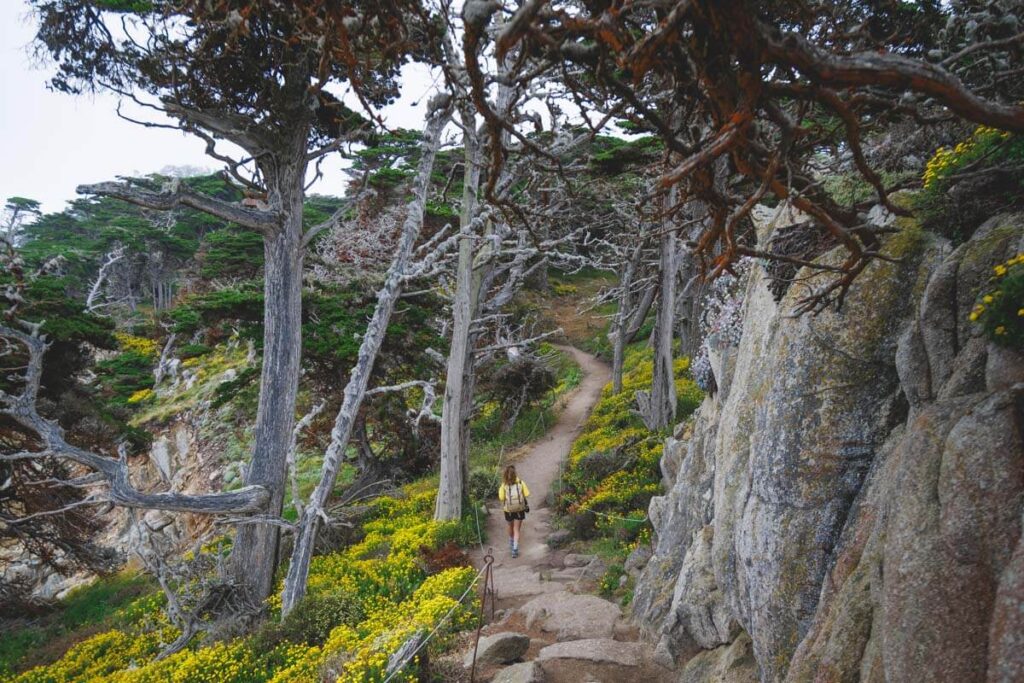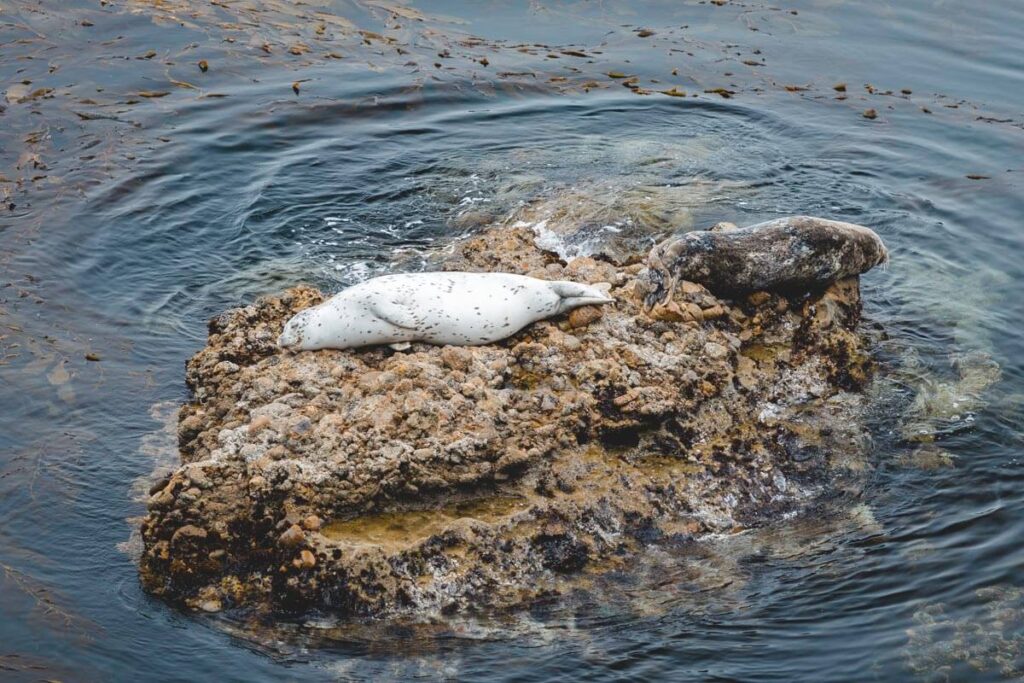 There are several notable points along the trail, such as Whalers Cove, where you will be walking alongside a stunning cove brimming with history, which you can learn more about in the Whalers' Cabin.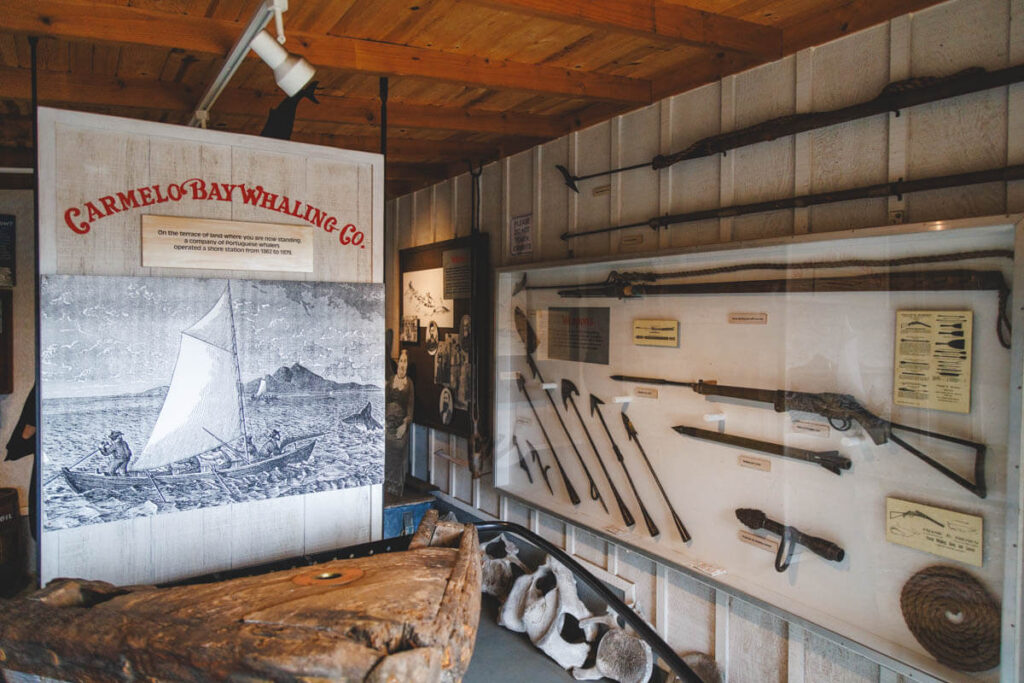 The Cypress forest and Cypress Grove Trail are also incredible parts of the trail, taking you through a rare Monterey cypress forest.
The hike will take you through Sea Lion Point, where the waves are crazy and the rock formations crazier. There are abundant tide pools packed with colorful marine life like giant starfish and scuttling crabs.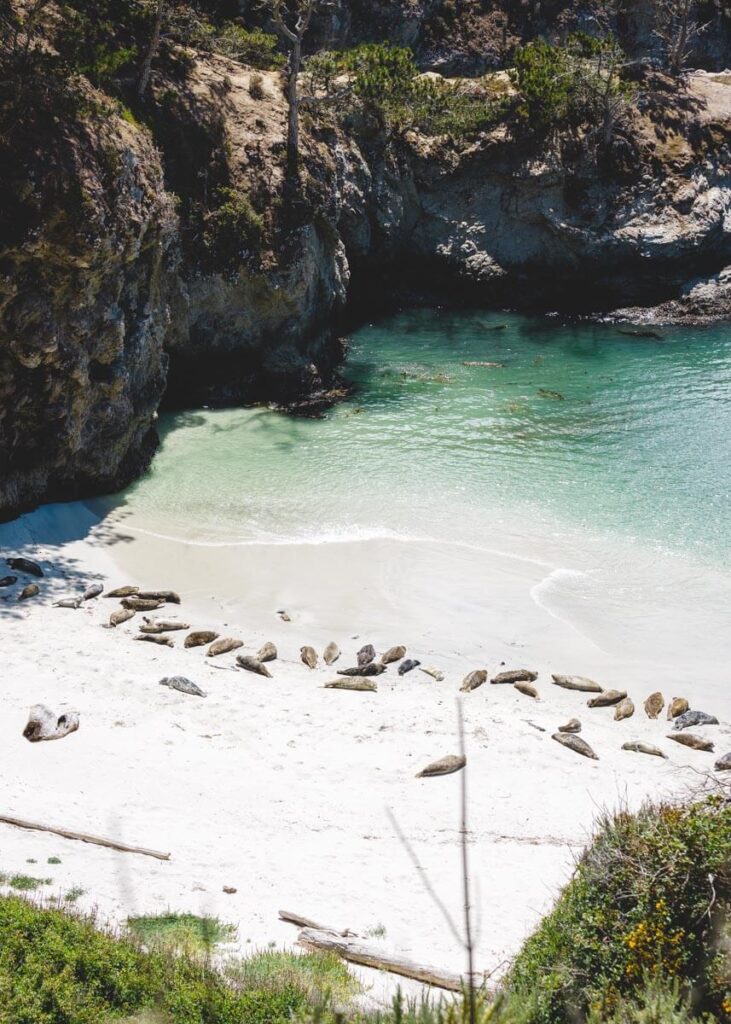 There are so many incredible trails to choose from, but one of the best is the Bird Island Trail, which hugs the shoreline and takes you close to the small Bird Island, which sits out to sea.
The outcropping of rock is always full of hundreds of birds, littering the rock with plenty of bird poo! Bring your binoculars, as there are tons of species to see both on the rock and in the air.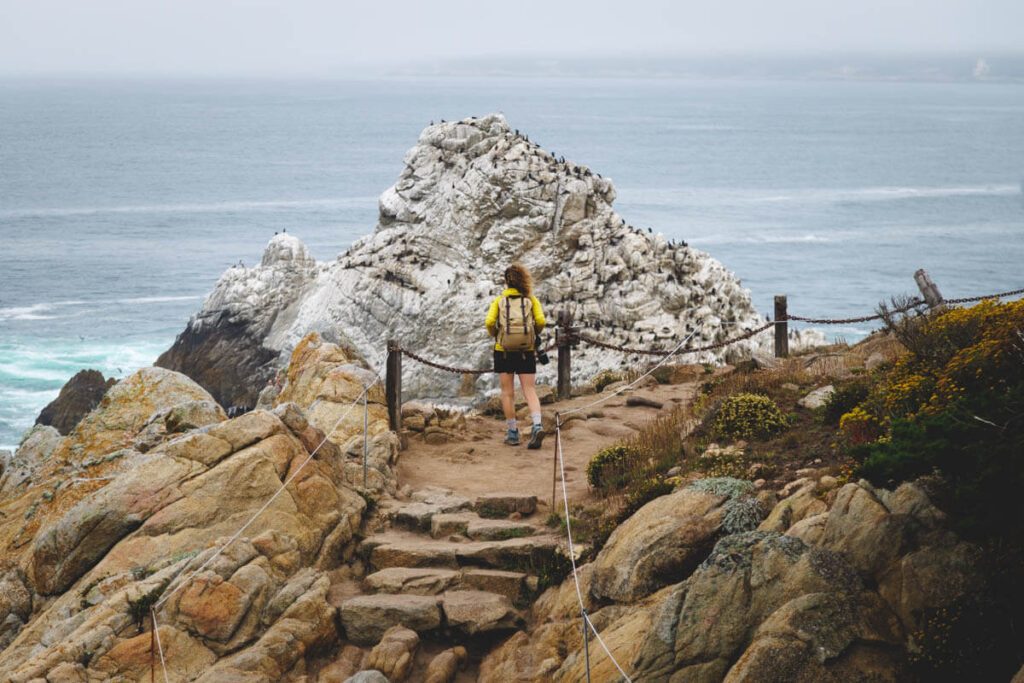 We will be honest; parking is a bit of a nightmare as there is a limit to the number of cars allowed in the park. If you manage to get in, you'll have to pay a small fee; if not, you will have to park on the road and face a walk into the park before you even start hiking.
12. Soberanes Point and Whale Peak (Garrapata State Park)
Distance: 1.6 miles
Type of Trail: Loop
Difficulty: Easy
Elevation Gain: 278 feet
The whole of Garrapata State Park is fantastic, but if we were going to recommend one hike, it would be this one. As you walk along the Soberanes Point Trail, stop at the several strategically placed observation decks to get an impressive vantage point of the striking rock formation and crashing waves below from your lofty clifftop position.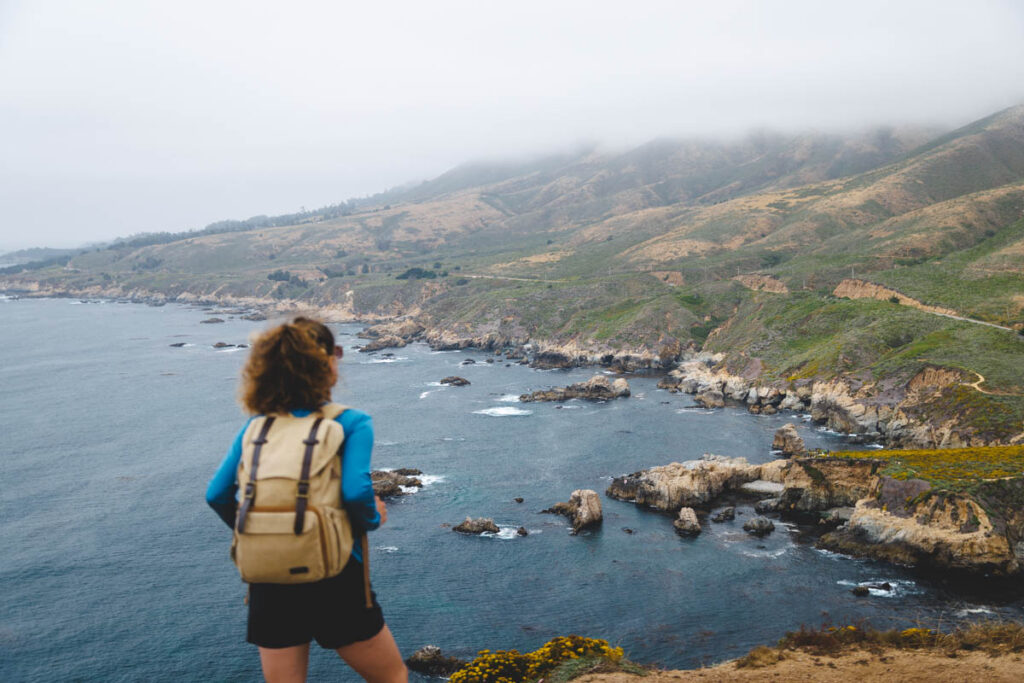 After a while, the trail starts to head around Whales Peak, following the coast to Soberanes Point. Here, you can head down to Garrapata Beach if you fancy it or continue the hike.
As you loop back around, the real climb begins, but don't worry, it is not overly strenuous, with only a few hundred feet gained in elevation, although you shouldn't underestimate its steepness.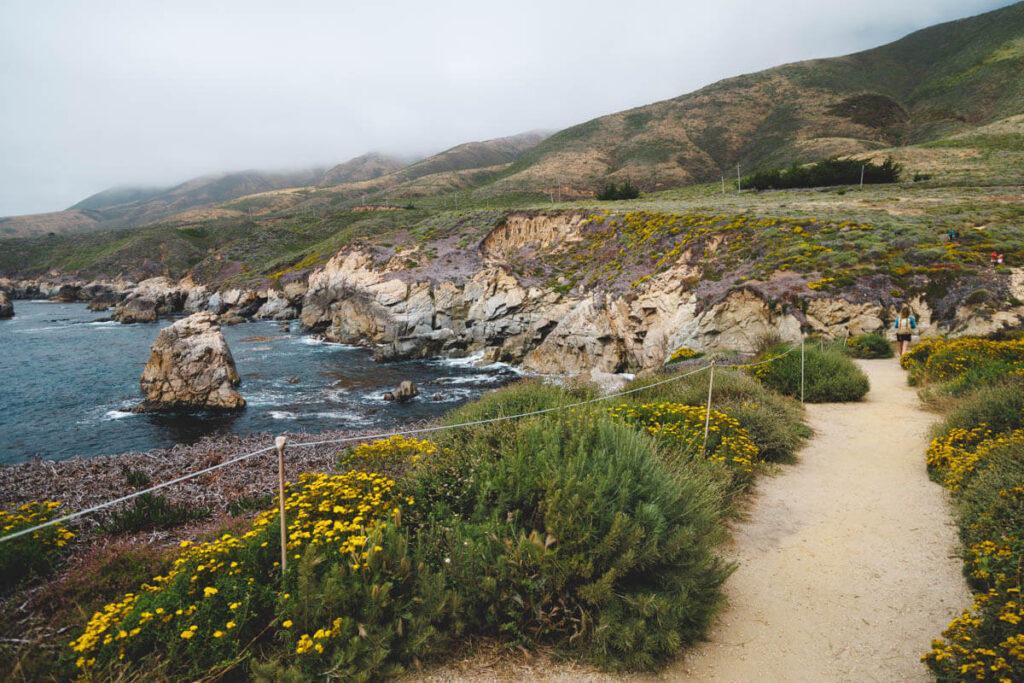 Once you reach the summit, take a breath and take in the incredible 360 views surrounding you, with the Big Sur and epic Californian coastline in clear view. You can then head back down to where you parked your car.
If possible, visit in the spring when the wildflowers are in full bloom. So many flowers seem to cover the floor like a big, colorful rug. You can also do the loop in reverse and get all the climbing out the way first. It's one of the best places to go hiking in Monterey.
13. Garrapata Beach and Calla Lily Valley (Garrapata State Park)
Distance: 1.1 miles
Type of Trail: Loop
Difficulty: Easy
Elevation Gain: 150 feet
Despite being short, this might be the best hike in the park, well at least according to us! From the trailhead, you will descend a set of stairs to the beach to head along Doud Creek Valley, also known as Calla Lilly Valley due to the abundance of these magical flowers.
Pass over the small stream that flows down the beach and continues for a while, parallel to the coast, before turning back and making the hike into a loop.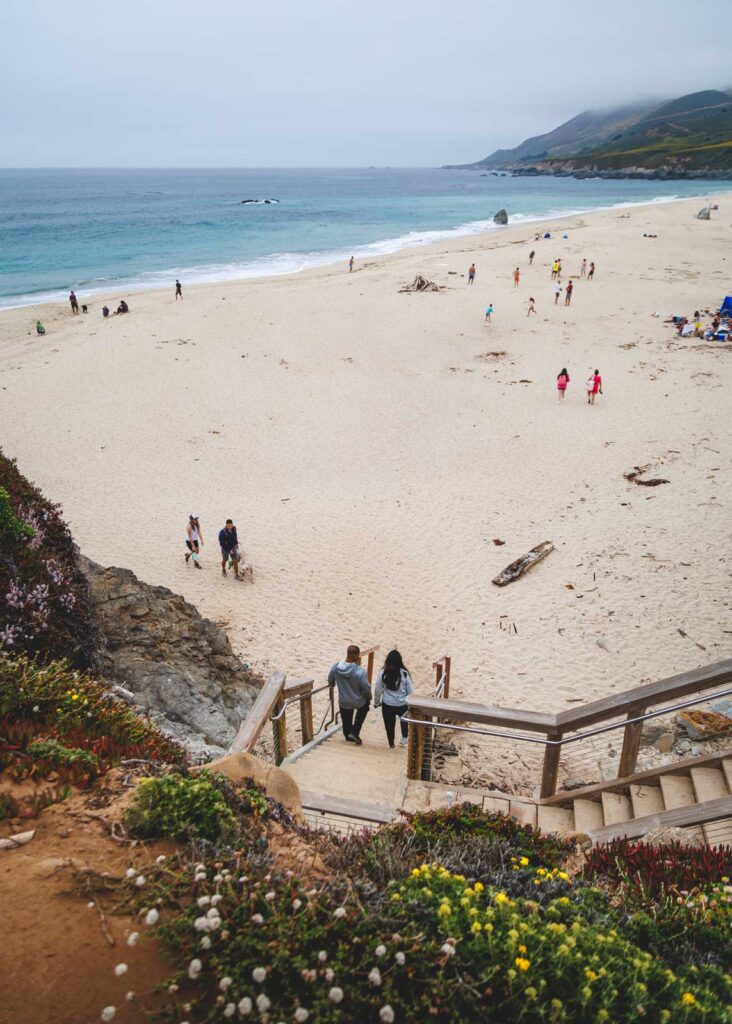 There are views almost the entire way along the cliffs, where you can see the often huge waves crashing against the shore. If you plan on going to the area where the lilies are, you may get muddy, so dress accordingly! Also, note the flowers are only in bloom from late January to mid-April.
Most Worth It Hikes in Monterey—Just One Hour Away!
If you're basing in Monterey and have done everything you wanted there, why not take a quick day trip out to some of these other spots? Everything here is under an hour away and well worth the drive to explore!
14. Creamery Meadow Bluffs Panorama and Ridge Trail Loop (Andrew Molera State Park)
Distance: 8 miles
Type of Trail: Loop
Difficulty: Moderat
Elevation Gain: 1437 feet
This hike takes you to some of the park's hot spots, combining several trails to make one epic hike. This hike is stunning from beginning to end; there are no boring parts, as the whole trail is the destination.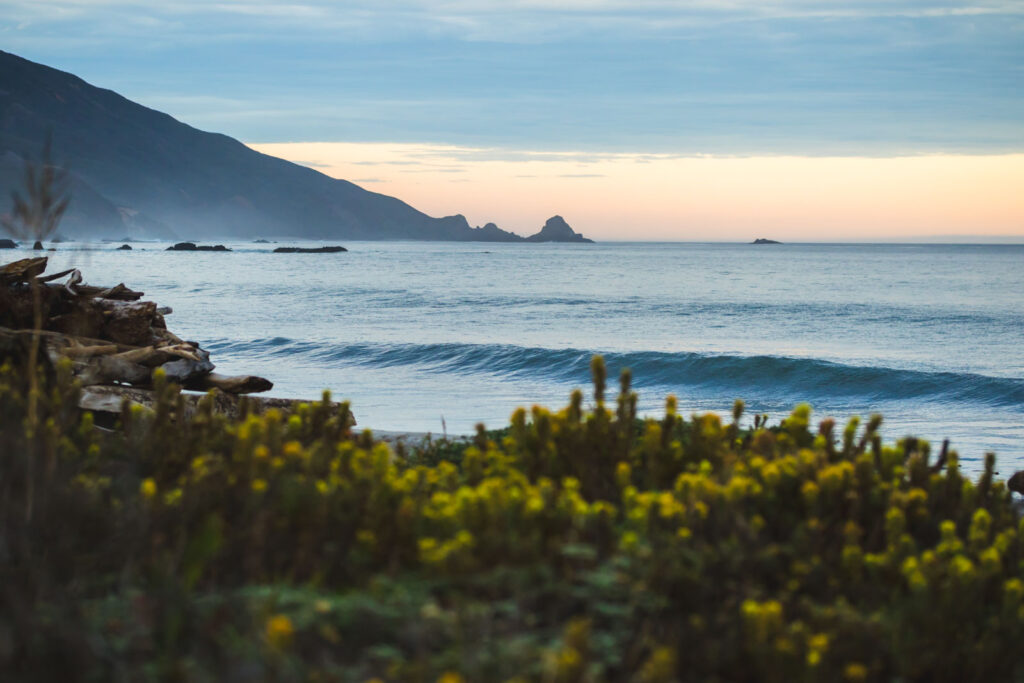 The panorama part of the trail is a little more difficult, taking you up a steep slope where you are rewarded with incredible views of the area.
You can take the trail in either direction. Still, lots of people say that the clockwise direction is the best, as you will get the descending section of the trail to take in the incredible views of the Big Sur stretching out in front of you, rather than the views wasting away behind you as you struggle for breath on the climb.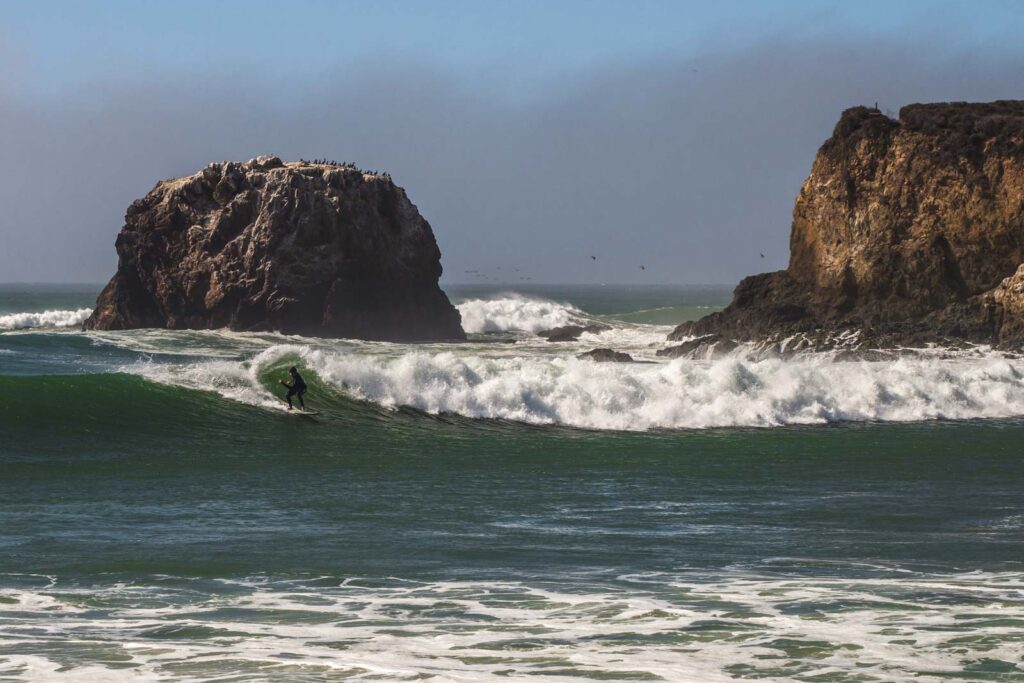 Taking the hike this way also means you will get the toughest part out of the way first.
15. Juniper Canyon Trail to High Peaks (Pinnacles National Park)
Distance: 3.6 miles
Type of Trail: Lollypop loop
Difficulty: Hard
Elevation Gain: 1259 feet
Although relatively short, the Juniper Canyon Trail can be a little tough on the legs, but it has one of the best views of the pinnacles that you will find in the park, giving you plenty of time to gaze in awe at this incredible rocky spires.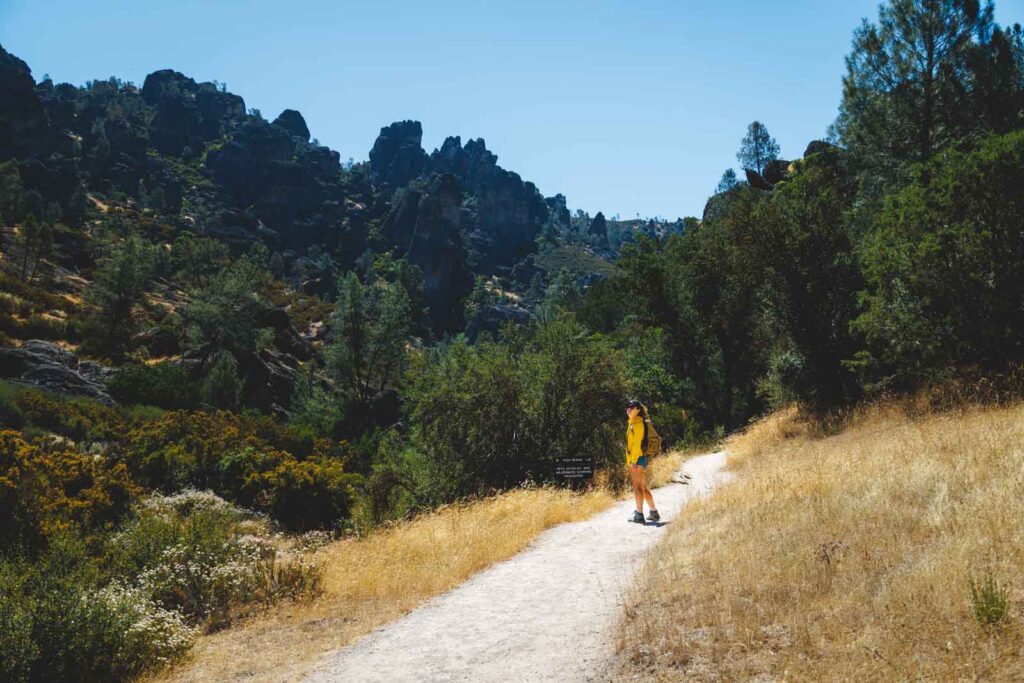 To stay on the Juniper Canyon Trail, you must take a right at the first junction. About a mile in, you will begin the climb via a series of switchbacks, with each switchback, the views of the valley below get better and better until you reach a spectacular overlook with breathtaking views of what seems like the entire park.
From here, the trail is at its best, as you will be in the High Peaks section, where you can get up close and personal with the pointed peaks that give the park its name. It can be a bit scary, and in some places, handrails have been strategically placed to help you along, but it is all part of the fun.
16. Balconies Cave Trail (Pinnacles National Park)
Distance: 2.6 miles
Type of Trail: Out & Back
Difficulty: Moderate
Elevation Gain: 383 feet
This short and easy hike will take you to one of the coolest caves in the park—Balconies Cave. The caves are likely not the sort of caves you would have encountered before, as they were formed by huge volcanic boulders cascading and crashing into the gorge, creating an almost cave-like structure below.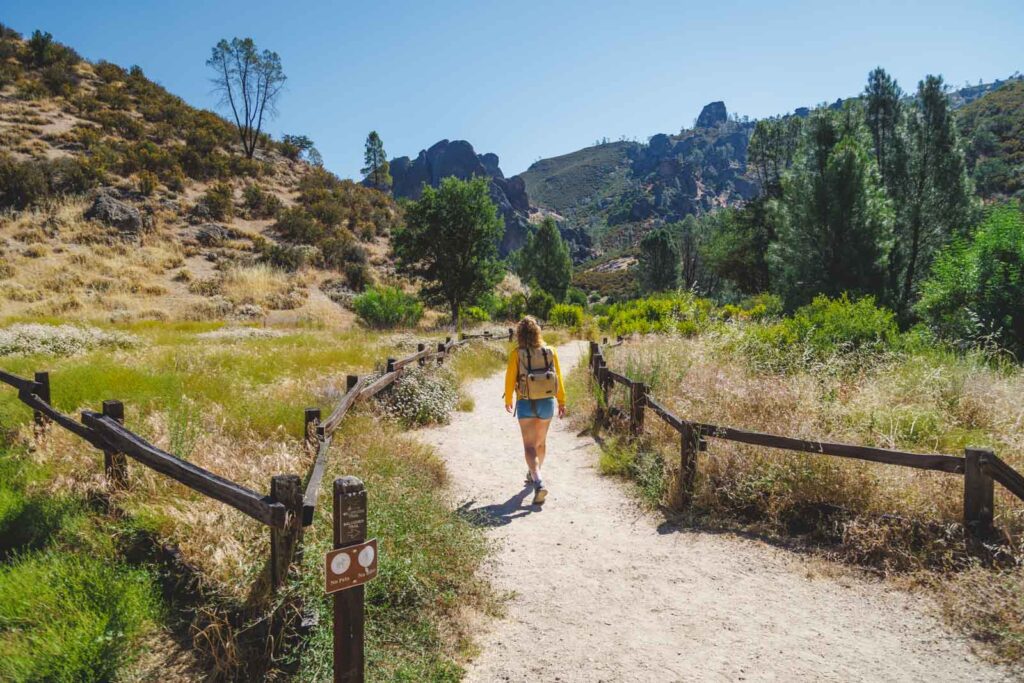 Start the hike from the parking area and head to the cave, with the option to either make the hike an out and back or a slightly longer lollypop loop. The whole hike is beautiful, but the fun starts when the canyons narrow around you.
You can take the trail in either direction if you want to do the lollypop loop, but we recommend you go clockwise, that way, you'll be climbing up into the caves rather than down into scary darkness.
Take a light or headlamp with you, as you will literally be in a dark, rocky cave, which is never much fun if you can't see where you are going! Seriously, you won't be able to complete this hike without a headlamp!
The caves are so much fun to explore, filled with huge boulders and tiny narrow canyons that really do take some maneuvering. But, if you are claustrophobic, this hike might not be the ideal choice, especially as, in some parts, you will be in complete darkness.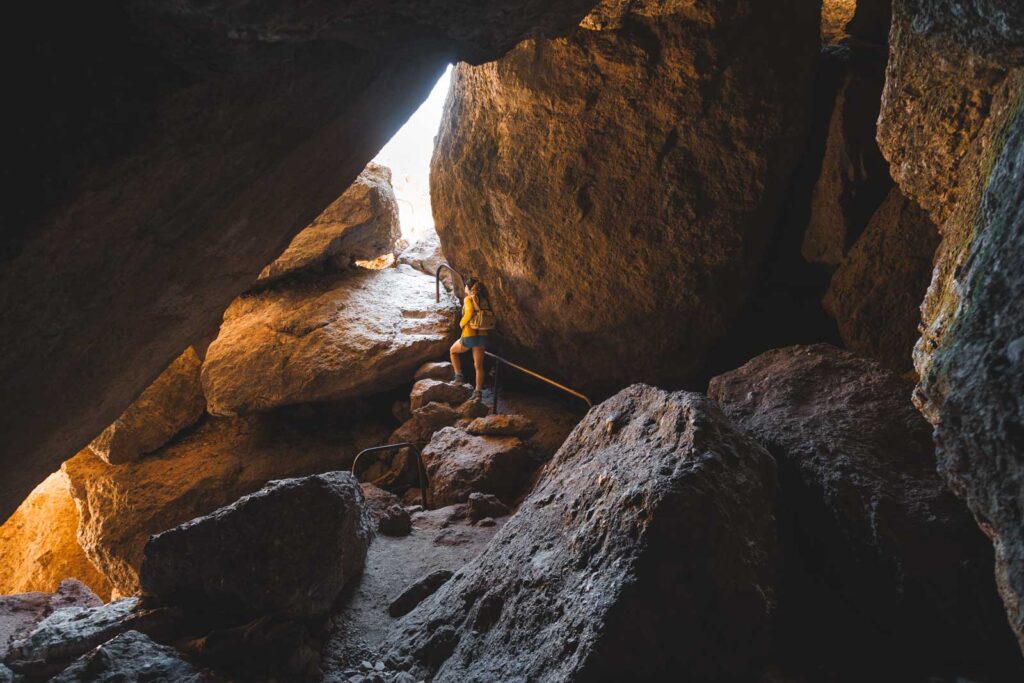 Keep your eyes out for the white arrows that help guide you to the exit like little beacons. Don't be alarmed if you hear rustling or squeaking above you, you won't be alone in there… you'll be sharing the space with hundreds of bats!
17. Overlook Trail to Mcway Falls and Saddle Rock (Julia Pfeiffer Burns State Park)
Distance: 0.4 miles
Type of Trail: Out & Back
Difficulty: Easy
Elevation Gain: 1.9 feet
The short and sweet hike to the McWay Falls Overlook is a must if you visit Julia Pfeiffer Burns State Park. The waterfall is unique as rather than the water cascading into a river to continue its journey, it falls right onto the beach in a stunning cove and then into the ocean!
The hike is short and sweet, as from the parking lot, you will follow the marked trail down under the highway, follow the cliff-top path, and soon reach the best views of the waterfall. Trust us when we say it is one of the most rewarding short hikes in the area.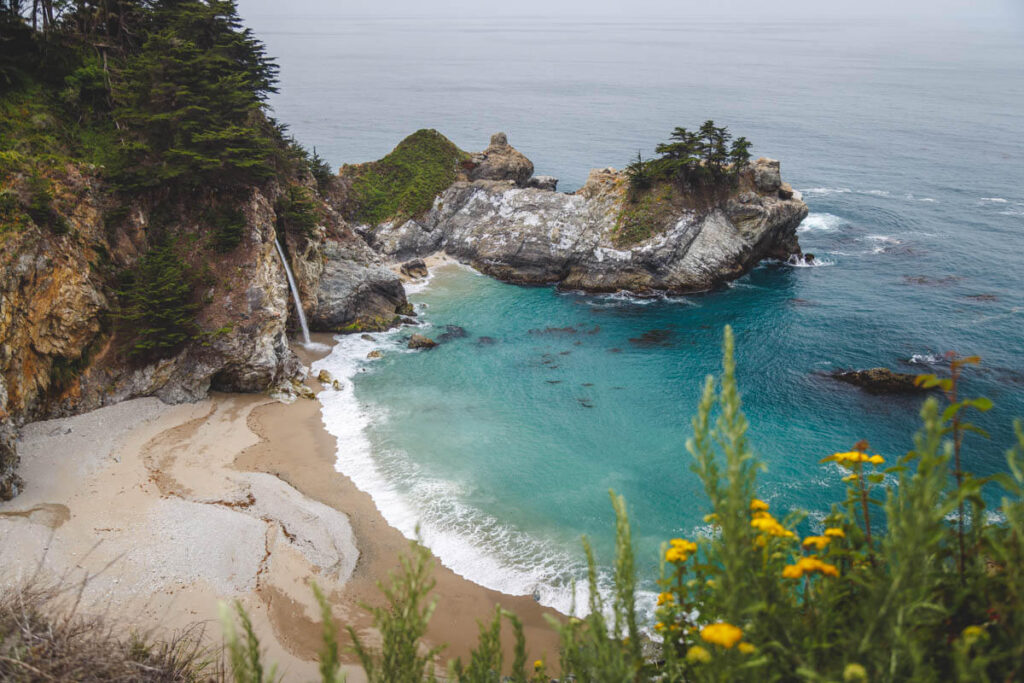 You won't be able to get close to the falls and you'll only get a view from above. But for a short and easy hike near Monterey, we think this one is a stunner and well worth it when you're driving down Big Sur.
18. Partington Cove Trail (Julia Pfeiffer Burns State Park)
Distance: 1.1 miles
Type of Trail: Out & Back
Difficulty: Moderate
Elevation Gain: 341 feet
On this hike, walk down to one of the most beautiful coves along the Big Sur, Partington Cove. Not only does this hike have a great destination, but the trail is quite something in itself.
It is steep and narrow, taking you down through thick forests. For a relatively short trail, it packs a lot of punch. Along the way, you can take in the cove's stunning clear waters, the incredible redwood tunnel, towering cliffs, and coastal views.
From the trailhead, follow the sound of Partington Creek and descend steeply down about 180 feet in just 0.3 miles. After descending a little further, immerse yourself in a thick redwood forest.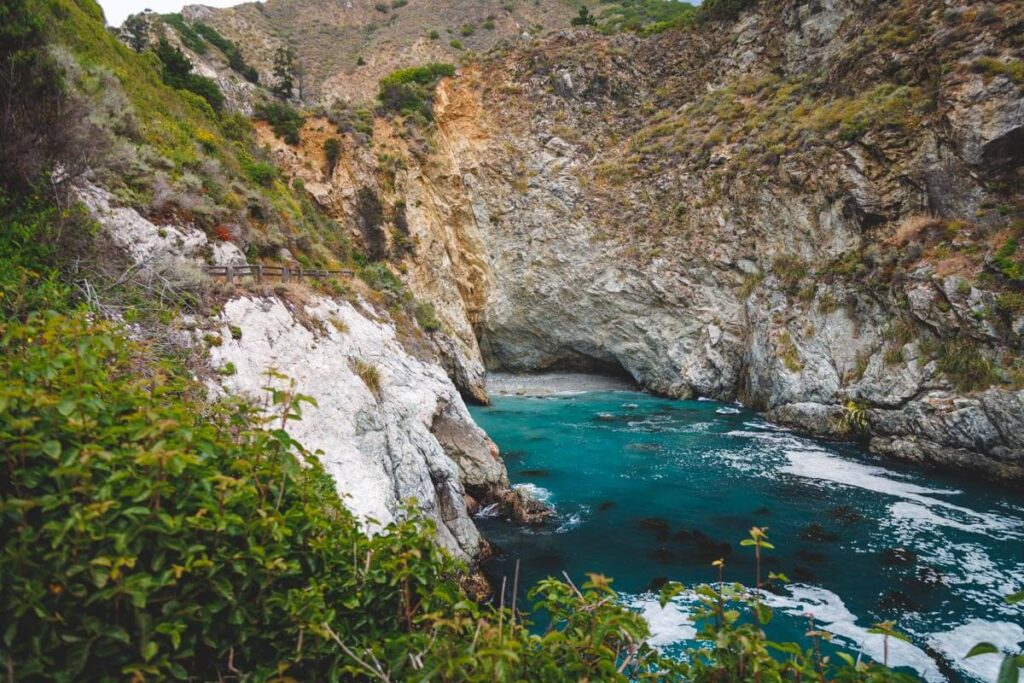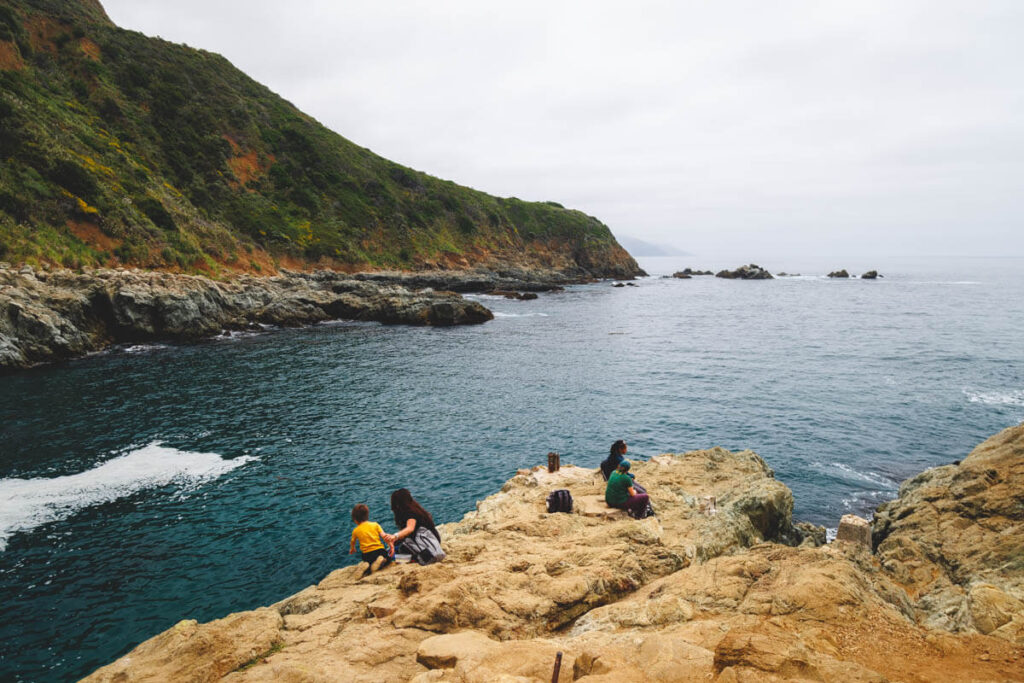 One of the best things about the Partington Cove Trail is that you have three spur options to choose from, and you can take all of them or pick one. All are short and sweet and will not add too much mileage—we easily did them all on a quick stop!
One trail will lead you to a pretty viewpoint of the tumbling waters of Partington Creek, and another to a cool redwood tunnel carved straight through the granite and framed almost entirely in redwood!
Head back to the junction and take the right turn, which will take you to Partington Point, where you are much closer to the water at a boulder-strewn beach.
Where to Stay in Monterey
Laguna Seca Campgrounds– Yes, this is a raceway and a campground in one! While this is a bit of a weird spot with nonpotable water and a raceway surrounding it, it also happens to have great views of Monterey and is one of the cheapest spots in town.
Veteran's Memorial Park Camping – Just a mile from downtown Monterey, you'll find 50 acres of park with 40 campsites – 30 of them suitable for trailers.
Ocean Wave – The famous Cannery Row will be at your doorstep with this bright and modern condo.
Pacific Grove Retreat – Groups or families will love this three-bedroom home that offers ocean views from most rooms and is just a short walk from downtown Pacific Grove.
Little Jewel Box – Beautifully renovated cottage in the heart of Monterey with a private terraced garden.
👉 More Accommodation Options in Monterey
We hope this helped you plan which hikes in Monterey to tackle!
I embark on expeditions around the world but can't get enough of California or the PNW. I'm a VW nerd with a Bug and a Bus. You can probably find me surfing or snowboarding somewhere.