The Partington Cove Trail is one of the most popular hikes in Big Sur, and for good reason. It is hard not to fall in love with this hike, as not only is the grand finale stunning, but the hike itself will fill you with coastal Californian wonder that only the Big Sur can provide!
The origin of Partington Cove is an interesting one. The cove is named after John Partington, who operated the landing when the area was used for logging. To make the loading of the ships as easy as possible, a shaft had to be carved into the cliffside.
Nowadays? It's one of the top hikes in the Big Sur area! Here's everything you need to know about the Partington Cove Trail from our recent visit.
Partington Cove Trail
---
How to Get to Partington Cove
You can route yourself right here to the Partington Cove trailhead. You'll want to make sure you downloaded your map offline, as it's unlikely you'll have cell reception out here.
It's not a super obvious pull-off, so pay attention as you approach the trailhead. Parking is available on both sides of the road, but it can fill up quickly on weekends and holidays.
How long is the Partington Cove hike?
It's only a one-mile round trip hike! A rewarding but short hike.
Is Partington Cove Near McWay Falls?
Yes, Partington Cove is just down the road from McWay Falls, but you can't hike between the two, there's no connection trail.
What's The History of Partington Cove?
Partington Cove, along California's Highway 1 in Big Sur, boasts a fascinating history. In the 1880s, John Partington built a 60-foot tunnel to facilitate the transport of tanbark oak materials. This tunnel still stands today as a testament.
The cove served as a critical access point in Big Sur's history, frequented by smugglers during prohibition and later used for construction supply! Now it's just a stunning hike for us to play on.
Partington Cove Hike Stats:
Distance: 1.1 miles
Type of Trail: Out & Back
Difficulty: Moderate
Elevation Gain: 341 feet
Hiking Down to Partington Cove
The hike can be made longer or shorter depending on how many of the hike's spurs you want to explore, with three in total, and it will come as no surprise that we recommend you visit all of them (it's such a short hike, why not?).
You'll start off at a metal gate on the west side of the highway—that's where your adventure begins. As you head down the access road, take in the mesmerizing cliffs that surround you. You'll be heading downwards towards the ocean through a steep ravine.
But don't be fooled by the shortness of the trail! You're going to be switchbacking downhill, which means you'll have to head back uphill on the way back.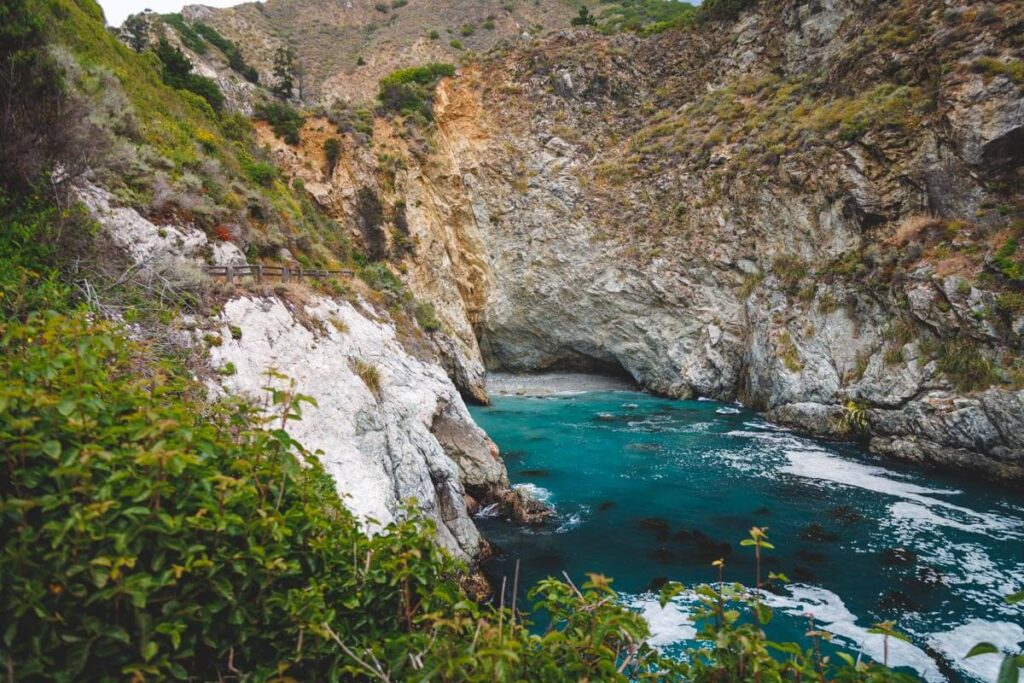 You'll get to the bottom of the hill and have three short paths to visit:
1. Partington "Beach"
The path to the right takes you to a secluded beach, well… maybe!
Opting for the beach detour grants you access to a shoreline covered with impressive granite boulders. You'll probably see heavy waves crashing the shore here. This isn't really a beach you want to bask on. In fact, there was even some driftwood in the way when we visited!
Swimming is a no-no, and you might not see a beach at all, depending on the tides here. You can get a bit of a view from above to see how it looks.
2. The Creek
Opting for the left takes you on a short path inland to Partington Creek, known for its seasonal cascading falls.
This section of the trail offers dense shading and numerous boulders and fallen tree trunks where you can relax and enjoy the soothing sounds of bubbling water. Keep in mind that this narrow trail segment is sometimes flanked by stinging nettle and poison oak, so tread carefully while exploring.
3. Partington Cove
OK, the star of the show! This will be the trail straight ahead of you as you make your way down.
The path takes you through a grove of coastal redwoods over a simple wooden bridge. You'll then reach the old lumber tunnel built by John Partington in the 1870s. As you pass through the dark 60-foot tunnel, the sound of crashing waves grows nearer.
As soon as the light streams through on the other end, the stunning view of Partington Cove's turquoise waters emerges. The trail leads you a bit further out to an ocean overlook bench where you can see what remains of the original Partington landing pier, marked by a few bolts still in the rocks.
It's a beautiful sight, with distant tide pools below. You can clamor around the rocks, but it can get pretty dangerous if it's wet, so take care! Luckily the water wasn't too angry the day we visited.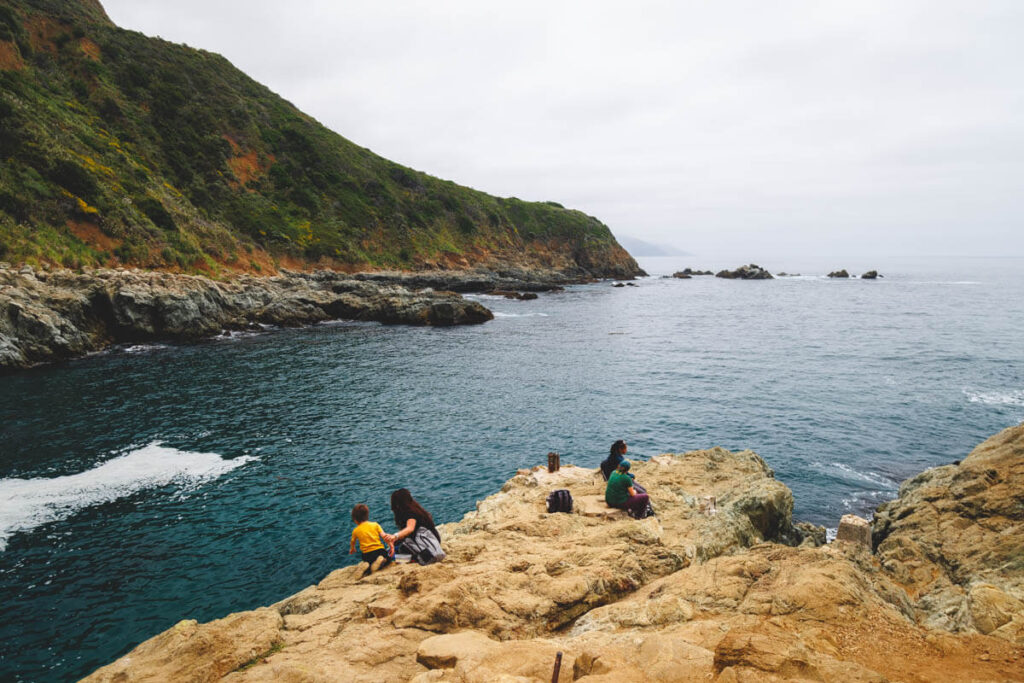 After you're done exploring Partington Cove, head back uphill to your car and maybe make your way to McWay Falls, which is down the road, or see where else you can go on your Big Sur Drive!
We hope this helped you plan your trip to Partington Cove!
I've been perpetually traveling and living around the world for years but it's hard to beat California and the PNW. After years of road-tripping the area, I guess you can say I know it pretty well! When I'm not writing guides for you, you can catch me somewhere petting a dog, attempting to surf, hiking a volcano, or stuffing my face with bread and cheese.