Welcome to a coastal journey like no other, where the sun-drenched shores of California meet the majesty of the Pacific Ocean. California coast state parks just hit different!
Each offers its own blend of natural beauty, outdoor adventures, and a glimpse into the rich tapestry of the Golden State's history.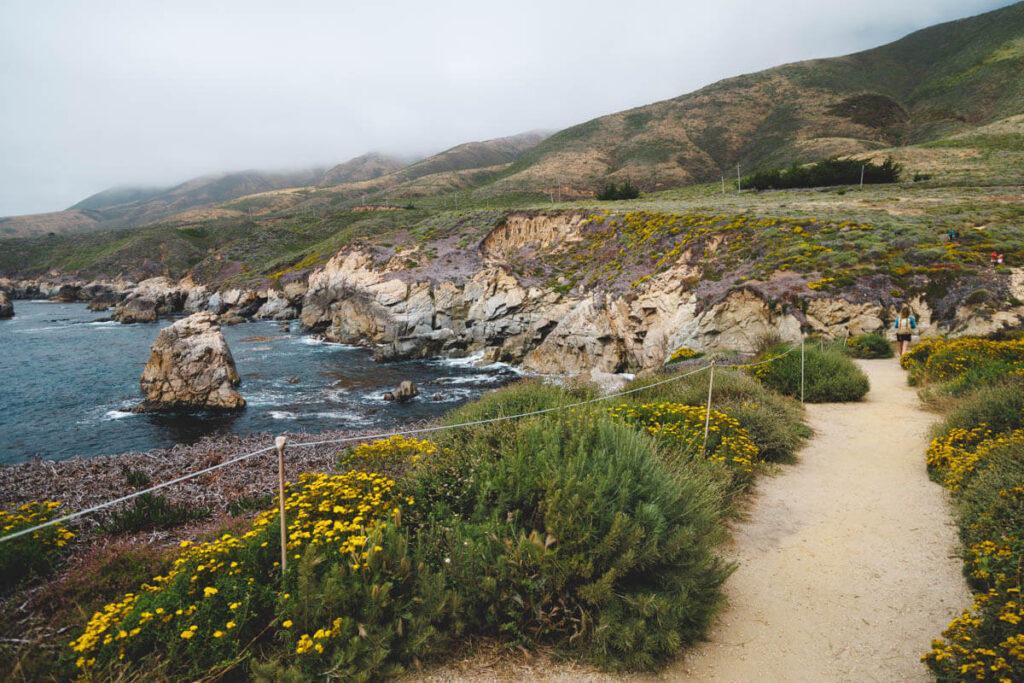 From the towering redwoods of Del Norte Coast Redwoods State Park to the sands of Huntington State Beach, let's venture on a tour of the best coastal state parks in California.
Prepare to be captivated by rugged cliffs, pristine beaches, lush forests, and the undeniable allure of the Pacific. So, grab your sunscreen, lace up your hiking boots, and get ready!
California Coast State Parks
---
We weren't sure how to best rank these state parks and beaches because, well… It's pretty impossible to do so! So instead, we simply listed them from north to south.
Curious to learn more about these California coast state parks? No worries, just click the guides that we linked in this post, and we have more coming soon.
There are so many incredible things along the California coast, but these are just the state parks and state beaches that touch the coast that we think are most worth it.
1. Del Norte Coast Redwoods State Park
Along the rugged coastline of Northern California, Del Norte Coast Redwoods State Park is pretty underrated. Here, ancient giants and the endless expanse of the Pacific Ocean come together.
At the heart of this park, you'll discover the awe-inspiring Stout Grove, a cathedral of towering redwoods that will make you feel small in the presence of these ancient giants.
Be sure to follow the Boy Scout Tree Trail, which leads you through an enchanting forest. The trail offers a serene escape from the hustle and bustle of daily life, and you'll likely encounter some of the park's resident wildlife along the way—spotted owls and Roosevelt elk.
If you're wondering, where's the coast!? Venture to the nearby Damnation Creek Trail. It descends through a lush coastal forest, revealing dramatic vistas of the Pacific Ocean. The rugged coastline, with its dramatic cliffs and crashing waves, is a sight to behold!
2. Point Cabrillo Light Station State Historic Park
Perched on the Mendocino Coast, Point Cabrillo Light Station State Historic Park stands as a timeless sentinel, calling visitors to explore its rich maritime history and breathtaking surroundings.
This historic park is home to a beautifully preserved 1909 lighthouse, which once guided ships safely through these treacherous waters.
Today, it offers visitors a glimpse into a bygone era of coastal navigation. You can take a guided tour of the lighthouse, where you'll learn about the dedicated keepers who tended to the light and the fascinating history of this coastal landmark.
One of the highlights of this park is the rugged coastal trail that winds along the cliffs, providing spectacular views of the Pacific Ocean and opportunities for whale watching during the migration season.
If you're seeking a unique lodging experience, Point Cabrillo Light Station State Historic Park offers vacation rental houses that provide an opportunity to stay in the historic light keeper's quarters!
3. Russian Gulch State Park
The two popular attractions at Russian Gultch State Park are undoubtedly the captivating Russian Gulch Bridge, an iconic feature that spans a dramatic coastal canyon, and a beautiful sinkhole!
There are easy and quick trails that lead you to both of these spots.
Russian Gulch State Park is also a paradise for picnickers and beachgoers. Spend an afternoon at this California coast state park's picturesque beach, perfect for sunbathing, beachcombing, or even a refreshing swim if you dare to brave the Pacific's brisk waters (brrr!).
4. Mendocino Headlands State Park
Perched on the northern edge of the charming coastal town of Mendocino, Mendocino Headlands State Park beckons visitors with its unique blend of natural beauty and rich history.
The park's defining feature is its rugged coastline, where dramatic cliffs plunge into the churning Pacific Ocean.
A stroll along the park's well-maintained trails offers unparalleled views of the ocean, making it a prime spot for whale watching during migration seasons (Nov-April). The Mendocino Headlands also provide an ideal vantage point for witnessing breathtaking sunsets over the water.
Venture to the park's southern end, and you'll discover a fascinating glimpse into California's history. The historic Ford House Visitor Center and Museum, housed in a beautifully preserved Victorian-era home, offers insights into the area's past. Learn about the logging industry, early settlers, and the indigenous Pomo people who once inhabited this land.
For a relaxing visit, bring a picnic to enjoy at one of the park's many picturesque overlooks, where you can savor the coastal breeze and the sound of waves crashing against the cliffs.
The park's proximity to the charming village of Mendocino means you can easily combine your park visit with a stroll through art galleries, shops, and local eateries, making it a complete coastal getaway.
5. Van Damme State Park
Tucked away in the town of Little River, Van Damme State Park is a coastal treasure that offers a little bit of everything.
The park is renowned for its lush, fern-laden forest, where towering redwoods and Douglas firs create a canopy overhead. Take a stroll along the accessible Fern Canyon Scenic Trail, which takes you through a magical world of greenery and cool, shaded groves.
The Pygmy Forest trail is a must. This scenic trek takes you through a unique pygmy forest where stunted trees have adapted to nutrient-poor soil conditions.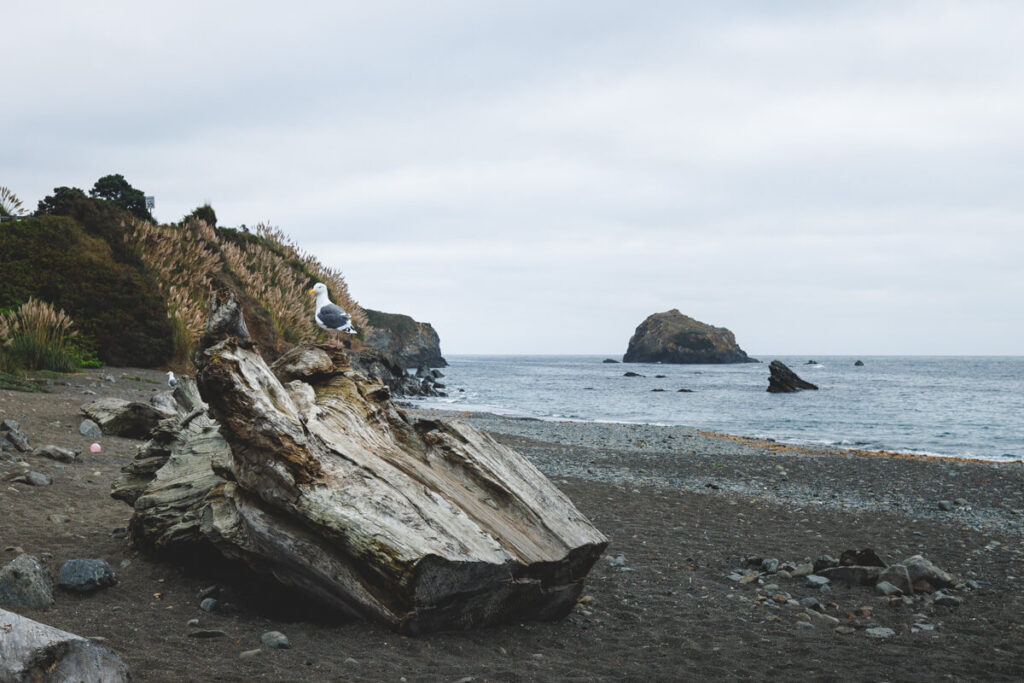 Van Damme State Park is a great spot for those wanting to sit on the beach. The park boasts a sheltered cove perfect for picnicking, sunbathing, and tidepool exploration. The clear waters are ideal for snorkeling and scuba diving, offering a chance to witness the underwater wonders of the Pacific!
6. Salt Point State Park on The California Coast
Salt Point State Park is one of our favorite state parks on California's coast. Located on the Sonoma Coast, this spot has its rugged beauty and unique coastal features going for it (OK, fine, that's a lot of these spots but still!).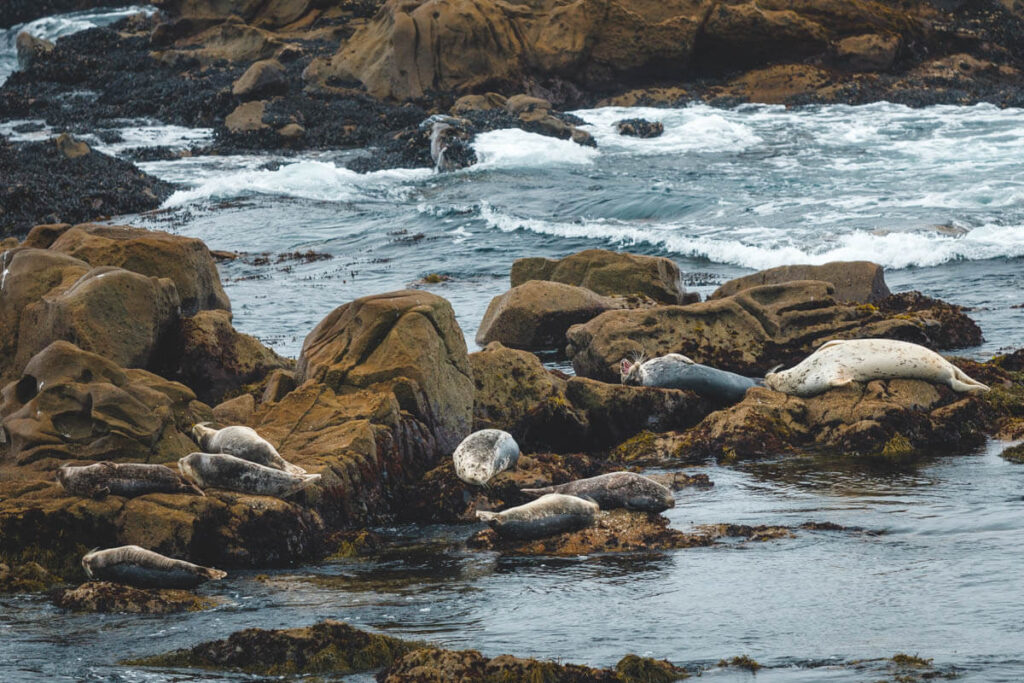 The park's coastline is a marvel, with its rocky tidepools teeming with marine life, like starfish, anemones, and colorful sea creatures in their natural habitat.
One of the park's iconic features is the Salt Point Pygmy Forest. This enchanting grove consists of miniature cypress trees believed to be hundreds of years old. The stunted growth is a testament to the harsh conditions of the wild coast.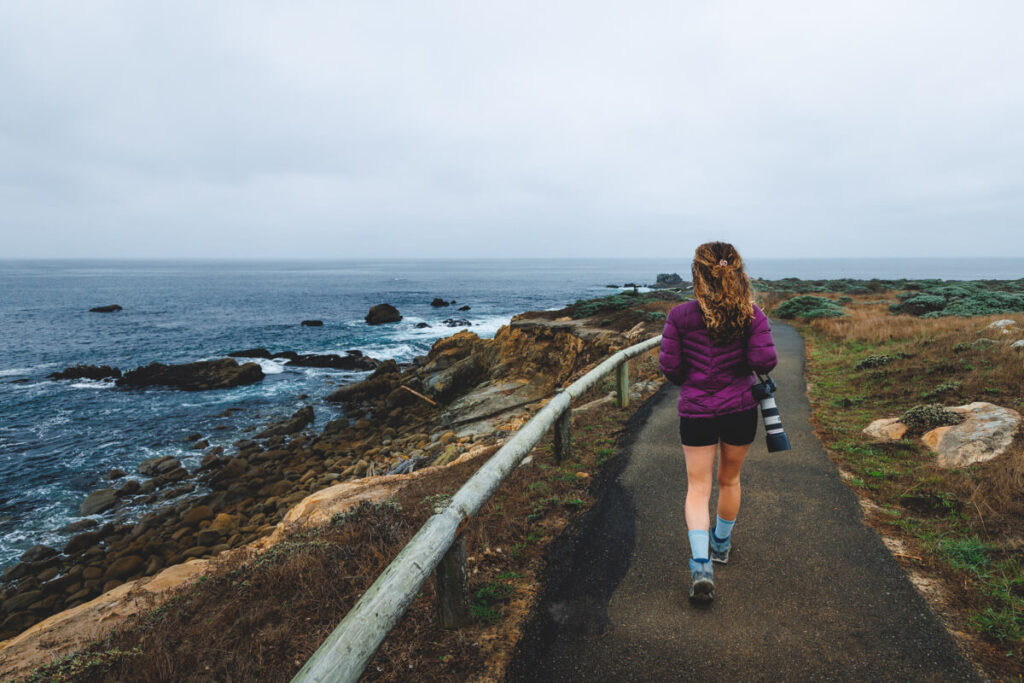 For hikers, Salt Point State Park boasts a network of trails that wind through forests, meadows, and along the rugged coastline. The North Trail provides breathtaking ocean views, while the South Trail takes you through serene woodlands.
7. Sonoma Coast State Park
Stretching along 17 miles of the captivating Sonoma Coast, Sonoma Coast State Park is a haven for those who seek the raw beauty of the unspoiled California shoreline!
This park is a photographer's paradise, with its dramatic rocky outcrops, picturesque arches, and pristine beaches. It's where you can breathe fresh sea air while watching the waves crash against the rugged cliffs.
Hikers can explore the Kortum Trail, a breathtaking route that hugs the coastline, allowing you to witness the power and grandeur of the ocean up close. If you're interested in birdwatching, the park is a sanctuary for a variety of coastal and migratory birds.
The beaches at this California coast state park are ideal for picnicking, beachcombing, and even sunbathing on a sunny day. You can even camp on the beach, offering an opportunity to fall asleep to the sound of the ocean waves and wake up to the sun rising over the water.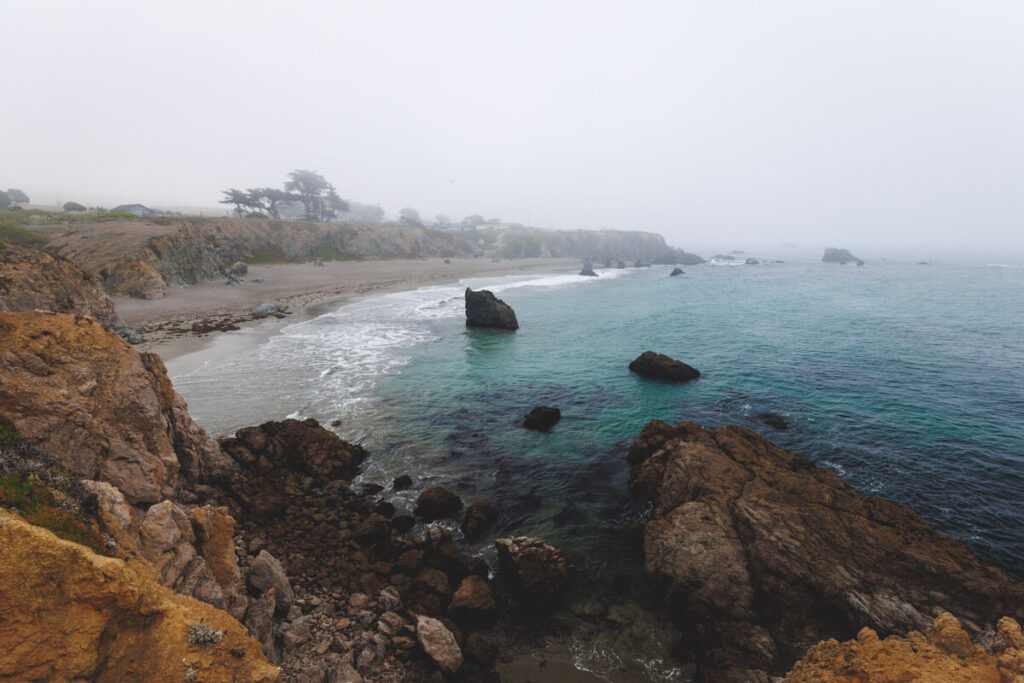 The park's geology and tidepools teem with marine life, from colorful anemones to scuttling crabs. Just be sure to explore these tidal wonders responsibly to protect the fragile ecosystems!
8. Tomales Bay State Park
On the tranquil shores of Tomales Bay in Marin County, Tomales Bay State Park offers a serene escape from the hustle and bustle of everyday life, although you're not too far from San Fransico!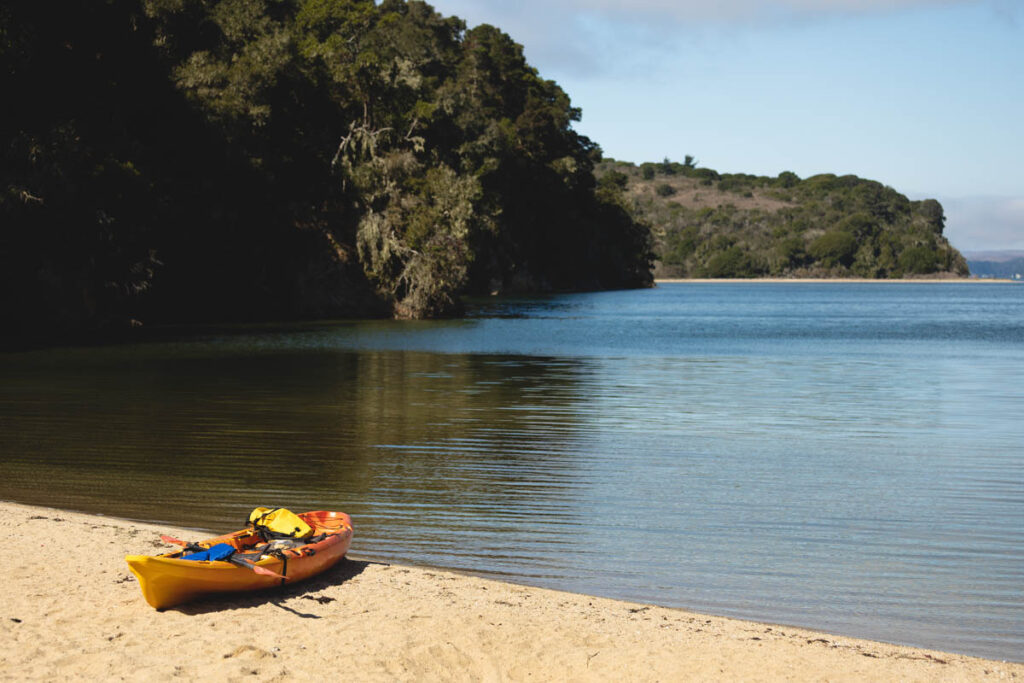 The park's pristine coastline and calm waters make it a kayaker's dream come true. Paddle along the bay's gentle currents and take in the breathtaking views of the surrounding hillsides. It's an ideal spot for beginners and experienced kayakers to explore the bay's unique ecosystem.
Tomales Bay State Park is also great for picnickers and beachgoers, particularly Heart's Desire Beach. The park's sandy shores are perfect for a leisurely afternoon of sunbathing, beachcombing, or even a refreshing dip in the bay's cool waters!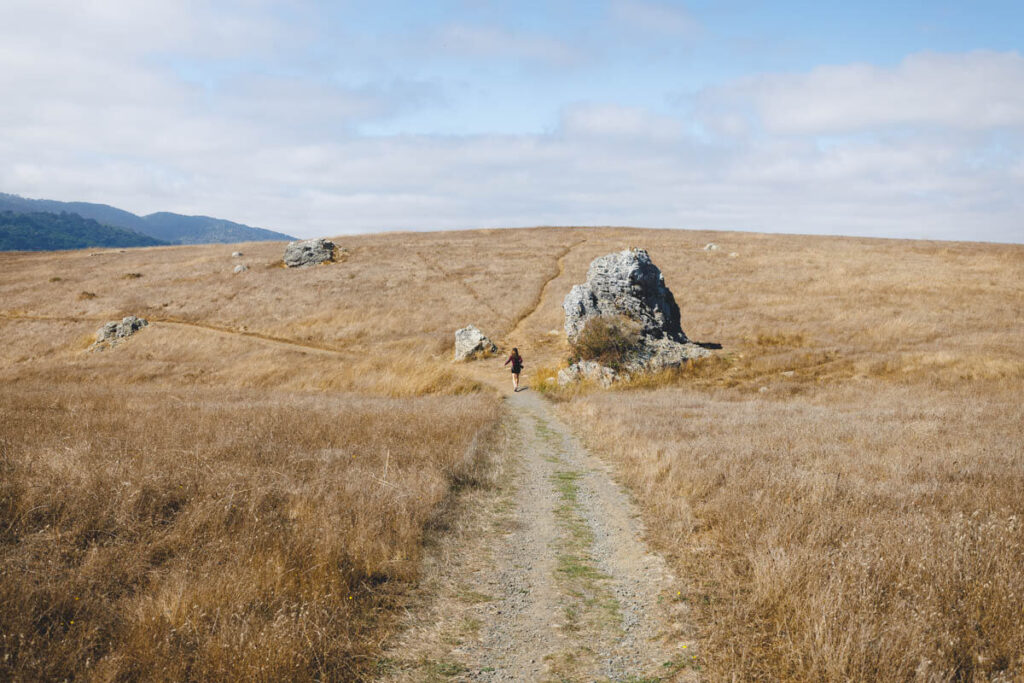 For hikers, the park provides a variety of courses that wind through lush forests and rolling hills and bring you to beach coves. Keep an eye out for herons, egrets, and the occasional harbor seal basking in the sun!
9. Mount Tamalpais State Park on The California Coast
Rising like a sentinel above the San Francisco Bay Area, Mount Tamalpais State Park offers a majestic escape just a stone's throw from the bustling city. Known affectionately as "Mount Tam" by locals, this park has lush forests, scenic vistas, and outdoor adventures.
Don't miss the famed East Peak, accessible by a short hike, where you can soak in the sunset over the bay. The Dipsea Trail, Steep Ravine Trail, and Matt Davis Trail are popular choices, each offering a different perspective of the epic views over the California Coast.
Birdwatchers and wildlife lovers will delight in the opportunity to spot various birds and perhaps even a glimpse of a bobcat or deer as you wander the park!
10. Half Moon Bay State Beach
Half Moon Bay State Beach is a coastal oasis in Half Moon Bay, an incredible California Coastal town we love! This spot has some seriously pristine shores, sweet waves, and an overall chill California beachtown vibe.
This picturesque destination offers not one but four distinct beaches, each with its unique charm. Francis Beach, Dunes Beach, Venice Beach, and Roosevelt Beach collectively make up the Half Moon Bay State Beach experience.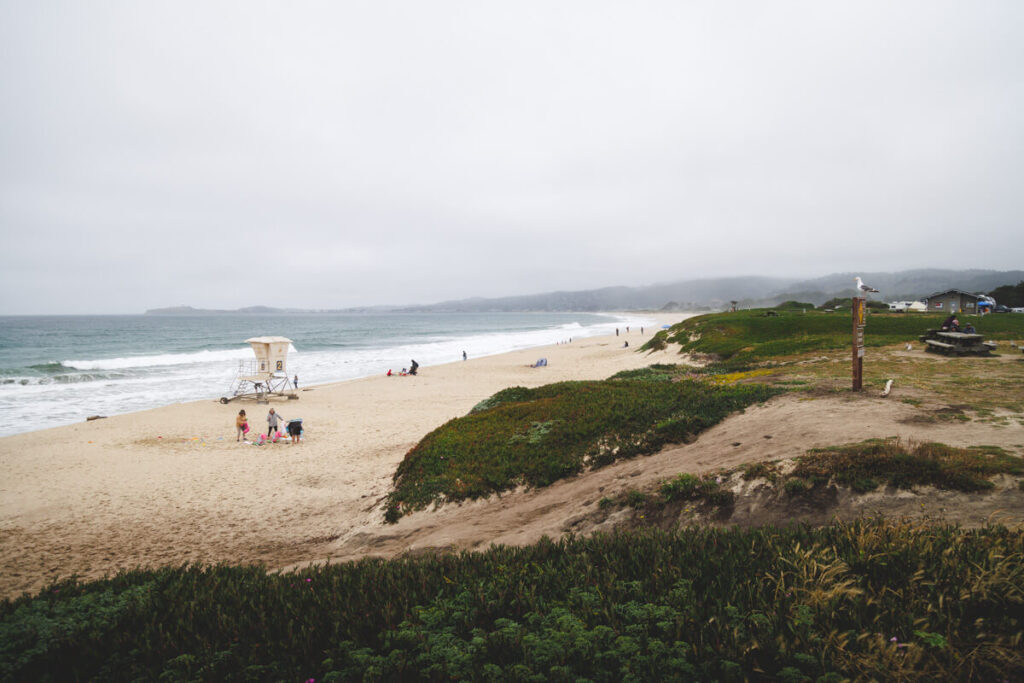 Francis Beach, the most popular of the four, is perfect for picnicking, beachcombing, and sunbathing. It's also the ideal spot for a family day out, with spacious picnic areas and amenities.
Dunes Beach is a haven for birdwatchers. Its unique dune ecosystem is home to various species and native plants. Stroll along the boardwalk trail that winds through the dunes to observe the delicate balance of nature.
Venice Beach is known for its incredible tidepools, where you can observe a wealth of marine life during low tide. It's a fantastic place for kids and adults alike to explore the coastal ecosystem up close.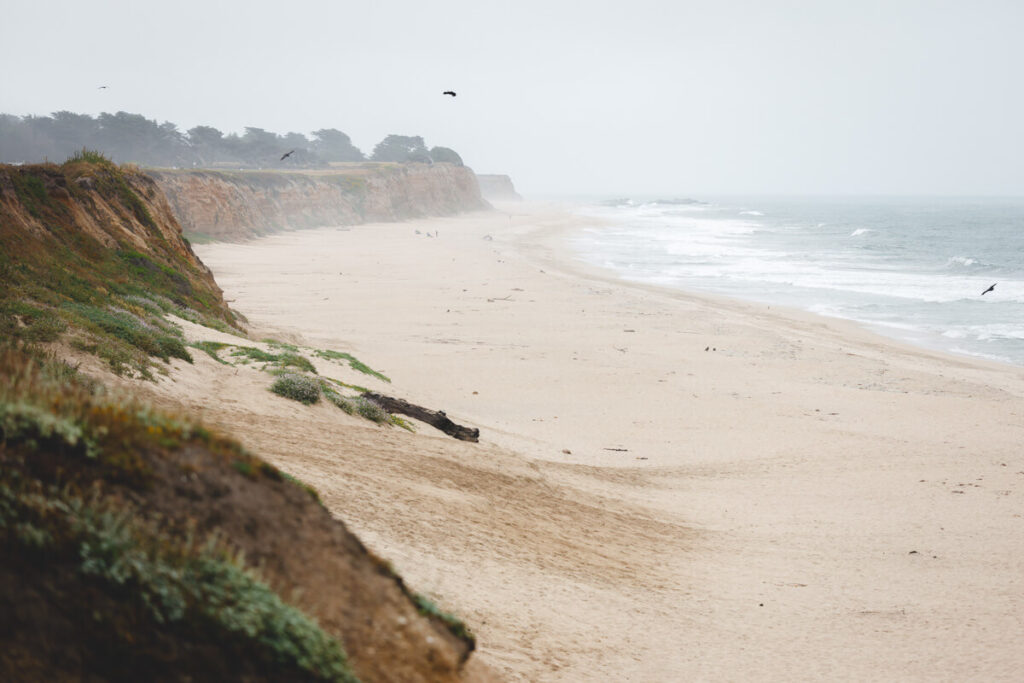 Roosevelt Beach is the perfect spot for those seeking solitude and tranquility. Its secluded location is peaceful, making it an ideal destination for a contemplative beach walk or a romantic picnic.
The park also has surfing, fishing, and horseback riding along the coastline as other options. Of course, there's also the town of Half Moon Bay itself. This is an area you don't want to rush through!
11. Pigeon Point Light Station State Historic Park
Straddled on a rugged headland along the scenic Highway 1, Pigeon Point Light Station State Historic Park symbolizes maritime history and a captivating coastal destination.
The park is home to the iconic Pigeon Point Lighthouse, a tower that has guided ships safely along the California coast for over a century.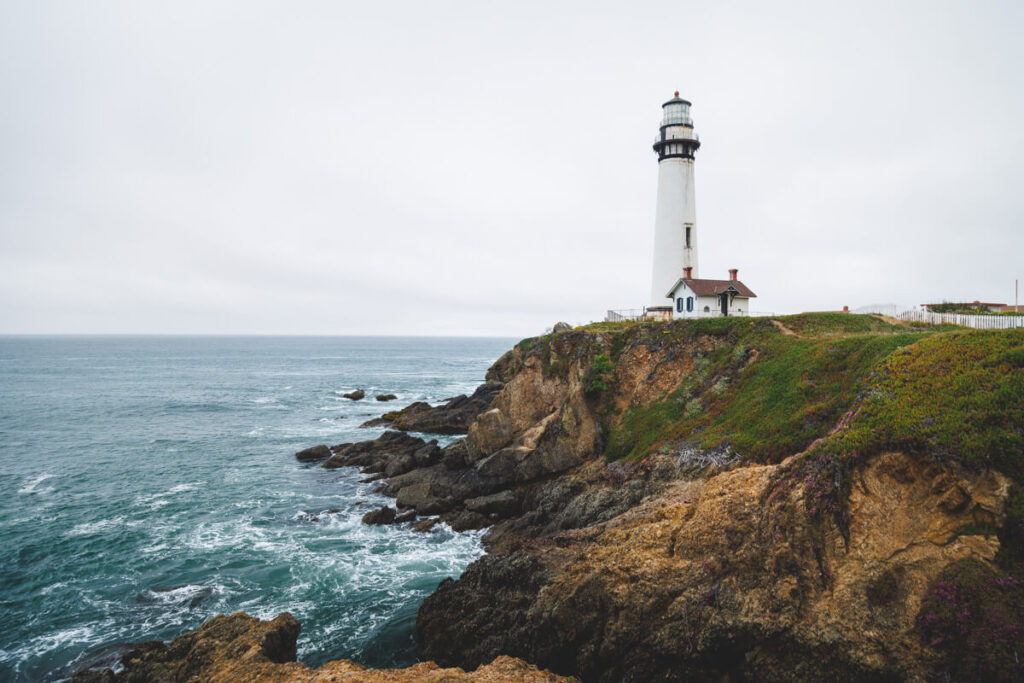 The lighthouse is a marvel of architecture and engineering, standing as one of the tallest lighthouses on the West Coast. Visitors can explore the lighthouse grounds and even stay in the historic keeper's quarters, now converted into cozy hostel accommodations.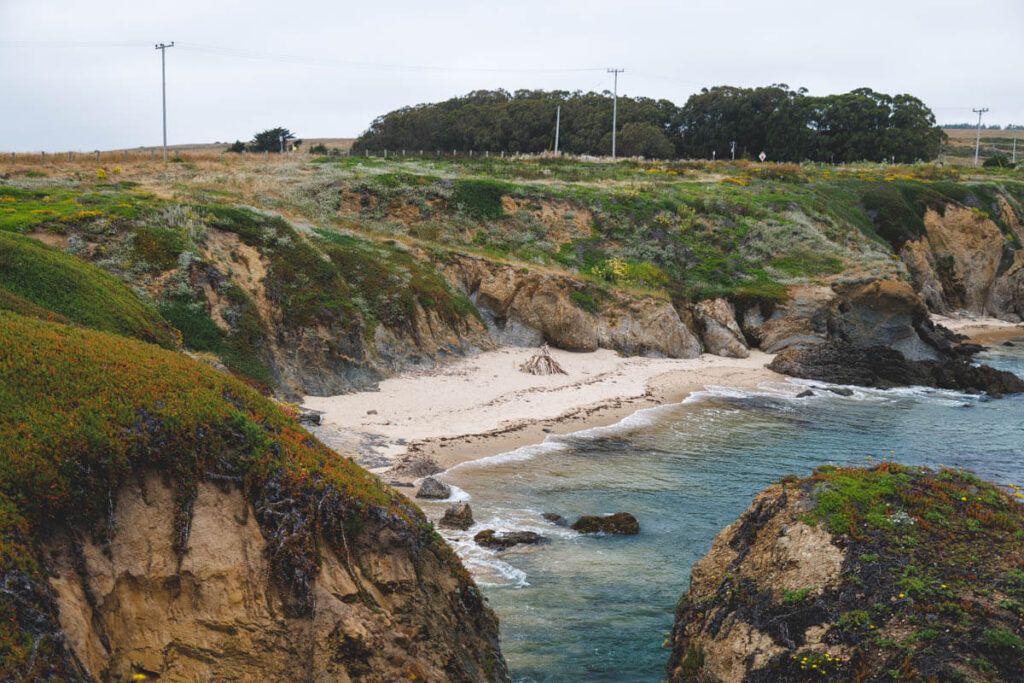 The park's dramatic coastal cliffs and panoramic ocean views provide an ideal backdrop for an easy walk and you'll get the chance to spot migrating whales during the season. The crashing waves against the rugged rocks are a stern reminder of nature's power.
12. Año Nuevo State Park on The California Coast
On the San Mateo County coastline, Año Nuevo State Park invites visitors to head on a unique coastal adventure where nature reigns supreme and marine life takes center stage.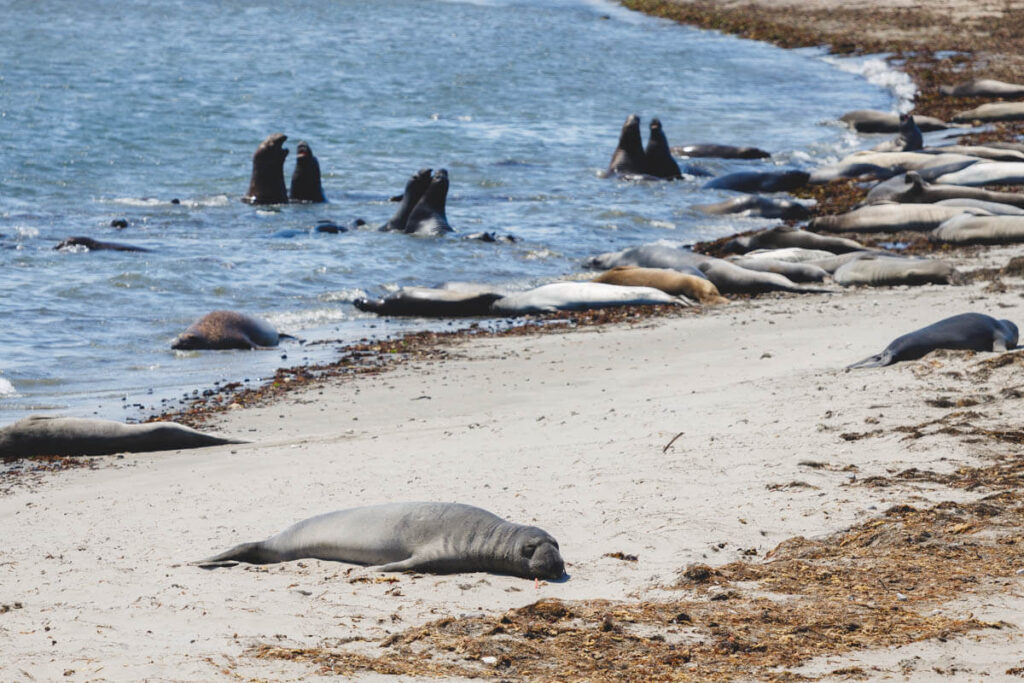 The park is renowned for its iconic elephant seal colony, making it a premier destination for anyone seeking extraordinary wildlife encounters. It's an incredible spectacle of these massive creatures as they haul out onto the beaches, raise their young, fight, or laze on the sand!
I couldn't believe we could see so many from that viewpoint.
Aside from the seals, Año Nuevo State Park boasts diverse habitats, from windswept dunes to coastal scrublands and dense forests. The park's network of trails offers opportunities for hiking, birdwatching, and exploring these ecosystems.
For those seeking a rippin' ride on some waves, head to Cove Beach for your beach chance at great rollers. The Año Nuevo Point Trail is our favorite because you can get all the highlights in one easy 4-mile trail.
13. Coast Dairies State Beaches
Sprinkled along the pristine Santa Cruz County coastline, Coast Dairies State Beaches is a relatively well-kept secret, offering a secluded and unspoiled coastal experience perfect for those seeking tranquility and natural beauty.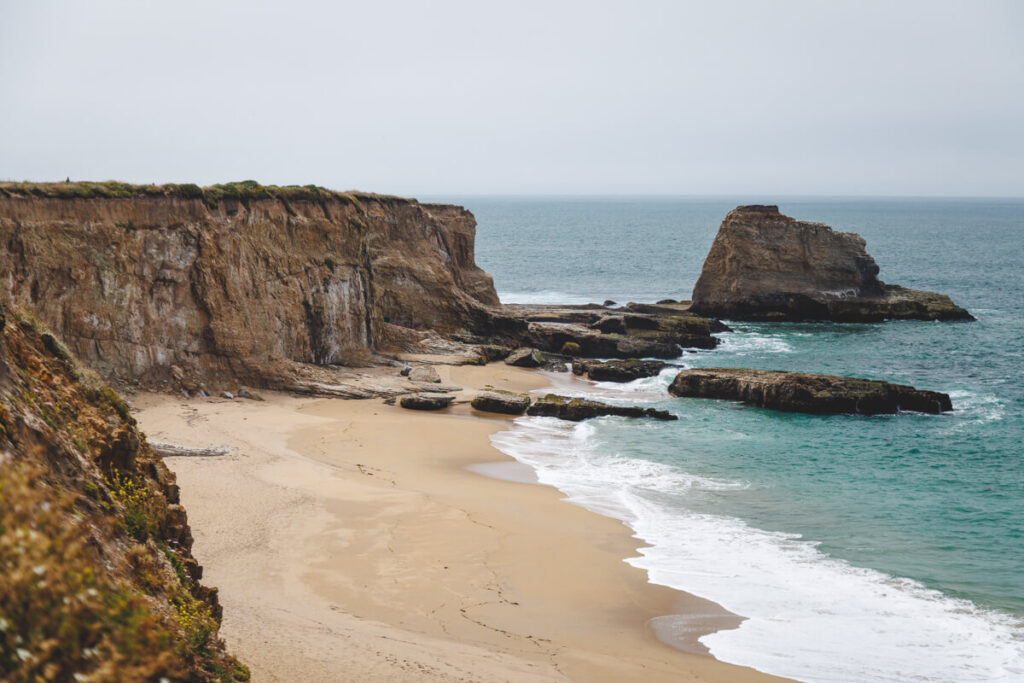 The park's name might evoke images of dairy farms, but you'll find a different kind of pasture here – one of golden grasslands, coastal bluffs, and windswept vistas. This unique combination of landscapes makes Coast Dairies State Beaches perfect for hikers, photographers, and beach bums.
The park features a network of trails that meander through the coastal prairies, taking you to stunning overlooks that provide panoramic views of the Pacific Ocean.
There aren't really specific trails, and they don't even have names. Just meander along the old railroad for miles, and you'll stumble upon many beaches and coves!
Obviously, one of the park's highlights is its remote and pristine beaches, but also keep your eyes peeled for a lot of birdlife. Bring a towel and maybe a picnic for the day as there isn't much around here.
14. Garrapata State Park
Garrapata State Park is one of the most underrated parks along Highway 1 in Big Sur. But don't let this undeveloped remoteness put you off, as it just means there is a good chance you won't be pushing past other hikers as you traverse the trails, as it is one of the least visited parks in the Big Sur.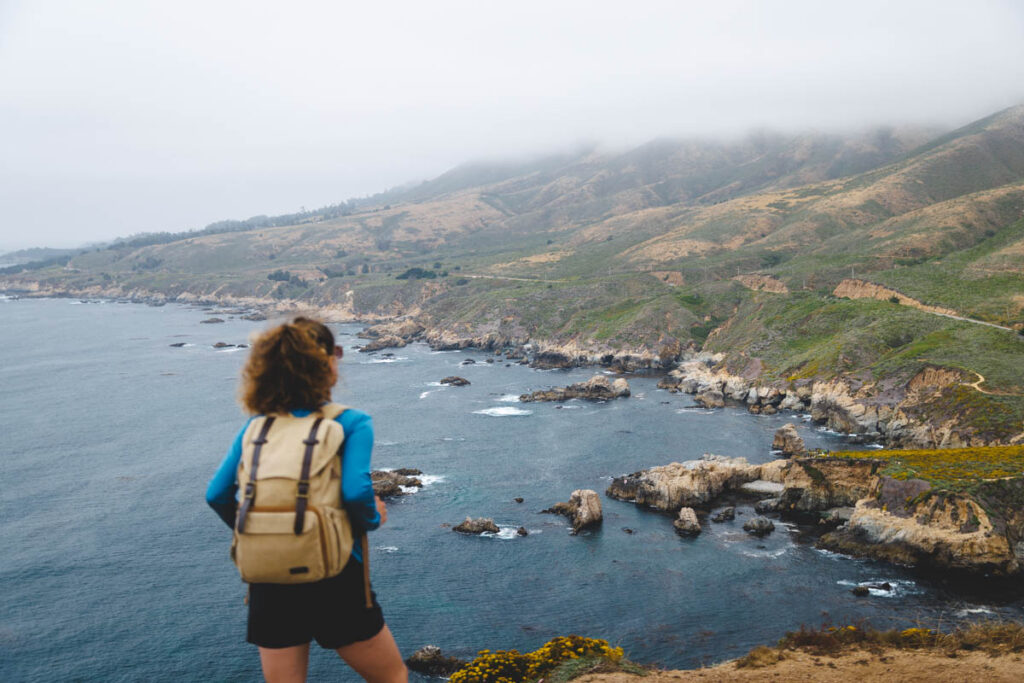 As well as awesome hikes, the park is filled with abundant coastal Californian wildlife. We are talking seals, roaring sea lions, and even whales if you have a keen eye.
Remember that this can be one of the foggiest places along the Big Sur, but the moody atmosphere is unmatched, and there is a good chance it will clear up as you hike… at some point… maybe!
15. Andrew Molera State Park
With 4766 acres, Andrew Molera State Park offers plenty of hiking opportunities in all sorts of landscapes.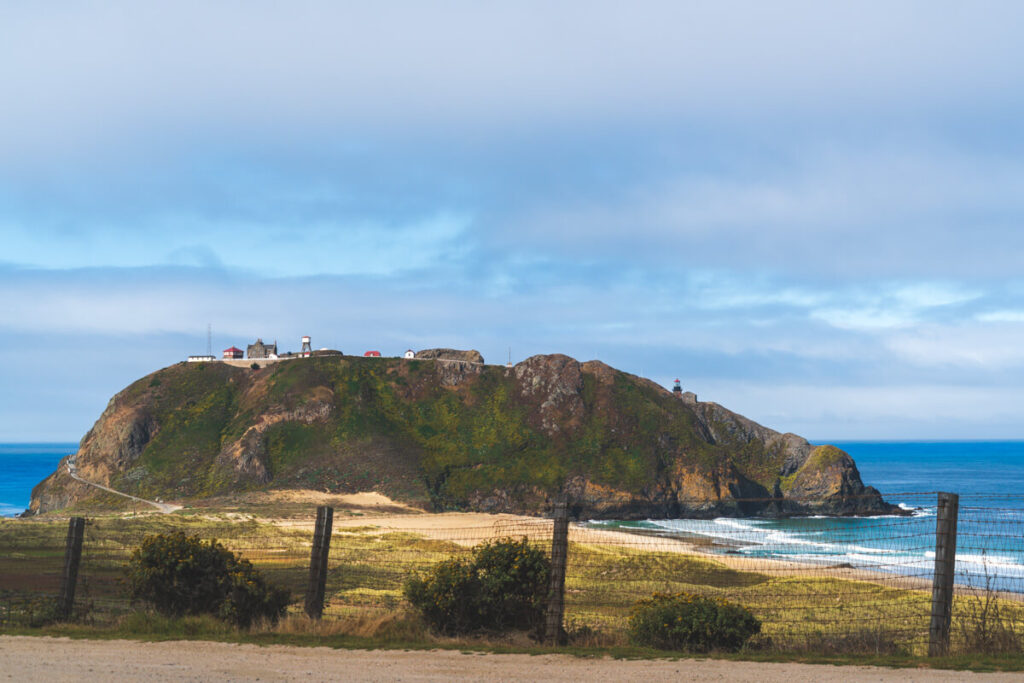 Some paths follow the banks of the rivers, others head up and down steep hills covered in towering redwoods, while others take you down to the ruffled California coastline, so which one you take is up to you. The 20 miles of trails make it one of the best hiking hot spots in the Big Sur area.
The park has a history behind it, which is too long and complicated to go into here. It is exchanged hands several times, but all you have to know is that eventually, the state bought the land, making the state park we know and love today.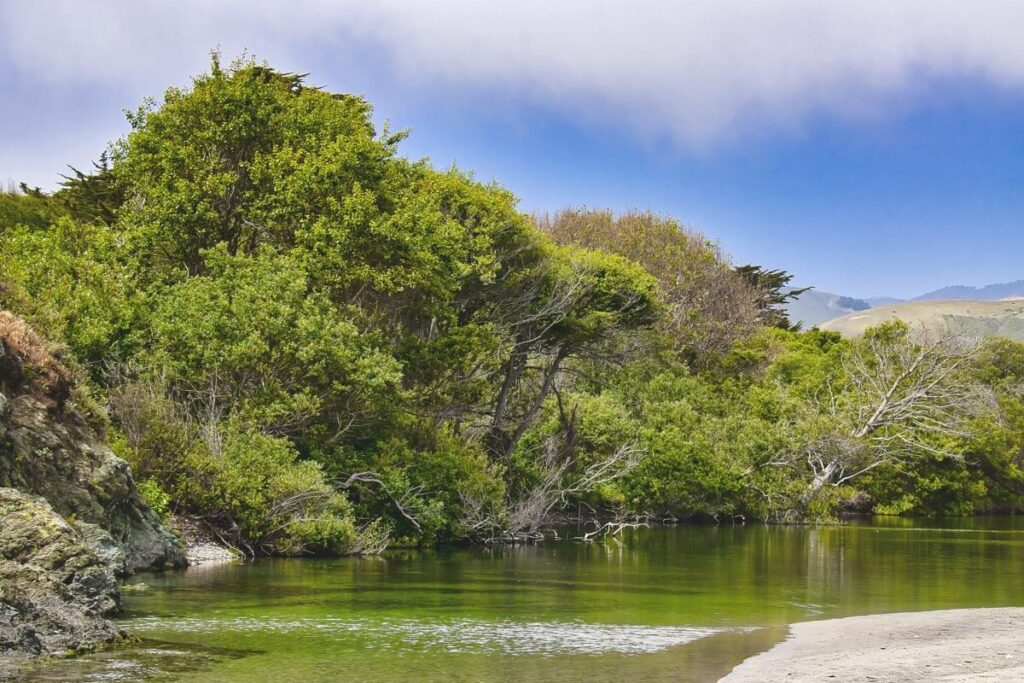 People visit the park for so much more than hiking. In the summer, people swim and surf the waves; in the winter, it is a popular place to fish, camp, bike, and go on nature-watching tours.
16. Julia Pfeiffer Burns State Park on The California Coast
It is easy to see why Julia Pfeiffer Burns State Park is a bit of a Big Sur icon. The incredible Mcway Falls is the main attraction within the park, unsurprisingly so too. There aren't many places you can see a waterfall cascading into the ocean!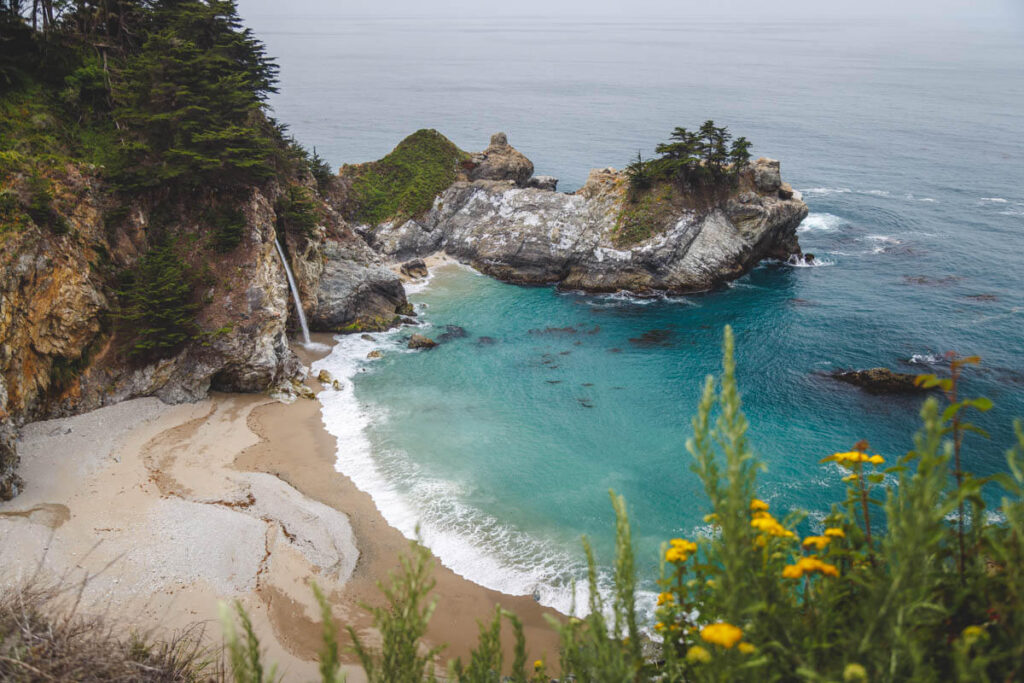 But this stretch of coastline has so much more to offer intrepid Big Sur travelers. Right next door is the stunning Partington Cove which is an easy and well worth it hike down into an old lumber tunnel and to a beautiful cove.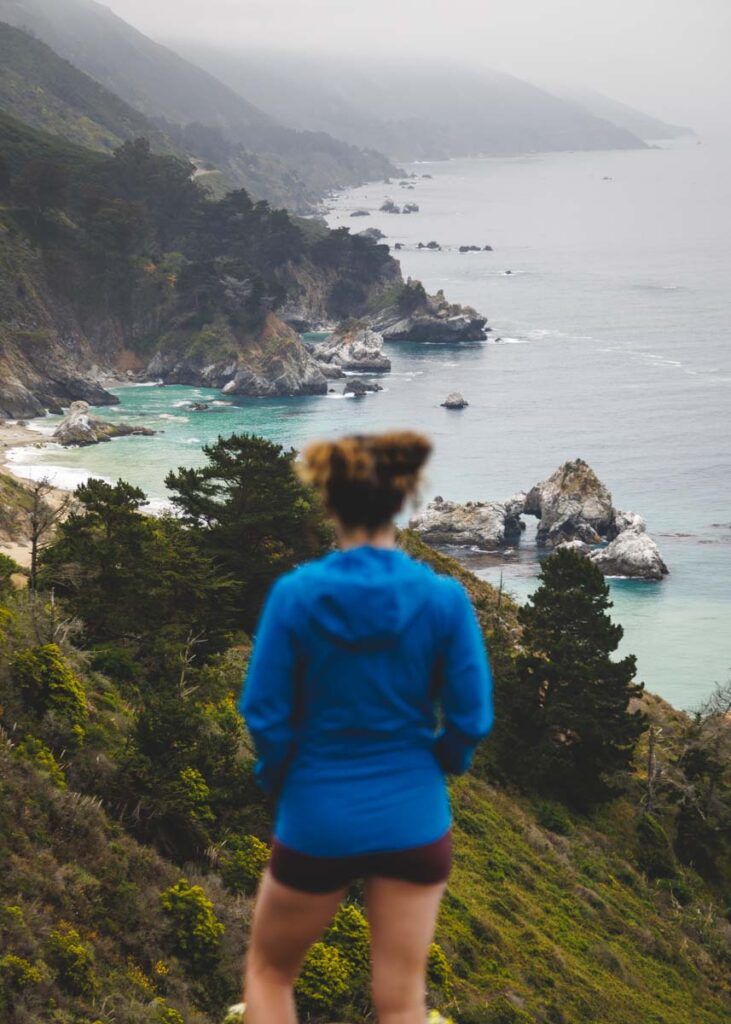 The park stretches from the ocean to the 2000-foot ridges inland, full of redwood and oak. It is a beautiful place to take in the scenery and walk some pretty epic trails. There are two campgrounds, but they are hike-in only.
17. Limekiln State Park
An underrated spot along the rugged Big Sur coastline, Limekiln State Park offers a blend of coastal splendor and serene redwood forests.
The park's name may evoke images of limekilns, but you'll discover much more than historical relics here. Limekiln is renowned for its lush redwood groves, where towering giants create a cathedral-like canopy. The Redwood Trail takes you through these ancient forests, providing a peaceful escape and opportunities for quiet reflection.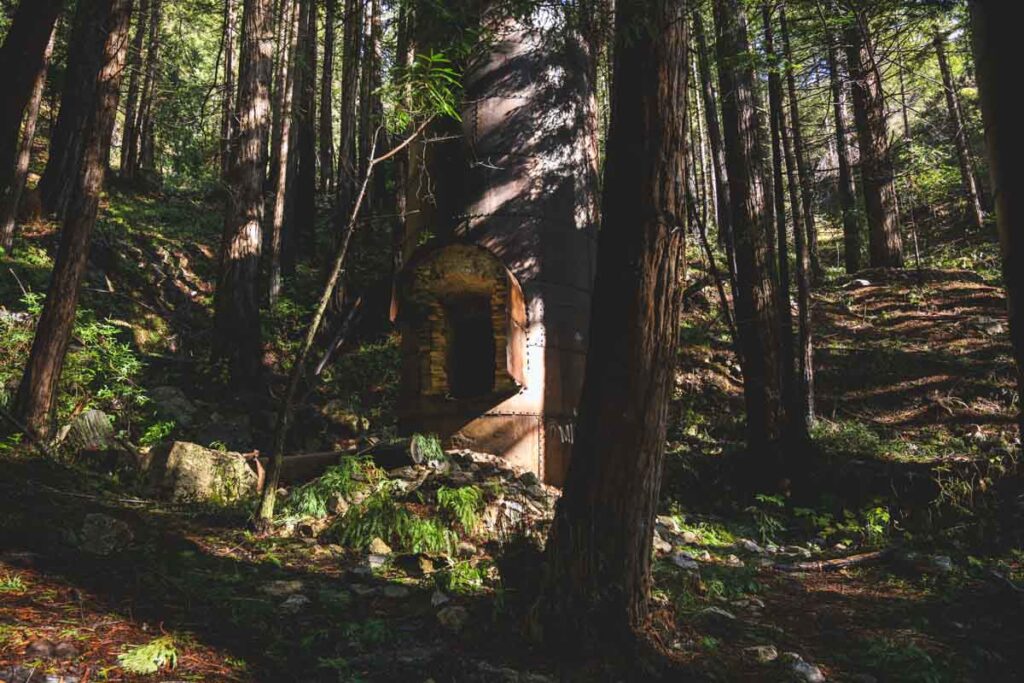 Limekiln State Park is also a place where land and sea converge—The park boasts a picturesque beach with striking coastal views, and it's an ideal spot for picnicking or exploring the tidepools teeming with marine life.
One of the park's standout features is its historic limekilns, remnants of an industry that once thrived here. Interpretive displays provide insights into the park's history and these kilns' vital role in the area's development.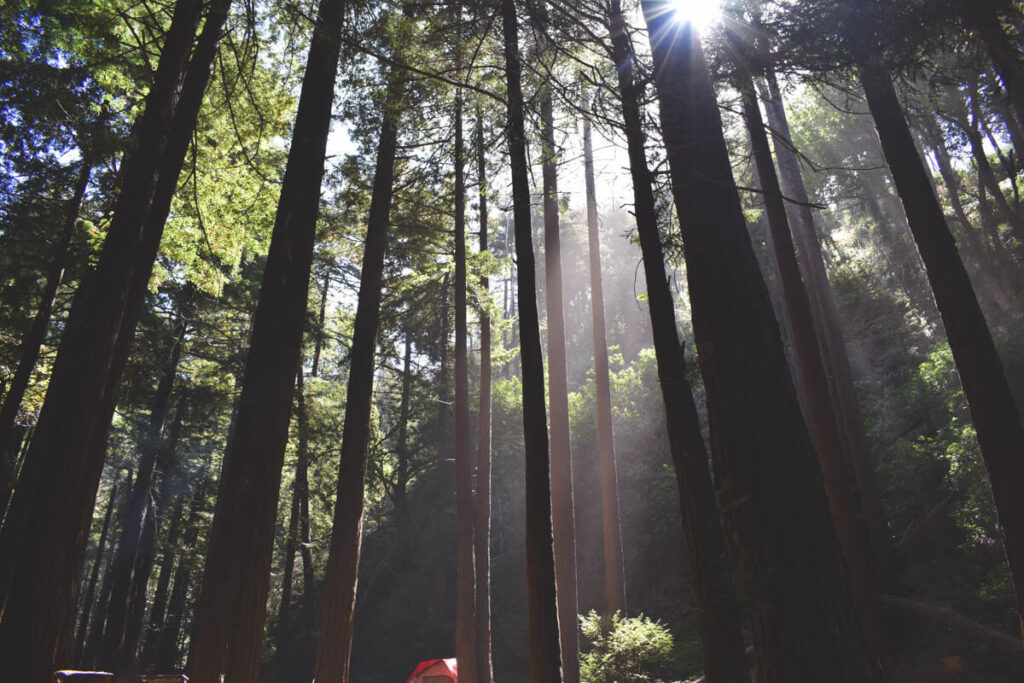 Camping is available within the park, offering the opportunity to spend a night surrounded by the gentle sounds of the creek and the ancient redwoods.
18. Cayucos State Beach
Cayucos State Beach is a picturesque stretch of coastline that welcomes sunbathers, beachcombers, and those looking to enjoy the sounds of the waves. The gentle surf makes it an excellent spot for swimming and bodyboarding, especially for families and beginners.
Cayucos is also a paradise for coastal hikers. We loved the Esteros Bluffs hike that runs right from this California Coast state park up seven miles, bringing you to epic vistas and even a shipwreck.
The Cayucos Pier is a great starting point for those exploring the coastline. Take a leisurely stroll along the pier, and you'll be treated to panoramic views of the beach, the town of Cayucos, and the nearby Morro Rock.
The town of Cayucos itself is a charming coastal village with a laid-back vibe. It's a great place to grab a bite to eat at one of the local restaurants or browse the unique shops and art galleries. Be sure to try some local seafood for an authentic taste of coastal California.
19. Morro Bay State Park on The California Coast
The centerpiece of Morro Bay State Park is the iconic Morro Rock, a volcanic plug that stands majestically in the bay, serving as a lookout of the coast. This California coast state park's shoreline is a sanctuary for birds, and you can spot plenty of shorebirds, including herons, egrets, and migratory birds.
Morro Bay State Park is also a great spot for kayakers and paddleboarders, with calm waters that invite exploration of the bay. Paddle alongside the abundant wildlife like playful otters or explore the estuary's hidden channels and tidal creeks.
The park's hiking trails offer panoramic views of the bay, Morro Rock, and the surrounding estuary. The Black Hill Trail is a local favorite, providing a short hike with rewarding vistas.
For beachgoers, the park features a tranquil strand known as Morro Strand State Beach. It's the perfect place to enjoy a leisurely walk, a picnic, or a day of sunbathing and beachcombing. I could walk the beach here for hours, it's truly beautiful!
The nearby town of Morro Bay is a charming coastal community that offers excellent dining options, boutique shopping, and opportunities for exploring the bustling harbor.
20. Pismo State Beach
The star of the show at Pismo State Beach is the expansive stretch of pristine shoreline, where soft, golden sands will have you basking in the sun, building sandcastles, and playing beach volleyball.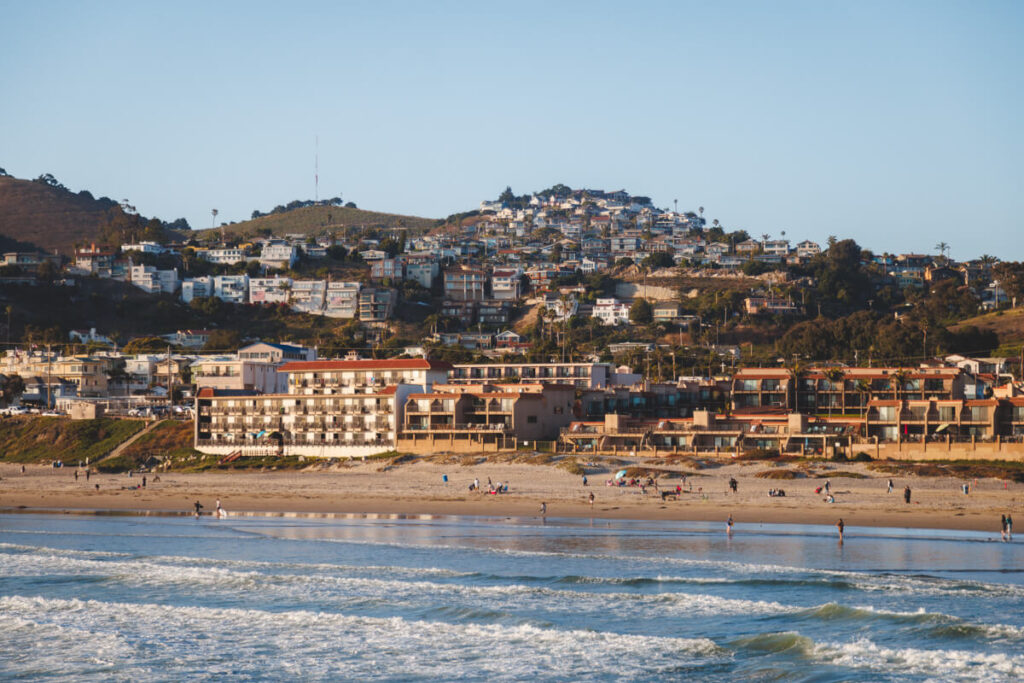 Pismo State Beach is renowned for its gentle waves, making it a popular destination for swimmers and boogie boarders.
If you're new to surfing, this is an excellent place to take lessons and catch your first wave. The friendly surf culture and instructors make it an inviting spot for beginners, but there are definitely waves for the pros, too!
For those who prefer to explore beneath the surface, the beach is a hotspot for scuba diving and snorkeling. Out of all the beaches at these California coast state parks, I think Pismo Beach is our favorite! It's not just the beach but the vibe here.
The famed Pismo Beach Monarch Butterfly Grove is one of the park's highlights. During winter, thousands of Monarch butterflies gather here in a remarkable natural spectacle. Witnessing these delicate creatures as they cluster in the eucalyptus trees is a fascinating experience!
21. Carpinteria State Beach
Carpinteria State Beach is a coastal paradise that embodies the essence of sun, sea, and serenity, making it an ideal destination for those seeking a peaceful and picturesque beach getaway!
The park's expansive sandy shores offer a perfect setting for relaxation and recreation. Whether strolling along the shoreline, sunbathing on the soft sands, or taking a refreshing dip in the crystal-clear waters, Carpinteria State Beach provides the quintessential California beach experience.
Surfers and bodyboarders flock to this beach to catch waves and enjoy the thrill of the ocean. If you're new to surfing, you'll find friendly locals and surf schools ready to introduce you to the world of riding the waves.
Carpinteria State Beach is also great for tidepooling. During low tide, the rocky areas teem with marine life, allowing them to discover sea stars, anemones, and other fascinating creatures in their natural habitat. Be sure to bring your curiosity and a keen eye.
22. Malibu Lagoon State Beach
On the famous and stunning Malibu coast, Malibu Lagoon State Beach offers a classic Southern California coastal venture.
The lagoon is a vibrant ecosystem teeming with birdlife, making it ideal for birdwatchers. You'll spot a variety of shorebirds, waterfowl, and even the occasional snowy egret or great blue heron as you explore the lagoon's scenic trails.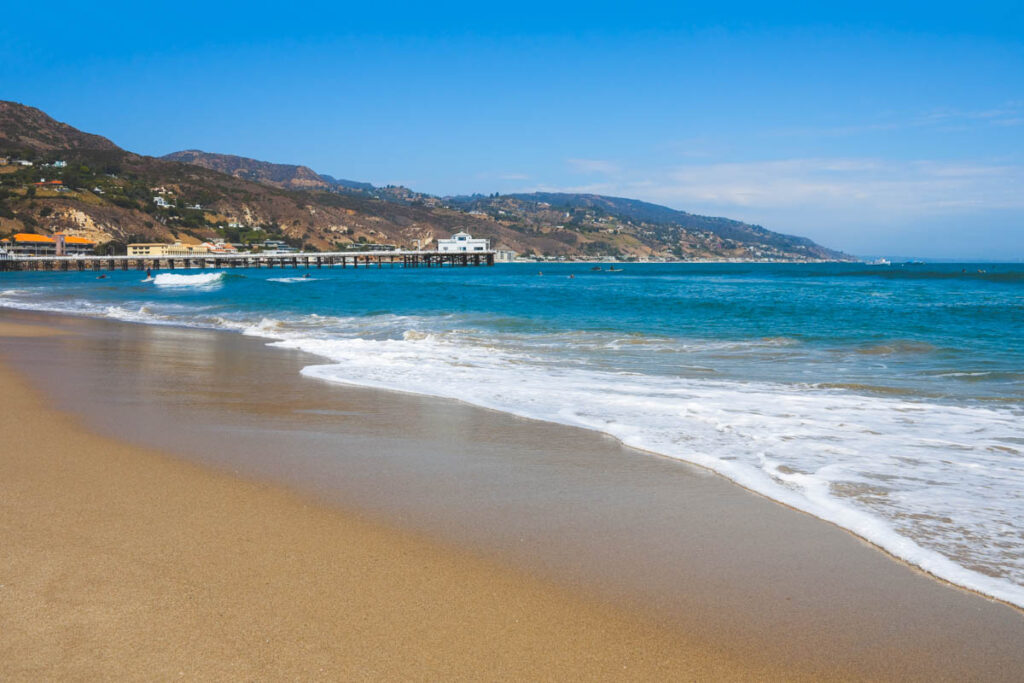 The adjacent Adamson House and Malibu Lagoon Museum provide insights into the history and culture of the area. The historic Adamson House is a Spanish Revival-style mansion with stunning tilework, lush gardens, and captivating tours that glimpse Malibu's early days.
The beach itself was made for surfers, beachcombers, and sunbathers. The gentle waves make it an ideal spot for beginners, and the backdrop of the Malibu coastline creates a picturesque setting for a day by the sea.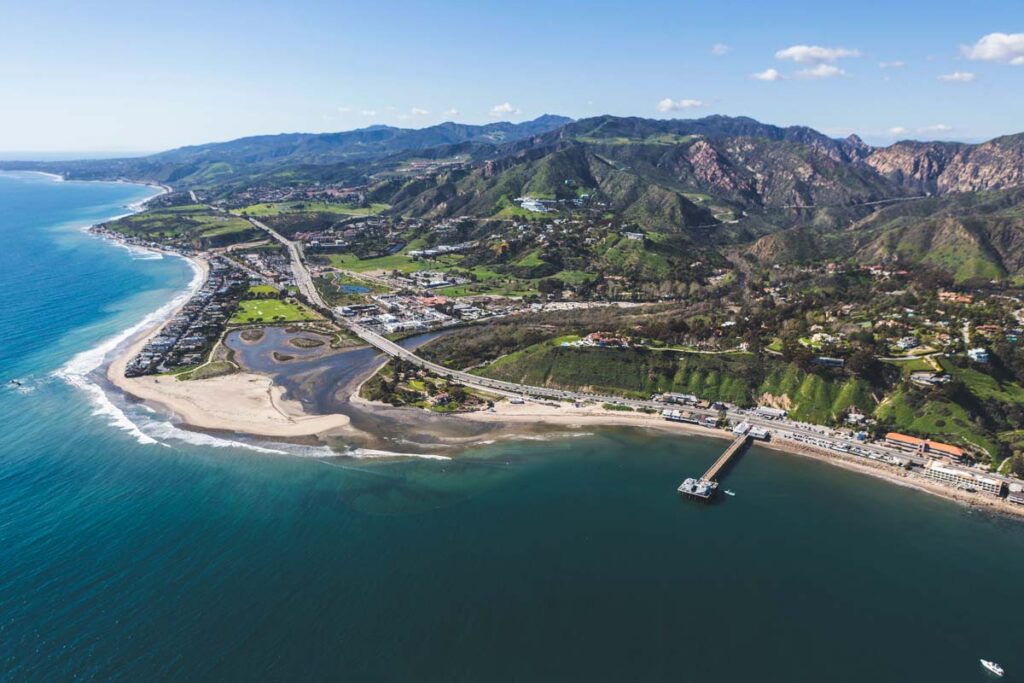 The park offers a network of walking trails that wind through scenic areas, including the Surfrider Beach Trail, which takes you along the coast, and the Malibu Lagoon Trail, which offers a stroll through the lush wetlands.
23. Huntington State Beach
On the vibrant Orange County coastline, Huntington State Beach is a sun-drenched refuge that embodies the essence of beachfront fun and relaxation, making it a quintessential California coast state park for beachgoers.
The star is undoubtedly the expansive sandy shoreline, where you can soak up the California sun, build sandcastles, or stroll along the beach. Sunbathers, picnickers, and beach volleyball players love the soft sands.
Huntington State Beach is famous for its consistent waves, making it a surfing mecca and home to the annual U.S. Open of Surfing competition. Whether you are an experienced surfer or a novice looking to catch your first wave, you'll find the perfect spot to ride the Pacific swell.
The beach's iconic Huntington Beach Pier offers opportunities for fishing, leisurely walks, and panoramic views of the coastline. It's a great spot to watch surfers ride the waves, or you can try fishing from the pier.
The park also features a paved multi-use trail that runs parallel to the beach, perfect for cycling, jogging, or a scenic beachfront stroll.
We hope this helped you plan your trip to California's coastal state parks!
I embark on expeditions around the world but can't get enough of California or the PNW. I'm a VW nerd with a Bug and a Bus. You can probably find me surfing or snowboarding somewhere.