About 25 miles north of the town of Jenner lies Salt Point State Park, providing easy access to the water and a beautiful stretch of coastline. Highway 1 divides the park, and with camping on both sides of the road, you have plenty of options for itineraries and how this park could be added to a California coast road trip.
There are over 20 miles of trails to enjoy, from coastal tracks to paths through thick forests, suitable for a range of hiking abilities.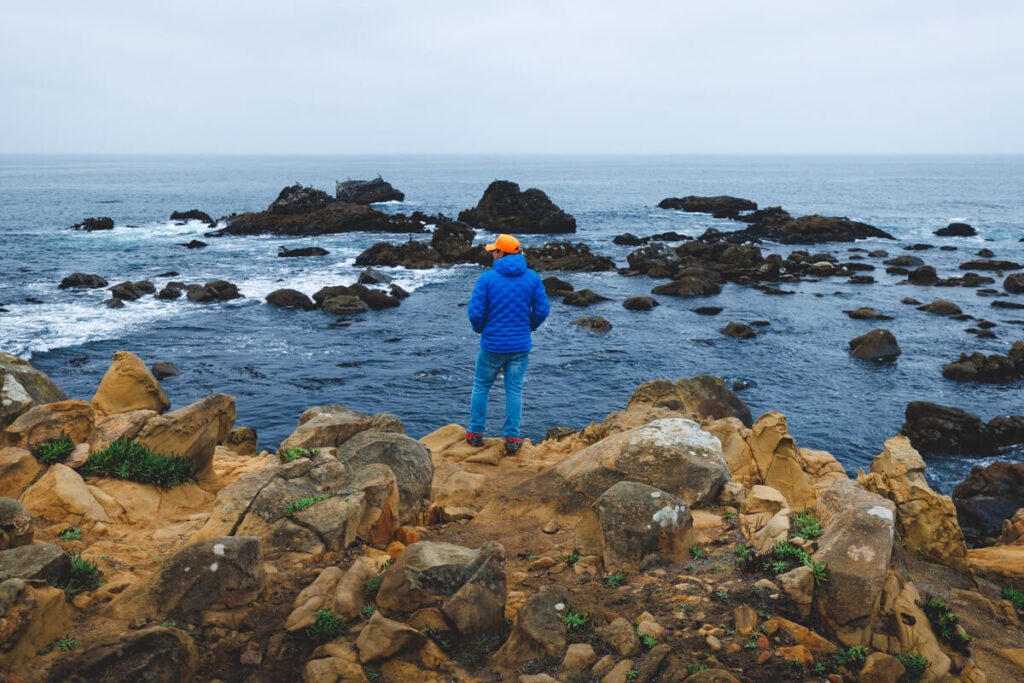 This part of the coast is dotted with hidden coves, beaches, and alien structures of carved sandstone. Of particular interest is the unique pygmy forest, which couldn't be more in contrast to the towering redwoods that can also be found in the area. The short and sweet hike up to the forest is extremely popular, as are the hikes across the windswept coastal bluffs.
The tide pool and kelp beds teem with wildlife, so much so that the waters are protected and are one of the state's first underwater parks. You will be surprised at how much there is to do in Salt Point State Park!
Hikes at Salt Point State Park
Salt Point and North Trail Loop
Distance: 8 miles
Type of Hike: Loop
Difficulty: Moderate
Elevation Gain: 1328.8 feet
This trail offers a gorgeous walk through a forest of redwoods while also witnessing some untouched coastline on one epic hike. The trail leads you to both Salt Point and Stump Beach, two of the park's highlights.
For the majority of this hike, you will be in the forest, which means plenty of shade and wildlife spotting. The last leg of the hike is the best bit as you emerge from the treeline near the cliffs, and you get your first glimpse of the raging ocean and windy cliffs.
There is parking at the trailhead for easy access, as well as restrooms. Your biggest challenge here is going to be distance, but there are plenty of opportunities to stop along the way for a bite to eat or take in those majestic views.
Salt Point Trail to Stump Beach
Distance: 3.3 miles
Type of Hike: Out & Back
Difficulty: Moderate
Elevation Gain: 183.7 feet
The Salt Point Trail to Stump Beach is the definition of a coastal hike. Essentially you walk along a coast path, accompanied by some breathtaking views of the Pacific, before following the trail down to the beach. Here, you can spend some quality time relaxing, skimming stones in the surf, and taking in the picturesque sandy beach of Stump Beach before turning around and heading back the way you came.
One of the hardest bits of this trail in Salt Point State Park is getting down to the beach itself, as it is relatively steep, and can sometimes be a bit of a scramble. Most of the trail along the coastal path is relatively flat, and since you will follow a path with the coast on one side of you and the road on the other side, it is quite hard to get lost.
From your lofty perch above the ocean, you'll be treated to a great vantage point of the coastline and coves, and you will be able to hear the crashing waves but be sure not to get too close to the cliff edge!
Access is easy, as the trailhead is at the Grestle Cove Parking lot near the visitor center.
Pygmy Forest to Stump Beach to Gerstle Cove Loop
Distance: 6.9 miles
Type of Hike: Loop
Difficulty: Moderate
Elevation Gain: 1141.73 feet
Yes, it is long, but yes, it is very worth it! This hike not only offers you a beautiful beach but also a stunning cove, sea views, and a pygmy forest as a bonus, what more could you want? We think it's the ideal compromise if you can't choose between a forest walk and a coastal hike.
The trail starts up in the forests, which contain redwoods and stumpy pygmy cypress, yet they offer shade and a cooling atmosphere on a sunny day. Take lots of water, as there is a fair bit of elevation gain throughout the forest. The second half of the hike starts when you emerge out onto the bluff, blinking in the sunlight.
The coastal views and roaring ocean will keep you company in this coastal section, offering great vantage points of the rock formations along the Salt Point State Park section of the coastline.
The hike also gives you great opportunities for spotting local wildlife, with sea lions, turkeys, deer, and birds of prey all common sightings.
Beaches and Biking at Salt Point State Park
Stump Beach
When you get north of Jenner, the sandy beaches get fewer and further between, which makes Stump Beach a local favorite. The amenities are basic, with a parking lot, primitive toilets, and a few picnic tables, but what more do you want for a day on the beach? It is the natural landscape that is the draw here, and you could easily lounge away the hours soaking up the sun, skimming stone, and beach combing.
The beach sits in a deep cove, surrounded almost on all sides by a steep, rocky bluff. From the beach, it is easy to reach other parts of the park via a series of hiking trails.
Keep a look out for the signs to Stump Beach from Highway 1, and then from the parking lot it is just a short hike until you will feel the sand between your toes.
Biking
Salt Point State Park isn't all about hiking, although there are some pretty epic hikes. Biking is also quite a big deal. This biking trail is one of the best the area has to offer, with the perfect combination of forest, prairie, and coastal cliffs. Plus, it's a loop, so you can conveniently end up back at your car, and because it is a loop, you can start at any of the three parking lots on the trail, depending on which is the most convenient.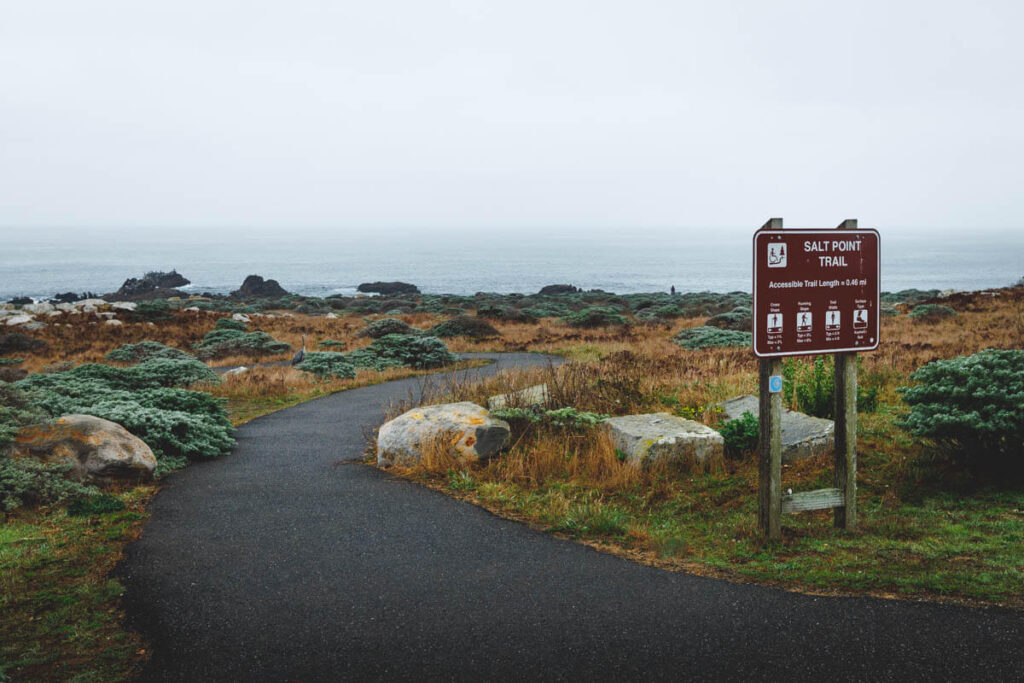 The loop is a combination of a variety of trails, including Central Trail, Water Tank Trail, Salt Point Trail, Prairie Trail, Plantation Trail, and the curvy highlight, Stump Beach Trail. It is also a combination of paved paths, single tracks, forest roads, and even a road through pygmy forests, giving you the best of all riding styles and landscapes! This trail really does give you the best of what Salt Point State Park has to offer and is a superb track to follow on two wheels.
Salt Point State Park Campgrounds
Fancy extending your stay in this natural wonderland? We don't blame you. There are two options when it comes to camping at Salt Point State Park.
Gerstle Cove Campground
This campground is situated on the ocean side of Highway 1, right on the bluffs, so is ideal if you want quick access to those impressive sea views. There are 30 campsites here, which can get booked up quickly, and all have a fire ring, picnic table, and food locker. There are also a few overflow camping spots. Drinking water and restrooms are available here.
Woodside Campground
Woodside is another popular camping spot within Salt Point State Park. It's is a lot bigger, with 79 sites, and is located on the other side of the highway. All sites have fire rings, picnic tables, and food lockers. Restrooms and drinking water are available. This is the camp to choose if you want hiking trails on your doorstep.
There are a few other camping options which include a group camp that can accommodate up to 40 people. There is also overflow camping, but seeing as there are no restrooms or driving water available here, this is for self-contained vehicles only. Lastly, there are 10 hikers or biker campgrounds, which are suitable for those that don't have a car.
Nearby Salt Point State Park
If you're looking for other areas nearby to base or something else to do during your visit to this area, here is what else you can get into…
Gualala Point Regional Park and Town
Gualala Point Regional Park is separated from Mendocino County by the Gualala River, tight in the northwest corner of Sonoma County. It is where the river meets the sea, resulting in a gloriously expansive beach.
Whether you are starting from the beach or for the campground, chances are you will find a twisting trail that takes you up to the coastal bluffs for incredible views of the ocean, beach, and estuary.
One of the best things about this park is that it is rarely crowded, despite being a brilliant place to whale and bird watch. There is even a visitor center where you can learn more about the history of the coast and the Native Americans that once lived in the area.
A small campground is tucked away in the forested part of the park, offering shade and seclusion for its happy campers.
The town of Gualala is perched on the Sonoma coast at the mouth of the Gualala River. Many locals lovingly dub this part of the coast the 'banana belt,' as it has a unique mild micro-climate. It also more often has sunny skies than the rest of the foggy coast.
There are plenty of dining and accommodation options in the town, but if you really want a glimpse of local life, visit the Saturday Farmer's Market to pick up some delicious fresh produce. We grabbed some tacos and some fresh veggies during our visit—yum!
Point Arena Lighthouse
If you have ever wanted to stand on the section of mainland US closest to Hawaii, because why wouldn't you, Point Area Lighthouse is your place. From here, it is only 2353 miles away!
Whether or not that little piece of information is of any interest to you or not, Area Point Lighthouse is still a great day trip. On your visit, you will be able to learn more about the lighthouse and its significance by taking an informative guided tour.
The light stands tall and proud on this isolated stretch of coastline, offering the perfect balance of historic interest and natural beauty. Whether it stands in bright sunlight or is shrouded in the thick fog common in the area, it maintains its dignified magnificence.
If you want a real coastal experience, you can even book yourself in to stay at the historic accommodation at the base of the light!
Sonoma Coast State Park
Reaching out along 17 miles of some of the most incredible landscapes in California, Sonoma Coast State Park is a local gem. Sonoma Coast is a collection of coastal parks with incredible beaches, craggy cliffs, hidden coves, and some incredible rock formations.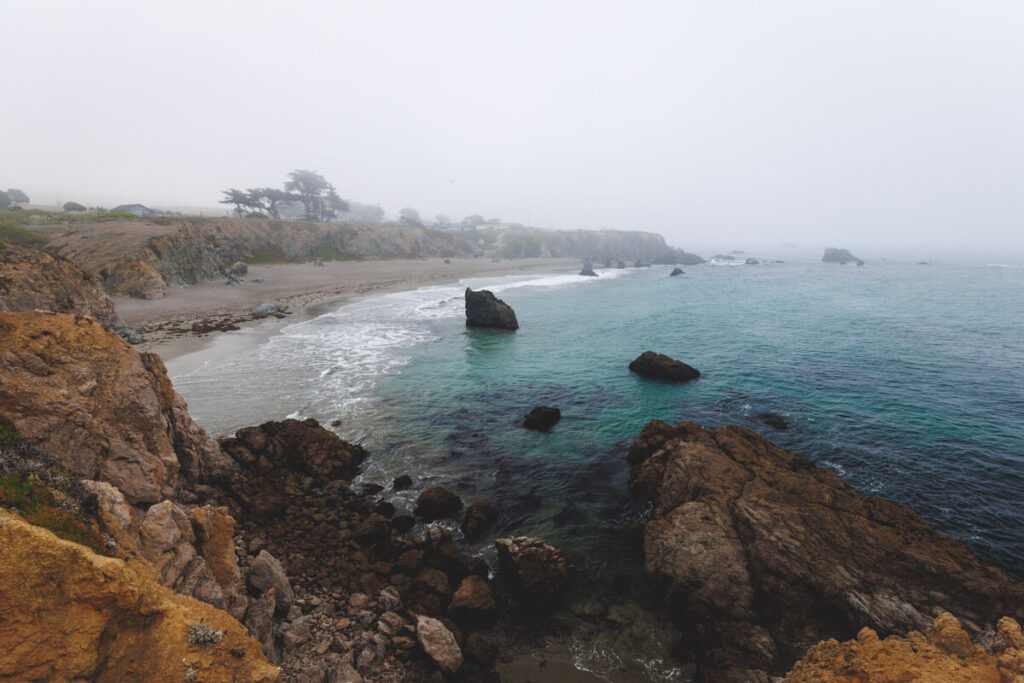 As you stand on the headlands, you will get a sense of the power of the Pacific Ocean below you and how it has shaped this dramatic coastline over time. There are so many places in the park you can stop at as you head along Highway 1; it won't take you long to realize that this state park needs so much more than a day to explore.
If you only have a day, you have some very tricky decisions to make, but we will give you a few highlights. When it comes to beaches Portuguese Beach, Shell Beach, Goat Rock Beach, and South Salmon Beach are some of the best.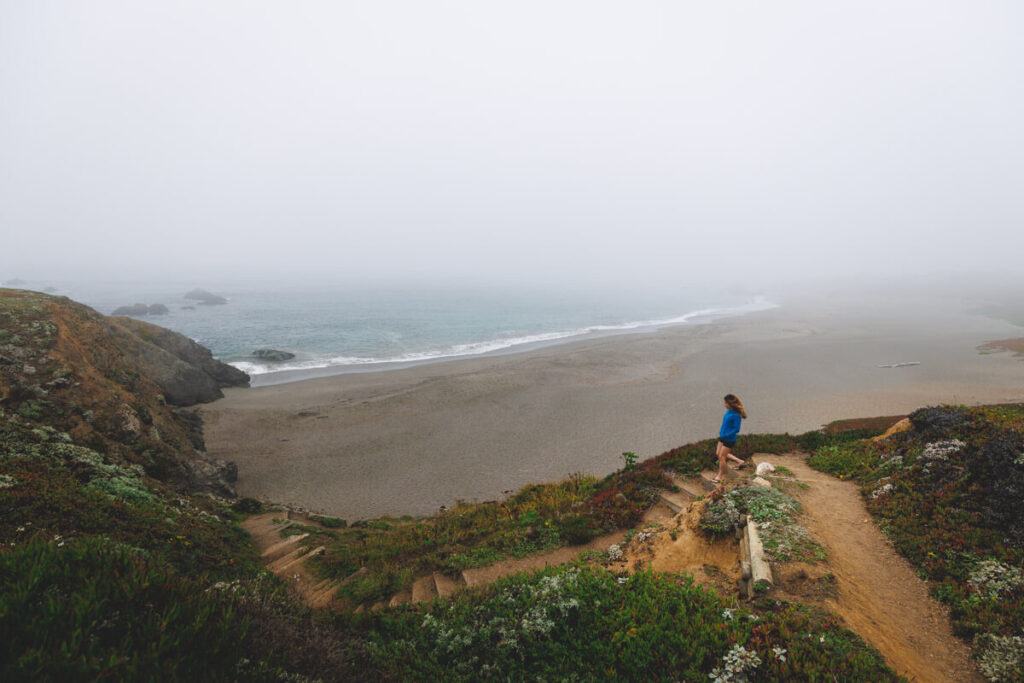 You can't go wrong with the Bogoda Head hike around the headlands for unbeatable views, or the Kortum Trail shows off some of the best elements of the park, but you will have to be up for a long one. Bring binoculars and look out for whales on the horizon, but keep your distance from the many seals that may join you on the coast!
Santa Rosa
Santa Rosa is a vibrant and busy city, just a short distance from San Francisco. Although the surrounding area is packed with outdoor adventure, the city is so much more than a base. It is home to cultural attractions aplenty, with some of the most exciting museums in the state, such as the Charles M. Schulz and the Museums of Sonoma County.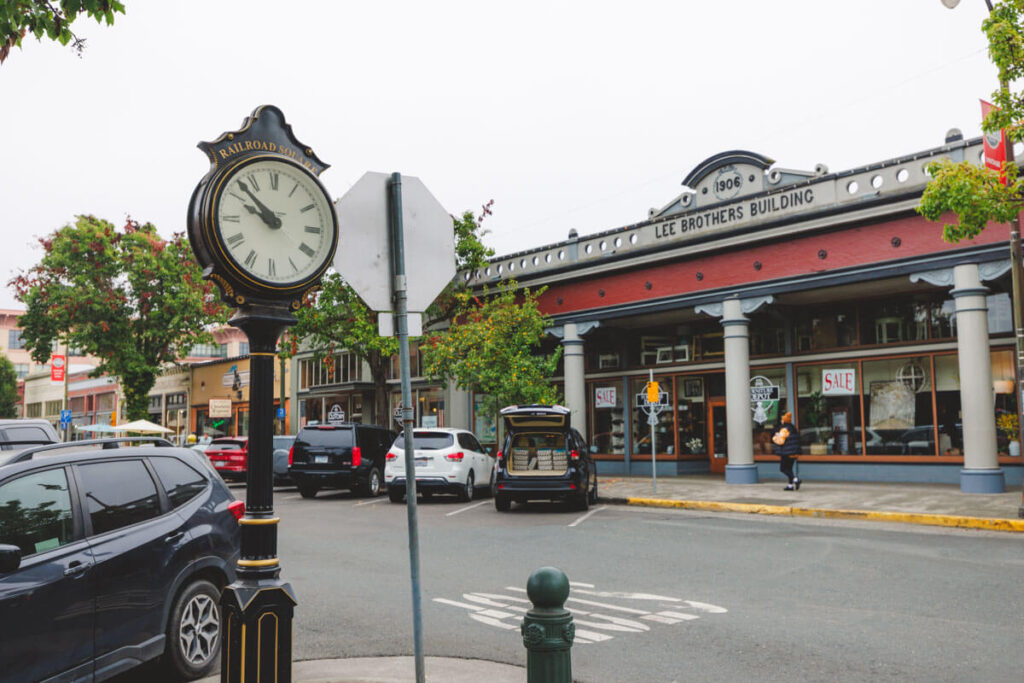 There are endless places to grab a bite to eat, sip on some of the region's best wine, and shop until you drop. The Railroad Square Historic District is a highlight, an incredible heritage site filled with antique stores, vintage memorabilia, and period buildings.
---
RELATED: 13 Things To Do in Santa Rosa for Outdoor Lovers
---
We hope this helped you plan your visit to Salt Point State Park!
I embark on expeditions around the world but can't get enough of California or the PNW. I'm a VW nerd with a Bug and a Bus. You can probably find me surfing or snowboarding somewhere.