Sitting on the coast of northern California is the unassuming town of Mendocino. This hidden gem may be small and quaint, but the Mendocino region is vast, sitting on a rugged stretch of coastline, creating the perfect contrast to the chocolate box houses within the town.
Spend your days heading out into thick redwood forests, hiking cliffs, exploring wild beaches, and relaxing on the sand before returning to the town in the evening to enjoy some of the freshest seafood in the region. There is so much to do in Mendocino, so let's dive right in.
Things To Do in Mendocino
---
1. Glass Beach
Glass Beach is likely one of the most unique beaches you have ever visited, making it a thing to do in Mendocino that can't be missed.
Rather than just the sand or pebbles that usually make up the beach, you'll instead find hundreds of pieces of colorful glass smoothed down by years of being pounded by the ocean.
Although there are a few beaches where this sea glass can be found, the most famous is Glass Beach, nestled in MacKerricher State Park. This incredible beach is thought to have the highest concentration of sea glass in the world and is protected, so you can come and observe but not take it.
Now, we have to be real with you, these beaches were actually city dump sites, and the glass you see here today was literal TRASH! But we must admit, Mother Nature did a nice job "cleaning" this up.
2. Noyo Headlands Park
Get endless views of the Pacific Ocean and incredible Californian bluffs while on a hike at Noyo Headlands Park. The 92-acre park is wild and windy but incredibly beautiful and can easily be explored via the flat, 8-foot wide trail that traverses the Headlands.
It's not often you come across a paved trail that hugs the clifftop like this one, which is why this park is a must-visit. The walk can be broken up with stops at the colorful benches designed by local artists, reading one of the interpretive displays, or stopping for a photo opportunity at one of the viewpoints.
Whether you are hiking, biking, jogging, or even rollerblading along, the coast views are some of the best in California. We think visiting Noyo Headlands is one of the best things to do in Mendocino!
3. Jug Handle State Natural Reserve
Take the Ecological Staircase in Jug Handle State Park, and you will not be disappointed. This 5.2-mile guided nature trail takes you on a journey to 5 wave-cut terraces, each containing unique plant life, such as one home to a pygmy forest where the trees are knee-high!
The terraces show a geological and historical journey unlike anywhere else in California. In fact, if we are getting technical, very few places in the world give such a clear indication of ecological succession in an easy-to-follow trail.
As a bonus, the trail throws in coastal overlooks with peeks of white sand beaches and forests on a relatively flat and easy path.
4. Caspar Headlands State Beach
Feel the sand beneath your feet and breath in that salty sea air; Caspar Headlands State Beach has you covered when it comes to fulfilling that beach day craving.
Tucked into a deep cove and sandwiched between two creeks is a very scenic beach, with the cove protecting you from some wind that often hits the Californian shores.
Towards the back of the beach, you can take some of the hiking trails that clamber up the Headlands to impressive viewpoints.
If you reach the Casper Headlands State Natural Reserve, you will be greeted with a view that takes in the whole of Casper Anchorage Cove. If you are lucky, some of the migrating grey whales that make their way past this coastline may pass on through.
5. Point Cabrillo Light Station State Historic Park (One of The Most Famous Things to Do in Mendocino)
No trip to the California coast would be complete without seeing at least one lighthouse, and Point Cabrillo is a great option. Here, you'll see the lighthouse, three original lightkeepers' houses, and outbuildings all within the park.
The beautiful lighthouse is fully restored, and you can visit it almost every day of the year, get an insight into the park's history and even have the chance to head into the restored lightkeeper's cottage.
There is a small beach to enjoy within the park, which can be reached by following the north trail beyond the lighthouse and descending a steep path.
Do note you'll have to walk from the parking lot for nearly a mile to reach the lighthouse, but it's easy and paved. If you can't bear to leave, you can even stay in the cottages located here!
6. Russian Gulch State Park
If you love the coast and the great outdoors, head straight to Russian Gulch State Park, home of beautiful views, wild trails, and tide pools often teaming with life. A visit here is one of the best things to do in Mendocino.
Head along the water, explore hidden beaches and coves and take a peek to see what sea creatures have washed up with the tide. One of the most incredible trails is the Fern Canyon and Falls Loop Trail, taking you through forests of redwoods to a beautiful 36-foot waterfall.
The Headlands Trail is another scenic path featuring incredible Pacific Ocean and shoreline views. You'll have a great vantage point over the churning water of Devil's Punchbowl Overlook.
For many, one day is not enough, so choose to spend the night in the on-site campground, where 26 campgrounds are spread along the Russian Gulch Creek.
7. Mendocino Headlands State Park (One of The Easiest Things to Do in Mendocino)
Surrounding the town of Mendocino sits Mendocino Headlands State Park, complete with rocky shorelines, an abundance of hiking trails, windswept promontories, panoramic ocean views, and chances to spot whales out in the ocean.
Some of the best trails stretch along the bluff, a prime spot for viewing the arches and rock sea caves that dot the cliffs.
For a little 'you' time, take the stone staircase that leads down to the secluded yet beautiful Portuguese Beach. Or take the cliff trail down to Big River Beach, the perfect place to sit with a book and do precisely nothing for a while.
8. Big River Beach
You will find the beautiful Big River Beach at the point where Big River gushes into the ocean. Big River Estuary is a popular spot for canoeing and kayaking, and the beach provides the ideal location for launching vessels.
Many people head to the area to laze on the beach and soak up that Californian sun; you can't blame them; it is one of the best things to do in Mendocino! If you are lucky, you may even be able to spot some of the local seals bobbing around in the water near the shore.
If lazing around isn't your thing, right nearby, you'll find…
9. Big River Trail (Hike, Kayak, and Bike!)
Distance: 16.0 miles
Type of Trail: Out & Back
Difficulty: Moderate
Elevation Gain: 564 ft
If you are in the Mendocino area for a while, it would be a shame not to experience life on Big River for a while. This starts at Big River Beach!
One of the best ways to experience what the river offers is to take the Big River Trail, which can be completed either by foot, bike or kayak, depending on whether or not you mind getting a little wet.
No matter how you decide to tackle the trail, you can rest assured you will enjoy some beautiful views of the Big River Estuary. Although the trail is long at 16 miles, it is also very flat without too much climbing, so hike or bike as far as you feel comfortable before heading back.
If you don't have any equipment and want to get out on the water or bike the trail, you'll find the cute business called Catch a Canoe & Bicycles, Too! Here you can rent out all the toys you'd need for a fun time on or along the river.
10. Mendocino Bay Viewpoint & Surf
Are you ready to witness one of the most breathtaking vistas in Mendocino? You'll be able to get them at the Mendocino Bay Viewpoint, and the best thing is, you don't even really have to hike to get there.
There is a trailhead of sorts, but at less than a quarter of a mile, you are pretty much at the end of the hike before you start. From your position atop the bluffs, just south of the mouth of Big River, you'll be able to take in the sheer beauty of the Mendocino coastline with the little town down below.
If you are lucky, you may even be able to spot a whale or two, so be sure to add this to your things to do in Mendocino bucket list.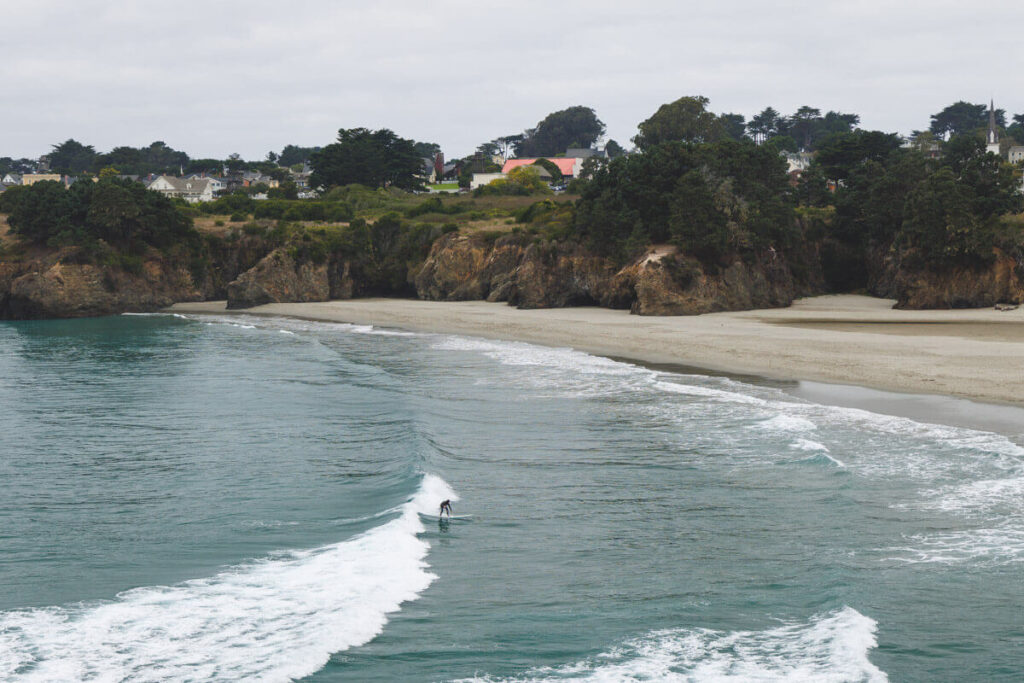 The beach you're peering down on is actually still Big River Beach (mentioned above), but this section of the beach that you'll see here is facing out towards the bay. This means you'll have the option to get out on the water a surf! This is a good spot for intermediate riders and above.
If you are a beginner, it's best to head down to Caspar Creek, as it's a nice protected cove. Read up on the conditions before heading out.
11. Van Damme State Park
You may have heard that Van Damme State Park is often referred to as a day hiker's paradise. There are many paths to take, so make sure your hiking boots are laced up tight before you set off.
If you fancy just a gentle stroll, take the Pygmy Forest Hike through the tiny little trees. If you are up for something more strenuous, then the Fern Canyon Trail is a lot more challenging but is so worth it!
Hiking is not all the park has to offer, though; you can also take a sea cave tour on a kayak for a chance to see harbor seals and all sorts of sea birds, have a picnic, or even spend the night in the campground.
12. Blowhole Trail
Distance: 0.3 miles
Type of Trail: Out & Back
Difficulty: Easy
Elevation Gain: 39 ft
An obscure little trail with a mysterious name, the Blowhole, is worth checking out. The short hike will take you to a curious natural rock formation where the water from the ocean rushes through a rock tunnel.
If we are talking technical, this rock formation is a punchbowl, but the name has stuck, and there is not much hope of changing it now. You can take the short trail off Highway 1 for a vantage point of the blowhole, but use caution, as there are steep sides and angry seas to contend with.
This is also a weird little spot since there's almost no parking, and you have to walk through a cemetery to get there. Certainly, a unique and weird thing to do in Mendocino!
13. Navarro River Redwoods State Park
The Navarro River Redwoods State Park is a fun little park; in fact, it is more of a long corridor of trees along highway 128, following the Navarro River. Think of it as a path of redwoods that leads you to the sea, with the shady path spitting you out at the rugged Navarro River Beach.
Although there are not any true hikes through the park, there are plenty of pull-offs where you can wander a bit into the forest or stroll down the river for a chance to admire the magnificent redwoods.
We hope this helped you decide on choosing some of the things to do in Mendocino!
I embark on expeditions around the world but can't get enough of California or the PNW. I'm a VW nerd with a Bug and a Bus. You can probably find me surfing or snowboarding somewhere.