If you head north of San Francisco, you will be greeted by the vast landscape of Mount Tamalpais State Park. The park is rich with redwood groves, coastal views, and of course, the vast 2571-foot peak of Mount Tamalpais itself, the jewel of the state park!
The views from the peak are breathtaking, and if you have lucked out with the weather, you may be able to see as far as the Farallon Islands, which are 25 miles out to sea, and of course, the city of San Francisco and the Bay.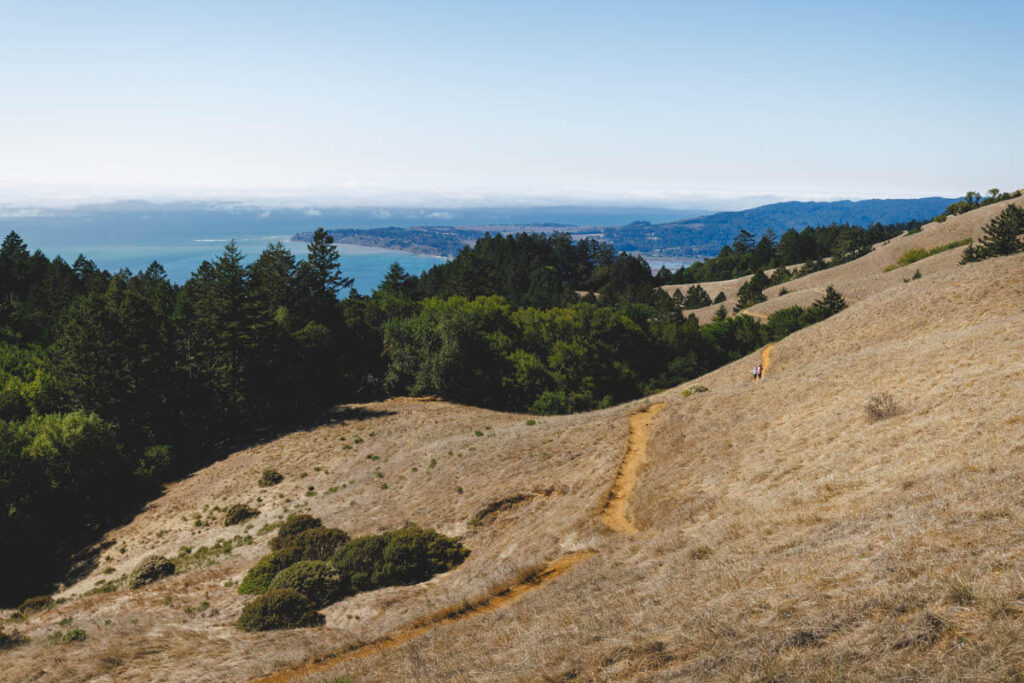 The park is huge, containing at least 50 miles of hiking trails, a number of beautiful yet rugged beaches, and a few different spots to set up camp for the night. On a sunny weekend, you can expect the hiking trails to be busy with those escaping the city, but during quieter periods, you are likely to have stretches of this stunning landscape to yourself.
Mount Tamalpais State Park
Here's everything you need to know about exploring Mount Tamalpais State Park. We've separated this post into the best hikes and the best beaches in the areas, plus we offer some nearby adventures and tips below!
Best Hikes in Mount Tamalpais State Park
There are miles and miles of trails, but here are our top recommendations to get the most out of your visit and get the best views you can get in the park.
Matt Davis to Bootjack Trail Loop
Distance: 3.7 miles
Type of Trail: Loop
Difficulty: Moderate
Elevation Gain: 287.4 feet
Get the best of both worlds when you take this trail, as not only will you get to explore the landscape of Mount Tamalpais State Park, but also the neighboring redwoods of Muir Woods.
The Matt Davis Trail is one of Mt Tams' main thoroughfares, taking you through shaded groves of trees, offering a glimpse of the golden hillsides, and giving hikers a real introduction to the many other hiking trails that traverse the landscape. In order to make this a loop, you can join the Bootjack Trail, which takes you through Muir Woods and back to the trailhead.
The Bootjack section of the trail is spectacular in itself, offering beautiful vistas of the Bay Area as slowly the Douglas fir and bay laurel makes way for the bigger, more impressive redwoods of Muir Woods.
Ocean View, Lost, Fern Creek, Dipsea, TCC, and Troup 80 Trail
Distance: 7.6 miles
Type of Trail: Loop
Difficulty: Moderate
Elevation Gain: 1430 feet
This hike takes you along some of the best trails that Mount Tamalpais State Park has to offer, while also bumping into Muir Woods, so you can get a glimpse of the redwoods before you make your way back to the rolling hills of Mount Tamalpais. You will get a little bit of everything on this hike, with thick redwood forest, incredible views along the ridges, and views to die for.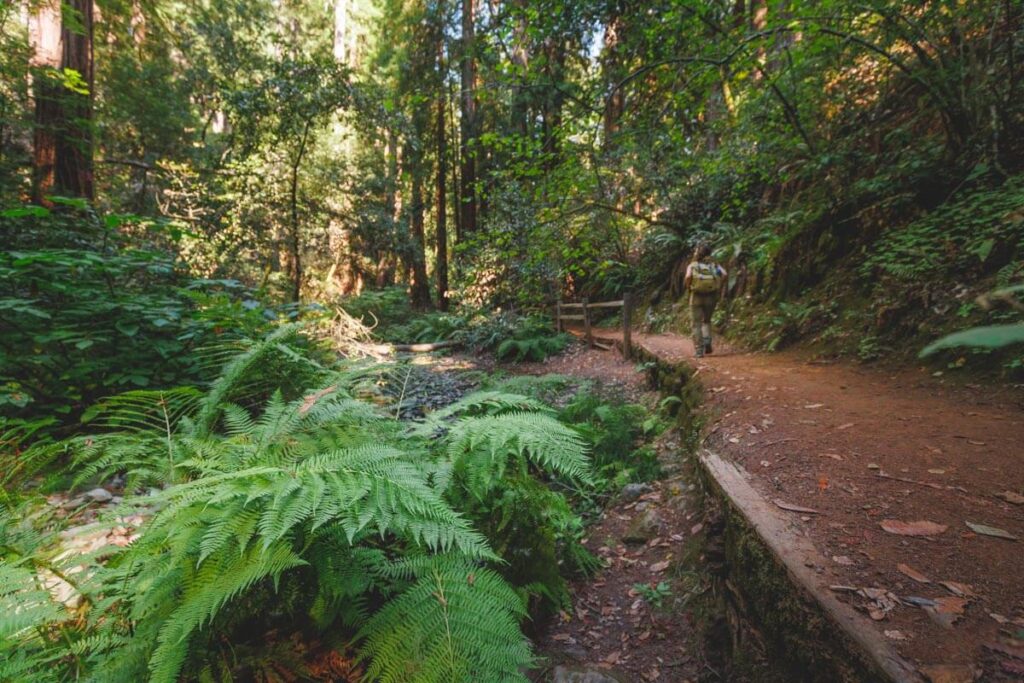 If you go counterclockwise, you can get the steepest parts out the way early, and on the way back it is a gradual decline, so you are free to take in the views.
There is enough of an incline to remind you that you are on a moderate hike, but not enough to have you gasping for breath. It is pretty much a lovely all-rounder with everything you could want.
East Peak via Plank Walk
Distance: 0.5 miles
Type of Trail: Loop
Difficulty: Moderate
Elevation Gain: 210 feet
One of the best ways to get to the East Peak of Mount Tamalpais is to take the Plank Walk Trail. You get a lot of bang for your buck, with some incredible views for such a short trail.
Although you will essentially be climbing to the peak of a mountain, there is a handy parking lot the majority of the way up, meaning you will only have to walk less than a half-mile to be greeted with incredible vistas out over the park and beyond, to the Bay Area, San Francisco, and the Pacific Ocean.
Although less than a mile, it's immediately clear to see why this hike has gained its moderate status. It is definitely a leg burner. You will end up climbing over 250 feet in a quarter mile.
This is the shortest and easiest way to reach the peak of Mount Tam. Once you park at the parking lot, there is a clear start to the trail, as there is a small path leading the way. The old railroad ties that make up this section of the path do not last for long, and the path becomes more rugged.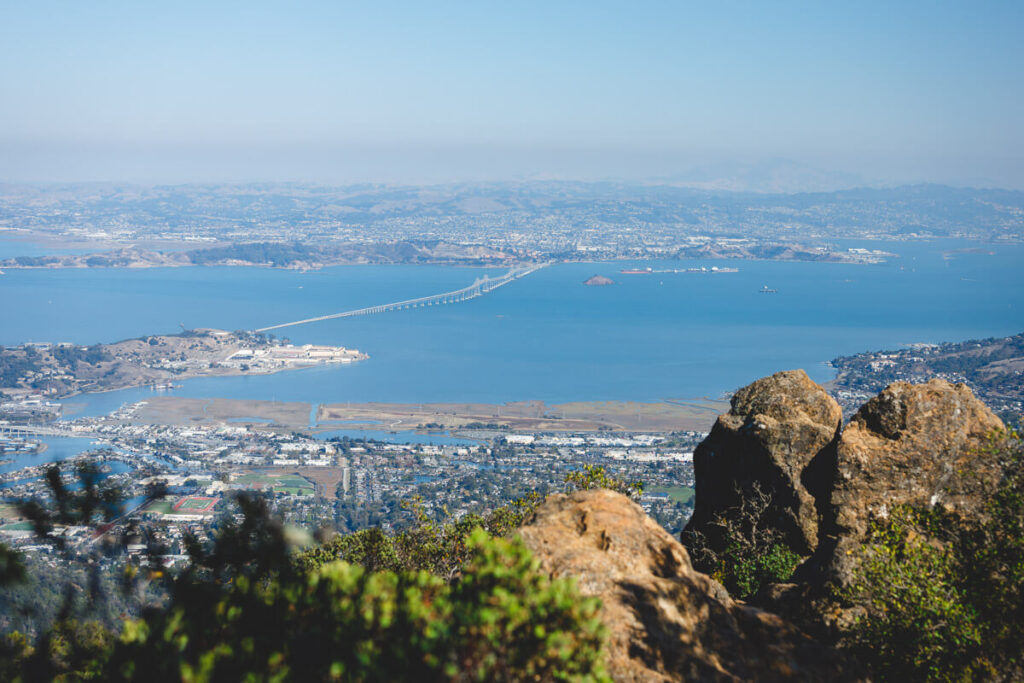 The path is easy to follow, and before long you will be able to spot the fire lookout tower that sits atop East Peak. When you reach the peak, the views are incredible, and if you are very lucky, the Sierra Nevada Mountains can even be seen a crazy 150 miles away.
Dipsea Campfire Loop
Distance: 8.9 miles
Type of Trail: Loop
Difficulty: Hard
Elevation Gain: 2139.1 feet
We are going to be honest, this trail is hard, but you have options! For a start, it is a loop, meaning it can be hiked in either direction, so you can choose a route that works out best for you. There are also a couple of starting points to choose from.
You can either begin the hike at Pantoll Campground or at Stinson Beach. By starting at the beach, you tackle the toughest part of the trail first, getting it out of the way, so for the rest of the trip you can enjoy a bit of an easier ride.
It may be long, but it is such an enjoyable hike that can be broken up with viewpoint breaks, picnic lunches along the beach, or with ocean vistas and shaded strolls through thick old-growth forests.
Cataract Falls
Distance: 8.6 miles
Type of Trail: Out & Back
Difficulty: Hard
Elevation Gain: 2201.4 feet
Start this hike on the popular Matt Davis Trail as you head up the western slopes of the mountain. The trail is well scenic and mostly shaded as you follow the path of a bubbling river, under the cover of thick trees.
Soon, however, you will emerge from the trees with an incredible view of Stinson Beach opening up before you. Spend a while walking along the ridge and taking in the view, and making the most of the relatively flat path here.
You will then start to head toward Cataract Falls. Enjoy up to four smaller teaser waterfalls before you even reach the main falls. Think of them as a glimpse of what is to come. Then the incredible Cataract Falls comes into view. This impressive waterfall is best viewed after rainfall, so if you time it right, you can witness a truly spectacular natural wonder.
Don't underestimate this trail, it is stunning and we recommend that anyone fit enough should tackle it to get the views of the falls and surrounding forested Mount Tamalpais State Park, but there are some serious climbs and many steps to tackle along the way. With forests, meadows, wildflowers, mountain and ocean views, and an incredible waterfall, it is a highly rewarding hike in the Mount Tam area!
Best Biking Trails in Mount Tamalpais State Park
Biking in Mount Tamalpais State Park will have your blood pumping and heart racing in no time, as you wizz along the variety of tracks, surrounded by beautiful nature. The scenery is epic, but keen riders will have to be prepared to tackle steep inclines, rocks, and sharp bends.
For many people, this mountain has been dubbed the birthplace of modern mountain biking, meaning cyclists flock in their hundreds every year to ride the trials.
There are several trails in the Mount Tam area, depending on whether you are looking for something short and sweet, or something a little more hardcore.
Most Recommended Bike Routes:
Willow Camp Fire Road to Stinson Beach – As the name suggests, this trail takes you on a tricky climb up Willow Camp Fire Road, where you are greeted with amazing views before you head down to Stinson Beach.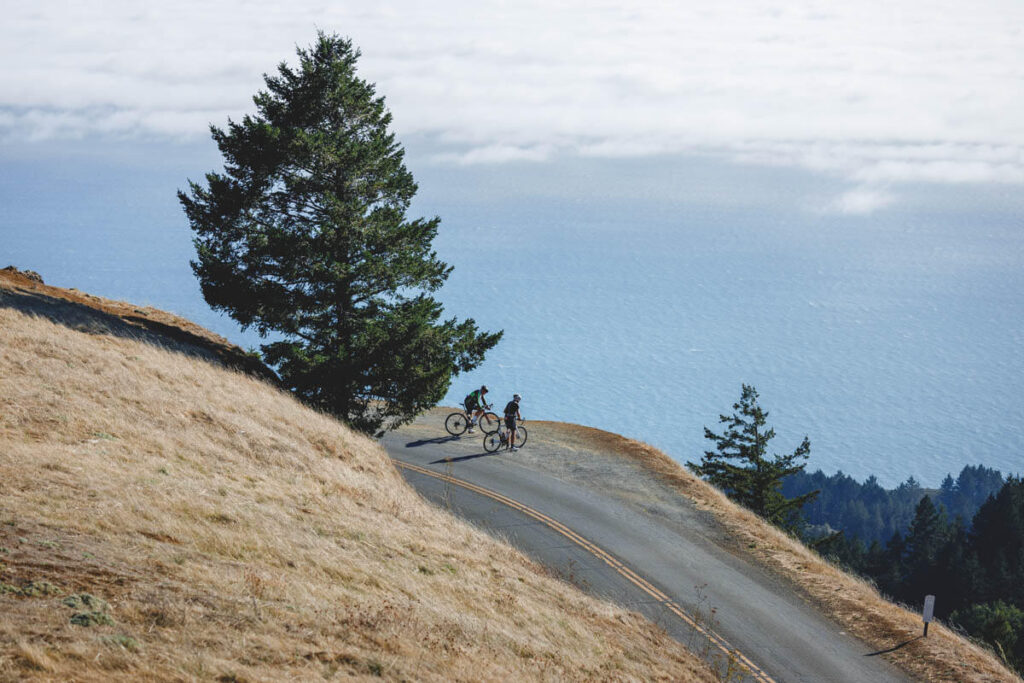 Bay Area Ridge Trail – This trail takes you along the slopes of Mount Tamalpais as you ride along Bolinas Ridge. From your lofty viewpoint, the views are incredible, so try and choose a clear day to get the views at their best.
Old Railroad Grade Fire Road – Enjoy the panoramic views and redwood forests on this trail, although be aware that hikers have the right of way.
Dias Ridge Trail – This trail is a fun single track with impressive views out over San Francisco. There are a few switchbacks, but that makes it more fun to ride.
Railroad, Coast View, and Dias Ridge Loop – This is the one for you if you are after a long ride. The loop takes you along a few trails showcasing some of the best of Marin County.
Railroad Grade Fire Road – Enjoy panoramic views of the bay area and the Pacific Ocean on this track. You will have deserved them after the initial climb.
Coast View Trail – Start this ride at the Muir Beach Overlook and enjoy the grilling hills that make up much of the trail, with breathtaking ocean views to help you along the way.
Bay Area Ridge Trail – The Bay Area Ridge Trail has a bit of everything, including shaded oak woods, the redwoods of Muir Woods, creeks, and views of the Pacific.
Beaches in Mount Tamalpais State Park
Tired of hiking and biking? We hear you! Head to these beaches to catch your breath and relax for a while.
Stinson Beach
Stinson Beach has to be the most well-known beach in Mount Tamalpais State Park. With incredible stretches of white sands, it offers everything you could want from a California Beach, with plenty of beachy activities, from hiking to fishing, sunbathing to surfing. With smooth, fine sand and shallow waters, it is a hotspot for families. Facilities include a small concession stand and bathrooms.
In winter and spring, the parking lot is filled with surfers donning their wetsuits, while in the summer months, you will be lucky to get a spot in the parking lot after midday as families and sun lovers find their way to the shore.
When it comes to wildlife, keep an eye out for dolphins, seals, and even whales, which can make a trip to the beach even more exciting. If you fancy a game of volleyball, you can borrow volleyball nets from the lifeguard tower, and there is no better way to end the day than with a barbecue in the extensive picnic area.
Steep Ravine Beach
They say that bigger doesn't always mean better, which is true with Steep Ravine Beach. Stretching just a quarter of a mile, this hard to get to gem sees fewer visitors than some of the other beaches in Mount Tamalpais State Park.
Those staying in the neighboring campground will likely have the beach to themselves as they are allowed access to the parking lot close to the shore. If you are not camping, you will have to park around 0.7 miles away and hike down, down, down to the beach, it's about 450 feet in elevation, and of course, that means you have to hike up again. This hike tends to keep other beachgoers away, so if you are looking for peace on an incredible coastline, this is where to go.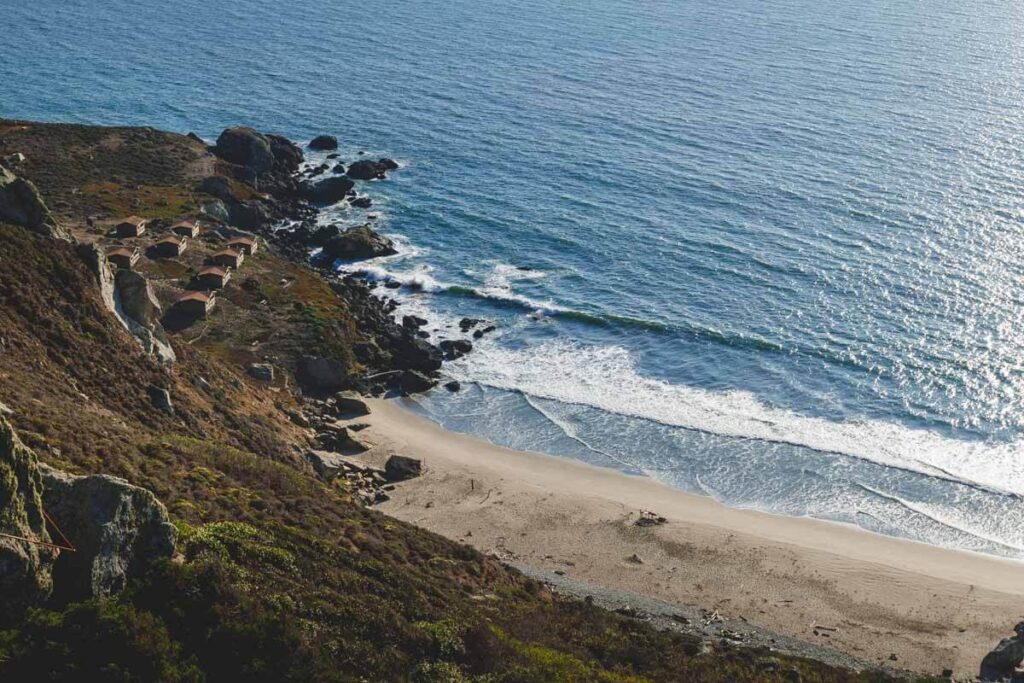 The beach is lovely, soft, and sandy, ready for sunbathing, and there are ride pools to investigate when you need to stretch your legs. There is also a cool mini beach waterfall flowing down Webb Creek.
The beach doesn't have any amenities, so you will have to bring some lunch if you plan to stay the whole day. The nearby campground does have toilet facilities.
Red Rocks Beach
Red Rocks Beach lies just to the south of Stinton Beach and, although beautiful, is well known for a very different reason! It is one of the best nudist beaches in the state, although we are not sure what qualifies a good nudist beach compared to a bad one.
You will have to tackle a steep and rocky trail down to the shore from the highway. When you reach the beach, you will find a picturesque, crescent-shaped sand stretch. For a slightly easier way to reach it, you will have to wait until low tide, as you can venture there from next door, Stinton Beach, by clambering over the large boulders that divide the two.
Like some beaches, it is best to visit at low tide. There is even a spring where you can get some fresh water here! It's not a swimming beach as there are strong riptides and big waves, but it is great for sunbathing and boulder clambering.
Muir Woods
Muir Woods is one of the most popular places to go redwood spotting near San Francisco, yet despite this, getting to the woods is a challenge! They don't make it easy. If you want to drive there, you have to make parking reservations in advance, and even then, you may be going around for ages trying to find a space in the tiny car park.
Another option is to take the shuttle, but you still have to get to the shuttle stop and work out when the shuttles are running.
Mount Tamalpais State Park provides a handy solution to this problem. Parking and getting to Mount Tamalpais is much easier and provides an alternative way to reach Muir Woods. A nifty little trick is using the Muir Woods 'backdoor,' essentially a hiking trail to get into the park.
A few hiking trails take you directly into the park, so you have the best of both worlds without the stress. Matt Davis to Bootjack Trail Loop and Ocean View, Lost, Fern Creek, Dipsea, TCC, and Troup 80 Trail are good examples of this.
---
READ MORE: 5 of The Best Hikes in Muir Woods + Top Tips on How to Get Here
---
Camping in Mount Tamalpais State Park
Don't head off just yet, you can camp here so you can stay and see all the beaches and trails you want.
Pantoll Campground
You will find Pantoll Campground around halfway up the mountain's southern slope in Mount Tamalpais State Park. As a first come, first served campground, you will have to keep your fingers crossed that there will be a space for you to settle down under the cover of the Douglas firs that cover the slopes.
There are 16 sites here, enough to give you a sense of community but leave the area quiet enough for you to feel still, as though you are surrounded by nature and wilderness.
All the sites are scattered across the hill, some higher and some lower. If it is more space you are looking for, then those higher up are preferable, although remember this means lugging all your gear up the hill. None are too far, though, and all are just a short walk from the car park. All sites have a fire pit and a historic stone grill.
Nearby you will find the park's day-use area, which has easy access to many of the main hiking trails in the park. You won't have to travel far when you wake up to hit the trails and start an adventure.
Steep Ravine
It is hard not to fall in love with the picturesque setting that is Steep Ravine Campground. Perched dramatically on a blufftop with incredible coastal views, some would argue that it is one of the most scenic places to stay in all of California.
If you don't fancy camping, the site also has several basic cabins. You'll still have to provide your own bedding and padding for the sleeping platforms, but the cabins offer a little more than your basic tent.
Inside, you can find a picnic table and wood stove for when the weather is not behaving, while outside, the BBQ grill offers the opportunity for meals cooked alfresco with stunning views as a bonus. There are also clean shared bathroom facilities, but no showers.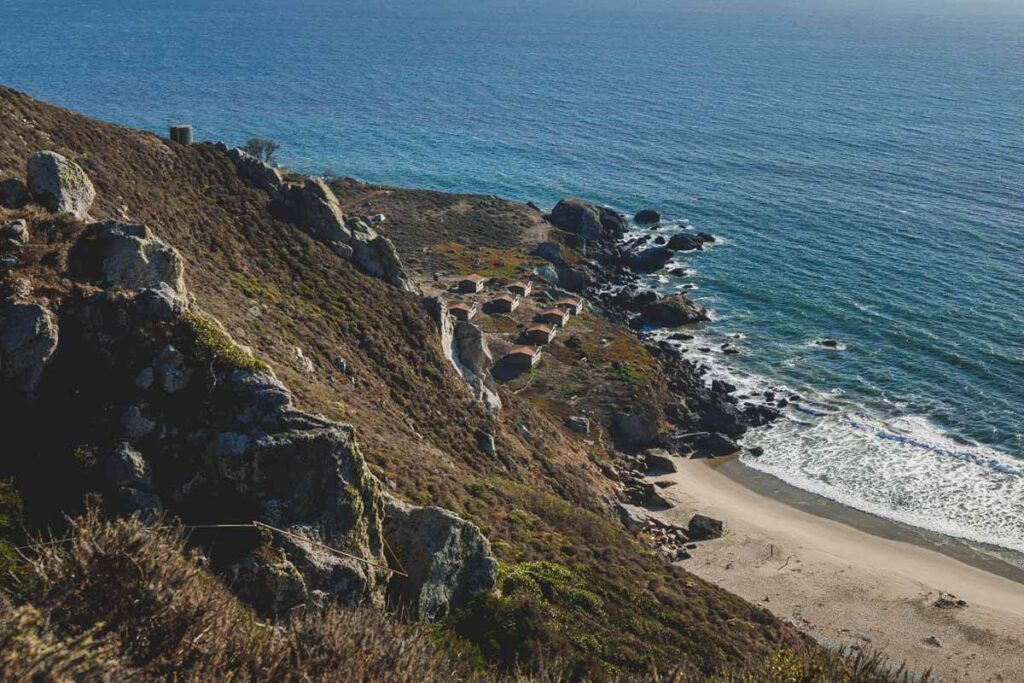 Reservations are available six months in advance, but we are not joking when we say these are some of the most sought-after state park cabins in California, so you will have to act quickly if you want to bag yourself one, as they tend to sell out within minutes of being released! Have your hand on the button ready to press book!
What's Near Mount Tamalpais State Park
Don't go too far—There's plenty to see nearby!
Tamales Point
The trail to Tamales Point is one of those rare hikes where the views are incredible the whole way, which is why it is hardly surprising that it is one of the most popular hikes in Point Reyes. The hike is located at the north end of the Point Reyes Peninsula, meaning you will have views of Tomales Bay to the east,
Bodega Bay to the north, and the Pacific Ocean to the west, which is a lot of ocean scenery! Essentially, the hike takes you to the narrow point at the end of the peninsula.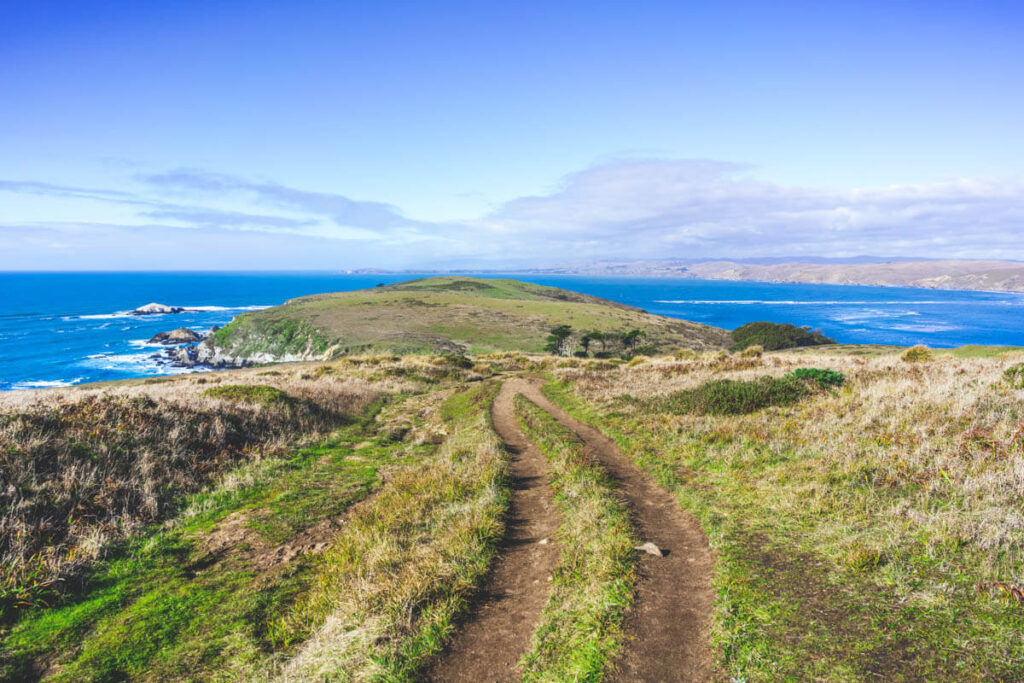 If you time it right and visit in the spring, the area is covered in an incredible swath of wildflowers, which makes it even more spectacular. The historical Pierce Point Ranch sits at the beginning of the trail, which is worth stopping by to find out a little more about its history. You should also be on the lookout for Tule Elk, as the Tule Elk Reserve is located here, so it is quite common to see these majestic creatures along the trail.
Point Reyes
Point Reyes is yet another incredible stretch of the Californian coast and should be on any outdoor lover's California bucket list. It's wild and rugged but incredibly beautiful and can be found just a few miles north of San Francisco. Although it is possible to visit Point Reyes as a day trip, there is so much to do here, it is worth spending a bit more time if you can.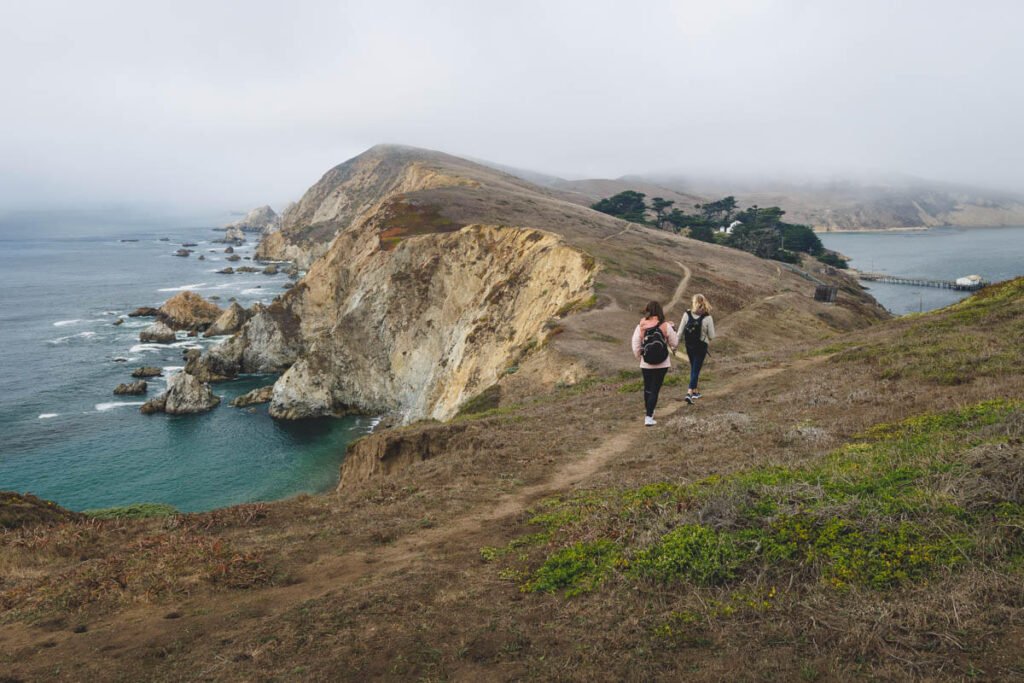 The Point Reyes Lighthouse is a Californian landmark and is easily one of the most photographed lighthouses in the state. You can observe it from the view deck near the parking lot, or if you don't mind climbing up and down 313 stairs, you can go for a closer look.
Point Reyes has so many incredible beaches, but some of the best include Drakes Beach, Wildcat Beach, and McClures Beach, to name a few. There are, of course, some equally stunning hikes in Point Reyes as well.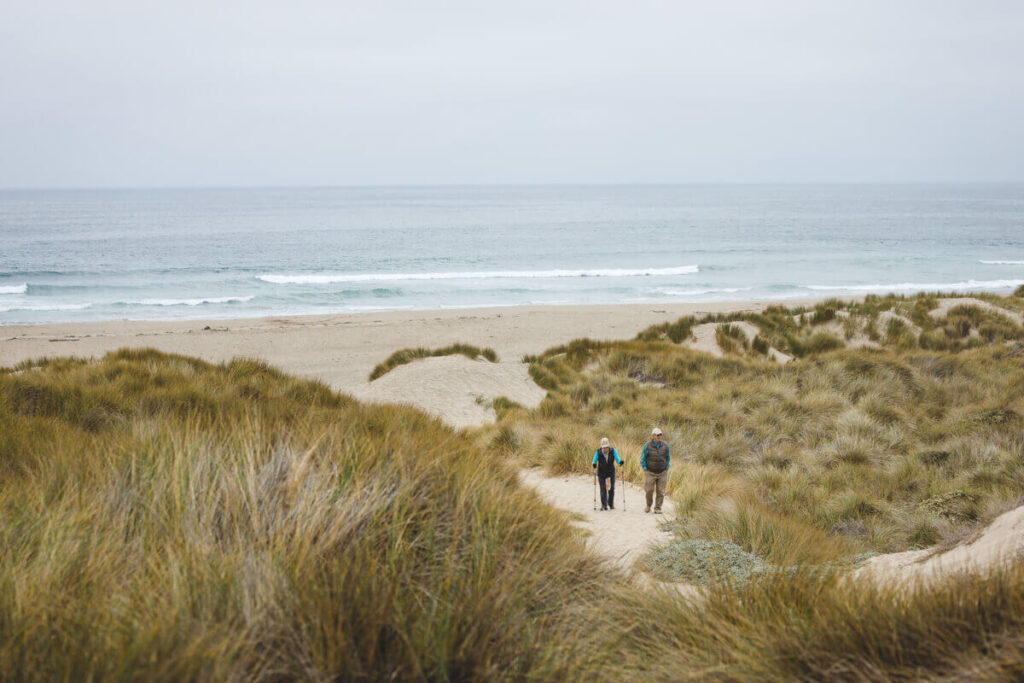 Wildlife lovers flock to Point Reyes hoping to spot some of the several hundred bird species that call the area their home or scan the agers for gray whales or migrating California gray seals. You may even see Northern elephant seals chilling on the beaches.
---
READ MORE: 11 Stunning Beaches in Point Reyes Worth Visiting
---
Santa Rosa
Once you have had enough of the country air and are craving city life again, instead of venturing south to San Francisco, why not visit Santa Rosa? Although smaller than San Fran, it still has a thriving downtown rich in arts and culture.
The event calendar is packed throughout the year, the choice of restaurants will have your mouth watering, and several brewpubs and wine-tasting rooms will have you wondering why you didn't book to stay a few extra nights.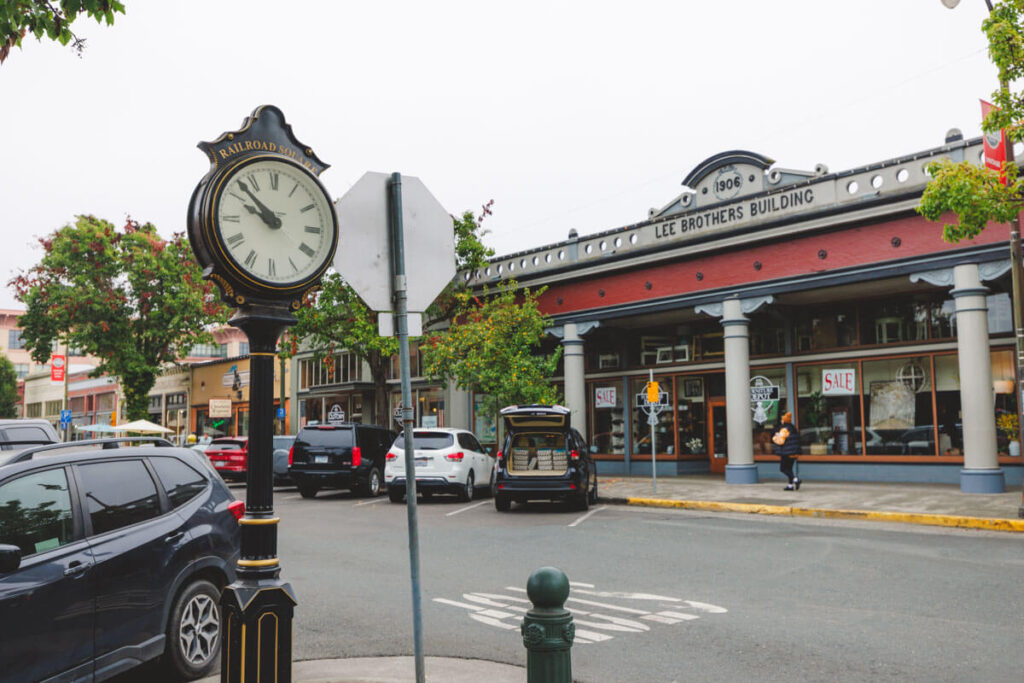 There is so much to see and do in Santa Rosa; it can be overwhelming, so many people start at the Santa Rosa Visitor Center in an old railroad depot to get their bearings. Pages and pages could be written in the things to do in Santa Rosa.
No visit to Santa Rosa could be complete without spending some time soaking up the atmosphere in Old Courthouse Square, home to several events, live music, movie nights, and night markets take place. Find out more about the area in the Museum of Sonoma County and stroll through the streets of Railroad Square Historic District, full of trendy shops and fancy restaurants.
---
READ MORE: 13 Things To Do in Santa Rosa for Outdoor Lovers
---
We hope this helped you plan your trip to Mount Tamalpais State Park!
I embark on expeditions around the world but can't get enough of California or the PNW. I'm a VW nerd with a Bug and a Bus. You can probably find me surfing or snowboarding somewhere.