The Point Reyes area is stunningly beautiful, with its rugged coastline, sandy beaches, rock stacks out to sea, and impressive rock formations. Venturing out and about by car will only get you so far; the real beauty can only be discovered on foot via some incredible Point Reyes hikes.
These trails will showcase some of the best landscapes that Point Reyes offers, taking you up close to lighthouses, along sandy spits, to incredible vistas, and even to a waterfall.
The Point Reyes National Seashore protects around 100 square miles, so these hikes only touch the surface; there is plenty more to explore once you have ticked these off your hiking list.
The Best Hikes in Point Reyes
---
✋ HOLD UP! Don't Forget…
You need some wheels! It's nearly impossible to get around the USA and check out the best adventures without a car! Here are our top recommendations…
🚗 Rent a car
If you don't have your own, renting a car is your best bet!
🚐 Rent a home on wheels
For the more adventurous, rent a van or RV and ditch the hotel.
1. Alamere Falls via Coast Trail from Palomarin Trailhead
Distance: 13.6 miles
Type of Trail: Out & Back
Difficulty: Hard
Elevation Gain: 1,818 ft.
Up for a little bit of a challenge? Take the Alamere Falls Trail via the Coast Trail for a coastal adventure you won't forget.
The pièce de résistance of this hike in Point Reyes is the beautiful 40-foot Alamere Falls itself. You rarely get to witness a waterfall cascading down a cliff directly into the Pacific Ocean, but if you time it right and the waterfall is in full flow, you are in for a real treat.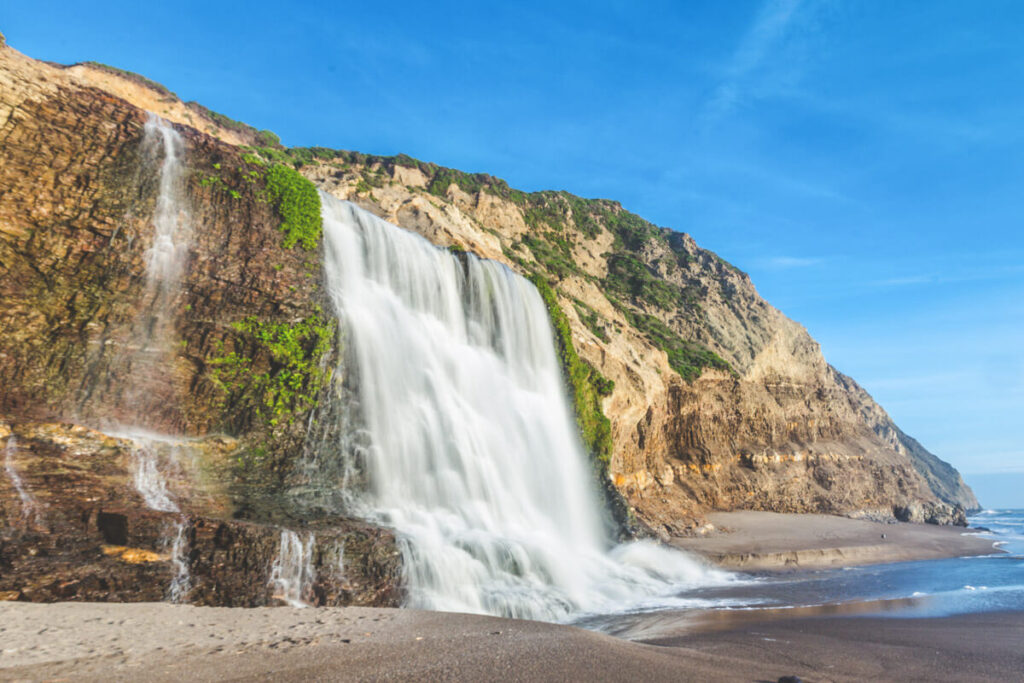 That's not all these hike offers; as you set off from Palomarin Trailhead, ocean vistas open up before you, stretching out as far as the Farallon Islands on a clear day.
The trail is decently long at over 13 miles, but the distance gives it its difficult status, as the path is wide and maintained most of the time. You'll start the hike traversing through a eucalyptus grove, but the coastal views soon emerge, hopefully to bright sunlight.
After hiking a dirt path, you will soon enter a swampy forest, home of Bass Lake, a summer swimming spot.
Take a dip if you need to cool down and fancy a quick swim before continuing. After a while, you will reach Wildcat Camp before heading to the beach.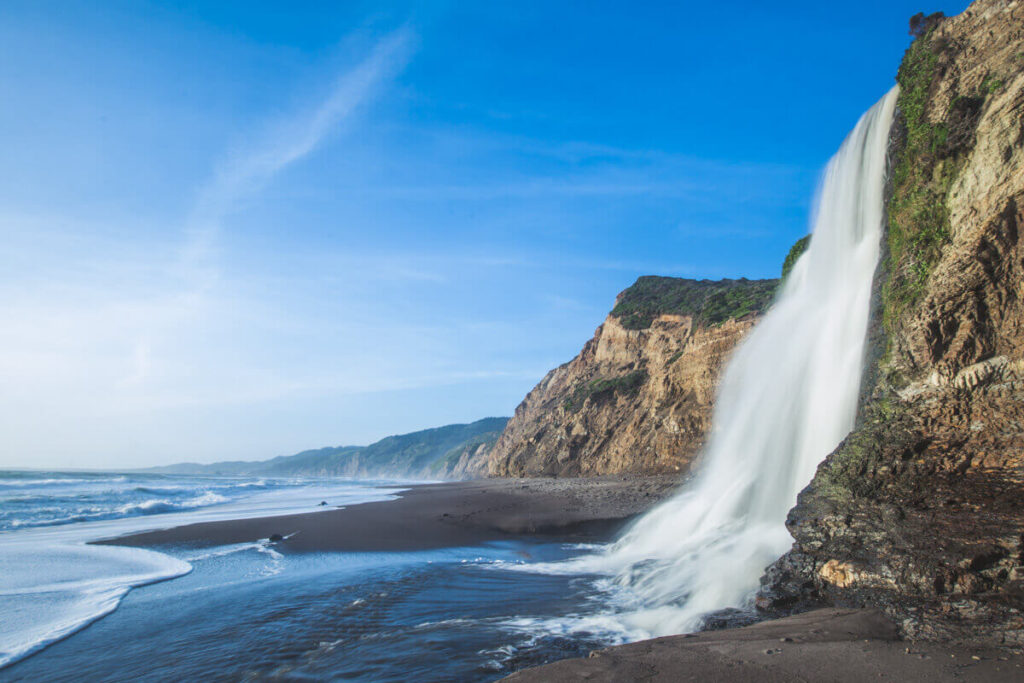 It is essential to check the tides before you venture down onto the sand for the beach section of the hike. It's a long route but well worth the effort to reach the falls at the very end.
Do note there's a bit of a shortcut to the falls, but the trail is pretty rough and rather dangerous. This involves lots of rock scrambling and slippery areas. It's best to at least take the regular long way there and then assess if heading back the short way (you'll notice it a bit better while at the falls) suits you.
---
RELATED: 11 Stunning Beaches in Point Reyes Worth Visiting
---
2. Kule Loklo Trail
Distance: 1.7 miles
Type of Trail: Loop
Difficulty: Easy
Elevation Gain: 144 ft.
The Kule Loklo Trail is a great little leg stretcher near the Bear Valley Visitor Center. It's flat and easy, taking you through beautiful meadows and mixed forest, with plenty of wildlife to spot along the way.
The main point of interest along the trail is the Miwok Village, allowing you to almost step back in time to when the Coast Miwok lived and thrived in this part of California.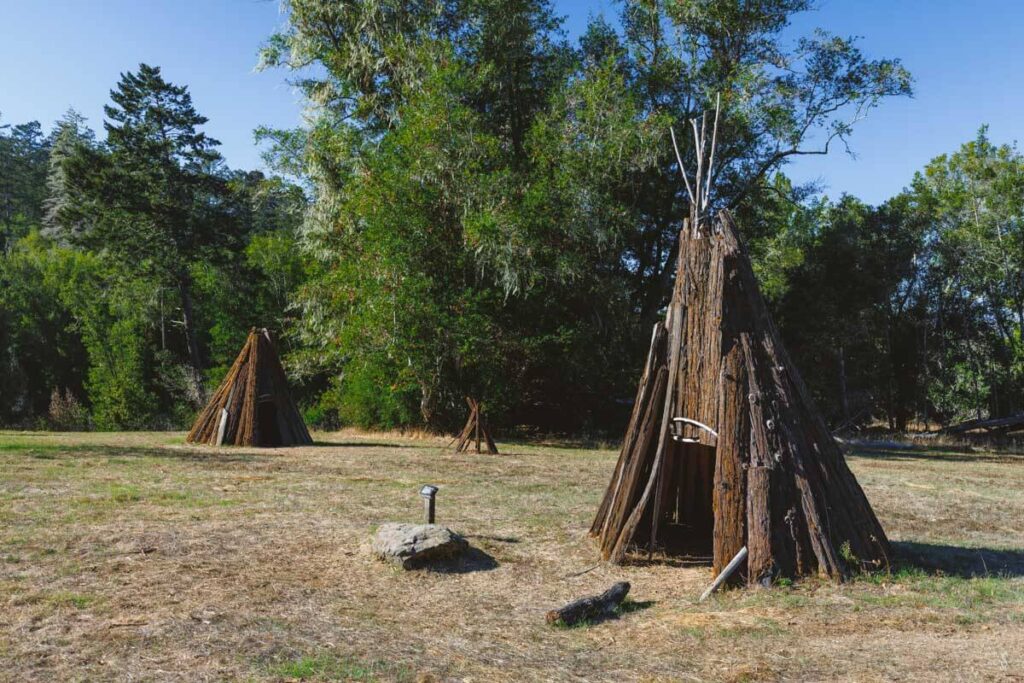 The recreated village gives a great insight into what life was like for these people over 200 years ago, with interpretive signs explaining more about the different buildings and sections of the village.
3. Elephant Seal Overlook and Chimney Rock Trail (Our Fav Hike in Point Reyes!)
Distance: 2.4 miles
Type of Trail: Out & Back
Difficulty: Moderate
Elevation Gain: 226 ft.
With two incredible natural attractions in one, this hike is not to be missed.
Start this hike at the Chimney Rock Trailhead, where your best shot at getting a parking spot is in the morning, and set off from there.
Your first stop will be at the Chimney Rock lookout, where you can spot migrating whales depending on the time of year you visit (December-January and March-April) as well as the Farallon Islands if the weather is good.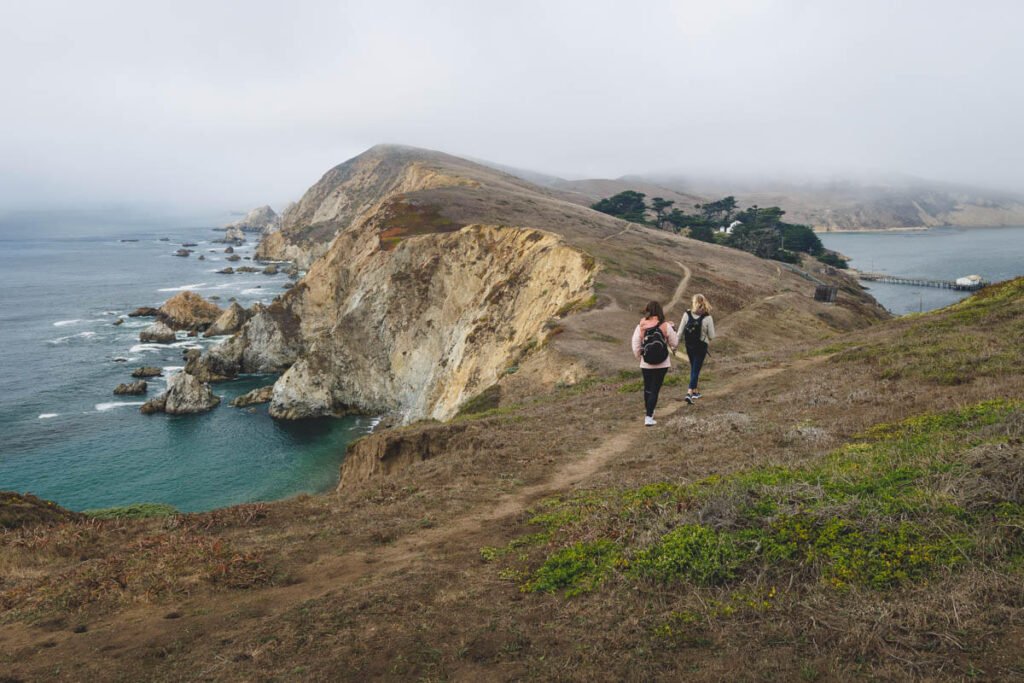 Once you've enjoyed the view, head back to the trail and start the walk to Elephant Seal Overlook.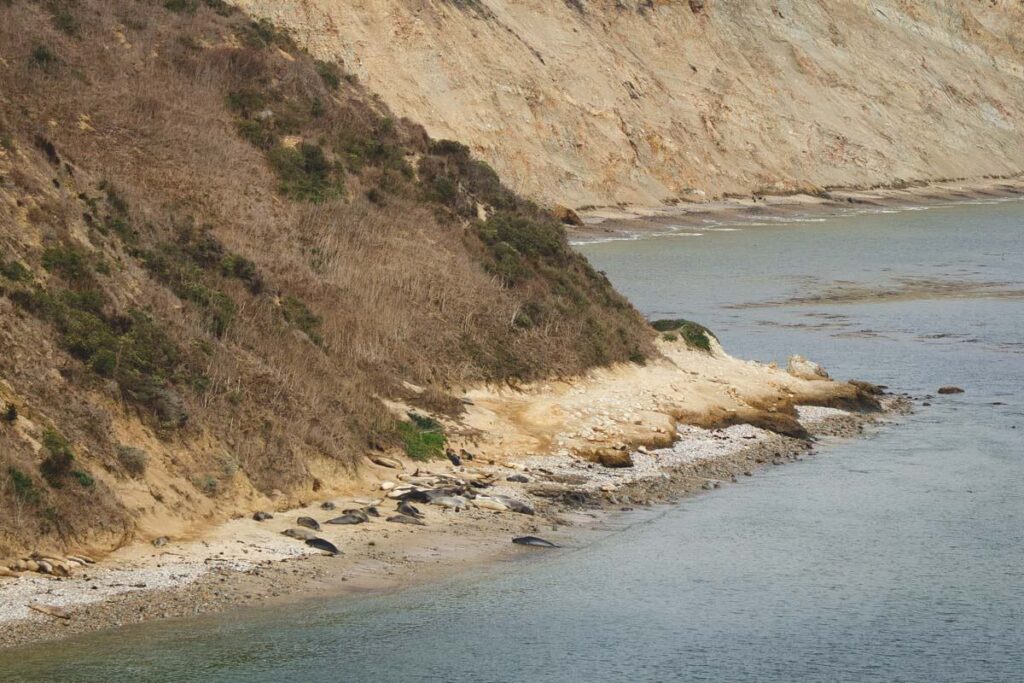 Elephant Seal Overlook does just as the name suggests; perched high over Drake's Bay, you will have a fantastic view of the blubbery residents of the area. The colony of elephant seals at Chimney Rock is close to 100, so it is quite a sight!
4. Point Reyes Lighthouse
Distance: 1.3 miles
Type of Trail: Out & Back
Difficulty: Moderate
Elevation Gain: 331 ft.
Be prepared to climb up and down A LOT of steps on the hike to Point Reyes Lighthouse, but this historic building is worth the ascent. Once at the visitor center, you will have to clamber down over 300 steps down to the lighthouse, but go with it!
As you head down the almost never-ending barrage of steps, take in the crashing surf below you, the vistas of the Pacific Ocean and surrounding headlands, and the seabirds perched on sea stacks.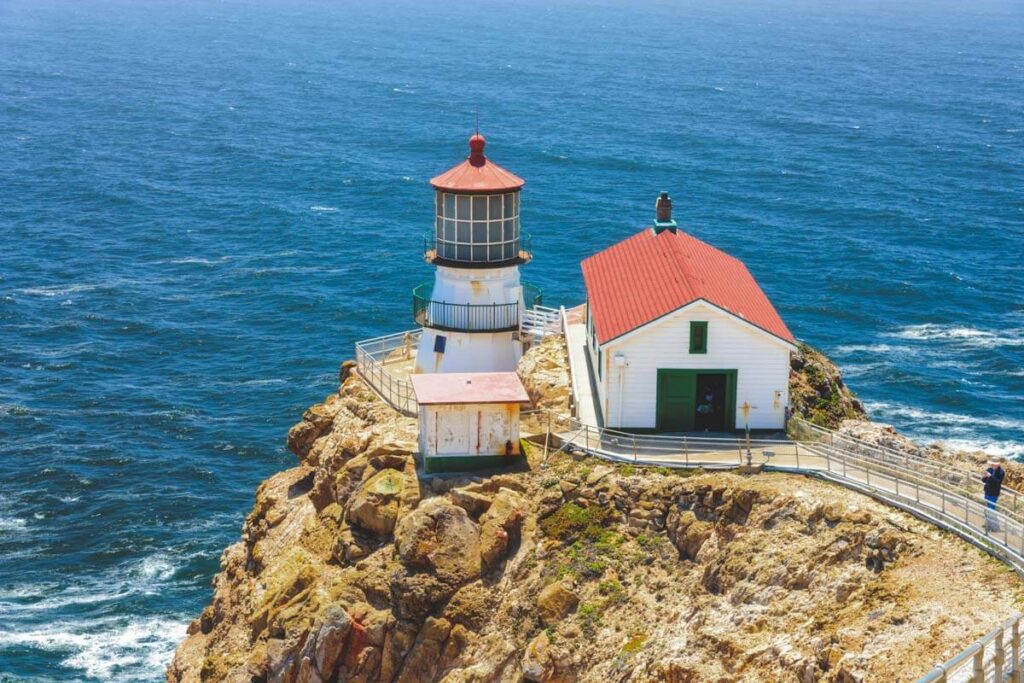 The lighthouse itself seems to stand alone on a rocky outcrop, and you will find one of the best views of it before you start down the steps.
This part of California is prone to fog and winds, which means sometimes the stairs may be closed for your safety, but don't be disappointed; you will still have some incredible views to enjoy, and it just gives you an excuse to come back to do this Point Reyes hike again.
---
RELATED: 13 Things To Do in Santa Rosa for Outdoor Lovers
---
5. Abbotts Lagoon Trail (Best Hike in Point Reyes for Animal Spotting)
Distance: 3.3 miles
Type of Trail: Out & Back
Difficulty: Easy
Elevation Gain: 187 ft.
Looking for solitude, raw, rugged natural beauty, and some wildlife thrown in as a bonus? Abbots Lagoon Trail has you covered and is one of the more unique hikes in Point Reyes. The hike is relatively flat, easy to follow, and will take you to a bridge over a channel connecting the lagoon's two sides.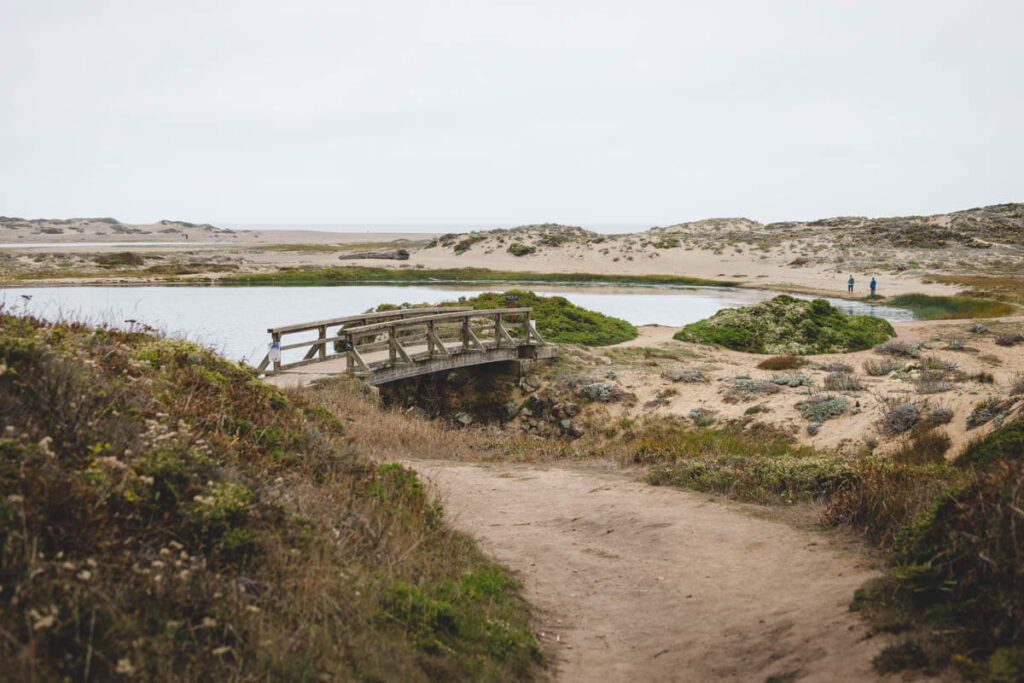 Wildlife is abundant on this hike; if you have patience and a bit of luck, you have a good chance of spotting creatures like otters, snakes, hawks, coyotes, and blue herons. Be prepared; although this is an easy hike, the last half a mile isn't a path if you want to make it to the beach.
It is just sand, so come with shoes suitable for this terrain.
6. Tomales Point Trail
Distance: 9.3 miles
Type of Trail: Out & Back
Difficulty: Moderate
Elevation Gain: 1,178 ft.
Tomales Point Trail is just one of those Point Reyes hikes you will never get tired of doing. The views are incredible, almost right from the get-go, so even if you don't fancy walking the whole trail, you will still be able to take in the beautiful landscape.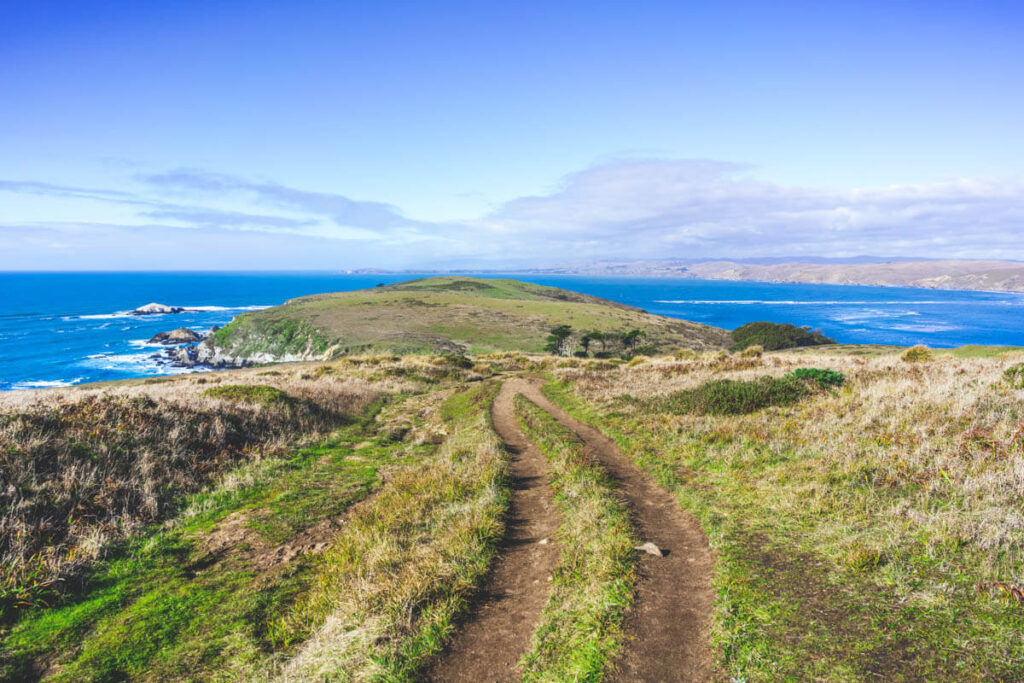 The hike showcases some elements of just what makes the Point Reyes area special. The vistas of the Pacific Ocean are breathtaking, along with Tomales Bay and Bodega Bay. As the name suggests, the hike will take you to Tomales Point, which is at the end of the Point Reyes peninsula.
In spring and early summer, the wildflowers are out in force, and the colors add to the area's natural beauty.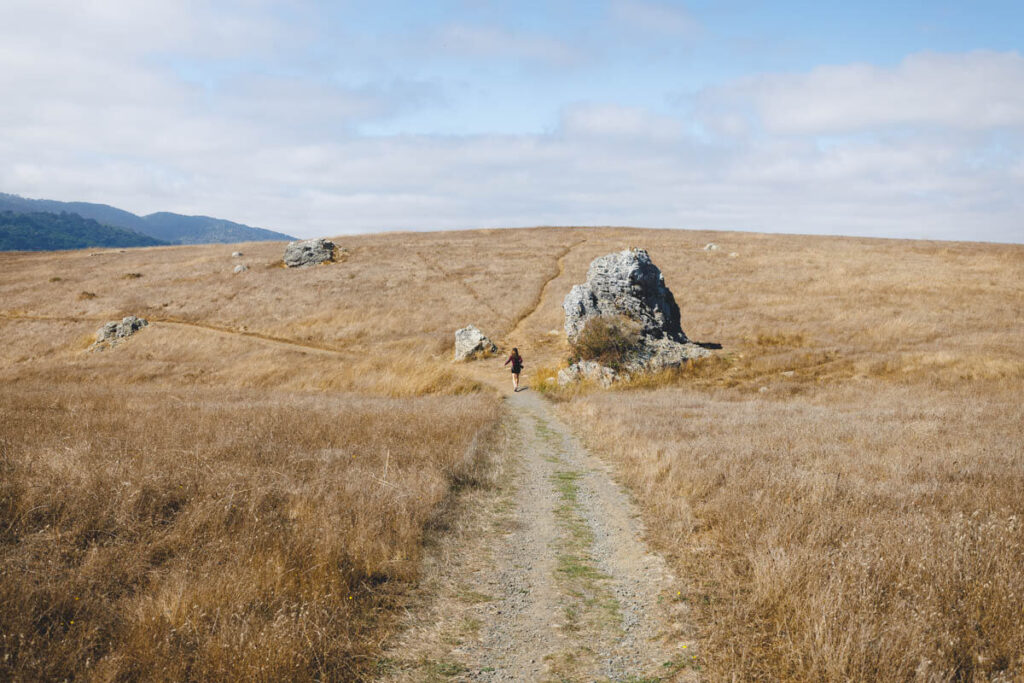 You can peek at the historic Pierce Point Ranch near the trailhead and learn more about it from the many historical plaques dotted throughout the ranch. Along the way, you will also likely spot tule elk grazing, which is a magical sight.
Overall there is an elevation gain of approximately 1,200 feet, which is why this one is classed as moderate.
7. Laguna Trail and Coast Trail Loop
Distance: 6 miles
Type of Trail: Loop
Difficulty: Easy
Elevation Gain: 502 ft.
This trail makes for a lovely day hike with parking, great views, and a few amenities. Begin in grassy meadows following a well-marked path, keeping an eye out for the local wildlife as you head up to the top of a narrow ridge.
As you traverse the meadows, admire the lush green surroundings before you plunge towards the ocean and Coast Camp.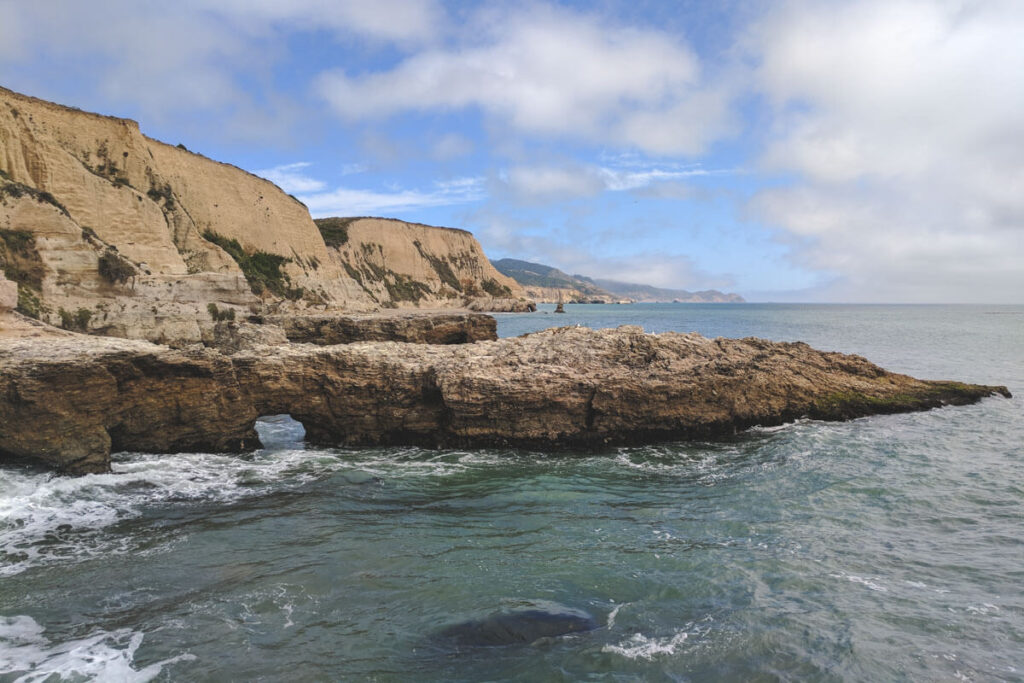 The campground has a few amenities, and you can access the beach from here, which is hardly ever busy. Once you have had your fill of rocks, cliffs, sand, and sea, you can turn around, but this time make your way along the Laguna Trail.
With not too many up and downs, it is a relatively easy trail for some sea views.
8. Bear Valley Trail to Coastal Trail
Distance: 10 miles
Type of Trail: Out & Back
Difficulty: Moderate
Elevation Gain: 735 ft.
Delve into forests shrouded by the coastal fog that often haunts the landscape before bursting out onto the shore, dominated by a sweeping ocean vista on the Bear Valley Trail.
One of the best things about the trail is it takes you through numerous coastal environments, including thick forests, vast open coastal meadows, and rocky cliffs.
Seeing as the trail follows a fire access road, it is wide and easy to traverse. So easy, in fact, that you should expect to share the path with a least a few other hikers, cyclists, and horseback riders.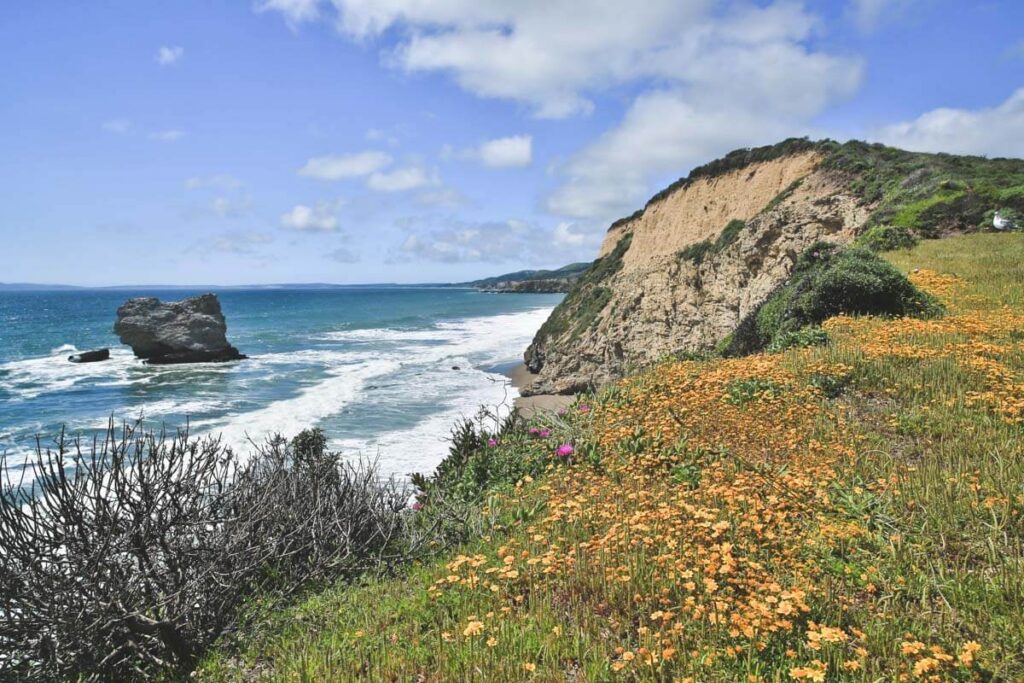 Starting at the Bear Valley Trailhead, follow the path and begin the climb through the forest and meadows; before long, you will reach Divide Meadows, the highest point of the hike.
You will then start heading down Coast Creek Canyon, and finally, you'll see the coast! On a good weather day, you might even see the Farallon Islands on the horizon. This is, without a doubt, one of the best hikes in Point Reyes.
9. Limantour Beach Trail
Distance: 5.3 miles
Type of Trail: Out & Back
Difficulty: Easy
Elevation Gain: 72 ft.
After a short walk on Limantour Beach and spit, you will be greeted with views of one of the most scenic bays in the county on the Limantour Beach Trail. Although classed as an easy hike, this is all beach walking, so be prepared to pound the sand for quite a while.
If you get tired of the softer sand, it may be worth taking off your shoes and hitting the harder sand closer to the shore, which can be very refreshing, especially on a hot day.
This Point Reyes hike can take as long or as short as you fancy, whether you want to head down the shore for a short while or attempt the whole walk.
Just don't forget to leave some time for view admiring and lunch eating, as you won't get much more of a picturesque spot. The trail gets progressively wilder and unmaintained the further you venture, but that is just part of the fun!
While on the hike, keep an eye out for pelicans, seals who poke their head out of the surf, jellyfish, and other sea creatures, as they regularly frequent the area.
Tips For Hiking in Point Reyes
The rugged coast here is beautiful but also poses some challenges. You always want to check the road conditions and if certain beaches or hikes are currently open or have obstructed roads or trailheads.
On a similar note, some beaches and hikes in Point Reyes will be closed for conservation and marine life protection. Keep up to date here, so you're prepared for your trip.
In case you're visiting from out of town, you might not totally understand the landscape here. Most of the beaches here aren't really your "layout in a bikini" type of beaches. So if you're hiking to a beach with the hopes of sunning your buns, you might be a bit disappointed. Read more about the best beaches in Point Reyes here.
Parking lots for many hikes in Point Reyes are pretty small, so be prepared to come early or have a backup hike or two in case your trailhead is too full.
Wind and fog! Lots and lots of wind and fog here—Dress accordingly.
Be aware of the tides when doing beach hikes. Here's the tide schedule for Point Reyes.
We hope this helped you choose which hikes in Point Reyes you want to tackle during your visit!
I embark on expeditions around the world but can't get enough of California or the PNW. I'm a VW nerd with a Bug and a Bus. You can probably find me surfing or snowboarding somewhere.