Yes, it is Insta-famous, and yes, you may have to fight your way through camera-clad visitors, but the Alabama Hills Movie Road is well-known and well-loved for a reason.
There is something incredible about seeing the jagged, often snowy, peaks of the Sierra Nevada mountains in the distance, with the rounded red rocks of the Alabama Hills sitting in the foreground.
While the sights and incredible photo spots are the main draws here, there are plenty of other things to do in the Alabama Hills. Extensive hiking and biking trails, free camping, rock climbing, and stargazing opportunities add to the appeal of the place.
Keep reading if you love exploring the outdoors and need an incredible stop to add to your California road trip.
✋ HOLD UP! Don't Forget…
You need some wheels! It's nearly impossible to get around the USA and check out the best adventures without a car! Here are our top recommendations…
🚗 Rent a car
If you don't have your own, renting a car is your best bet!
🚐 Rent a home on wheels
For the more adventurous, rent a van or RV and ditch the hotel.
Alabama Hills Movie Road
Movie Road is essentially the gateway to the Alabama Hills, so it is one of the most scenic places just off the 395. For a start, the towering Mount Whitney dominates the skyline, surrounded by many other majestic mountains.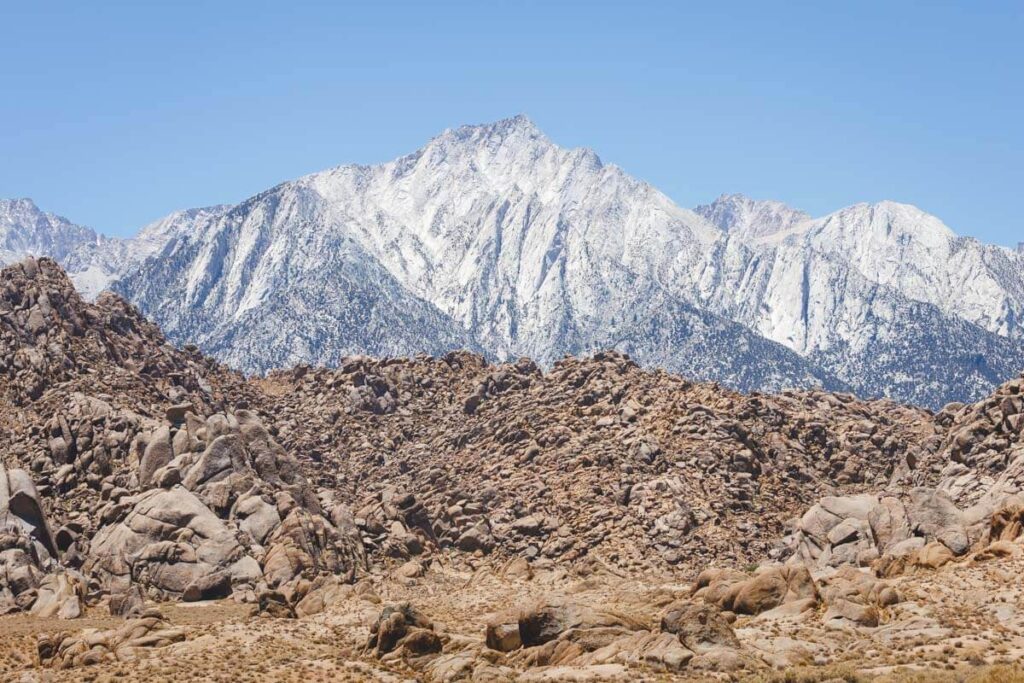 All around you, you will find dramatic rock formations, tall rock arches, and alien landscapes. All in all, the Alabama Hills and Movie Road should not be missed!
Where Did The Name "Alabama Hills Movie Road" Come From, Anyway?
The scenery is so epic, so you can probably guess why the road and area got their name. If a Western film was going to be a hit, the Alabama Hills was the place to film it.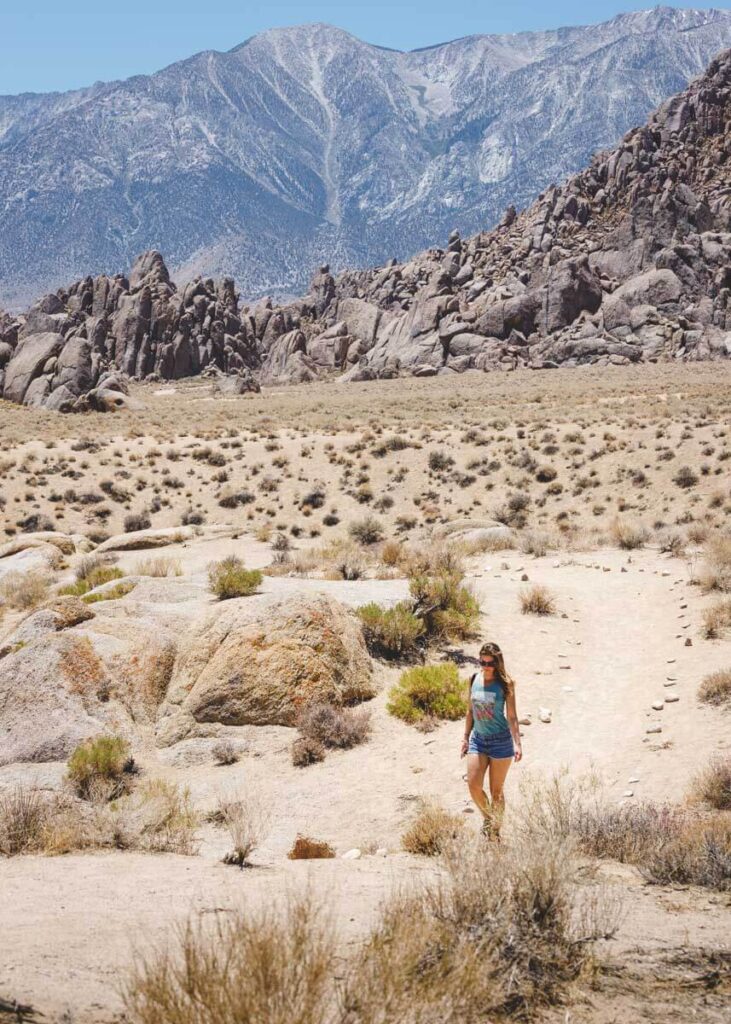 Even modern-day movies utilize the dramatic landscape, with world-famous films like Iron Man, Django Unchained, and Gladiator using the area for countless scenes.
Many people head to the area to check out the specific movie sites, before paying a visit to the Museum of Western Film History to learn a little more. The road that runs through the hills is what is named Movie Road and makes for an incredible photo opportunity.
Formation of The Alabama Hills
The mountains and the Alabama Hills were formed simultaneously, so it is surprising how strikingly different they are. The jagged, snowy mountains couldn't be more in contrast to the rounded red rocks and dirt that make up the Alabama Hills, yet both were formed around 85 million years ago.
The different landscapes were formed due to erosion, creating the weird and wonderful shapes you see today. It is a well-looked-after area of land today, managed by the Bureau of Land Management.
Location
You can get to the Alabama Hills Movie Road in 3 to 4 hours when traveling from Los Angeles, just off Highway 395. It is tucked nicely into the foothills of the Sierra Nevada but is easy to reach, close to the small town of Lone Pine.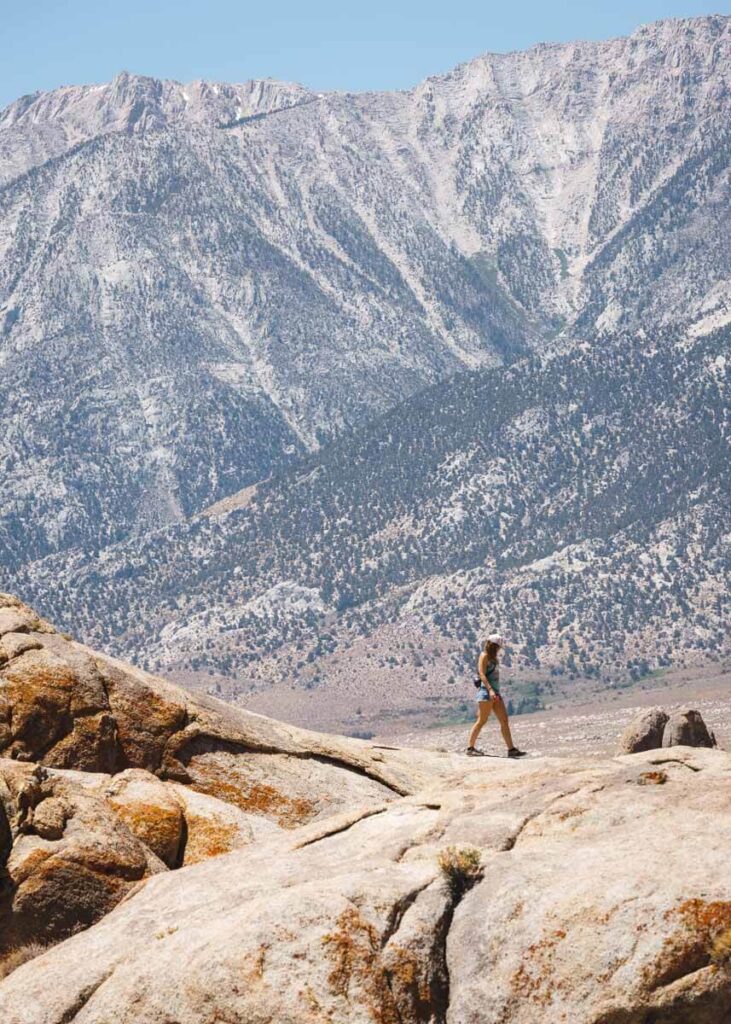 For those on a big California Road Trip, you'll likely be heading towards The Alabama Hills when you're driving north out of Death Valley National Park. Or if you're heading south, perhaps after an epic time visiting Yosemite National Park, you'll pass The Alabama Hills on your way toward Death Valley or to Las Vegas
Once you reach Lone Pine, head west on Whitney Portal Road before turning right onto the scenic Movie Flat Road.
Highlights Along Alabama Hills Movie Road
You'll be driving along a narrow stretch of gravel, then dirt road while on Movie Flat Road. There are a few short deviations, but the majority of things to see are on the main road. The following highlights are easily seen from your car or after a short and fun hike.
While there's plenty to explore in the Alabama Hills, if you're short on time, just drive down Movie Road anyway! The drive itself, without even getting out of the car, is spectacular, to say the least. It's a 12-mile detour off the main highway.
All the sights along Alabama Hills Movie Road below are ordered from the south to the north.
Nightmare Rock
Nightmare Rock… Maybe not something you would expect to see in the desert, or perhaps not something you would want to see in the desert! A massive boulder at the side of the road has been painted with a creepy-looking face.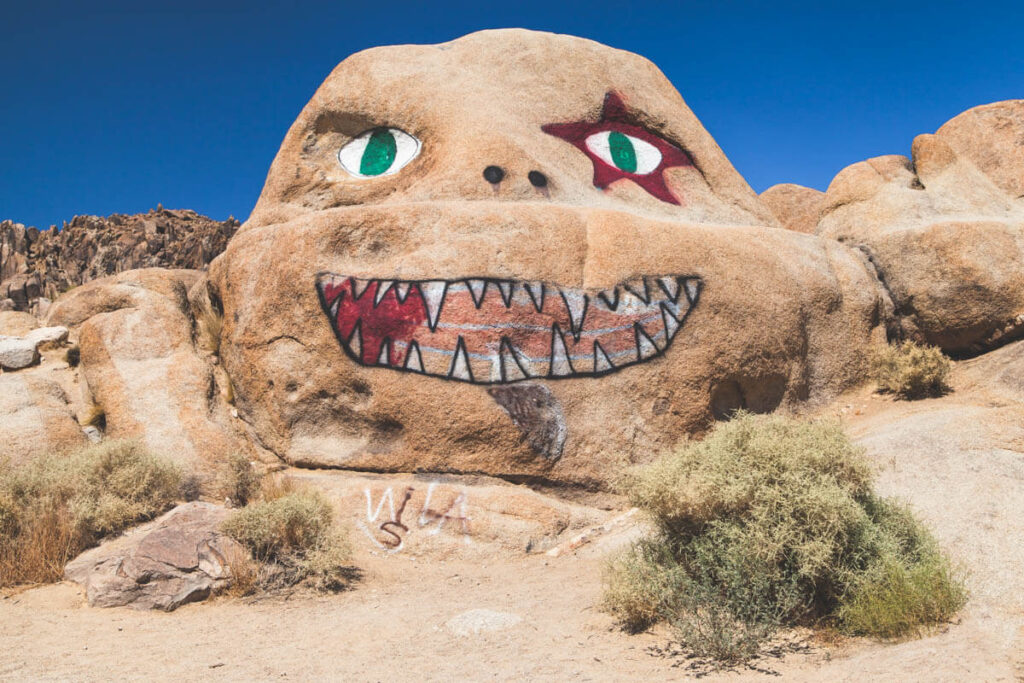 It is not quite an artist's work, but it is undoubtedly a striking thing to see against the landscape and has made a name for itself. You never know; the next time you visit, the face may be a little more than the last time you saw it.
Shark Fin Loop
Distance: 1.7 miles
Type of Trail: Loop
Difficulty: Easy
Elevation Gain: 249 ft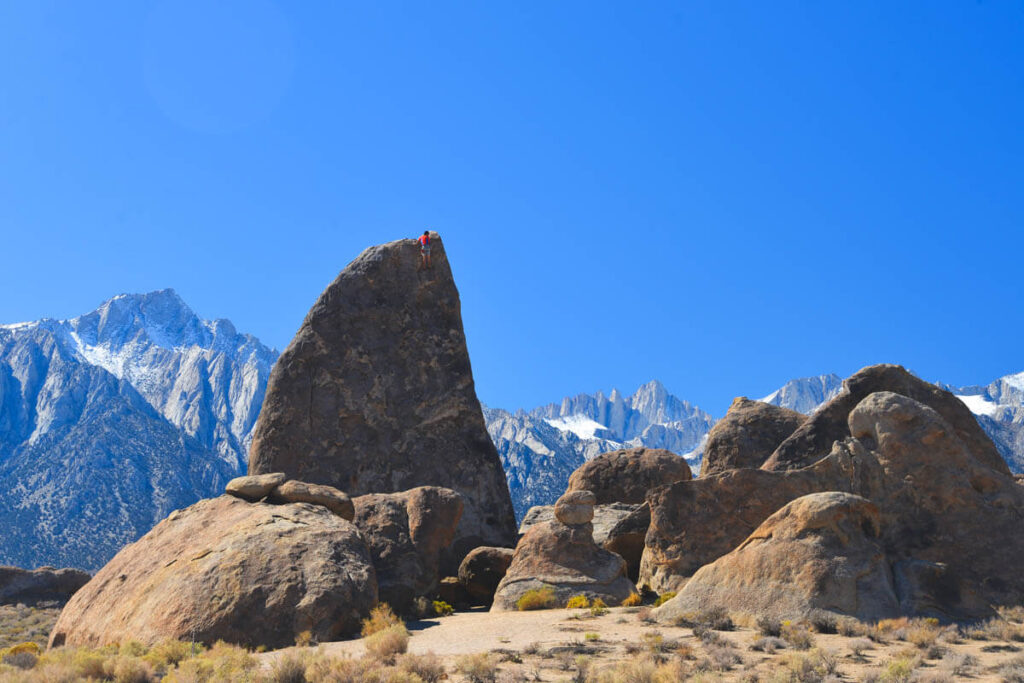 Get incredible views and a weird and wonderful rock formation on the Shark Fin Loop Trail. It is easy to hike this short trail scattered with strange rocks and viewpoints to look out over even more bizarre rocks. The best rock on this trail is the huge rock shaped perfectly like a shark fin.
Lone Ranger Canyon
Don your cowboy hat and hide among the round clusters of boulders that make up Lone Ranger Canyon, one of the best things to do in the Alabama Hills. The area may not be like you would traditionally imagine a canyon.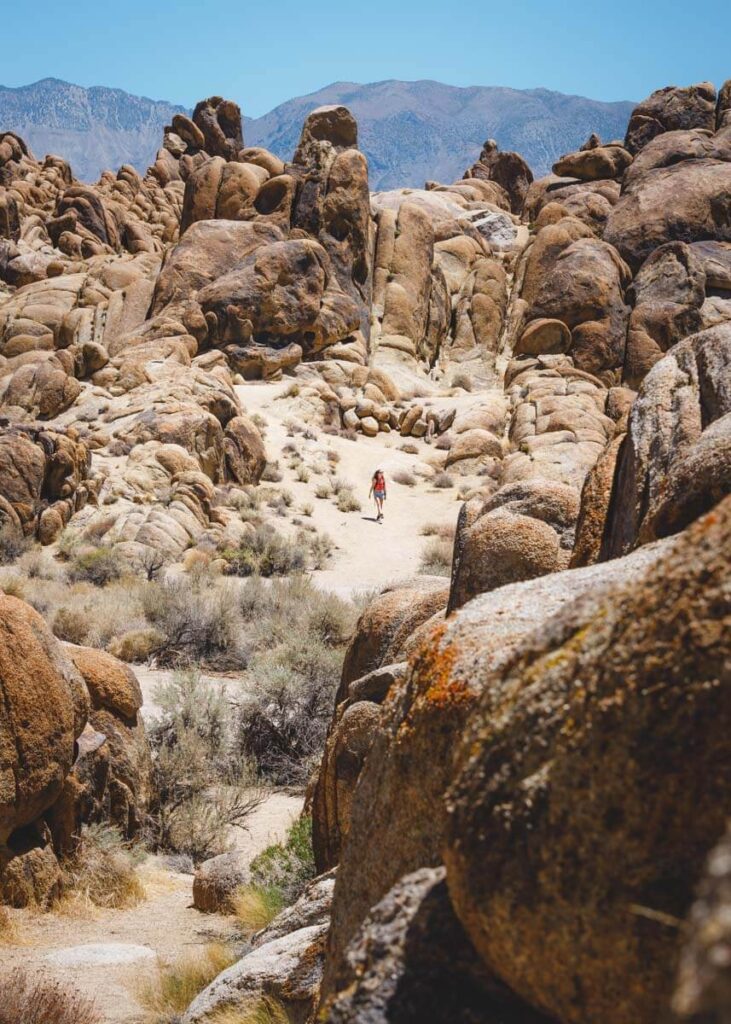 Still, you can easily see why it is one of the most famous filming locations, especially for old Westerns. The whole area is filled with large, round boulders nestled into the red dirt.
Spend some time getting lost in the labyrinth of boulders and thin corridors between the rocks. It is a great place for a game of hide and seek!
Mobius Arch Loop Trail (Most Famous Spot Along Alabama Hills Movie Road)
Distance: 0.6 miles
Type of Trail: Loop
Difficulty: Easy
Elevation Gain: 42 ft
Of all the arches in the Alabama Hills, Mobius is the most famous. It is very cool to see (and ponder how it managed to get into that shape), plus it is one of the easiest arches to visit. The Mobius Arch Loop is short, and you should plan to spend about an hour hitting the trail and admiring the arch in all its glory.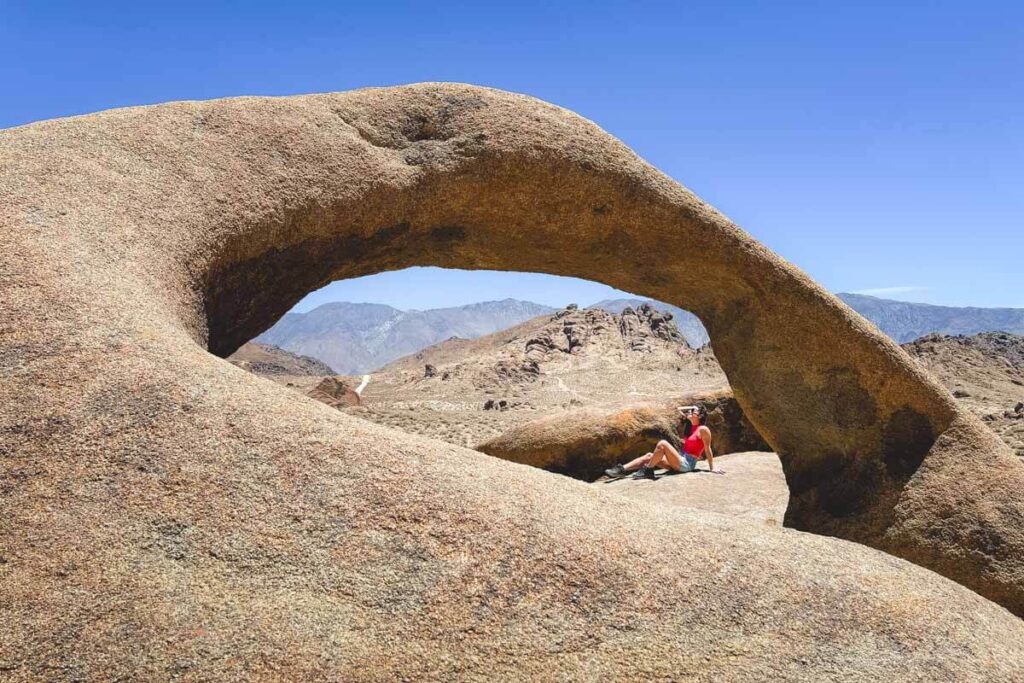 It is around 6 feet high, and if you position yourself just right, it makes the perfect frame for Mount Whitney. This arch got its name as it looks a little like a Mobius Strip. (If you are unsure what this is, look it up, as it is a little complicated to explain!). Check out the Lathe Arch on the trail, located just behind Mobius Arch.
At 0.6 miles, it is a relatively easy trail, although you will have to tackle some steps along the way. There is a signpost pointing you in the right direction and a parking lot, so the whole experience is straightforward and hassle-free.
Heart Arch
Although not the most impressive, Heart Arch is one of the more accessible arches to reach, and it definitely has the 'cute' factor. You can see it right from the Mobius Arch parking lot if you don't mind seeing it from a distance.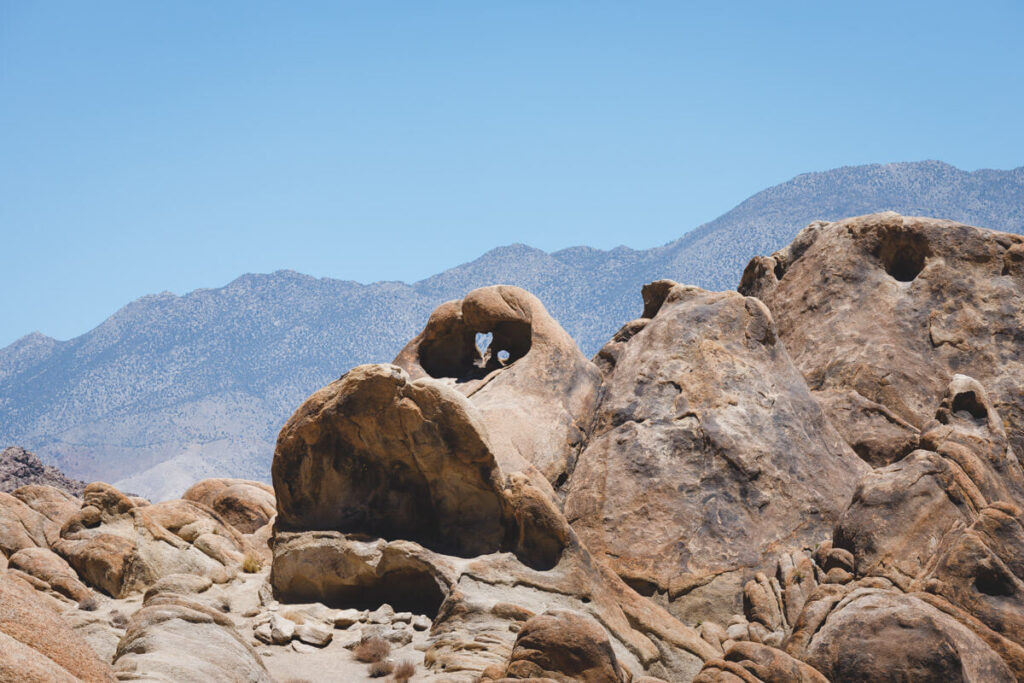 A good viewpoint is just after the rock stairs on the Mobius Arch trail if you want to get a little closer. It may be small, but it's perfectly formed, and you will also see a few unnamed arches along the way. The way we see it, you can never see too many arches!
Eye of Alabama Hills Arch
You will come across another unique arch just a short drive past the Mobius Arch parking lot. Please keep your eyes peeled on the right-hand side of the road, as it has a small parking lot. You can walk up to this arch and climb right through it.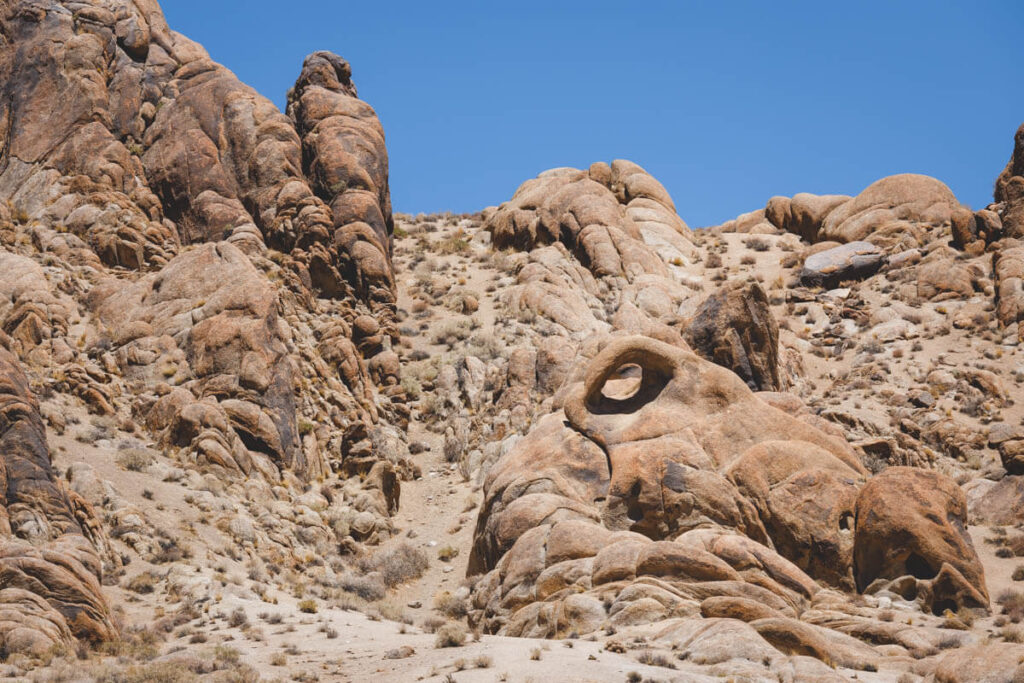 The views are pretty spectacular, as you are at a loftier position, so you can look at the Alabama Hills as you gaze through the arch and understand why it got its name!
Boot Arch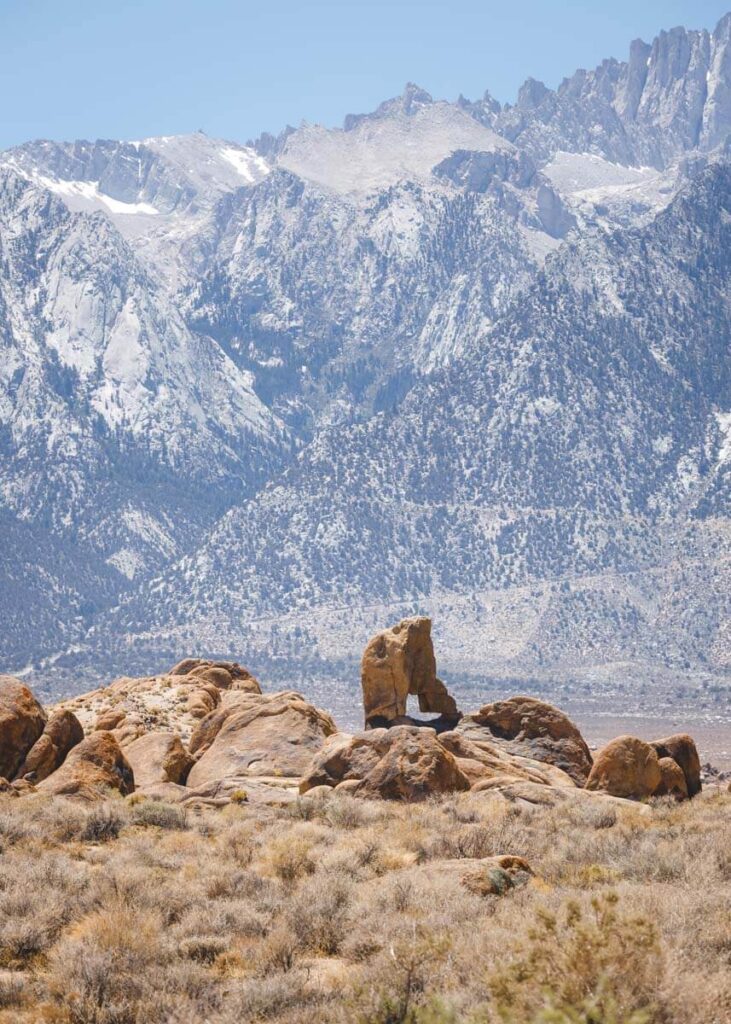 Boot Arch is one of the least archy of most of the arches in the Alabama Hills. It looks like a boot if you squint and use your imagination a bit (a lot). It is a little tricky to find if you don't know what you are looking for, but if you have the time, it is worth a visit due to its uniqueness.
Cyclops Arch
The Cyclops Arch can easily be reached when checking out Boot Arch, so it is best to combine the two. It is a double arch but has some interesting rock formations that look like a skeleton or skull.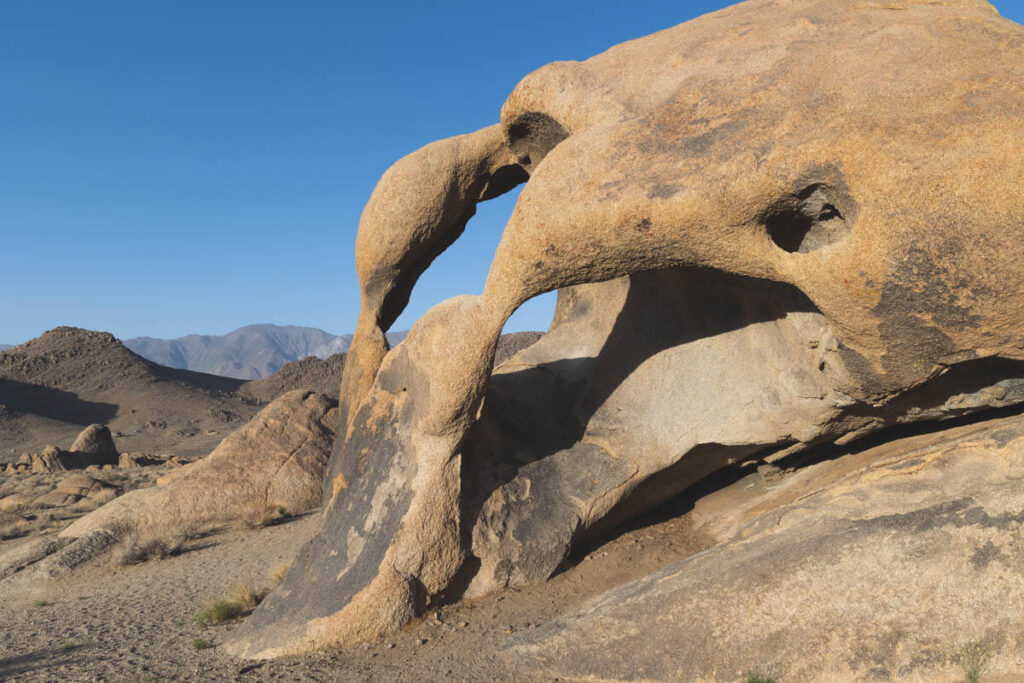 There is no end to the strange and otherworldly rock formations you can find in this stretch of desert, and searching them out are great things to do in the Alabama Hills. Driving along or hiking a trail will bring you photo opportunity after photo opportunity.
Tips for Visiting Alabama Hills
There are very few services in the Alabama Hills or Movie Road area, so make sure you pack enough water, food, and supplies for your trip.
There is little to no cell reception anywhere around the Alabama Hills, so be sure to download all your maps and research the best things to do in the Alabama Hills before you arrive.
Spring or fall is, without a doubt, the best time to visit. The temperature is perfect for camping, as summer in the desert can be unbearable. There is hardly any shade available, making camping an uncomfortable experience in the hottest part of the year. The winter daytime temperatures can be relatively pleasant, but the night can be freezing, so best avoided unless you are used to these conditions.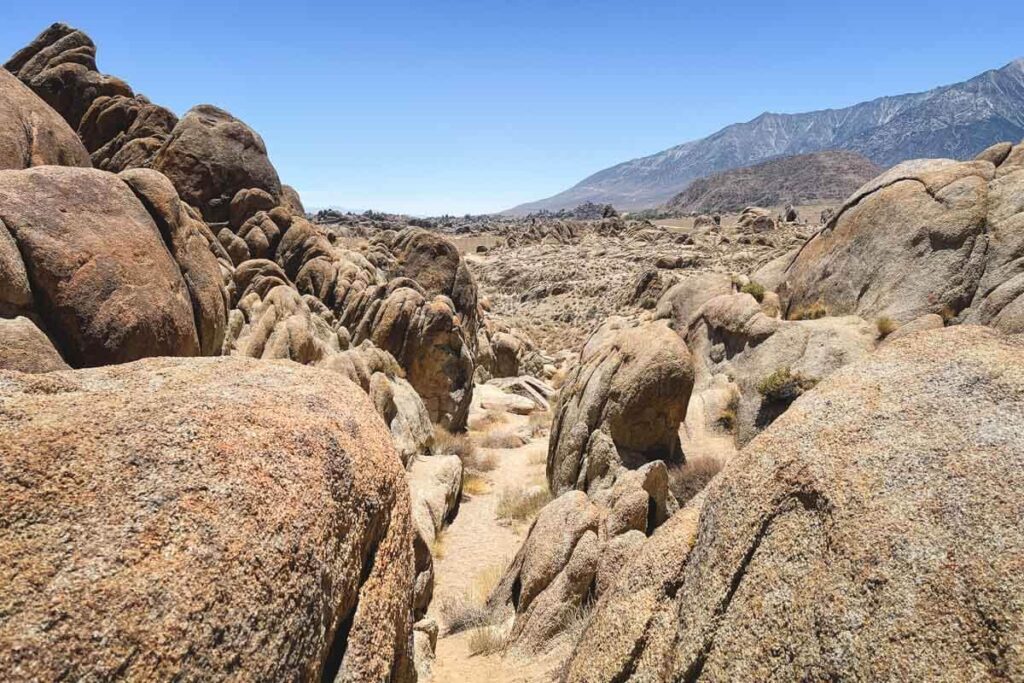 No matter what time of day you visit the Alabama Hills Movie Road, you will get some pretty awesome photos. However, if you want some photos that stand out from the crowd and will make yours pop, try to visit at sunrise, looking out over the mountains, the sun will cover the hills with a golden shimmer, with pinks and oranges. If you can't come early for any reason, then come late; the lighting is still pretty spectacular.
Leave no trace. No matter where you travel, we are responsible for looking after our land and leaving it happy and healthy for generations to come and enjoy. Take all your rubbish and belongings with you, wholly put out any fires, and don't tread where you are not supposed to.
Be aware of the road conditions. After heading out of the town of Lone Pine, you will be on a gravel road. As you turn right towards the Alabama Hills Recreation Area, the gravel turns to dirt, where it will stay. This is something to be aware of when choosing your vehicle. You should be fine in most cars but may be more comfortable in something with bigger wheels and decent suspension.
Dress for a chill. When you think of deserts, you think of dry, hot weather. While that is true mostly, the nights and mornings can be more than a little chilly. Layered clothing is ideal; you can start stripping off as the sun rises and the day gets warmer.
Bring sunscreen—All the hikes in the area are fully exposed to the sun. There is no lush canopy of trees to protect you here, so ensure you bring some strong sunscreen and plenty of water to stay hydrated.
Where to Camp in Alabama Hills
No matter where you camp in the Alabama Hills, you will have a breathtaking experience. Whether you choose to spend the night in one of the official campgrounds or opt for dispersed camping, there will be incredible views of the Sierra Nevada Mountains surrounding you.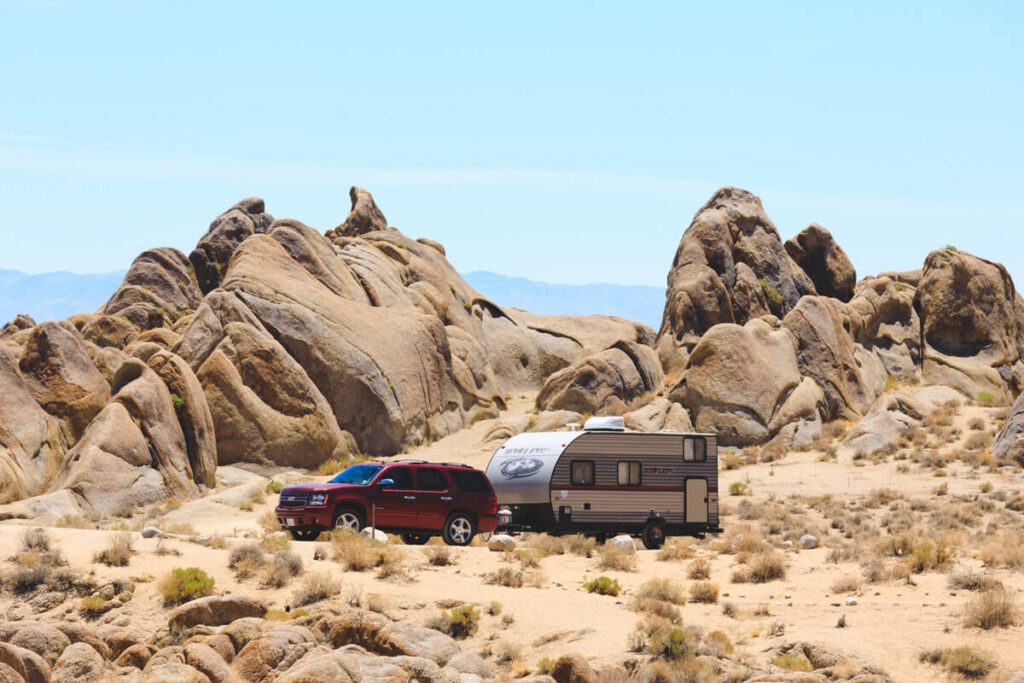 Campsites
Campsites are abundant in the areas surrounding Movie Road, here are just a few of the best.
Tuttle Creek Campground – This campsite offers a cheap place to pitch a tent for the night or take your RV. The camp is primitive, but you will never pay much for your spot, and you will have the luxury of vault toilets and potable water.
Boulder Creek RV Resort – If you prefer a campground with all the facilities, Boulder Creek may be your answer. The resort is located in the town of Lone Pine and offers several camping options, from pull-through, drive-through, and back-in sites, to beautiful glamping cabins. Don't hold back from using the facilities, which include a pool and hot tub, playground for the kids, free wifi and cable TV, a mini market, laundry, shower facilities, and a clubhouse.
Whitney Portal Campground – This campground allows you to get closer to the incredible Mount Whitney. The campsites are scattered on either side of the creek. Drinking water and vault toilets are available, as well as bear-proof storage lockers (which you have to use). There is also a small convenience store so that you can stock up on supplies.
Dispersed Camping
The Alabama Hills are known for their free camping. Managed by the BLM, much of the area is open for dispersed camping, meaning you can camp for free wherever you like. You are not allowed to stay for more than 14 days.
If you are dispersed camping, you need to ensure that you are not damaging the environment in any way during your stay. The environment of the hills can be very fragile, not helped by humans who are not respectful of their surroundings.
Also, be aware that some areas have become day-use only, so look for the signs. Don't move rocks or boulders to make sites bigger and always choose an area free from vegetation. Some tips for camping responsibly include:
Camping where others have camped where possible to reduce erosion. Durable surfaces are best if you can't find any areas that have been obviously camped on before.
Always check for burn bans before starting a fire. These are especially frequent during the hotter summer months. We all need to do our bit to prevent fires.
Leave no trace. This doesn't just apply to camping, always take your trash with you!
We hope this helped you plan your trip down Alabama Hills Movie Road!
I've been perpetually traveling and living around the world for years but it's hard to beat California and the PNW. After years of road-tripping the area, I guess you can say I know it pretty well! When I'm not writing guides for you, you can catch me somewhere petting a dog, attempting to surf, hiking a volcano, or stuffing my face with bread and cheese.