If you're looking for the best things to do in Yosemite National Park, you're in luck, there's no shortage of adventures here! This is one of the most popular parks in the entire country—and one that definitely lives up to the hype.
Seriously, visiting Yosemite won't let you down. Expectations will be met or surpassed, and you'll be simply—blown away!
If you're excited but feeling a bit overwhelmed, have no fear. We got you. This article will go beyond the best things to do in Yosemite and provide you with all the knowledge and tips you'll need to make sure your visit is LEGENDARY!
Things To Do in Yosemite National Park
---
Here's a handy map to show you all of our most recommended things to do in Yosemite. The article is laid out in a simple and easy-to-consume manner separating activities by type plus offering you the best times to visit Yosemite, how to get around Yosemite, and of course, all the tips you'll need.
Go Hiking in Yosemite National Park
We're giving you the best stuff first! Hiking is undoubtedly the best thing to do at Yosemite National Park. This is where you'll get the best vistas in the park, and having to work for it makes it that much sweeter.
No worries if you're not a huge trekker, we have a mix of easy to difficult hikes here for you to choose from.
1. Glacier Point
Distance: 0.6 miles
Type of Trail: Loop
Difficulty: Easy
Elevation Gain: 167 ft
The hike may be short, but the payoff is incredible. Glacier Point is one of the most well-known viewpoints in the entire park. With Half Dome standing tall and proud in front of you across the valley, reaching this lofty vista is one of the best things to do in Yosemite.
The trailhead can be found at the end of Glacier Point Road, which is only open during the summer months, and then the view is just a short stroll from the parking lot.
If you are up for a (big) challenge, you can take the 4-mile hike from Yosemite Valley to Glacier Point. With the viewpoint towering 3,200 feet from the valley floor, you are up for a grueling climb, but the incredible views along the way, serene paths through ponderosa pines, and the sense of achievement when you reach the south rim make it well worth it.
2. Valley Floor Loop
Distance: 20.1 miles
Type of Trail: Loop
Difficulty: Easy
Elevation Gain: 1,217 ft
Many trails in Yosemite require hiking up cliffs to reach viewpoints or get up close and personal to the top of towering waterfalls. If you would prefer to keep your feet on flat ground but still get some incredible views, the Valley Floor Loop is a great alternative.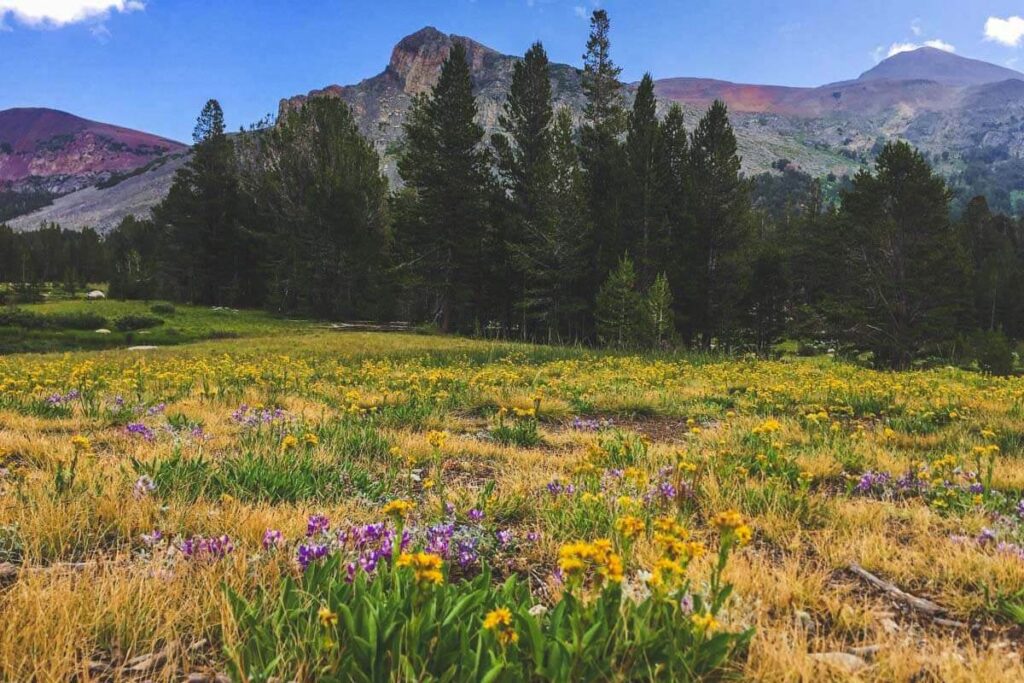 You will traverse through lush meadows with impressive views of the granite cliffs surrounding you. Highlights include incredible views of Yosemite Falls, El Capitan, and Sentinel Rocks along the way. You can do the full or half loop, depending on your time and how far you want to hike.
Seeing as the trail covers a lot of the valley floor, you can start the hike in many different places, making it very convenient to access. If you don't want to walk this trail, just rent a bike and cycle it instead!
3. Yosemite Falls Hike
Distance: 7.6 miles
Type of Trail: Out & Back
Difficulty: Hard
Elevation Gain: 3,218 ft
Leading to one of the country's tallest waterfalls, this is a trail you do not want to miss. It is a challenging hike, and you can expect it to take 6-8 hours to complete. It also has a lot of switchbacks, but don't let this put you off.
Right from the get-go, you will start to feel the thigh burn as you switch back through thick forests, but it won't be long before you are treated by your first incredible panorama of the valley.
The first stop is Columbia Rock, which is often the turning point for some hikers, satisfied with the views of Half Dome and Sentinel Rock at this point. Keep climbing until you reach the top of Yosemite Falls and gaze down at the mighty 2,425-foot drop.
4. Sentinel Dome Trail (Combo This With Taft Point for a Loop)
Distance: 2.1 miles
Type of Trail: Out & Back
Difficulty: Moderate
Elevation Gain: 456 ft
The short and sweet Sentinel Dome trail scales one of the highest domes in the park, but with minimal effort involved.
You will already have made up much of the height with your drive up Glacier Point Road to reach the trailhead, so all you have left to do is complete the short hike through the forest and scale the dome to be rewarded with 360-degree views of the valley and beyond.
If you can't get enough of the expansive views and turning around to go back to your car is just not an option, you can always continue the hike and make your way to nearby Taft Point.
The trail will take you along the rim, giving you further glimpses of the valley before reaching the jutting cliff that is Taft Point and its surrounding fissures.
---
READ MORE: Sentinel Dome and Taft Point Loop Hike in Yosemite National Park
---
5. Mist Trail (One of Our Favorite Things to Do in Yosemite!)
Distance: 6.0 miles
Type of Trail: Loop
Difficulty: Hard
Elevation Gain: 2,162 ft
The Mist Trail is a Yosemite right of passage, a quintessential climb that brings you the best of what the Valley has to offer but don't expect to be in for an easy ride.
Along the way, you will be greeted with incredible vista after incredible vista, with wooden bridges and granite steps doing their best to break up the almost continuous ascent. After tackling 600 steps, the first major highlight is the 317-foot Vernal Falls.
If you continue upwards, the views keep getting better, and after another steady climb, you will finally reach the arguably more impressive Nevada Falls at 594 feet.
---
READ MORE: Vernal Falls Hike—3 Ways to Hike Up!
---
Take a Dip in Yosemite National Park
If you're hot from all those hikes or need to rest your feet, throw on your swimsuit and dip in the refreshingly cool waters that litter this area. Whether you're just stopping by for a nice vista or brave enough to take the plunge, visiting the lakes here is one of the best things to do in Yosemite National Park.
6. Tenaya Lake
Tenaya Lake is often considered one of Yosemite's most beautiful bodies of water, and you will soon see why it is referred to as the Jewel of the High Country. It is surrounded on three sides by the iconic peaks and domes that make up the Yosemite landscape.
Recreational opportunities are abundant, with swimming, boating, and kayaking all very popular. Sun worshippers can even get their fill of sunbathing, thanks to the sandy beach found at the east end of the lake.
Although it is up there with one of the most beautiful spots in the park, its distance from the valley means you won't be fighting for a spot to lay your beach towel, making it one of the best things to do in Yosemite.
7. The Merced River by Wawona Swinging Bridge
There are various spots where the cold-faring brave can dip their toes into the Merced River, but a popular spot is by Wawona Swinging Bridge. The secure yet bouncy bridge spans a section of rushing water, and there is even a rock waterslide slightly up the river.
Some patches of the bank are sandy, meaning you don't have to plunge blindly into the water, and paddling is a totally acceptable way to get used to the cold water! The best time to access this swimming spot is after the rush of spring, when the water can often be very fast-flowing and dangerous.
8. McClendon Beach Day Use Picnic Site
With picnic tables and toilets nearby, it is hard to find a better place to go for a dip, surrounded by the beauty of the surrounding forest.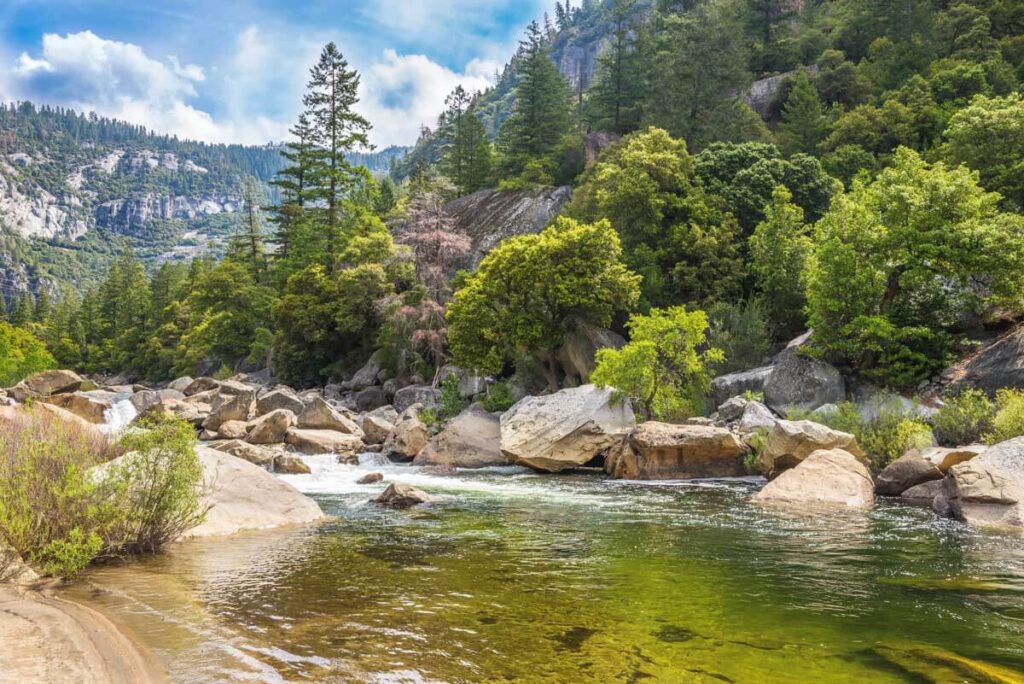 This day-use area is your easy option for swimming, there is no hike to reach it, and you can pull up in your car to the paved parking area. If you are feeling a little adventurous, you could have a go at white water rafting nearby along the Merced River (more on this soon).
Chase Waterfalls in Yosemite National Park
If you're a waterfall freak like us, you'll love this section! We touched on a few of these in the hiking section, but we had to gather the best waterfalls in Yosemite here to give you a better picture of how to chase some of the country's coolest waterfalls…
9. Horsetail Fall
Ever seen a red waterfall? You may have a chance to if you visit Horsetail Fall at just the right time. The ideal time to capture this magical natural phenomenon is a sunny winter day, just as the sun sets. Many consider seeing this natural wonder one of the best things to do in Yosemite.
This waterfall flows over the eastern edge of El Capitan, falling 2,130 feet to the valley floor. Be sure to catch it in spring if you want to see it at its best or in February for the remarkable 'fire falls.'
Just note that this is also a seasonal waterfall. So while you might catch a glimpse of it in "regular form" (during winter and early spring), during dry season, you won't see it at all!
10. Yosemite Falls (Lower and Upper)
The stunning Yosemite Falls is undoubtedly one of the most famous waterfalls in Yosemite Valley. Not only is this towering turret of water particularly impressive, but the combination of lower and upper falls is an incredible 2,425 feet, making it one of the highest in North America.
Keep in mind that the waterfall is often no more than a trickle in summer, so come in spring if you want to see it in all its glory. While we mentioned this as a hike above already, you'll be happy to know you can see most of this waterfall from the valley floor as well as numerous viewpoints around the park (more on this soon).
11. Nevada Falls
Nevada Falls is another Yosemite classic. At 600 feet, it is your picture-perfect waterfall and flows all year round. Nevada Falls can be reached by climbing the steep Mist Trail, a trail that gets its name from the excessive spray from this mighty waterfall.
12. Vernal Falls
What Vernal lacks in height at 320 feet (although this is still pretty impressive), it more than makes up for in sheer power. The pummeling torrent of water can be reached by the Mist Trail, just like Nevada Falls, and it's uphill all the way.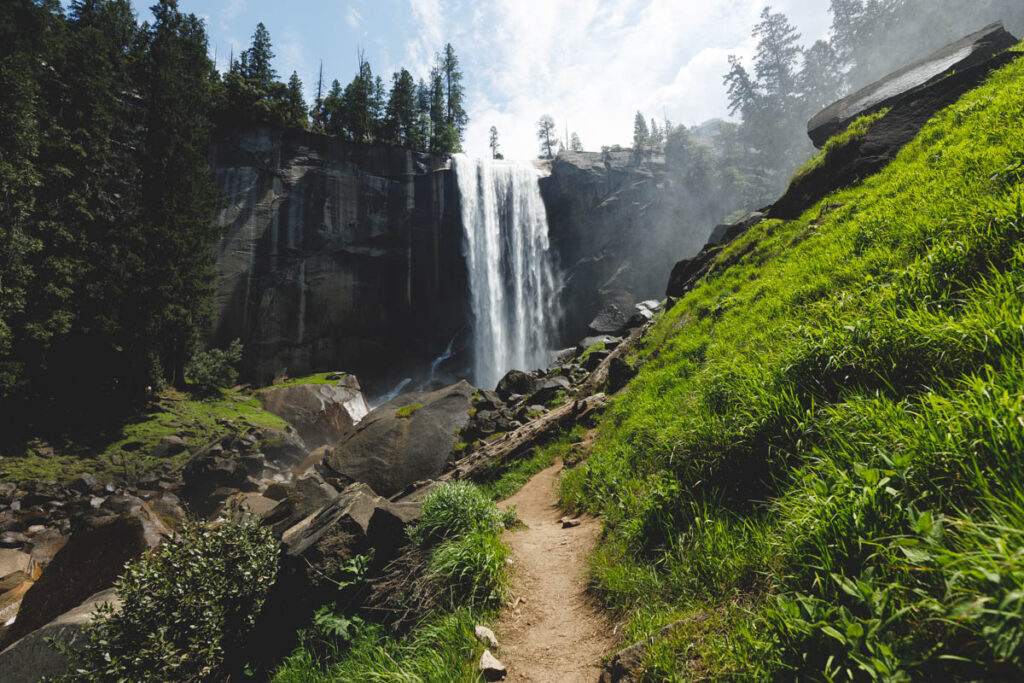 However, the waterfall is not the only reward for completing the grueling accent, as the panorama from this vantage point is out of this world. We think this is one of the best hikes and things to do in Yosemite.
13. Bridalveil Fall
Bridalveil Falls is the grand guard of Yosemite that stands proudly almost at the entrance to the park. At 620 feet, it is not the highest of Yosemite waterfalls, but you can reach it with just a few minutes of walking, so definitely one to add to your bucket list of things to do in Yosemite.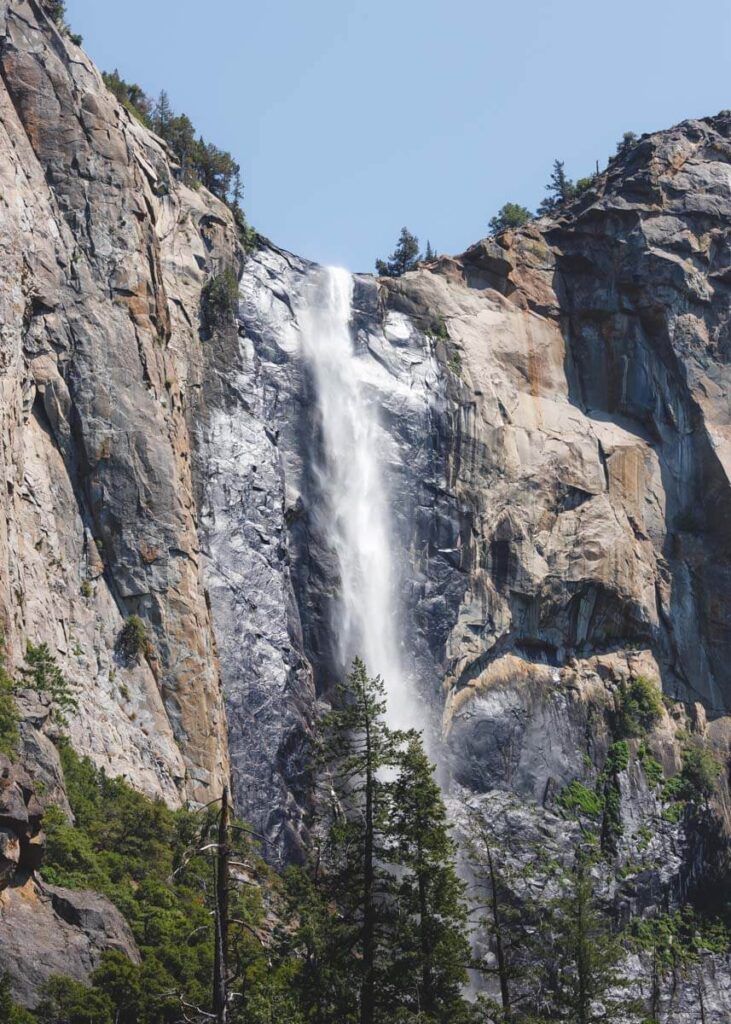 Wander Around Giant Sequoias in Yosemite National Park
Come down and see some of the lesser-visited areas and things to do in Yosemite National Park. Wandering around these giants will leave a BIG impression on you, and you'll have a chance to escape the crowds for a bit—well, as much as you can in this busy park!
14. Mariposa Grove
If you want to visit the gentle giants of sequoia trees while in Yosemite, Mariposa Grove is likely your first choice, and for a good reason. It is the biggest of the three groves within the park, with around 1000 giant sequoias nestled with the other tree species.
It is unsurprisingly the most popular sequoia sighting spot, so you shouldn't expect to visit these towering trees alone. However, with around 1000 trees to view, there is enough for everyone. There are a few hikes in the Grove, with favorites including the short Big Trees Loop or the more strenuous Guardians Loop Trail.
For an easy way to view these incredible trees, consider using the free shuttle that will save you from struggling to find a place to park.
15. Merced Grove
Hiking in Merced Grove is a magical experience. It is much less popular than Mariposa, so you'll truly feel immersed in the trees. It's the smallest of the three groves, with only about 20 sequoias, but that doesn't make them any less impressive, and after just a short downhill hike, you will wander amongst them.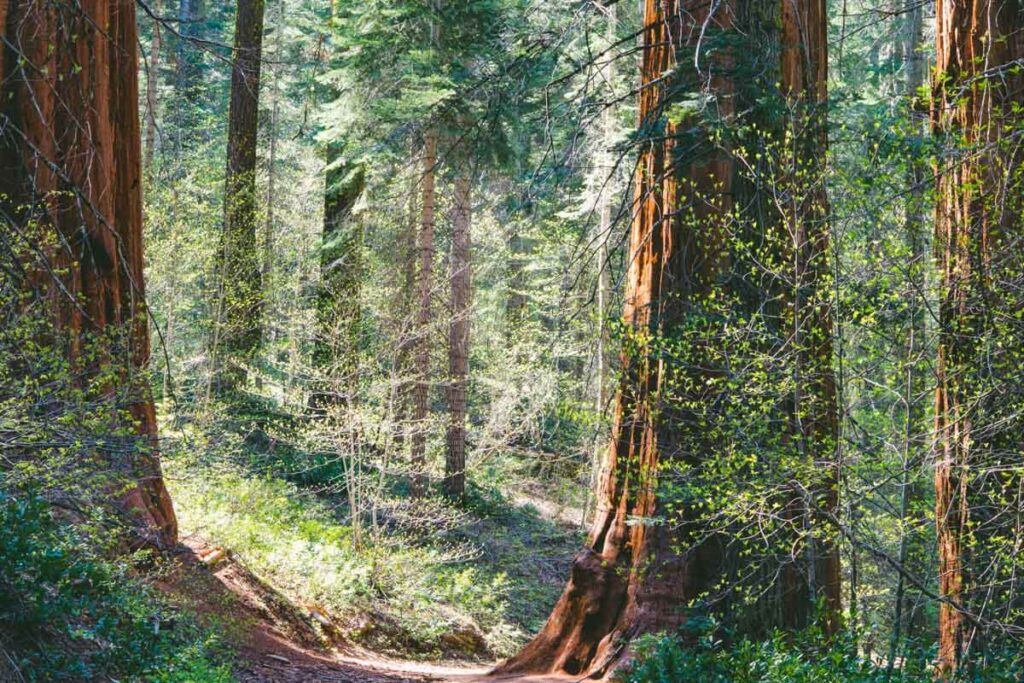 16. Tuolumne Grove
Tuolumne Grove, although still a baby compared to Mariposa, it is slightly bigger than Merced Grove. At least half a dozen mature sequoias are here to hunt out when you visit.
The hike to reach them is all downhill (although, of course, that means it is uphill on the way back) and is incredibly scenic. Plus, this grove has the added attraction of a tree you can walk through!
Best Views in Yosemite National Park
Just scooting past all the things to do in Yosemite? Don't have time to stop at too many places or do any hikes? Just want a relaxing visit? We got you! There are some epic spots that require ZERO effort to visit but will leave you gobsmacked. These are where you can catch the best and easiest-to-reach views in the park.
17. Olmsted Point
Olmsted Point offers a unique view of the incredible Half Dome rock formation. It's not your classic valley view, but it will give you a chance to see something different, with Tenaya Canyon spreading below you.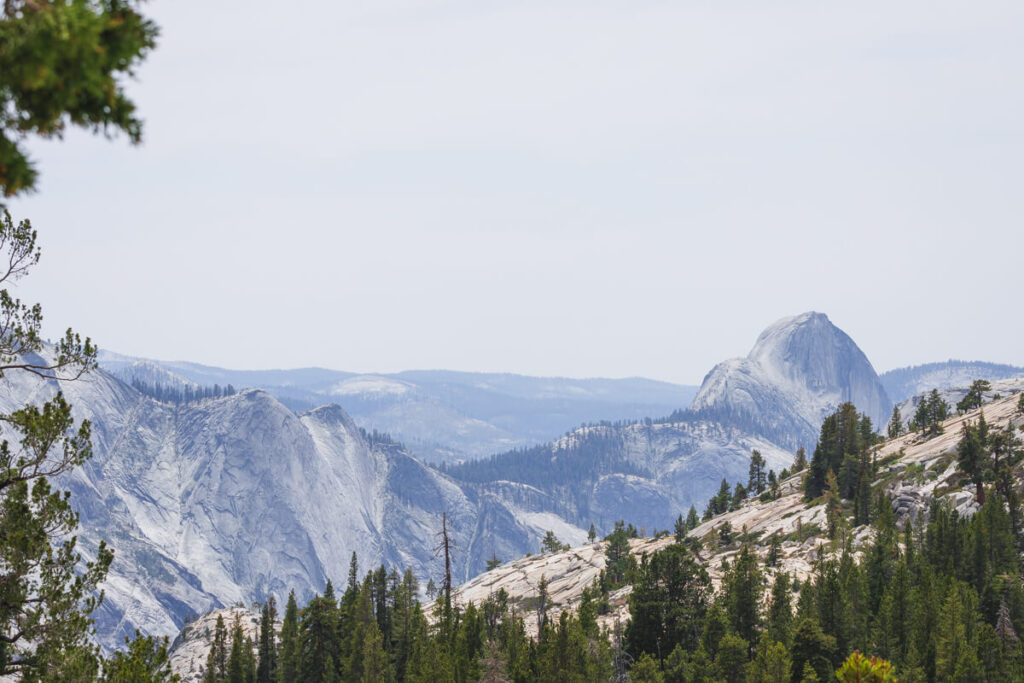 18. Yosemite Valley Vista Point
The views stretching down the valley at Yosemite Valley Vista Point are spectacular. On a clear day, you can see down to the Half Dome at the other end of the valley. The views of El Capitan are also incredible from this easy-to-reach viewpoint.
19. Tunnel View
Tunnel View is arguably the most iconic view of Yosemite Valley, so include it in your itinerary of things to do in Yosemite. The view is almost too perfect to be true.
The towering cliffs perfectly frame the bed of rich green pines. You've even got a waterfall thrown in as a bonus. You've also got the impressive El Capitan in view, with Half Dome poking its rocky face around the corner in the distance. Find this view at the western end of the valley.
20. Yosemite Valley View
If you have a fear of heights but still want to see an incredible view, look no further than Valley View. You'll have your feet firmly planted on the floor, and this time will look up at the rocks and waterfalls from the valley floor rather than looking down.
Take in the beautiful Merced River, El Capitan, and the Cathedral Rocks and Spires.
21. Washburn Point
Want a breathtaking view without the breathtaking hike? Try Washburn Point. At 7,500 feet up, you'll be able to take in some serious vistas and only walk 20 steps from where you have parked your car.
Take in Half Dome, Vernal Falls, Nevada Falls, and Illilouette Falls without as much of a crowd as other well-known viewpoints like Glacier Point.
22. White Water Rafting
White water rafting along the Merced River is a bucket list experience. You will be surrounded by some of the most spectacular natural scenery in the world as you traverse the white water, led by experienced guides. There are many points along the river, with many companies offering rafting tours.
Depending on your adrenaline level, there are two main options for rafting in Yosemite. In the valley, the water tends to be much calmer, so you can take in your surroundings.
Just outside the park on the Merced River, be prepared for a bit of a bumpy ride, as the rapids here can range from a 2 to a 4 depending on the conditions, such as the time of year.
Peak snowmelt is where the water is at its highest and fastest, so come a little later in the year if you're not prepared for class 4 rapids.
Scenic Drives Around Yosemite National Park
Yes, that's right, you don't even have to leave the car to get absolutely stunning views around Yosemite National Park. The best part is you'll have to do most of these drives just to get to the things we've listed above anyway!
But we had to make this its own section as these will take you time to complete. You'll be driving slowly, staring out your window, and drooling over these scenic drives because cruising these roads is some of the best things to do in Yosemite National Park!
23. Hetch Hetchy
If you want an alternative perspective of this well-trodden park, give the Hecht Hetchy Drive a try. This valley is like its more famous neighbor, with awe-inspiring granite cliffs, pines, and blue waters.
The most significant difference is you won't have throngs of tour buses and shuttles trailing you down the road or an angry driver trying to beat you to a parking space. It certainly is one of the more unique things to do in Yosemite.
The drive's highlight is the 8-mile reservoir, offering excellent hiking opportunities if you want to stretch your legs. Once you reach the pool, you'll have to turn around and drive back the way you came, but think of this as your second chance to take in the views.
24. Glacier Point Road (Most Popular Thing to Do in Yosemite!)
Every second of driving Glacier Point Road is just gorgeous. We wouldn't be surprised if you got whiplash from the number of times you turn your head this way, then that way, trying to take in all the views.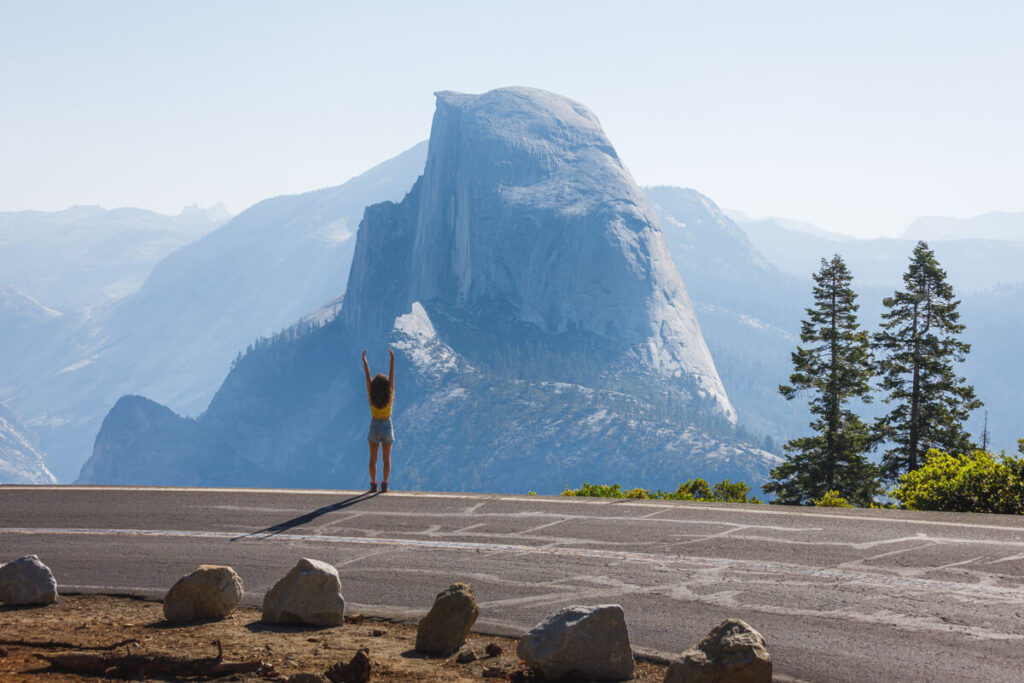 The road is 16 miles long and completely paved, making for an easy drive. While the road is beautiful, it is nothing compared to the stunning views of the valley to which the road will finally lead you.
There are numerous other hikes, viewpoints, lakes, meadows, and ski areas along the way, with highlights including the Mono Meadow Hike, Sentinel Dome and Taft Point Hike, Ostrander Lake, and the Badger Pass Ski Area.
25. Tioga Road
Tioga Road is only accessible into the summer months, and trust us when we say it is worth traveling in the summer so that you get to ride this incredible road.
One of the reasons for the winter closure is that it goes over Tioga Pass, the highest highway pass in California, meaning in the colder months, the road is simply impassable.
In addition to the impressive granite cliffs that make up much of the Yosemite landscape, on this route, you can also take in picture-perfect alpine lakes and meadows that seem to go on as far as the eye can see. Plus, with viewpoints such as Olmsted Point along the way, the drive is a destination in itself.
26. Yosemite Valley Loop
Yosemite Valley is surprisingly easy to drive around. In many cases, seeing the incredible valley and surrounding mountains is just as impressive as seeing the sights from a lofty position.
You can take in some of the park's most well-known landmarks, such as El Capitan, Half Dome, and incredible waterfalls, like Bridalveil Falls. There are trailheads, amenities, pull-offs, viewpoints, and more, making it a great day trip.
How to Get Around The Park
Driving – Driving is the most popular way to get around the park. Let's be honest; there is something nice about being on your own schedule, driving directly to your destination, and being able to blast those road trip runes along the way.
Bear in mind, if you are coming from outside the park in the morning, start early, as the valley is quite a drive from most towns. It is also worth noting that in the summer months, the park's roads are hectic, so you might spend some of your precious park time sitting in traffic or looking for a space.
Shuttles – If you would prefer to leave the car at your accommodation and travel without the anxiety of getting a parking space, Yosemite operates a free shuttle system.
The shuttle runs in Yosemite Valley, Tuolumne Meadows, and Wawona, and you can hop on and off as much as you please. Free and paid buses run to different sections of the park, such as between Wowana and The Valley.
Rentals – For many people, renting a camper from a company like Outdoorsy is an exciting option. Explore Yosemite Valley in your own traveling home, staying in one of the campsites at night. This way, you will have easy access to all the major sights first thing in the morning, giving you the best chance to beat the crowds.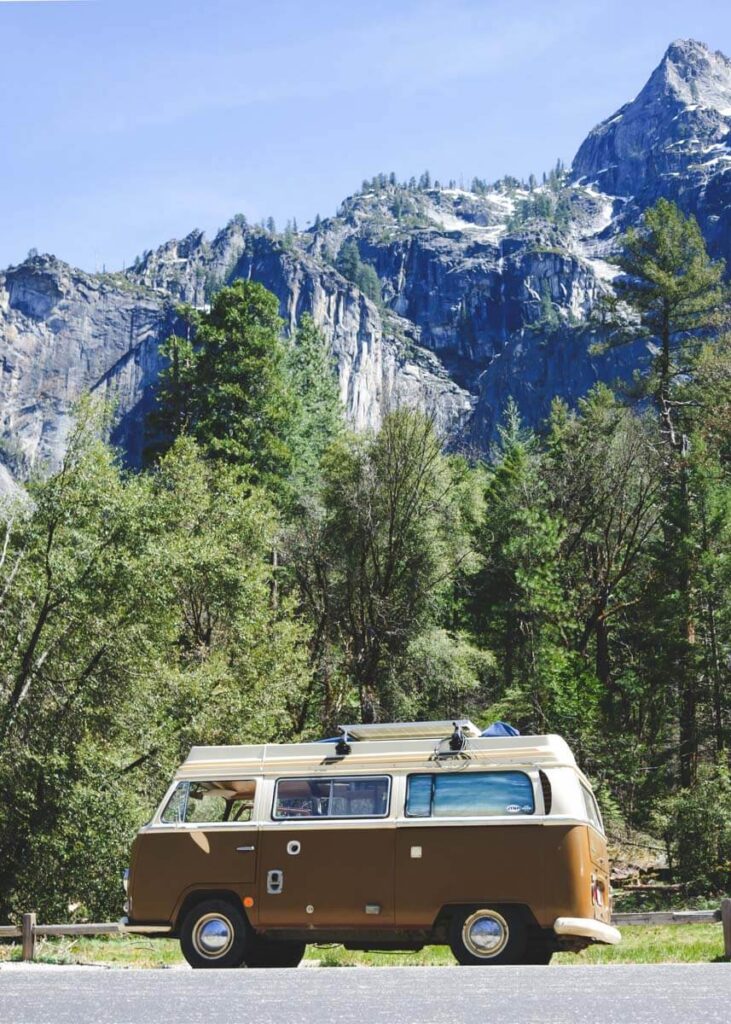 Guided Tour – When you don't have your vehicle to get around in, getting to and getting around Yosemite gets a little trickier and involves much more planning. Some companies offer full-day trips to some of the park's main attractions if you want to take the easy route.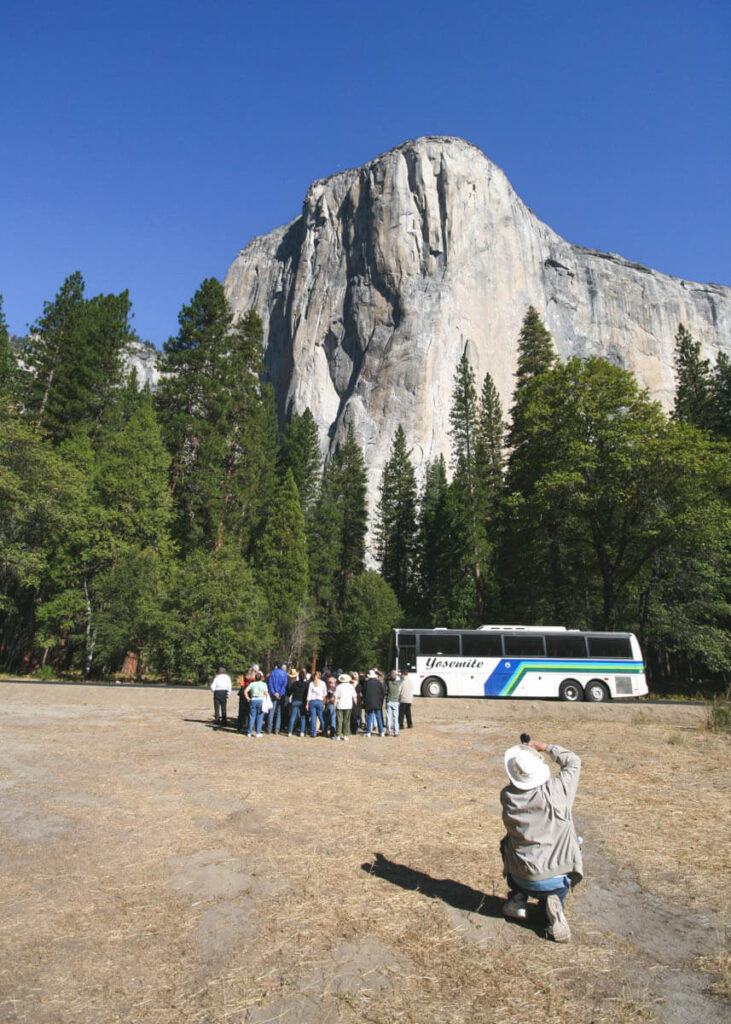 This option is not for everyone. You will be sticking to a very tight schedule, so it all might seem a bit rushed, but it is an excellent way to pack a lot into a short period of time. There is a vast range of tours to choose from depending on what you fancy seeing and where you are coming from.
If you are coming from places like San Francisco, you have to consider that a large chunk of your day will be taken up by getting there. Most trips will take you to highlights such as one of the sequoia groves, a waterfall, a few photo stops, and some free time.
Buses in Yosemite
Yosemite Hospitality also offers bus tours year-round, although you must make it to the park first, as all tours start in the Valley. These include a Valley Floor tour, a Glacier Point tour, the Grand tour, and the Tuolumne Meadows Hikers Bus tour.
Road Conditions
Yosemite's road conditions depend on the time of year. During the winter months, many of the roads within the park close due to snowfall and unsafe conditions, which can make traveling a little tricky.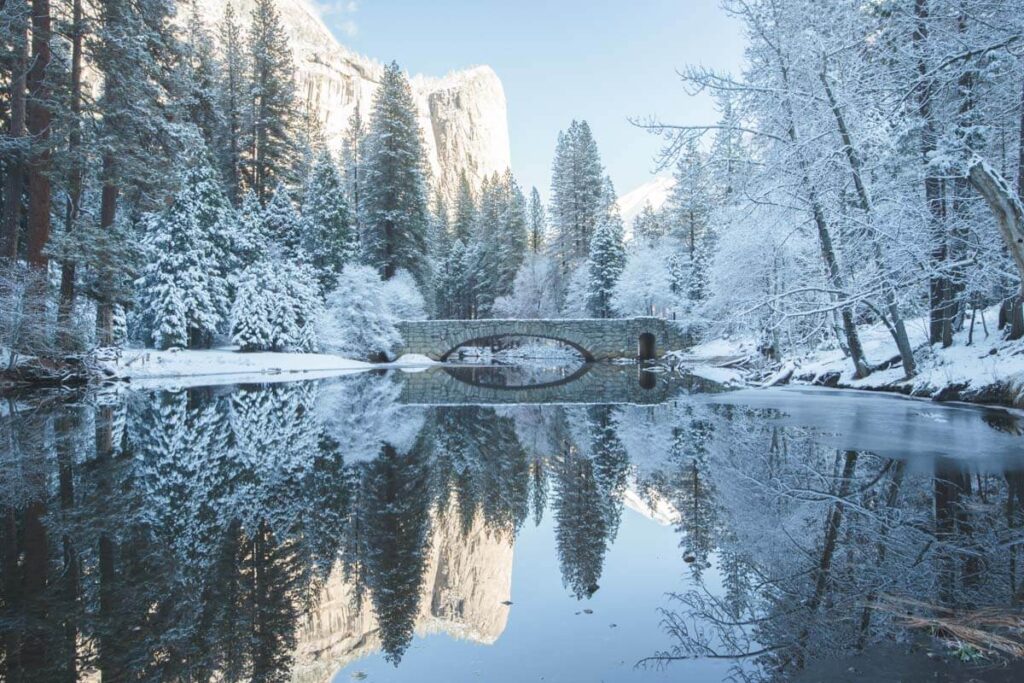 The two main road closures are Tioga Road and Glacier Point Road, which may not open again until late May or even June. Some shuttles also close for the season, such as those that travel Mariposa Grove Road.
If traveling in winter, your car must be equipped with tire chains, even if your car is a four-wheel drive. Hidden ice spots and quick changes in weather can make driving at this time dangerous.
Best Time to Visit Yosemite National Park
The best time to visit Yosemite National Park is subjective and depends on what you want to get out of your visit. A general rule, however, is to stick to the spring and summer months.
April to June: This is considered by many as prime Yosemite time. The weather will get warmer; roads should now be open that close for the winter periods, and waterfalls will look their glorious best. May is when the valley's waterfalls come into their own.
You will also be avoiding the crowds that the summer months bring so that you won't be battling with other hikers on some of the most famous trails and at well-known viewpoints. There is a chance that there will still be a few road closures at this time, such as Tioga and Glacier, as this is hard to predict year after year.
July and August: You have the best chance of getting the finest weather in July and August, but of course, the summer months also bring the crowds. You can rest assured that during the summer months, all roads in the park will be open, so you can explore as you please and reach all of the high-elevation attractions.
Some waterfalls, such as Yosemite Falls, may start to dry out toward the end of summer. However, some people feel that the fall colors make up for the lack of water.
September and October: September and October are also great months to visit Yosemite, as the summer crowds would have thinned, and the weather is a lot cooler, making hiking much more comfortable. At this time of the year, some of the waterfalls may have been reduced to just a trickle, so if you are a big waterfall lover, this is something to consider.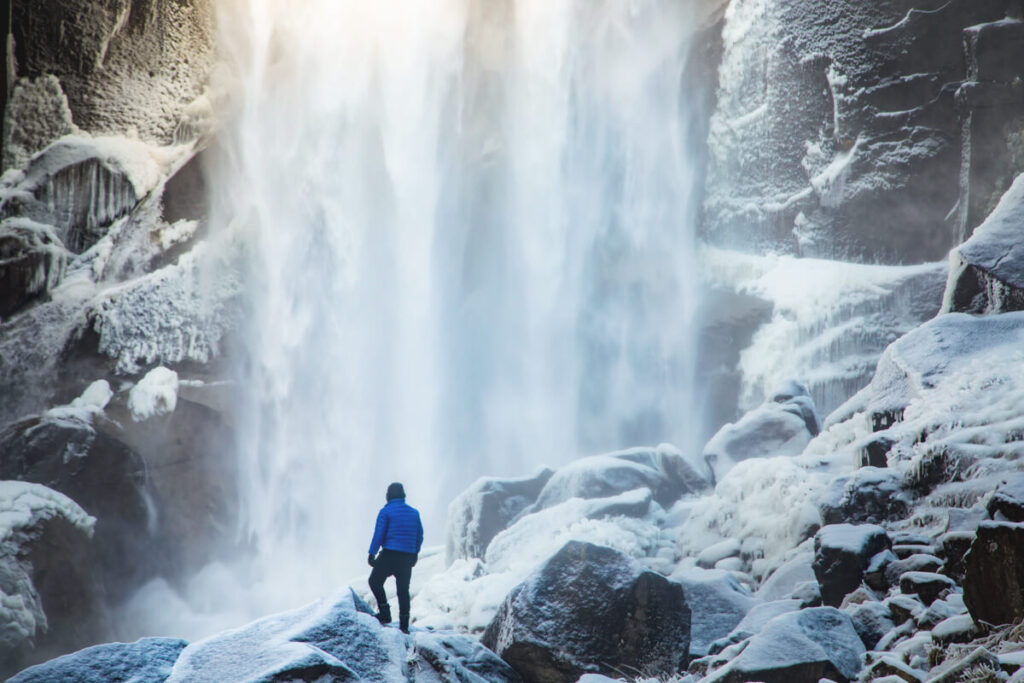 Winter: Not all of Yosemite shuts down during the winter. Head to the park from late November to March to experience a winter wonderland, with many ski areas open. This is the best time to try skiing or snowboarding in one of the most beautiful places in the world.
Tips for Visiting Yosemite National Park
Book in advance – Yosemite is one of the most visited places in America, meaning chances are you can't just rock up and hope to get a room in a nearby hotel or spot in a campsite. Do your research and book in advance. If you know what dates you plan to visit, start booking as soon as possible so you don't miss out on the best spots.
Use the free shuttles – Driving in Yosemite can be a bit of a nightmare in peak season, and finding a parking spot is another nightmare entirely. The shuttles are easy to use and will take you to the park's best spots.
Start early – You can usually beat the crowds if you arrive at the park early. If you are staying close by, it is worth abandoning that lay-in and getting to the most popular spots in the park as early as possible so you can at least get parking space.
Plan your trip – This park is a big place with so much to see, so it is worth making a rough Yosemite itinerary before you arrive so you have time to see all the best bits. Driving times can be long and busy, so give yourself enough time.
Go off grid – Cell reception is terrible within the park, and the hotels in the area even struggle with WiFi. Make sure you print or download all your documents and maps before you arrive, so you don't get caught without.
Visit in summer and fall – Yes, the summer months will be crowded and expensive, but at this time, you can guarantee access to the park's main attractions and won't have to worry too much about road closures. Try to avoid July and August if possible, as these can be incredibly busy.
Stick to spring if you want waterfalls – Waterfalls look their best in spring and summer, and some may only be a trickle later in the year if you want to see the waterfalls (they are seriously worth seeing), make sure you plan your trip from May to July.
Consider the wildlife – Wildlife is abundant in Yosemite, including bears. You have a pretty high chance of spotting a bear on your trip. Remember, these wild animals can be very dangerous, so respect them, keep a safe distance, and follow the rules.
Plan your route – Don't just follow your map to 'Yosemite National Park' when traveling from elsewhere. Yosemite is huge and will bring you miles from where you want to be. Yosemite Valley is likely your desired destination and can be about an hour from the park's entrance. And keep in mind Glacier Point is an entire HOUR away from The Valley as well—This is something that many people don't realize. This park is MASSIVE.
It's remote – While Yosemite is a big popular park, you're not going to be near very much. Pack in snacks, meals, and anything else you might need. There are some expensive cafes in The Valley, and a few of the tiny surrounding towns will have a spot or two to grab some food, but that's about it.
Gas – There are two expensive and finicky gas stations just outside the park's limits. Don't forget to fill up when you can because once you're in the park, you might have to drive an hour back out just the fill up and continue your day. And a side story – During one of our visits, the gas station in the southwest end of the park BROKE. Luckily it was our last day, and we had JUST enough to make it to the next gas pump.
Avoid wildfire season – Most years, Yosemite Valley will be affected by wildfires. These will usually occur during the fall months, and even if there are no fires directly in the park, even those in the surrounding area will cause the air to be filled with smoke.
Fees – Be prepared to pay for the one-time visit fee ($35) that's valid for seven days. Or if you plan on visiting other national parks in the year, the America The Beautiful pass will save you tons of cash and would be the best way to go.
We hope this helped you make the most epic trip with all the best things to do in Yosemite National Park that YOU want to do!
---
RELATED: Your Guide to Alabama Hills Movie Road
---
I'm California-obsessed and a serial PNW road tripper. I've been traveling the world since 2011 but this side of the world always reels me back. I chase waterfalls and epic hikes in my trusty VW Bus named Lucy.