The rugged beauty of the waterfalls in Northern California is something else! Some of the best and most popular waterfalls in the USA are right here.
While we'd agree that some of the waterfalls in Northern California are out of a fantasy, we can't promise you'll come across any fairies or magical unicorns on these trails—but we can promise a well-worth-it adventure!
From the tranquil whispers of tumbling waters to the thunderous roar of falls crashing into rocky pools, we're going to show you the best of the best with all the info you'd need to go exploring. We're kinda professional waterfall chasers, so you're in good hands.
Let's get into it!
Northern California Waterfalls
---
I know you're ready to get this party started, but here are a few tips before you head out. Trust us, after exploring California for years, you'll want to keep these things in mind before your trip.
Check Trail Conditions: Before heading out, research the current trail conditions and any closures. California's weather can be unpredictable, and trails may be closed due to safety concerns or maintenance.
Timing is Key: Visit during the spring months for the most impressive waterfall displays. Late winter and early spring typically offer the highest water flow after the rainy season.
Stay Hydrated: Northern California can get hot, especially in the summer. Carry plenty of water to stay hydrated during your hikes, even if the weather seems cool.
Leave No Trace: Respect the environment by following Leave No Trace principles. Pack out all your trash, stay on designated trails, and avoid disturbing wildlife.
Wildflower Season: If you're a fan of wildflowers, plan your visit in the spring when many of Northern California's waterfall trails are adorned with colorful blooms.
Less Crowded Hours: Consider visiting early in the morning or on weekdays when there are fewer crowds.
Winter Road Conditions: If you plan to visit during the winter months, be prepared for potentially icy or snowy road conditions, especially in higher elevation areas. Check road conditions and carry tire chains if required. Some access roads to waterfalls may be closed during winter, so confirm accessibility before your trip.
California Fire Season: Be aware of California's wildfire season, which typically occurs during late summer and fall. Check for fire alerts and advisories in the area you plan to visit and follow any instructions or closures due to fire danger.
1. Alamere Falls (A Waterfall in Northern California That Empties Into The Ocean!)
Distance: 13.7 miles
Type of Trail: Out & back
Difficulty: Hard
Elevation Gain: 1,817 feet
Embark on an adventure to Alamere Falls, a tidefall waterfall gracefully emptying into the Pacific Ocean! Located within the picturesque Point Reyes National Seashore, this hike begins at the Palomarin Trailhead, tracing the Coast Trail through a varied landscape of eucalyptus groves, forested stretches, and breathtaking ocean panoramas.
There are a few different ways, but this is the most recommended track to take (and one of the shortest options, if you can believe it)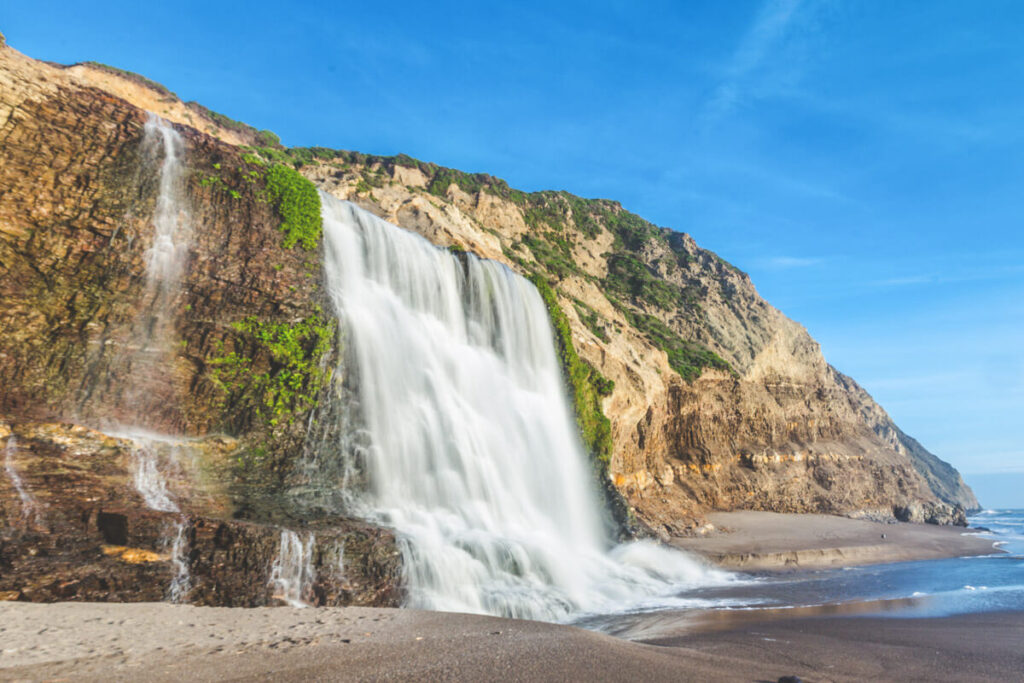 You walk along the trail and, pass landmarks like Bass Lake, Pelican Lake, and stride down Wildcat Beach. Keep an eye out for wildlife, respecting the habitat of elephant seals and birds that inhabit the shoreline!
The culmination of your journey lies at Alamere Falls, a 40-foot cascade merging with the ocean. A sight worth every step! You'll work for it, so have no fear, trust that you will be impressed with this unique and stunning waterfall in northern California. Remember, the return trip demands more effort, with elevation gains on the way back.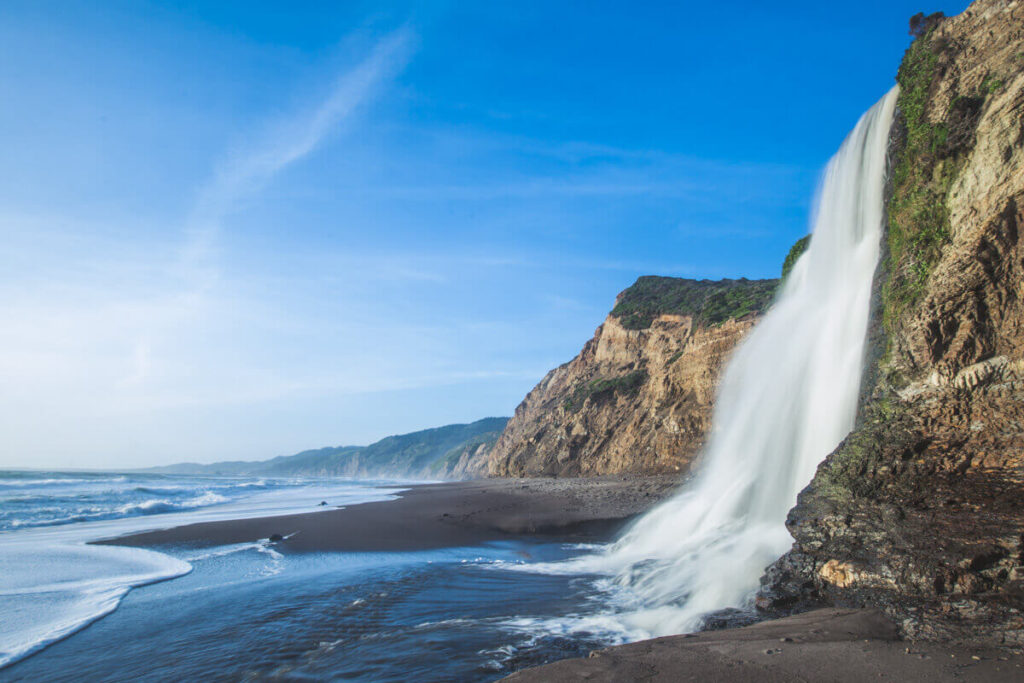 Note that there is a shortcut! But… You might not want to take it. It's discouraged by the National Park Services because it is a bit overgrown and can be dangerous too. The shortcut is just after Pelican Lake on the left.
Another important note is that you should plan your visit at low tide. If the tide is too high, you won't get the opportunity to walk close enough down the beach to see the falls. Check the tides for this area here.
2. Whiskeytown Falls
Distance: 2.7 miles
Type of Trail: Out & back
Difficulty: Moderate
Elevation Gain: 761 feet
Whiskeytown Falls, once a hidden gem tucked away in the Whiskeytown National Recreation Area, remained largely unknown to the public for about 40 years.
The story goes that after the National Park Service took over in 1964, rangers and employees kept the falls secret by omitting it from survey maps. The waterfall's obscurity was eventually revealed!
Venturing to Whiskeytown Falls begins at the James K Carr Trailhead but make sure to nab your bug spray before heading out, they are annoying here! The trail descends, with the sounds of Crystal Creek accompanying your journey. After crossing a bridge, the ascent begins, offering benches along the way to rest.
Following the West Fork of Mill Creek, the trail reveals smaller cascades and a bridge crossing. After about an hour of hiking, the base of the Lower Whiskeytown Falls comes into view, but you're not done yet (well, unless you want to be…)
If you're up for it, the trail continues upwards, leading to the Upper Whiskeytown Falls. This section is challenging and is pretty dangerous during wet conditions, so tread carefully. A viewing deck near the upper falls offers a glimpse of this awesome waterfall in northern California just outside of Redding!
3. Crystal Creek Falls
Distance: 0.7 miles
Type of Trail: Out & back
Difficulty: Easy
Elevation Gain: 55 feet
A haven for birdwatchers and nature enthusiasts, this trail invites you to unwind and soak in the natural surroundings of Crystal Creek Falls!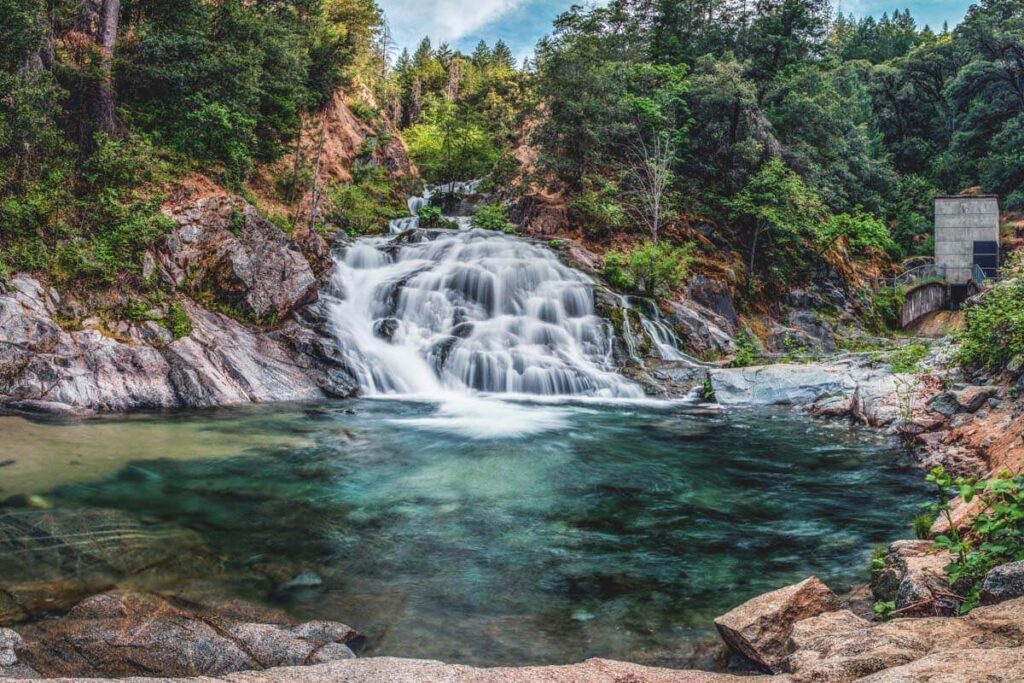 The aftermath of the 2018 Carr Fire will be evident, so be cautious of fire-related hazards, such as falling trees, loose rocks, and burned-out stump holes. Venture forth when the weather is favorable, as rainstorms can lead to flash floods and landslides in the fire-affected area.
Your adventure begins on the flat, paved trail behind the access gate. Follow it for about 1/3 mile until you reach a picnic and barbecue area.
Eventually, Crystal Creek Falls, a picturesque two-tiered cascade, unveils itself. While the pavement provides a great view, an informal dirt trail leads to the base of the falls, inviting you to dip a toe (or more) in the chilly water!
Don't want the adventure to end? You can continue and scramble a bit further up, and you'll find the upper falls in just a minute.
4. Eagle Falls and Lake Trail
Distance: 1.9 miles
Type of Trail: Out & back
Difficulty: Moderate
Elevation Gain: 459 feet
Venturing onto the Eagle Falls Trail unveils some of Lake Tahoe's most captivating landscapes.
If you only go to one area of Tahoe, let it be the Emerald Bay area. A fun journey awaits, offering a blend of waterfalls, creeks, lakes, granite peaks, and lush foliage. While the trail does have some rocky sections, along with steep stairs for ascending and descending, its rewards are well worth the effort.
The path leads you to an initial gentle climb, gradually transforming into an ascent up a set of stone steps. The striking falls greet you pretty quickly into this trail, and you can even walk across it via the bridge. If your aim is just the falls, then you can turn around here, but the lake is worth visiting too.
You can continue uphill for about half a mile until a fork emerges. Opt for the trail on the right. At the lake, the cold waters of Eagle Lake beckon for a refreshing swim or simply bask on the shores, soaking in the vistas.
5. Yosemite Falls
Distance: 6.6 miles
Type of Trail: Out & back
Difficulty: Hard
Elevation Gain: 3,254 feet
Step into the footsteps of history as you venture along one of Yosemite's oldest trails, the Yosemite Falls Trail! Dating back to 1873-1877, this iconic path guides you to the pinnacle of North America's tallest waterfall, standing at an awe-inspiring 2,425 feet (739 meters) above the valley floor.
Begin your trek at the Camp 4 parking lot, winding through oak woodlands with switchback after switchback, gradually revealing the breathtaking beauty that awaits.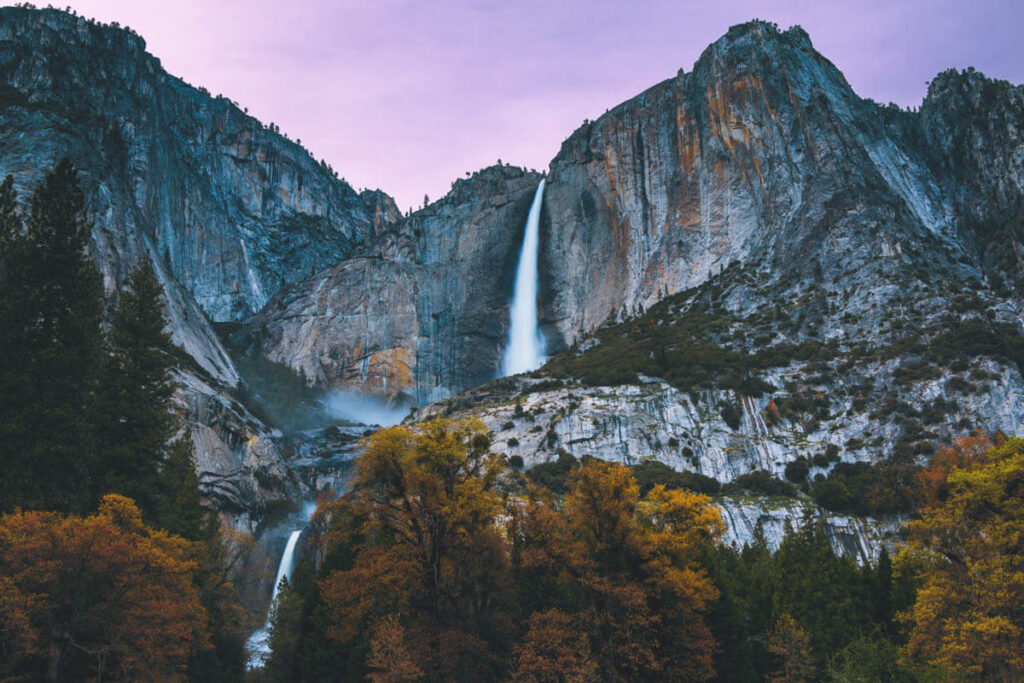 Here, there are mesmerizing vistas of Yosemite Valley and its iconic formations, such as Half Dome and Sentinel Rock. A one-mile, 1,000-foot climb to Columbia Rock treats you to sweeping views, a mere prelude. You may even feel the refreshing mist from the fall itself—a refreshing reward after a demanding climb.
Many people decide to call it here and head back down, which is an option if you're not up for a challenging climb. You will still have accomplished a feat by making it this far! But for those who want to push on…
The trail continues to the upper half—steep and rocky terrain challenges you, but the extraordinary panoramas that unfold are well worth the effort. Caution is advised near Yosemite Creek, as you're directly above the waterfall.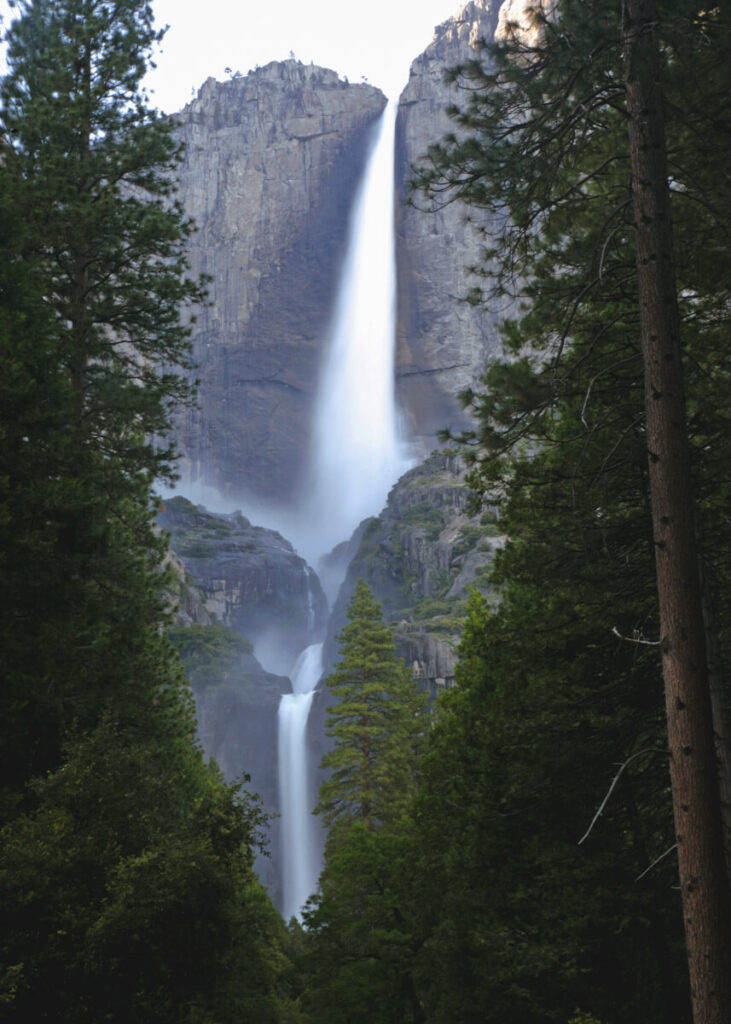 Yosemite Falls, comprised of Upper Yosemite Fall, middle cascades, and Lower Yosemite Fall, is a natural masterpiece that flows from November through July. Hiking to the top takes about 6-8 hours, depending on your level of fitness.
Alternatively, you could do the easy 1 mile loop around Lower Yosemite Falls too, and enjoy the views from down below without having to drunge uphill!
6. Vernal Falls (My Favorite Waterfall in Northern California!)
Distance: 3.1 miles
Type of Trail: Out & back
Difficulty: Moderate
Elevation Gain: 1,131 feet
The Mist Trail Hike in Yosemite National Park stands as an iconic journey, offering gorgeous vistas along the way. This path leads to Vernal Falls (and Nevada Falls, but more on this in a sec!), with highlights like the famed bridge overlook and views of Liberty Cap and Half Dome's back.
The Mist Trail is one of the best things to do in Yosemite! It takes you through the eastern Yosemite Valley, covering the 3-mile round-trip to Vernal Falls. If starting from Curry Village, you'll need to factor in an additional 1.5 miles.
The trail is moderately strenuous, with the toughest part being the stairs up to Vernal Fall. Note that this is a popular trail too, and it's no wonder—Standing tall at 317 feet, Vernal Falls in Yosemite is a captivating natural wonder and one of the best waterfalls in northern California!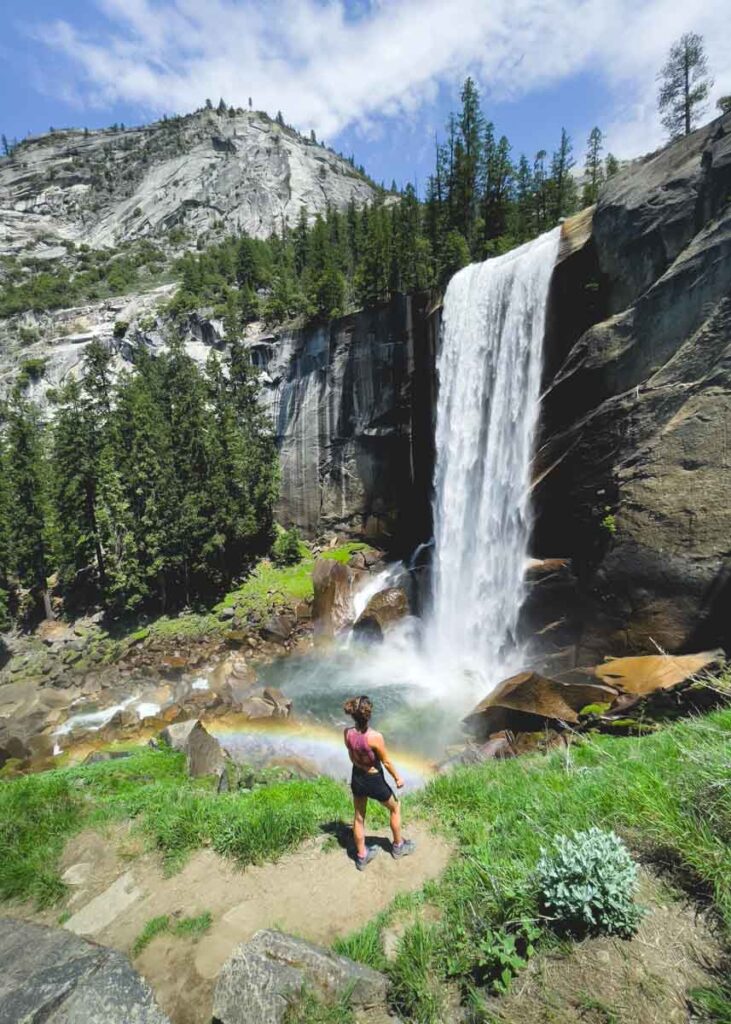 In spring, the trail's misty veil adds charm but requires cautious steps when heading up the stairs. To avoid the crowds on the way back down, it's best to head to Clark Point and then down the John Muir Trail! You'll get more views and not have to play Frogger with all the people heading up.
7. Nevada Falls
Distance: 6.4 miles
Type of Trail: Loop
Difficulty: Hard
Elevation Gain: 2,208 feet
Start your journey from Happy Isles Trailhead in eastern Yosemite Valley to witness the awe-inspiring Vernal AND Nevada Falls. If you're done hiking Vernal Falls and want to continue—You'll be rewarded with another stunning Northern California waterfall!
The John Muir and Mist Trails offer an unforgettable experience, granting you up-close views of these magnificent waterfalls, picturesque Merced River scenery, and unparalleled vistas across Yosemite Valley.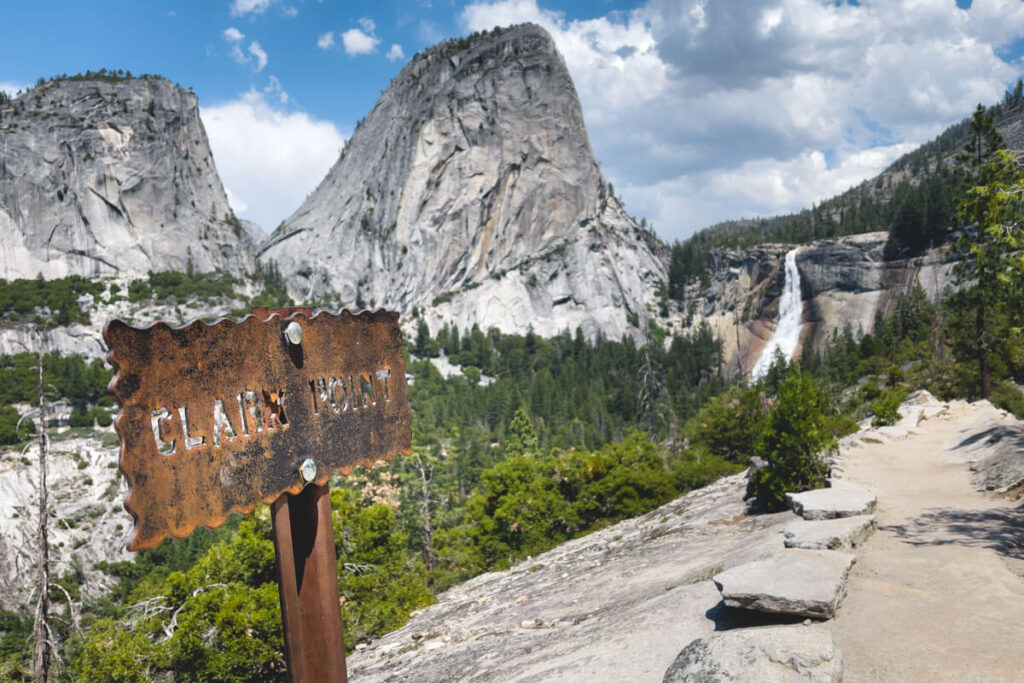 So you know the drill with Vernal Falls already from above, right? After you marvel at the panoramic view down the 317-foot waterfall, you can continue on to Nevada Falls.
You'll follow along the Mist Trail and pass Emerald Pool and Silver Apron. (Remember swimming here is prohibited due to dangerous currents!)
The Mist Trail continues, leading to steep, rocky switchbacks for 1.5 miles to reach Nevada Fall. This thunderous waterfall cascades 594 feet, offering incredible photo opportunities. At the top, a footbridge above the fall provides a closer view.
Return by retracing your steps on the Mist Trail or opt for the John Muir Trail (this is what we recommend doing!), which offers different scenery and views of Liberty Cap.
The John Muir Trail is longer but rewards you with unique vistas and will be less crowded. This is one of the best trails in Yosemite National Park because you get two waterfalls in one!
8. Bridalveil Falls
Distance: 0.4 miles
Type of Trail: Out & back
Difficulty: Easy
Elevation Gain: 82 feet
A leisurely stroll to a captivating waterfall unveils the enchanting Bridalveil Falls, a place steeped in legends of the protector of Yosemite Valley.
The falls live up to their name—when the wind plays its part, the mist resembles a bride's delicate veil. The Ahwahneechee tribe believed that inhaling this mist could enhance the chances of marriage!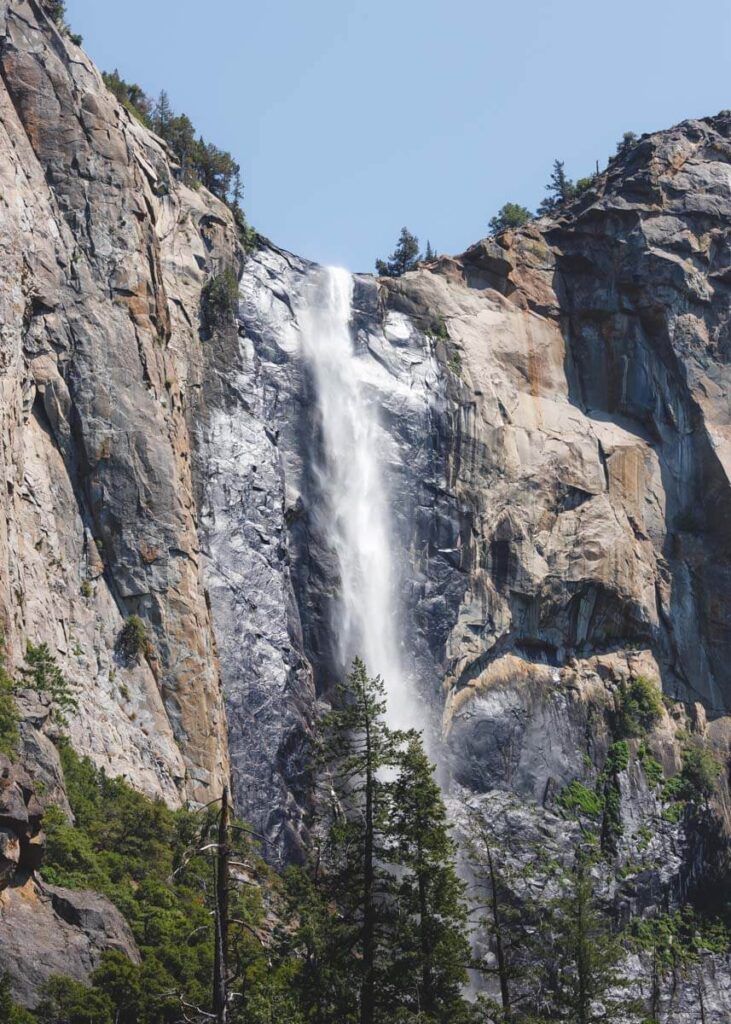 While Bridalveil Falls may not rival the grandeur of Yosemite Falls in terms of height, it's still a great waterfall in Northern California to visit.
Standing at 620 feet, it offers a spectacle of cascading water that's best witnessed in spring when the snow melts, and water levels reach their peak (otherwise, we will admit, it's not as impressive and barely noticeable if it's really dry out!).
A short, paved walk from the parking lot leads to this natural wonder, and even longer walks from further down the road offer a pleasant and flat journey so everyone can enjoy!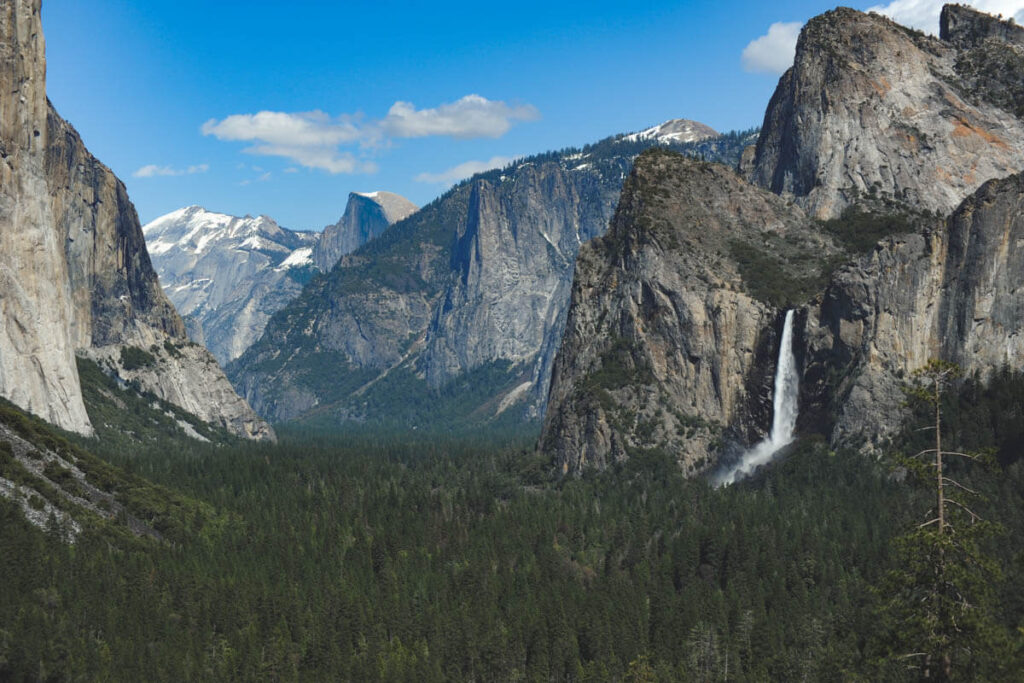 Do note that the main entrance is closed for repair, so park around the "Hanging Valley View" just down the road and take the slightly longer but still very easy stroll over to view the falls. Check here for closure updates.
9. The Horsetail Falls Firefall
In Yosemite Valley, the unassuming Horsetail Fall graces the eastern edge of El Capitan. Seriously, you might not see even a dribble here if you're visiting in summer! While often unnoticed, this petite waterfall comes to life exclusively in winter.
An extraordinary spectacle awaits lucky onlookers in mid-to-late February when the setting sun bathes the waterfall in a warm orange glow—making it look like it's on fire! It's a natural phenomenon, but trust us when we say you won't be the only person who wants to see this.
For those eager to witness this spectacle, certain restrictions come into play. A special reservation system applies for access to Yosemite during these dates, with certain parking restrictions in place.
When venturing to witness this natural wonder, come prepared. Expect snowy and icy conditions, so proper footwear and equipment is essential. Be ready for a chilly walk back to your vehicle after the show, and ensure you have warm clothes, a headlamp, or a flashlight.
10. Burney Falls (Possibly The Most Famous Waterfall in Northern California!)
Distance: 1.0 mile
Type of Trail: Loop
Difficulty: Easy
Elevation Gain: 167 feet
Cradled within the breathtaking 910-acre McArthur-Burney Falls Memorial State Park in Shasta County, California, Burney Falls is a majestic 129-foot-tall and 250-foot-wide waterfall.
Renowned as one of the most stunning waterfalls in California, it's celebrated for its perpetual flow throughout the year, sourced by unique underground springs. Named after settler Scot Samuel Burney, the falls are a testament to both nature's beauty and human history.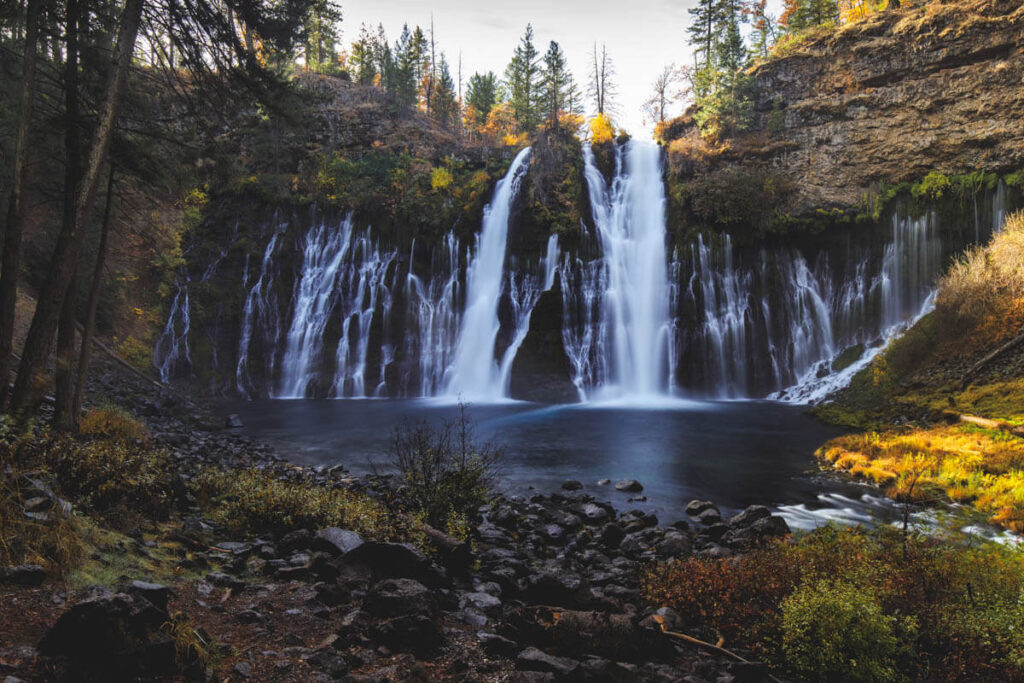 President Teddy Roosevelt once hailed Burney Falls as the "8th wonder of the world," and in 1984, the U.S. National Park Service designated it a National Natural Landmark. The falls are more than just a visual spectacle; they represent a marvel of constant water flow, even in the dry summer months.
Fed by the park's underground springs, the falls pour forth approximately 100 million gallons of water daily, creating an enchanting misty basin! When looking at the falls, you'll notice some water seeping out seemingly out of nowhere, creating a "curtain" across the mossy rocks.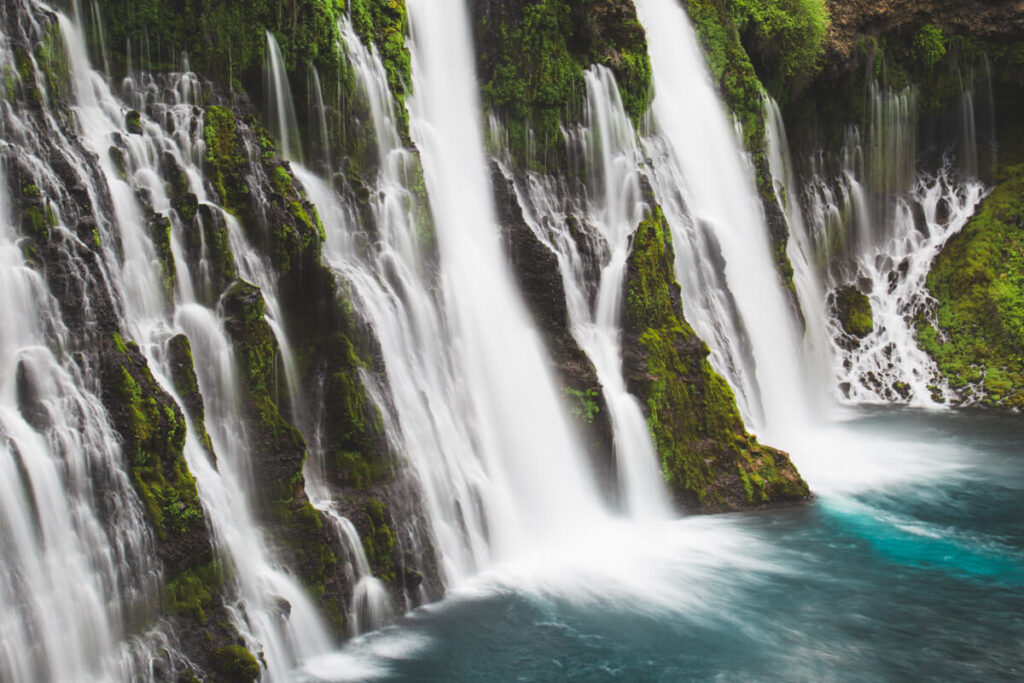 You can go straight to the rocks at the base and feel the power of the falls blowing you away. It's actually really loud, and you might not even be able to hear anything else! This is one of the most popular waterfalls in northern California and maybe the state too.
11. McCloud Falls
Distance: 3.9 miles
Type of Trail: Out & back
Difficulty: Easy
Elevation Gain: 337 feet
The McCloud River Trail unveils a captivating walk through the rugged canyon of basalt lava rock, adorned with not one, not two, but THREE stunning waterfalls. This well-maintained path offers a year-round delight, from summer swims to fall foliage and spring thaw.
Each of the falls, Lower, Middle, and Upper, has its own parking lot and unique charm, but embarking from Lower Falls and hiking upstream offers a rewarding adventure and is what we recommend.
Starting at Lower Falls, follow the paved path to the water's edge, where stone steps lead you to cascades. As you venture upstream, the trail winds through the canyon and climbs moderate switchbacks to reveal Middle Falls, a favorite swimming spot! So don't forget your suit and a towel.
The journey continues along the canyon rim, culminating at the overlook of Upper Falls. The allure of the McCloud River continues further upstream for what seems like forever, so you're free to continue hiking away from the crowds!
The geology of the McCloud River Canyon tells a story of nearby Mt Shasta's volcanic history, with columnar basalt formations and layered lava rock. While swimming, cliff-diving, and kayaking are all on offer here, do be careful! Accessible viewpoints offer short hikes to each waterfall if you don't have enough time to hike to them all!
TIP: You should pair this one with a visit to Burney Falls since you're less than an hour away!
12. Kings Creek Falls
Distance: 2.8 miles
Type of Trail: Out & back
Difficulty: Moderate
Elevation Gain: 492 feet
Unveil the splendor of Kings Creek Falls! This moderately challenging route offers an adventure to some seriously stunning falls in bear territory. The trail, which falls within the June to October sweet spot, beckons hikers to explore its beauty.
As you venture through Lower Kings Creek Meadow, you'll be led to the upper cascades of the breathtaking Kings Creek Falls. An overlook platform provides a perfect spot to savor the falls' grandeur.
There are two trail options for Kings Creek Falls: the Cascades Trail and the horse loop. While the Cascades Trail offers a steep descent and close cascade views, the horse loop is longer yet presents great park panoramas. Why not mix it up by taking one trail down and the other on your way back—this is what we did!
While we didn't get "lucky," you should keep your eyes peeled for bears on this trail.
Note that there was a fire here in 2021, so you might notice fewer trees and some burned stumps, but the trail is still very much worth it.
13. Faery Falls
Distance: 1.3 miles
Type of Trail: Out & back
Difficulty: Moderate
Elevation Gain: 255 feet
Discover the enchanting trail to Faery Falls, a hidden gem near Mount Shasta, California!
Head out on this scenic hike where history and natural wonder intertwine. As you trek 0.7 miles up Ney Springs Canyon, you'll encounter the remnants of Ney Springs Resort, once a destination renowned for its silica springs. The journey itself presents captivating vistas, with Ney Springs Creek following you along the old dirt road.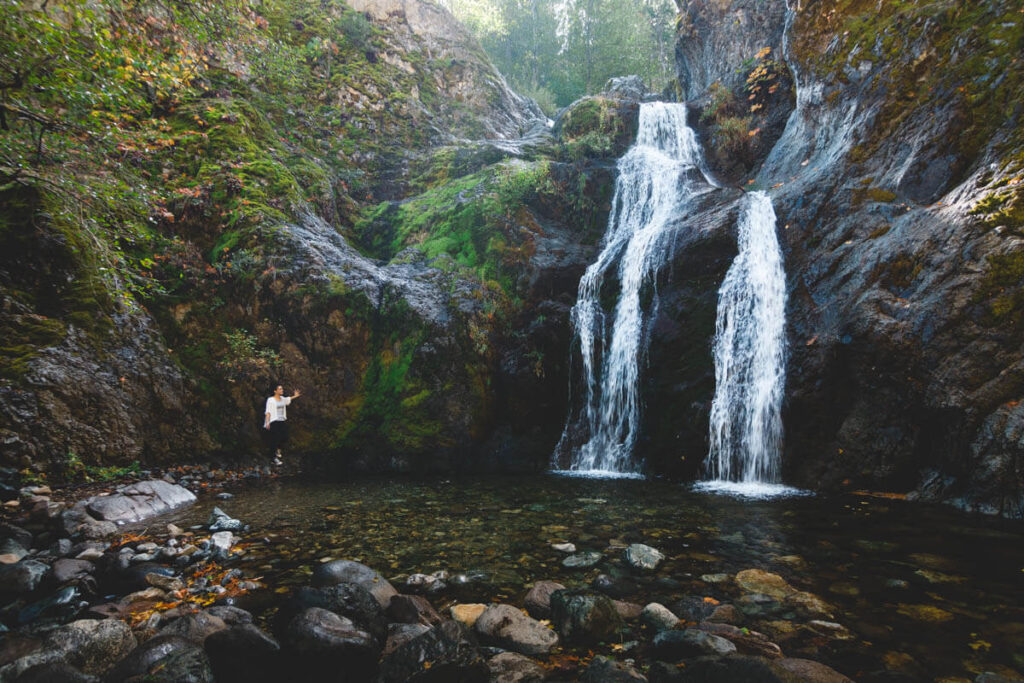 The hike leads to the small but mighty beautiful Faery Falls, cascading around 50 feet down the canyon wall. The trail's unmarked turnoff to the falls is a little easy to miss, but just use your ears! As seasons change, the waterfall transforms, ranging from a gentle flow to a thundering cascade during the wet season (I was here in September, by the way).
There are also a few detours on this trail, so it's best to stick as close to the creek as possible and maybe use an offline map so you don't miss it.
It's also worth noting that your hike might be longer than expected. The road up here isn't the best, and you don't want to push it. Make sure to park your car earlier rather than later instead of fighting the rough road and getting a popped tire!
14. Cataract Falls
Distance: 2.8 miles
Type of Trail: Out & back
Difficulty: Moderate
Elevation Gain: 1,053 feet
Located near Stinson Beach, California, Cataract Falls trail welcomes hikers on a rewarding voyage to one of northern California's best waterfalls!
Cataract Falls promises not just a workout but also numerous picturesque moments just an hour out of the bustling city of San Fransico.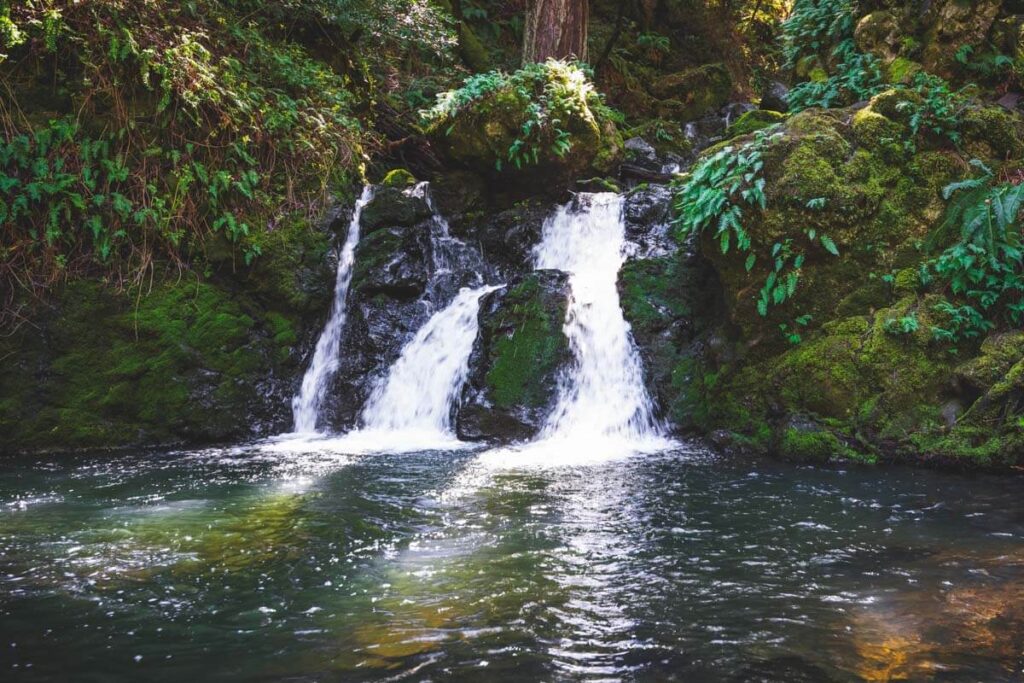 The trail spans a total of 3 miles round trip, introducing cascading waterfalls within the first mile itself. Unlike some treks where you need to slog through the whole hike to get to the good stuff, here you're treated to a series of waterfalls throughout the hike. Most of the trail offers shade, but the initial 1.5 miles uphill might have you shedding layers.
The route to the trailhead itself is scenic, meandering past Alpine Lake on Bolinas Fairfax Rd. Once on the trail, you'll go through shaded forests and creek crossings. The trail leads you to the Laurel Dell picnic area, and if you're up for a bit more adventure, the upper falls await a bit further up.
Parking can be tight at the trailhead, so opting for a weekday adventure or an early weekend start is wise.
15. Rainbow Falls
Distance: 2.7 miles
Type of Trail: Out & back
Difficulty: Easy
Elevation Gain: 406 feet
Rainbow Falls, a jewel in Mammoth Lakes, stands tall at 101 feet, renowned for the vibrant rainbows that grace its mist. It's part of the Devil's Postpile National Monument, established in 1911.
The monument's operational season typically spans from mid-June to mid-October, though weather can influence these dates. If the snow has been dumping, you won't be able to reach this spot!
This waterfall in northern California is a bit unique as you'll need to grab a shuttle to the trailhead because the parking situation isn't good enough around here to give visitors access. There are a few exceptions, so be prepared to grab your shuttle ticket, you can get more info here.
Your adventure unfolds against the backdrop of the captivating Devil's Postpile formation, which is a must-visit in itself! But to get to the falls, take the scenic hike that unveils the geological marvel of columnar basalt and takes you uphill for panoramic views!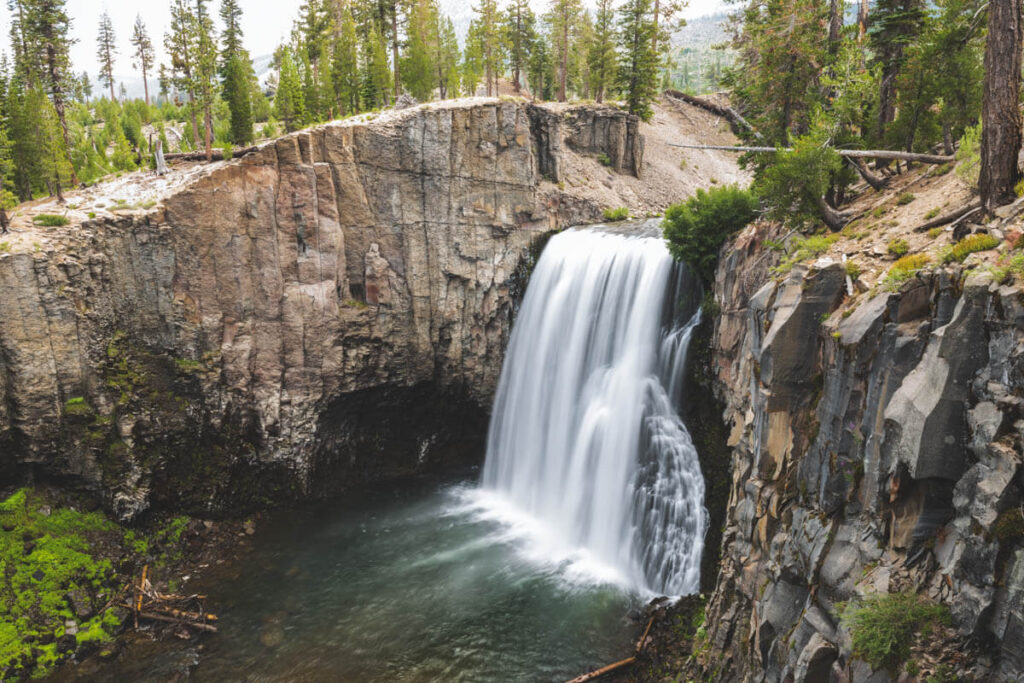 If the forecast calls for sunny conditions, you'll be able to tell why the falls are named Rainbow Falls! Should you wish, you can descend a series of stairs and arrive at the banks of the San Joaquin River, which brings you closer to the falls. But be careful, the rocks are pretty unsteady here.
We hope this helped you plan your trip to visit some of the best waterfalls in Northern California!
I've been perpetually traveling and living around the world for years but it's hard to beat California and the PNW. After years of road-tripping the area, I guess you can say I know it pretty well! When I'm not writing guides for you, you can catch me somewhere petting a dog, attempting to surf, hiking a volcano, or stuffing my face with bread and cheese.