San Francisco, a city known for its iconic landmarks, also harbors tucked-away beaches. One such gem is Kirby Cove, a pristine cove and beach just west of the Golden Gate Bridge!
Spoiler alert: Kirby Cove is one of the best places to visit when exploring the Golden Gate National Recreation Area—It's one of the coolest beaches, and it has some of the best views around!
We'll take you on a detailed journey so you can visit Kirby Cove too. There are some things to know before taking off…
Why is Kirby Cove So Popular?
Oops, I kinda gave this away a bit already, didn't I? Shall we review? It's got to be one of the coolest coves in the area, but people love this place because it has…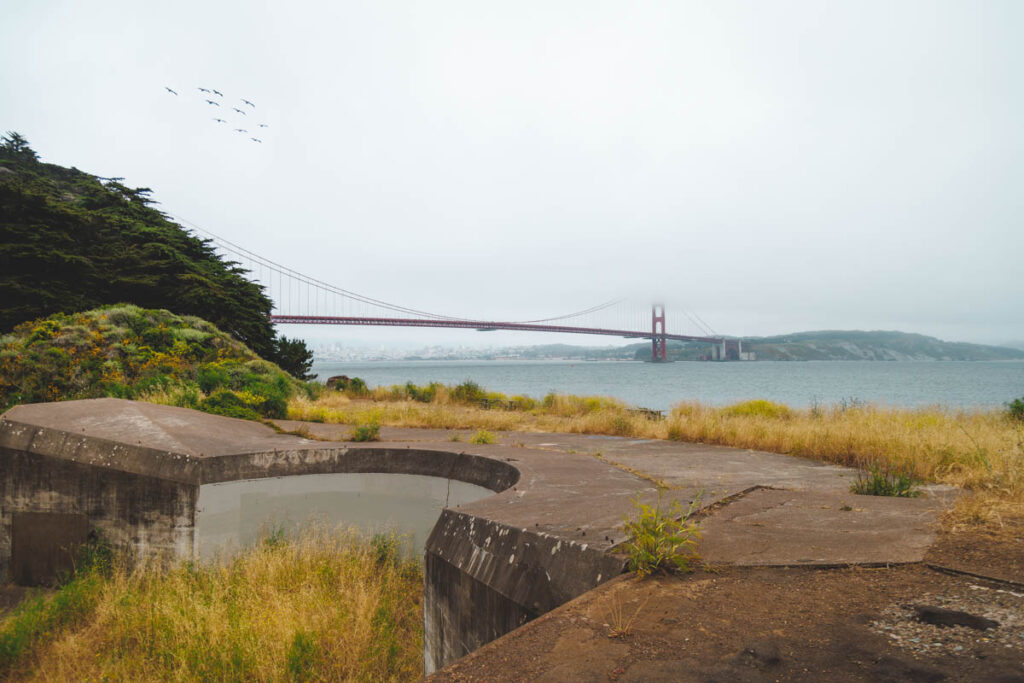 Breathtaking Views: The cove offers panoramic views of San Francisco, the Golden Gate Bridge, and the rugged northern California Pacific Coast. On clear days, it's a photographer's dream! (Ehem, that's us!)
Historical Charm: Kirby Cove is home to Battery Kirby, a historic army battery dating back to 1898. Exploring this piece of history adds an extra layer of intrigue to your visit, plus it's got a great view.
Secluded Beach: Kirby Beach has a distinctive black and brown sand beach, providing an escape from the city's and the bustle of the usually busy park. Most don't venture down here.
The Swing: There's *sometimes* a hidden swing here where you can sway in the trees like a kid while looking at the Golden Gate Bridge! There's a good chance that's what you're looking for, right? I got you!
How to Get to Kirby Cove
This is important! We will get into more detail below, but you either have to hike to Kirby Cove (3-mile road trip) or you can camp down here, and only then can you drive your car down.
Most people are hiking, so let's talk about that first…
Distance: 3.0 miles
Type of Trail: Out-and-Back Trail
Difficulty: Moderate
Elevation Gain: 610 feet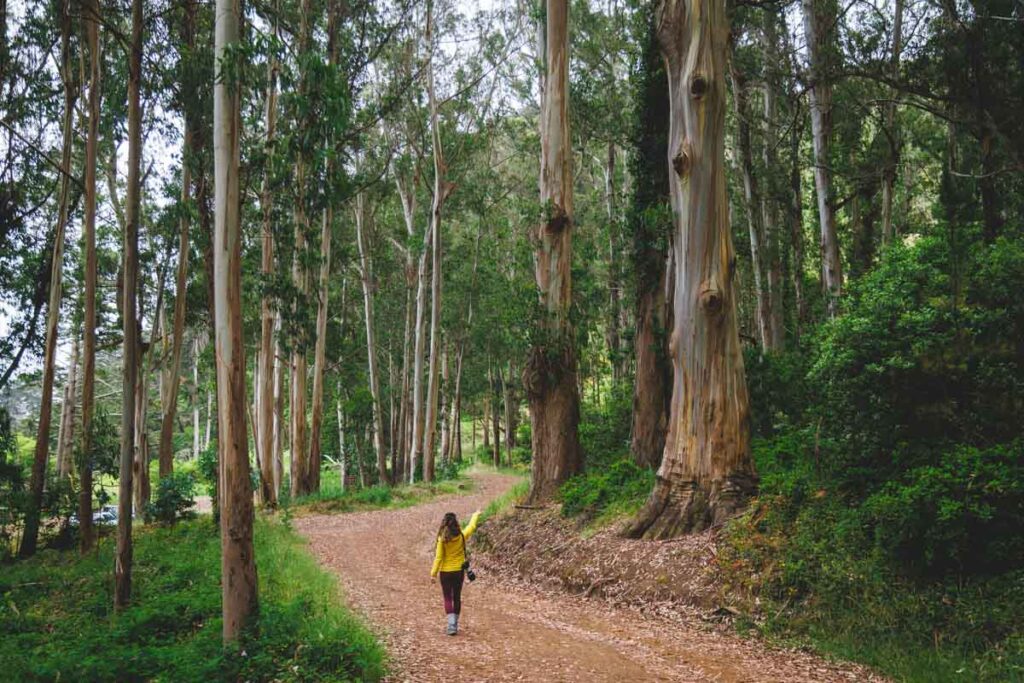 Reaching Kirby Cove involves a picturesque descent through a grove of cypress, eucalyptus, and pine trees while getting vistas of the ocean below.
The trailhead is at the parking area above Battery Spencer on Conzelman Road, providing an epic vantage point with the Golden Gate Bridge's towers by the way. Definitely make a stop here before or after Kirby Cove.
What to Expect at Kirby Cove
As you walk down the dirt road trail, you'll first encounter Battery Wagner, a historic army battery used from 1898-1934. Mother nature has definitely started taking over, but you can still stop here to take a look.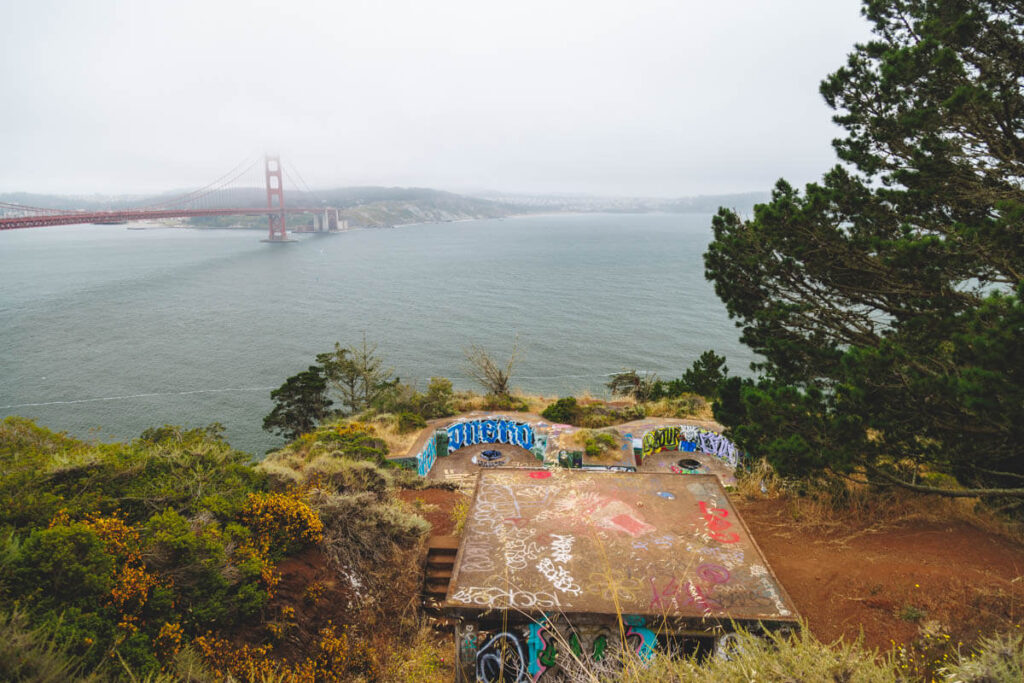 Continuing on, you'll pass through a parking lot reserved for permit-only campers and reach the campsites (more on this in a sec). Surrounded by beautiful trees, these are some pretty prime spots!
Just past Battery Kirby, you'll find the beach itself—ah, finally!
It's a brown sand beach and provides enough space for campers and day hikers to frolic and chill. Personally, I enjoy frolicking on the beach, so I did!
With stairs leading down to the beach from both ends and the battery, accessibility is a breeze. Picnic tables dot the area, offering the perfect setting for snacks with fantastic views of the Golden Gate Bridge.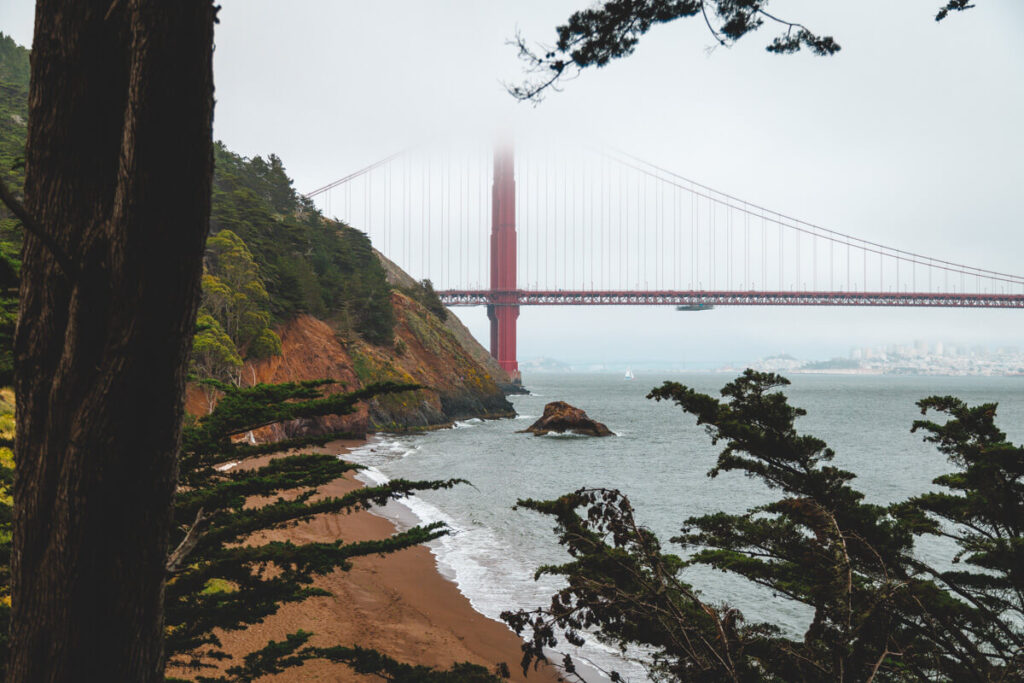 Kirby Beach feels like it should be far more crowded than it is, but barely anyone was here when we were here. In fact, it was crazy busy at the top, on the main road, but very few people made the trek down here. No complaints from us, that's for sure!
What About The Kirby Cove Swing?
A lot of people search for this swing and can't find it! Don't worry, you're not going crazy. Sometimes the parks department removes the swing, I assume for safety purposes? So if it's not here when you are, you know why.
Luckily it was here when we were here, but it was kind of hard to spot at first.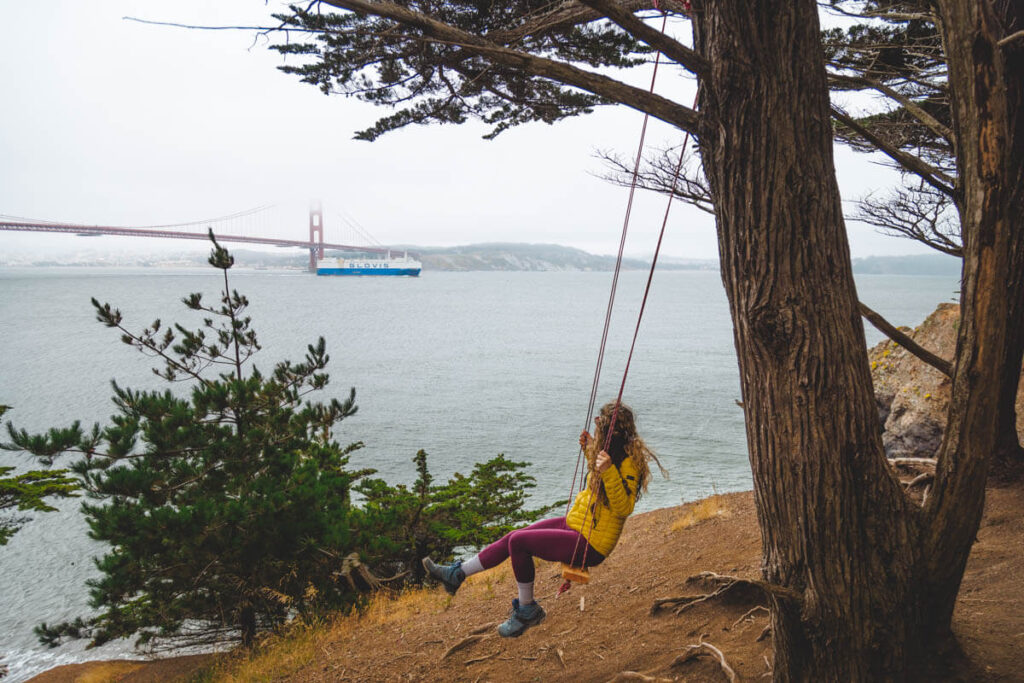 A little hidden swing on the right side of the beach and up into the trees may or may not be waiting for you. It really adds an extra touch of charm to the forested backdrop with the bridge in the distance—I hope it's here when you get here!
Pretend you're a kid again and give it a whirl on the tree swing before you have to head back up.
Camping at Kirby Cove
For those seeking an extended escape, Kirby Cove offers five overnight camping sites and one day-use picnic site. These campsites, tucked into the lush trees, provide an opportunity to connect with nature while being just a stone's throw from the city.
Be sure to make reservations in advance as they tend to fill up quickly. April 1 – November 30 is when the campground is open.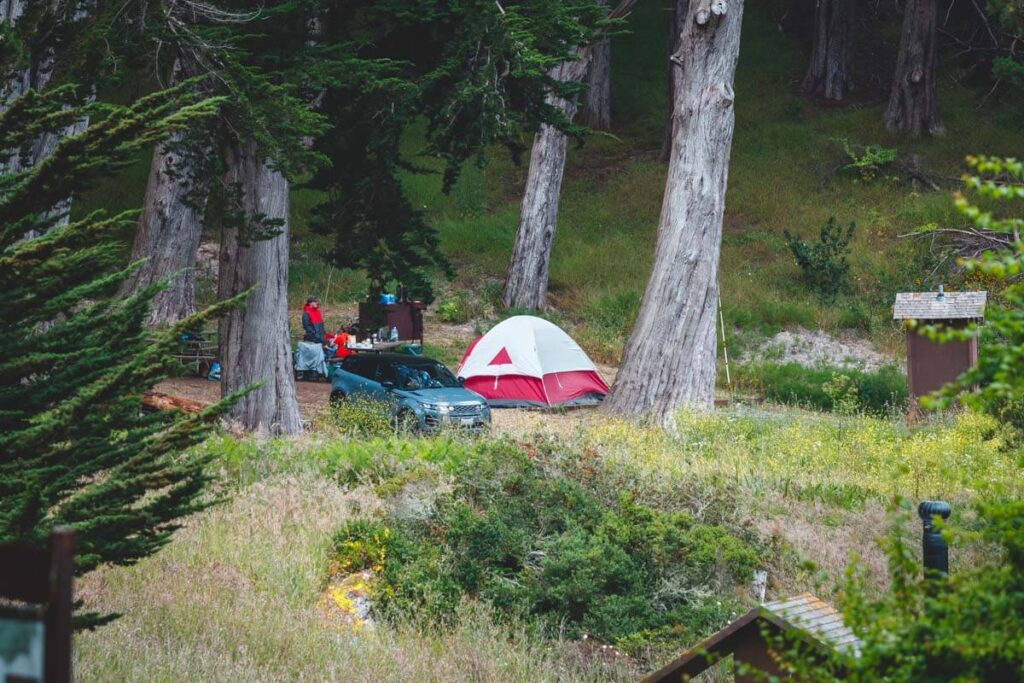 If you do score a campsite at Kirby Cove, you will be one of the very few who gets to drive down to the parking lot down here. If you don't have a reservation and you're not camping, the only other way to get to Kirby Cove is to hike down.
Exploring the Batteries
While wandering through Kirby Cove, don't miss the chance to explore the batteries, another piece of the area's rich history.
There are actually THREE right here! You'll first pass Battery Wagner at the start of your hike. Keep an eye out, it's a bit hidden. Battery Kirby is right on Kirby Beach, and you can stand on top and look out at the cove and Golden Gate Bridge right in front of you!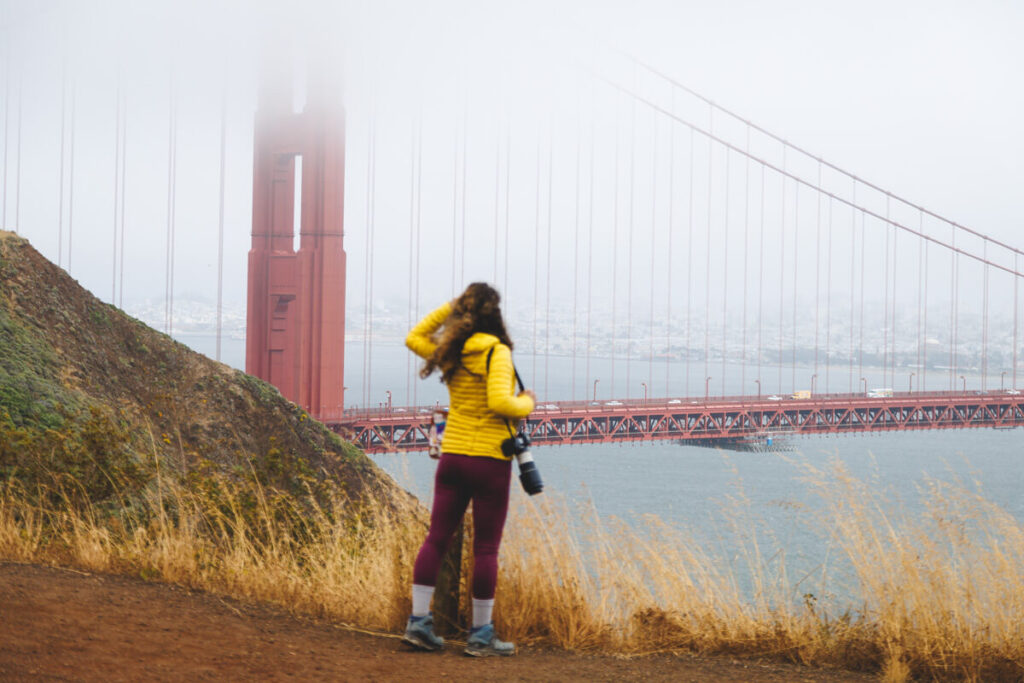 Lastly, we saved the best for last. After we finished our hike to Kirby Cove, we headed straight to Battery Spencer, which is back up on the main road, and then a short stroll out.
You have to get up here for epic views of the Golden Gate Bridge—you'll feel SO close because, well, you are!
Additional Tips and Highlights for Visiting Kirby Cove
Day visitors are welcomed at Kirby Cove, you just have to walk 3 miles round trip.
There is no potable water at Kirby Cove, and the only amenities are pit toilets, barbecue pits, picnic tables, and fire rings.
Campers MUST have a reservation.
Note that pets are not allowed at Kirby Cove.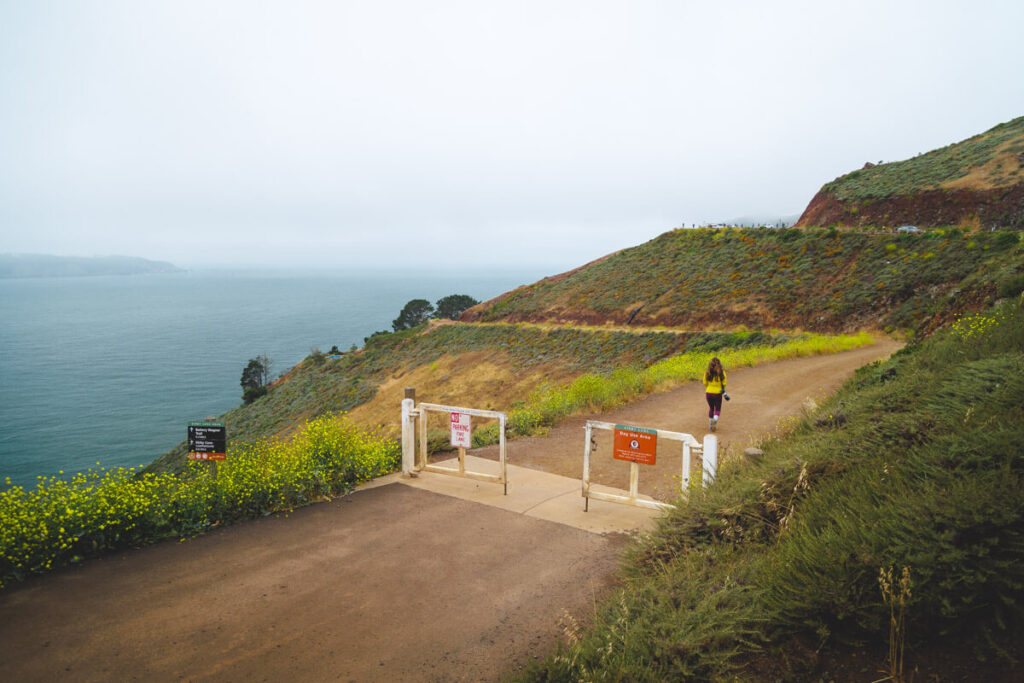 Bring your own water and snacks.
Don't forget, what goes down must come back up. Your way back is all uphill.
Scan the skies in autumn for migrating falcons, hawks, harriers, and other raptors!
While the waves are usually pretty chill here, take care if you go for a chilly dip.
Don't miss the opportunity to explore ALL the batteries in this area.
Kirby Cove provides arrangements for visitors with disabilities with valid DMV placards so they can have access to drive down as well.
We hope this helped you plan your visit to Kirby Cove!
I've been perpetually traveling and living around the world for years but it's hard to beat California and the PNW. After years of road-tripping the area, I guess you can say I know it pretty well! When I'm not writing guides for you, you can catch me somewhere petting a dog, attempting to surf, hiking a volcano, or stuffing my face with bread and cheese.