Point Bonita Lighthouse, a jewel in the Bay Area, offers an experience for nature lovers and history nerds.
Located in the Marin Headlands, this lighthouse boasts a rich history dating back to 1855, when it became the third lighthouse to illuminate the treacherous waters of the West Coast. Today, it remains an active lighthouse but also is available to visit. Lucky for us!
We loved the Point Bonita Lighthouse trail and wanted to share with you some tips. Here's everything you need to know…
Point Bonita Lighthouse: Facts, Trail, And Tips!
---
For history nerds… In the mid-19th century, the waters surrounding the Golden Gate Straits were notorious for their perilous nature. Fog, strong currents, and hidden rocks made navigation risky for ships entering San Francisco Bay. The construction of Point Bonita Lighthouse aimed to change that.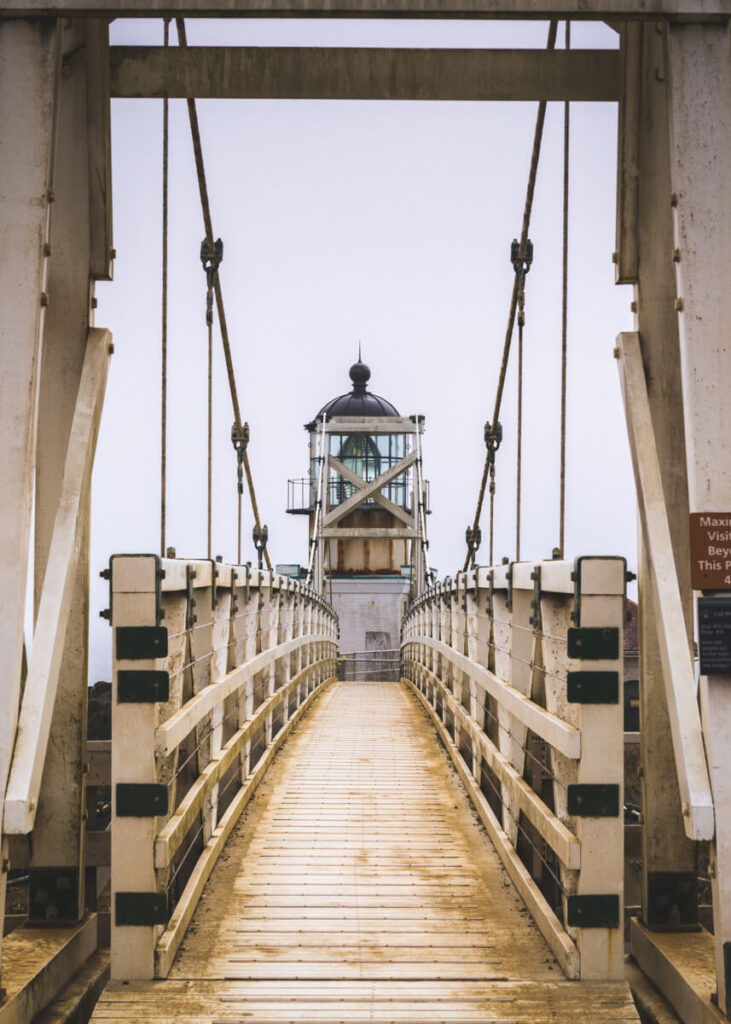 Point Bonita Lighthouse was strategically positioned to provide a guiding light for vessels navigating through the challenging waters of the Golden Gate.
Throughout its long history, Point Bonita Lighthouse has weathered the elements and stood firm in its duty. Today, it remains an active lighthouse maintained by the U.S. Coast Guard, continuing the tradition of maritime safety that began over a century and a half ago.
For nature lovers… Beyond its practical purpose, Point Bonita Lighthouse also offers trekkers a chance to connect with nature and experience the stunning beauty of the Pacific coastline.
The trail leading to the lighthouse showcases wildflowers, marine life, unique rock formations, and panoramic views of the ocean and the Golden Gate Bridge—all in under a mile, too!
The Trail to Point Bonita Lighthouse
Distance: 1.0-mile
Type of Trail: Out & back
Difficulty: Easy
Elevation Gain: 124 ft
Your journey begins with an easy scenic trail that winds its way from the parking lot, offering breathtaking views of the rugged cliffs and the vast expanse of the Pacific Ocean.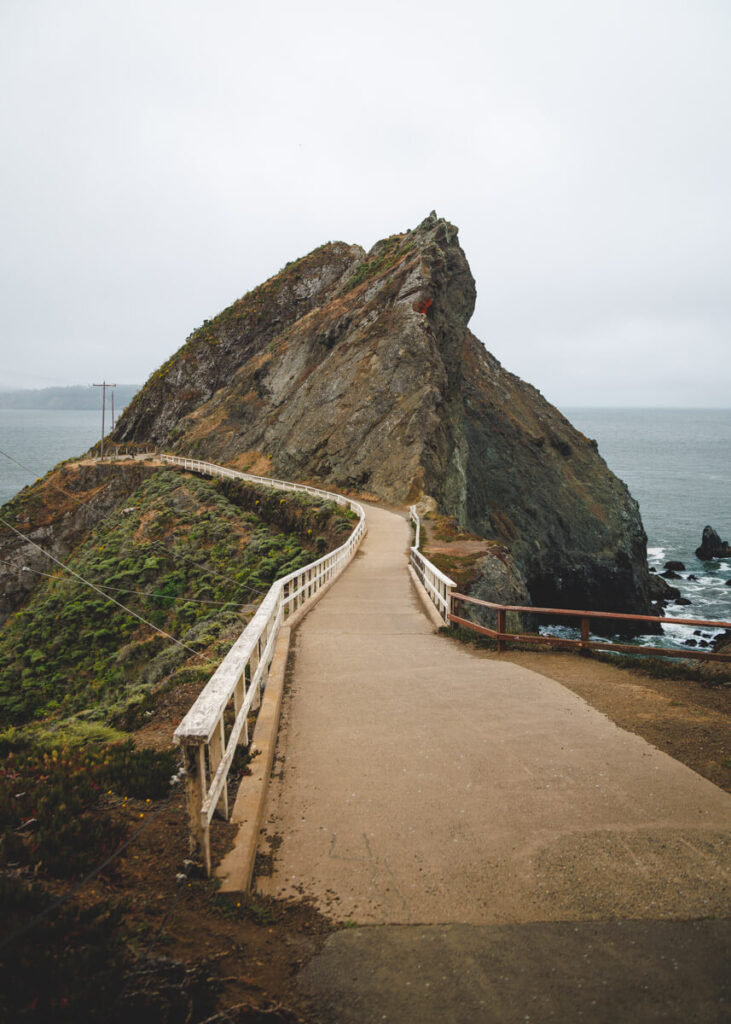 Along this short but stunning mile walk, you'll encounter wildflowers, unique pillow basalt rock formations, and epic coastline vistas. As you make your way, you'll pass the historic Coast Guard rescue station, a reminder of the lighthouse's vital role in maritime safety.
As you approach the Point Bonita Lighthouse, the trail leads to a dramatic climax. Along the way, keep an eye out for Seal Rock. Here, you'll hopefully witness seals basking on rocks down below!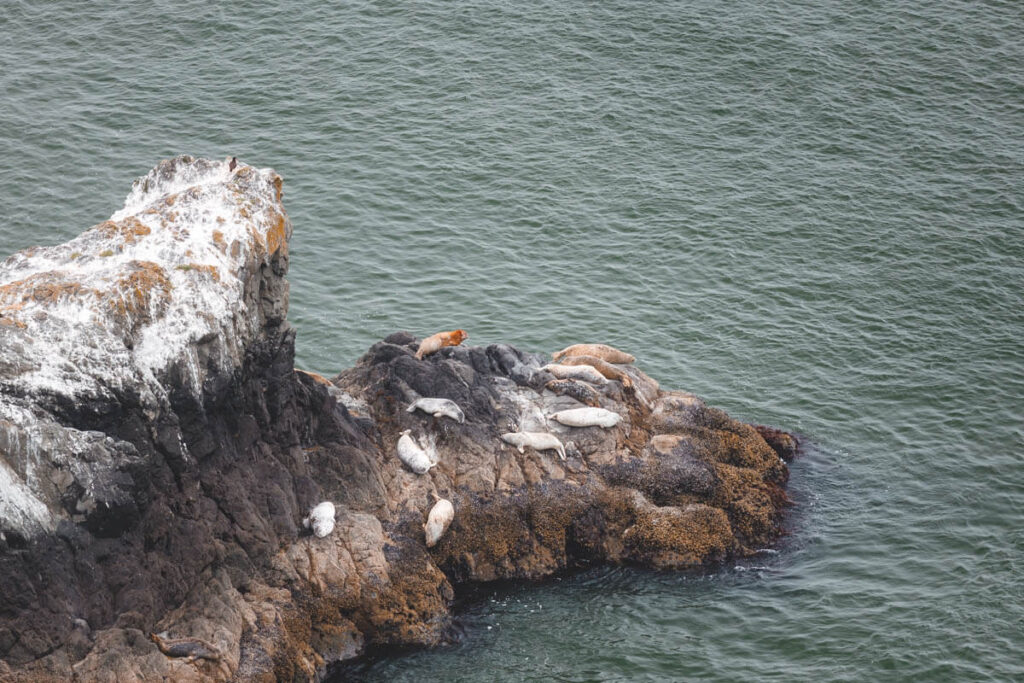 This is also one of the best areas for getting a view of the Golden Gate Bridge (as if a beautiful lighthouse wasn't enough!)
While the trail provides an easy path, it can be a bit steep and windy, so use caution and remember you'll be walking uphill on the way back.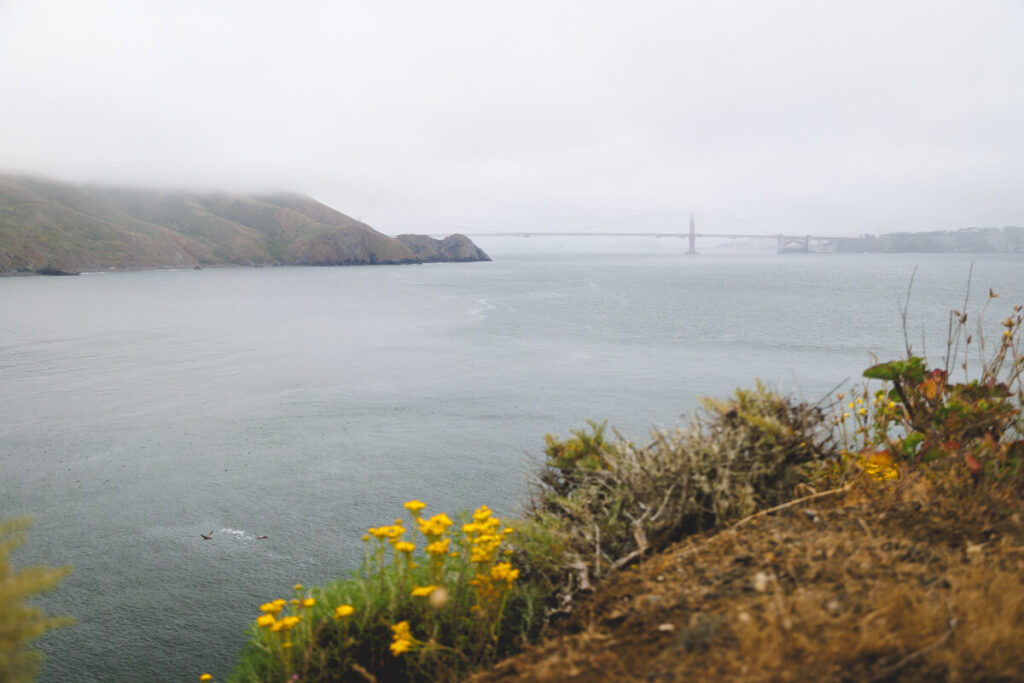 You'll then continue through a tunnel that leads you to the lighthouse. Coastal panoramas greet you with cool, fascinating rock formations jutting out of the ocean. The lighthouse, perched on a rocky island reachable by a thin bridge, is quite the spectacle!
This is the main reward of the trail, but you may not make it this far if you don't come at the right time…
When to Visit Point Bonita Lighthouse (IMPORTANT!)
The Point Bonita Lighthouse operates from late September to April, with limited hours on Fridays, Saturdays, Sundays, and Mondays. Note that the lighthouse is closed on Tuesdays, Wednesdays, and Thursdays.
The hours are only 12:30 pm – 3:30 pm. But you'll also need to ensure you arrive well before 3:20 p.m. to guarantee entry.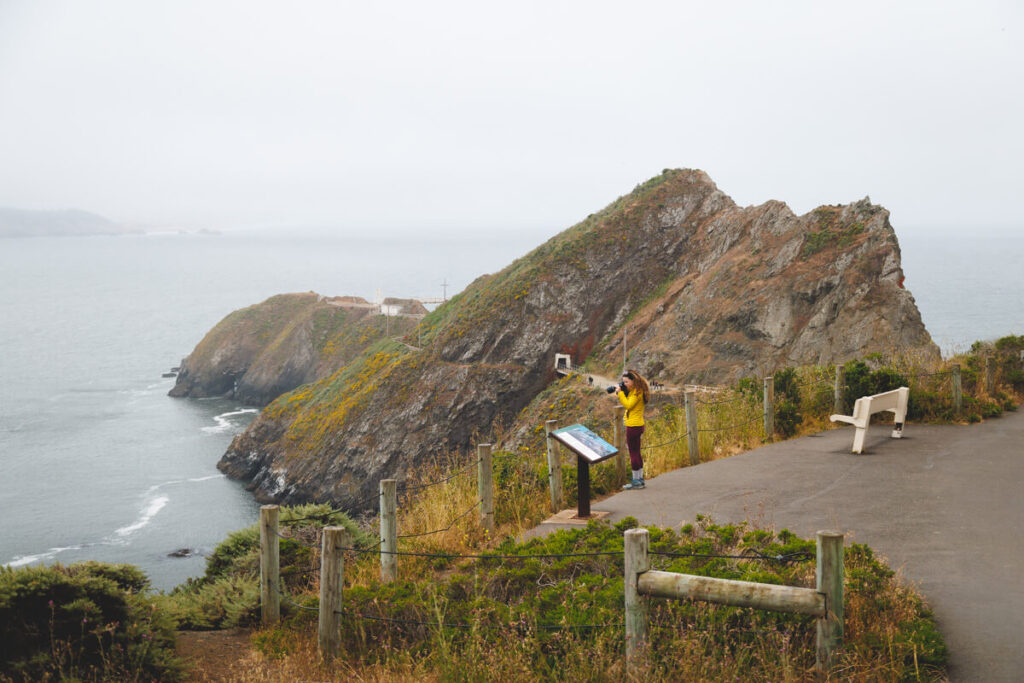 You can still do this hike anytime, but you won't get past the gates to the lighthouse if you don't come at the proper time.
If you want a unique experience, consider the Sunset Tours offered on select dates. These guided hikes provide insights into the geology, ecology, and history of Point Bonita.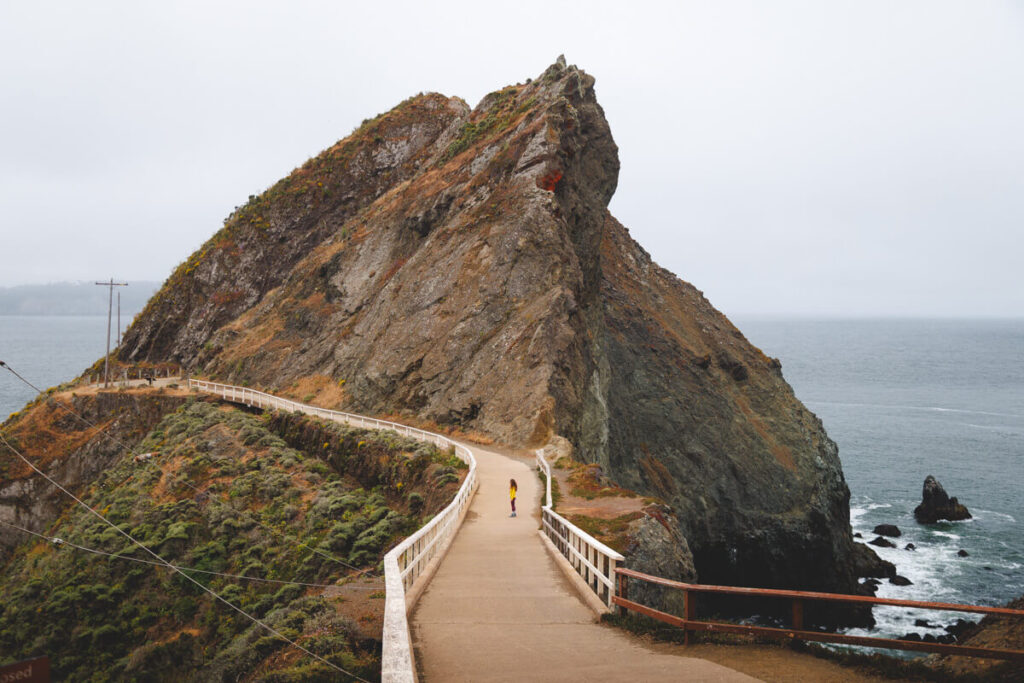 You'll want to grab tickets or check opening times here before heading out to be sure, it's a bit confusing. We made the mistake of not checking first and didn't know we weren't allowed further to the lighthouse. Boo! Don't be us!
Tips for Your Visit
Important Rules: Pets, smoking, and bikes are prohibited on the Point Bonita Trail.
Weather Conditions: Be prepared for possible closures due to inclement weather.
Parking: Parking is limited, so plan accordingly. If the Point Bonita Lighthouse parking lot is full, try the nearby YMCA lot.
Bring Binoculars: So you can catch glimpses of the diverse marine life in the area, including harbor seals, whales, and porpoises.
Read the Placards: There are info placards on the train, stop and read them!
Timing: Don't forget to check the time you plan on arriving so you'll know if you can access the lighthouse or not.
Final Thoughts on Point Bonita Lighthouse
The Point Bonita Lighthouse trail sure is a coastal beauty with some interesting maritime heritage to boot! For under a mile, this is a great, easy, and quick hike in the Golden Gate National Recreation Area outside of San Francisco, don't miss it.
We hope this helped you plan your visit to Point Bonita Lighthouse!
I've been perpetually traveling and living around the world for years but it's hard to beat California and the PNW. After years of road-tripping the area, I guess you can say I know it pretty well! When I'm not writing guides for you, you can catch me somewhere petting a dog, attempting to surf, hiking a volcano, or stuffing my face with bread and cheese.