Named for the sprawling crescent-shaped beach that stretches along the Pacific coastline, Cresent City is a redwood lover's paradise, a surfer's dream, and a hiker's heaven. In addition to the incredible nature that surrounds this Del Norte County city, the area is packed with historical attractions such as Battery Point Lighthouse and the Del Norte County History Museum.
The town sits at the end of the Redwood Highway, with many people stopping here while exploring the incredible landscape of mighty trees and the raging ocean. You could spend weeks here and still not even touch the surface of what is on offer, but here are a few good spots to get you started.
Things to Do in Cresent City
---
1. Tolowa Dunes State Park
With dunes, forests, and freshwater, Tolowa Dunes State Park encompasses all sorts of habitats packed into its 4000 acres. Bird watchers and plant life lovers will be in their element here, with the sky and ponds filled with waterfowl, raptors, songbirds, and shore birds. Hiking opportunities are abundant, with over 27 miles of trails to explore, with a sweeping expanse of beach for chilling, walking, and nature viewing.
Why not hire a kayak or canoe and head out onto Lake Earl Coastal Lagoon or Dead Lake? Both a great way to spend a lazy afternoon. Keep your eyes on the bank, as you may see deer, coyotes, and raccoons scampering along the shore.
Different seasons bring different joys, with an abundance of wildflowers in the spring and summer months, and along the coast, you may be lucky enough to see a migrating whale or sea lion. There is so much to do in this state park. You could spend days enjoying the endless recreation, making it one of the best things to do in Crescent City.
2. Point St. George Beach Trails
Head northwest of Cresent City, and it won't be long before you stumble upon the natural wonder of Point St George. If you are after a coastal hike, this is the place to be, as multiple trails wind their way around the bluff, providing views of the coast, beach, and ocean and haunting St George Lighthouse on the rocks farrrr in the distance (if it's a clear day).
Take the beautiful Point St George Trail for spectacular views of the Cresent City coast. Prepare for some rocks and scrambling, especially if you fancy heading down to investigate some of the beaches along the route. Keep your eyes peeled for the resident sea lions on the rocks, and if you can't spot them, then you should be able to hear their loud cries while turkey vultures glide through the skies above you.
If all you are after is an incredible view of St George Lighthouse, then this trail is all you need. It is short and sweet at under half a mile, taking you across a meadow to get one of the best views of the lighthouse, ideal for photo opportunities.
This historic lighthouse sits 6 miles offshore, and is visible on a clear day, although be sure to bring binoculars if you want a better view. Despite being one of the tallest lighthouses in California, it looks tiny from the shore! The area is gorgeous no matter what—we didn't miss not seeing the lighthouse due to the fog and enjoyed our hike anyway.
3. Battery Point Lighthouse and Beach
Battery Point Lighthouse may not seem like your classic lighthouse, but that doesn't mean it should be missing from your list of things to do in Crescent City.
It's a charming lighthouse, with the smallest of towers sitting on top of a house. In less than half a mile, you can get to the lighthouse from the parking lot, but the condition is you can only reach it at low tide, so time tour trip accordingly! The lighthouse now harbors an interesting museum, and you can see the original Fresnel lens on display.
Many people make a day of it and combine a visit to the lighthouse with a day on the beach, although it is quite rocky. There are plenty of facilities to cater to visitors, and it is a lovely place to whip out the camera or walk along the shore.
4. Surf Crescent Beach
Grab a board and head out into incredible surf at Cresent Beach. It's a very popular beach, and for a good reason. It's not unusual to find cars lining up along the road, with surfers eagerly donning wet suits, unpacking a picnic, or trying to attach excited dogs to a leash.
Those that choose Cresent Beach as their surfing spot should expect a spectacular natural setting in combination with great waves. The beach is mostly undeveloped, which adds to its natural beauty, on the fringes of the Redwood National Park, and the lack of amenities also means it is rarely crowded.
The beach is suitable for all kinds of surfers, with both left and right waves, so you should expect to see both novices and experts on their boards in the waves. No list of things to do in Crescent City would be complete without surfing! Here's the current surf report.
5. Wilson Creek Beach
The gray sands of Wilson Creek Beach doesn't make the landscape any less picturesque; we think it just adds to its intrigue.
Driftwood is scattered along the coast; there are incredible rock formations to admire, rock pools to discover at low tide, impressive shells, and around 0.5 miles of sand to stroll along, backed by the mighty Pacific Ocean. Seeing as it's not a huge beach and swimming is a no-no, the great setting and location make it a popular stop to break up a travel day for a picnic lunch or to stretch your legs.
6. Yurok Loop Trail
Eager hikers often extend their stay at Wilson Creek Beach with a hike along the Yurok Loop Trail. It is easy to see why people love this hike; it has the best of both worlds, stunning coastal views and thick coastal forests. The trail will take you onto a small peninsula that reaches out into the sea, and as a clearing emerges in the trees, the best view of the entire hike will greet you.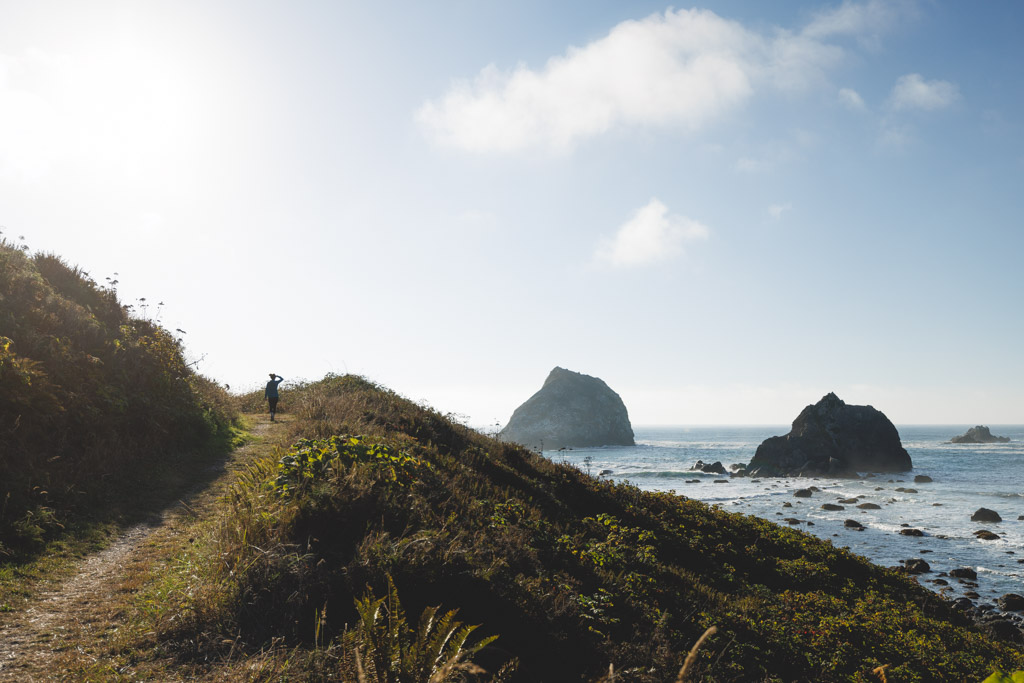 As you make your way back from the northern tip of the peninsula, the views are less spectacular, but the thick coastal forests still provide a beautiful place to walk and is very shady, which is a blessing in hot weather—like when we were here!
7. Del Norte Coast Redwoods State Park
Incredibly, far northern California doesn't get the crowds like southern California does, but this confuses us when places like Del Norte Coast Redwoods State Park exist!?
Sea stacks dominate the shore of the rugged Pacific Ocean, with plenty of picnic tables dotted along the coast for you to take in the views.
The redwoods are high on the coastal bluffs, making them all the more impressive, taking in the regular fog that floats off the ocean and providing them with plenty of water to grow and flourish. There is no official entrance or visitor center, just tall trees, impressive views, and wonderful photo opportunities.
One of the best ways to take in the park's wonders is to take the Damnation Creek Trail. It's challenging but one of the best hikes in this part of California, taking you through groves of ancient redwoods, Sitka spruce transition zones, and ending at the ocean.
8. Jedediah Smith Redwoods State Park
With vast swathes of old-growth forest to enjoy, the redwoods are plentiful in the huge 10,000-acre Jedediah Smith Redwoods State Park. The park is lucky enough to hold 7% of the world's old-growth redwood forest, making it the perfect place to explore and one of the best things to do in Crescent City.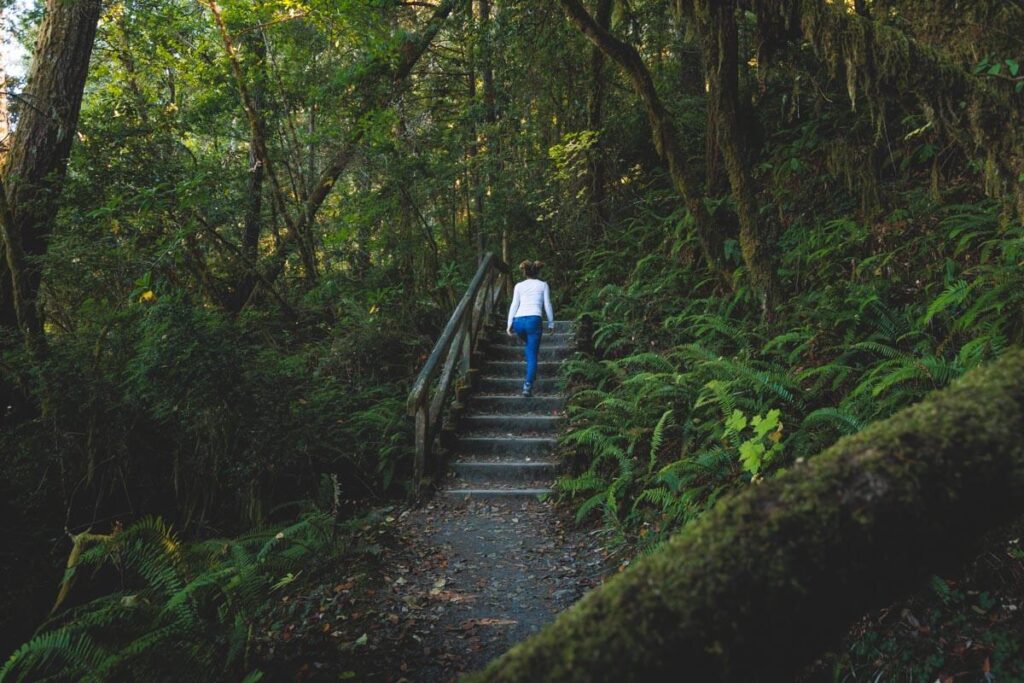 Trails wind their way through the park, with options for all abilities. For example, the Boy Scout Trail is a 5.6-mile trip that takes you along a beautiful route to Fern Falls. If you would instead give the legs a break and stick to the car, a drive along Howland Hill Road is an experience you will not forget!
At 6 miles long, you can get up close and personal with the redwoods as you meander along this scenic road, which makes up part of the Redwood Highway.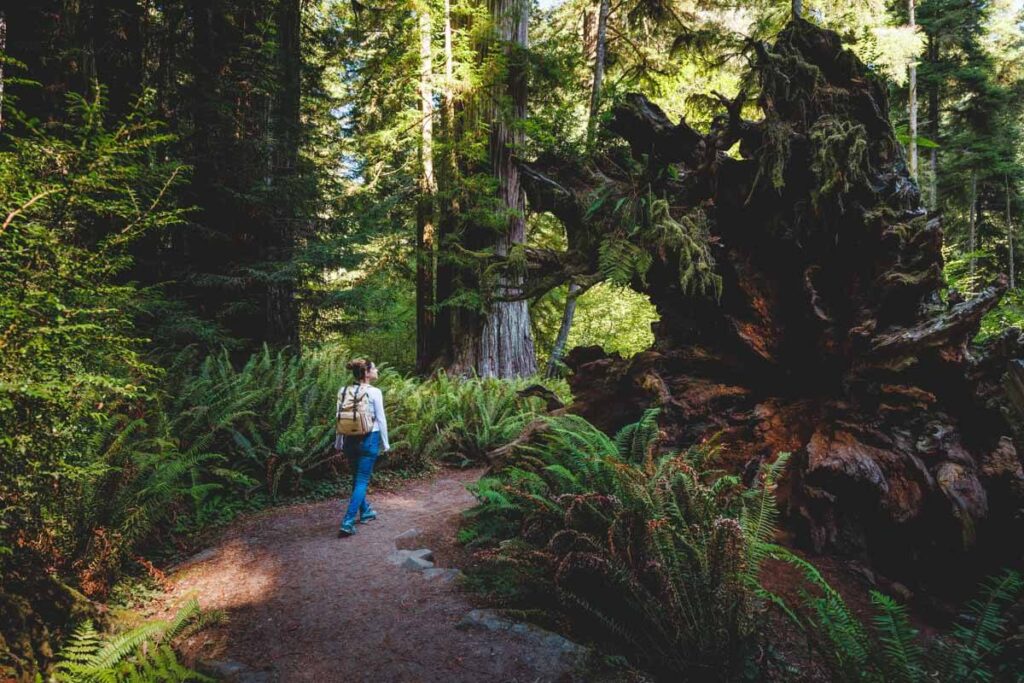 Spend some time just marveling at these incredible trees. It is not every day that you will get to see some of the biggest trees in the world! Snap some photos, see how many people it takes to wrap your arms around the trunks, and peek into hollowed-out logs; they are just incredible.
There are so many incredible spots in Jedediah Smith Redwoods State Park, so here are just a few of our personal favorites to get you started…
Our Favorite Areas:
Simpson-Reed Trail – The Simpson Reed Trail is short and sweet at under a mile; the loop takes you along the banks of the Smith River and is very different from the other hikes through the park. In some parts, it is almost like you are hiking through a thick jungle with a surprising variety of plant life. Green covers nearly every surface while still containing many huge redwood trees. Don't be put off by the hike's location right by the highway, as the noise stops pretty quickly, with a handy pull-out for parking, making it a very accessible and easy trail to see the sights.
Society Hole – It may be hard to imagine, but there may be a time when you tire of redwood viewing and are eager to try something else for a while! That is where Society Hole comes in. This beautiful spot along the river is ideal for putting in a kayak and having a lazy day on the water. Many people also choose this spot to launch a float and do little more than let the river do its thing.
Stout Grove Trail – The Stout Grove Trail is one of the more well-known trails for wandering the redwoods. Many people describe Stout Grove as the most scenic stand of redwoods in the world, but we will leave that to you to decide. The trees are not the largest, but the fact that all the trees here are redwoods, without any small trees to obscure the views, gives you unparalleled views. The soft carpet of ferns adds to the appeal.
Other Things to Do Near Crescent City
Unless you've looked on a map you may not have noticed that Oregon isn't too far from Crescent City. So why not hop over the border and pay a visit to some of southern Oregon's amazing adventures? You're only about 30 minutes away!
9. More Redwoods in Oregon
For those that have never been in the majestic presence of a redwood, you won't yet understand the appeal they have to lovers of the great outdoors, but luckily, Oregon is the place to get acquainted. Like California, Oregon is one of the few places in the US where redwoods can grow, and luckily there are a few particular trails that show off their best side.
The Redwood Nature Trail – 7 miles east of Brookings is the Redwood Nature Trail, and as the name suggests, has plenty of redwoods packed into just over a mile. Start the hike at Alfred Loeb State Park, and after a walk along the river, enter the forest of redwoods. The trees here are not the largest of their kind, but still very impressive, so think of it as a taster into the world of redwoods.
Oregon Redwoods Trail – This hike is another great option to witness these feats of nature up close. You will notice that on this trail, the trees are significantly bigger. Start the hike by descending down into the forest; this way, you will save the biggest and most impressive tree for last. This hike is really far removed, and the road leading to it is rough—All the more reason to visit!
10. Brookings, Oregon
Cross the border to Brookings in Oregon and find yourself in an adventurer's paradise. This coastal gem is everything you could want from the wild west coast, with plenty of stunning spots to explore. Check out Checto Point Park, which offers unbeatable views and hiking trails. (Plus a great brewery!)
Beaches are abundant around the town, such as the famed Samuel H. Boardman with its towering sea stacks and the stunning swaths of sand along the Cape Sebastian State Scenic Corridor.
The Alfred A. Loeb State Park is home to the most extensive groves of coastal redwoods in America, and there are plenty of other opportunities to experience these vast trees around town too. We could go on, and on, here are the best things to do in Brookings.
11. Harris Beach, Oregon
Beach dwellers should, without a doubt, add Harris Beach to their beach bucket list. Although it is located in Oregon, it's just a short drive away from Cresent City and will reward you with incredible rock formations, hidden trails through the rocks, and one of the largest islands off the Oregon coast.
As one of Oregon's seven designated Marine Gardens, the tide pools at Harris Beach State Park are hard to beat. At low tide, the pools team with a kaleidoscope of colors, with hermit crabs, a rainbow of starfish, and anemone, all frequent visitors.
Paddling and kayak tours are one of the best ways to investigate the sea stacks and other rock formations; if you are up for a real adventure, you could even try an overnight experience. This is one of our favorite areas to camp along the Oregon Coast!
Bird Island is a National Wildlife Sanctuary, so is brimming with life, and that's before even mentioning the seals, sea lions, and whales that frequent the shores. You should also stretch your legs on one of the many trails, such as the Harris Beach Trail to Harris Butte, or the Rockaway Beach Trail, both a fun way to explore the coastline.
Where to Stay in Crescent City
Jedediah Smith Campground
There is a campground within the Jedediah Smith Redwoods State Park, an ideal spot if you sleep surrounded by towering trees and want to be up and out in the morning to explore. 106 sites and four cabins are available, which are just glorified tents. The park has restrooms and showers, water taps, and an RV sanitation station.
Florence Keller County Park & Campground
Just three miles north of Cresent City lies Florence Keller Country Park. The park has 50 campsites scattered throughout the park, nestled within the redwoods, so you can wake up surrounded by these towering giants. Both tent and RV camping spots are available, with plenty of amenities for a comfortable stay.
There are picnic areas, volleyball courts, playgrounds, and walking trails. This is a great budget option if you still want a redwood camping experience without the heftier price tag of some of the more well-known redwood spots. This is where we camped, and we loved it!
I hope this helped you find some cool things to do in Crescent City! Here are some more adventures around the Northern California Coast.
I embark on expeditions around the world but can't get enough of California or the PNW. I'm a VW nerd with a Bug and a Bus. You can probably find me surfing or snowboarding somewhere.