On the picturesque California coastline, Devil's Slide Trail beckons adventurers to uncover a world where the forces of nature and the echoes of history converge.
This trail is steeped in geological wonders and wartime remnants, making it such a fun trail!
You'll get breathtaking vistas (hello, this is the California Coast!) from rugged cliffs where nesting seabirds take flight to the splendor of migrating whales gracing the waters below.
While the Devil's Slide Trail is a short hike (really a walk), it packs a lot, plus it's a nice and easy leg stretcher while you road trip the coast! We loved hiking this trail, here's everything you need to know…
Devil's Slide Trail
---
To get to the Devil's Slide Trailhead, you'll want to park here at the north parking lot. There is a southside parking area, but it's not open!
The stats for the Devil's Slide Trail:
Length: 2.8 miles
Type of Trail: Out and Back
Difficulty: Easy
Elevation Gain: 344 feet
The History: Why is it Called The Devil's Slide?
For good reason! Cradled between San Pedro Ridge and Montara Mountain, the Devil's Slide Trail boasts a dramatic geological landscape.
This steep 900-foot cliff is primarily made of vulnerable shale and sandstone with a soft sedimentary layer, which constantly battles erosion due to the relentless forces of the Pacific Ocean. The result? Frequent mudslides that have plagued the area for decades!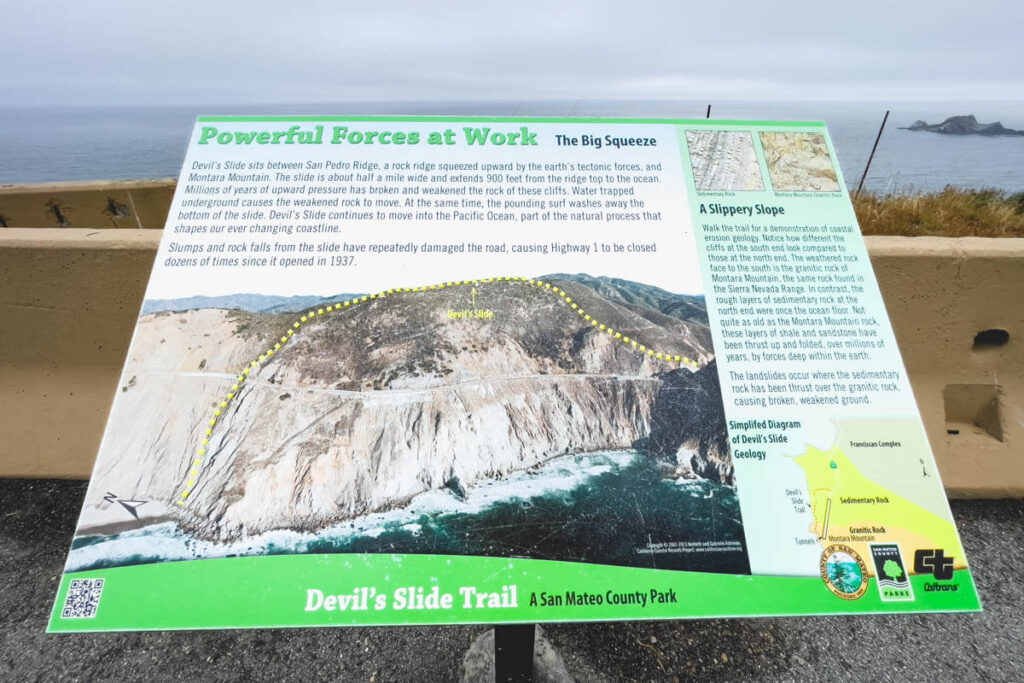 Over the years, numerous attempts were made to tame the unruly Devil's Slide. In 1905, an ambitious railway project was initiated, but it was swiftly defeated by a slide triggered by the infamous 1906 earthquake. Although reconstruction was completed by 1908, the railway's fortunes waned, ultimately leading to its closure in 1920.
In 1937, Highway One was boldly etched into the hillside, but it soon fell victim to the region's precarious geology. A major landslide struck in 1940, foreshadowing a series of closures, including a two-year shutdown in 1995 and another lasting over five months in 2006!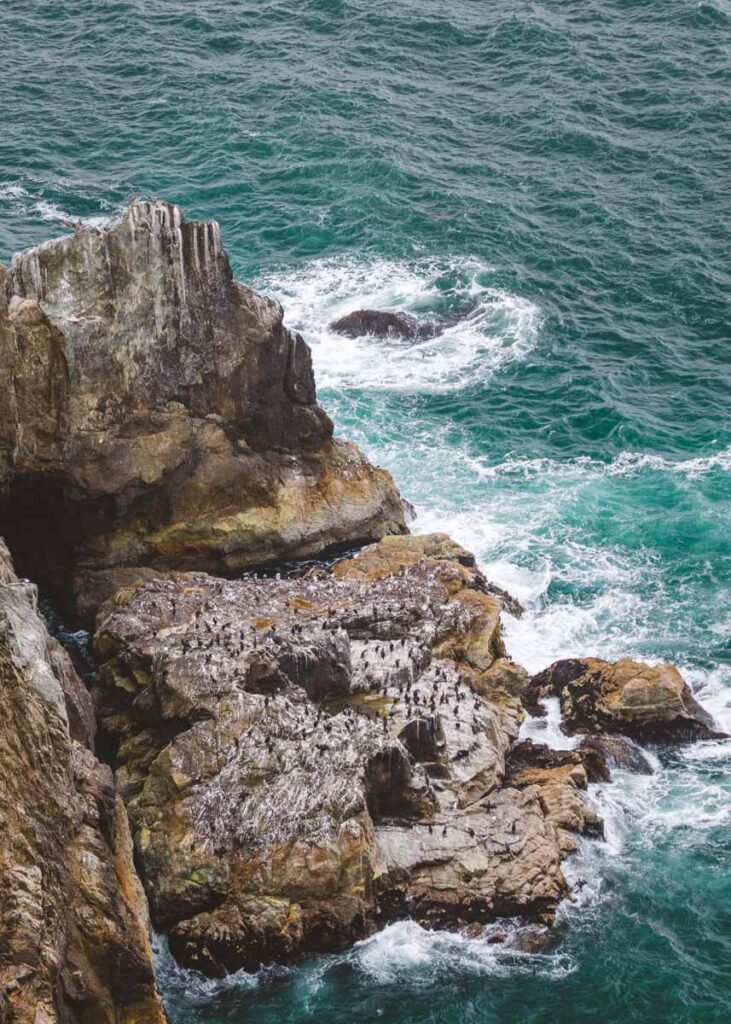 These disruptions wreaked havoc on coastside traffic—which is bad as is. Finally, in 2013, the Tom Lantos tunnel emerged as a solution, rendering the old roadway into what we now know as the Devil's Slide Trail.
Walking The Devil's Slide Trail
Today, the Devil's Slide Trail is loved by walkers, cyclists, and even the occasional equestrian, offering a unique and safe route along this historically challenging stretch of coastline.
Here you'll find the old road, which means you'll have plenty of space to walk and bike. This is going to be a totally paved trail!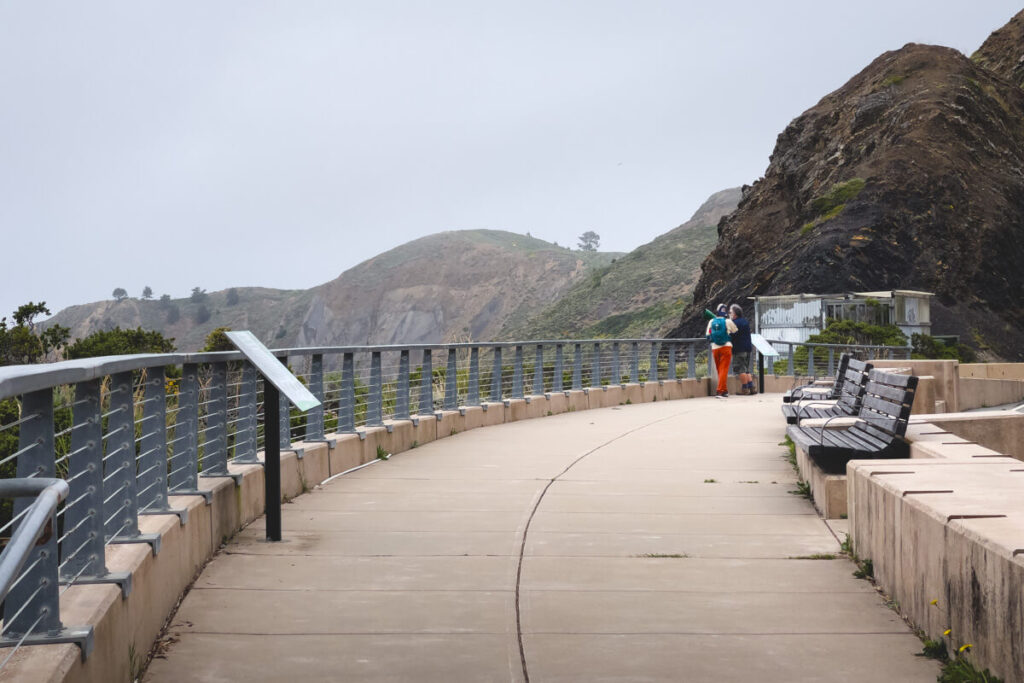 And really, this is more of a walk than anything, not so much of a hike. Being the weirdo I am, I actually walked this in flip-flops because that's what I'm most comfortable wearing! That's how easy it is.
However, keep in mind that Devil's Slide Trail does offer some challenges. There's a notable 9% grade in the steepest section, which can make it a demanding climb for some—However, you'll only have to worry about this on the way back as you'll be going downhill first.
Highlights of the Devil's Slide Trail
As you venture along Devil's Slide Trail, be prepared to encounter a remarkable array of natural wonders and historical curiosities that make this hike truly unique!
The Rugged Coast
The beauty of Devil's Slide Trail extends to the waves that relentlessly pound the coastline. Several spots along the trail have benches and lookout scopes, inviting you to pause and take in the view.
The sheer power of the waves hitting the rocky shore here is a sight to behold!
Don't Forget to Look Up
The cliffs above and below the trail serve as nesting grounds for an astonishing variety of seabirds. Keep your eyes peeled for majestic Peregrine Falcons, Pigeon Guillemots, Common Murres, and the ubiquitous Western Gulls. You just might catch a hawk or a falcon too!
Marine Life
The California coastline is a bustling marine highway, and Devil's Slide Trail provides a front-row seat to this aquatic spectacle. Migratory Gray and Humpback Whales grace these waters, with Grays journeying down the coast in December and January and returning in mid-March to early May.
Humpbacks, on the other hand, favor the central coast from April to December, making their presence known, particularly during the summer months. Look a little closer to shore, and you might spot some Elephant Seals and Sea Lions.
WWII Relics
Just as you're finishing the hike and getting ready to turn back around, you'll see a WWII bunker right in front of you, offering a fascinating juxtaposition of history against nature's backdrop.
This air defense bunker stands as a testament to the past, weathered by time and "colored in" with graffiti. The cliffs are unstable around the bunker, so make sure not to roam around too far up here.
This is just one of the many hikes and things to do around Half Moon Bay!
We hope you enjoy walking the Devil's Slide Trail during your visit!
I've been perpetually traveling and living around the world for years but it's hard to beat California and the PNW. After years of road-tripping the area, I guess you can say I know it pretty well! When I'm not writing guides for you, you can catch me somewhere petting a dog, attempting to surf, hiking a volcano, or stuffing my face with bread and cheese.