Suppose you are looking for an epic short hike that will treat you to incredible views of Mount Shasta, the Castle Crags Wilderness, picturesque lakes, and beautiful swimming spots—In that case, you are in the right place!
The Heart Lake Trail from Castle Lake is one of California's finest hikes. Right from the trailhead, as you stroll around the shores of Castle Lake, you know that even more incredible sights are to come. There is a fair bit of elevation gain, but the views and relatively short distance will keep you distracted enough not to feel it much.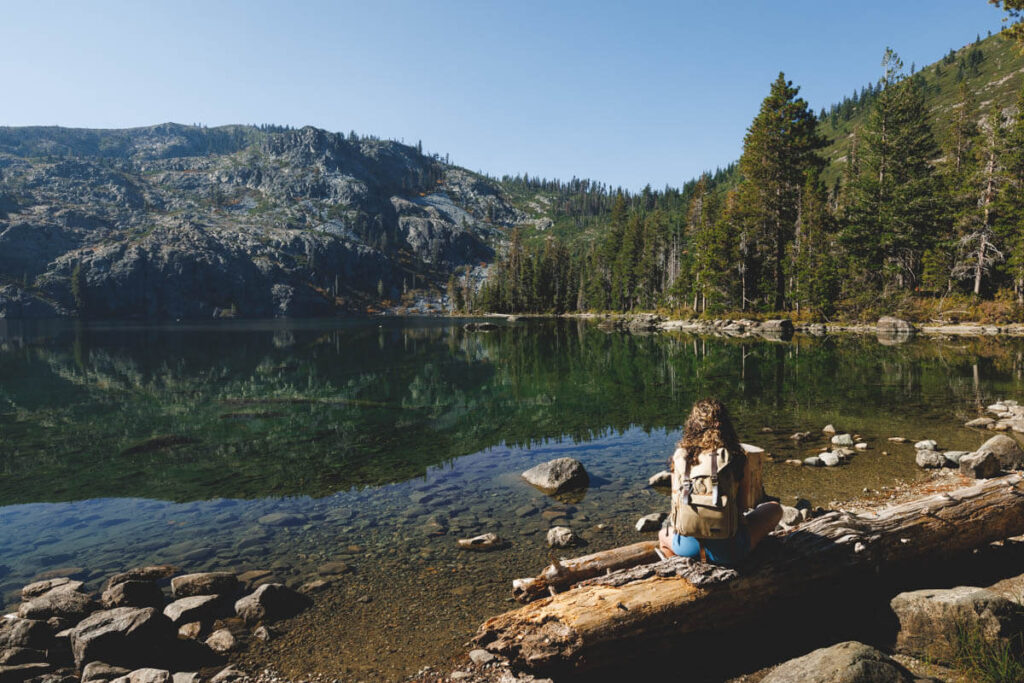 The Shasta-Trinity National Forest is vast and jaw-droppingly beautiful, and because you could spend years exploring it, we thought we would share one of its best hikes with you. Well, at least we think this is one of the best hikes in Mount Shasta, you can decide for yourself!
Heart Lake Trail from Castle Lake
---
We absolutely love this hike, but there are a few things to know, especially if you're looking forward to seeing a heart-shaped lake (spoiler alert – it doesn't look like a heart!)
So before you start lacing up your boots here's the low down…
How to Get to Heart Lake Trail
Castle Lake and Heart Lake are located in the Shasta-Trinity National Forest and are about 10 miles southwest of Mount Shasta. The trailhead will take about 20 minutes to get to from I5. When driving along the I5, you will have to take Exit 736.
You will now be on Castle Lake Road, and getting to the lake is as easy as following this road to the end.
There is a dedicated parking area at Castle Lake, which serves as the Heart Lake trailhead for this hike. Be aware that the parking is only a small loop, so it can get hectic during the weekends or good weather days. You may find that people are pulling over on the side of the road to the park.
We came early on a Sunday, and it was fine, but it was getting really busy on our way back down.
The Hike: Heart Lake Trailhead from Castle Lake
Distance: 3 miles
Type of Trail: Out & Back
Difficulty: Moderate
Elevation Gain: 813.6 feet
The start of the Heart Lake from Castle Lake Trail will take you around the left side of Castle Lake, which is beautiful in itself. The area is relatively forested at this point as you hug the lake, but be sure not to take the small deviation to the left from the lake, as this will bring you the wrong way. After hugging the lake for a while, it won't be long before you head uphill.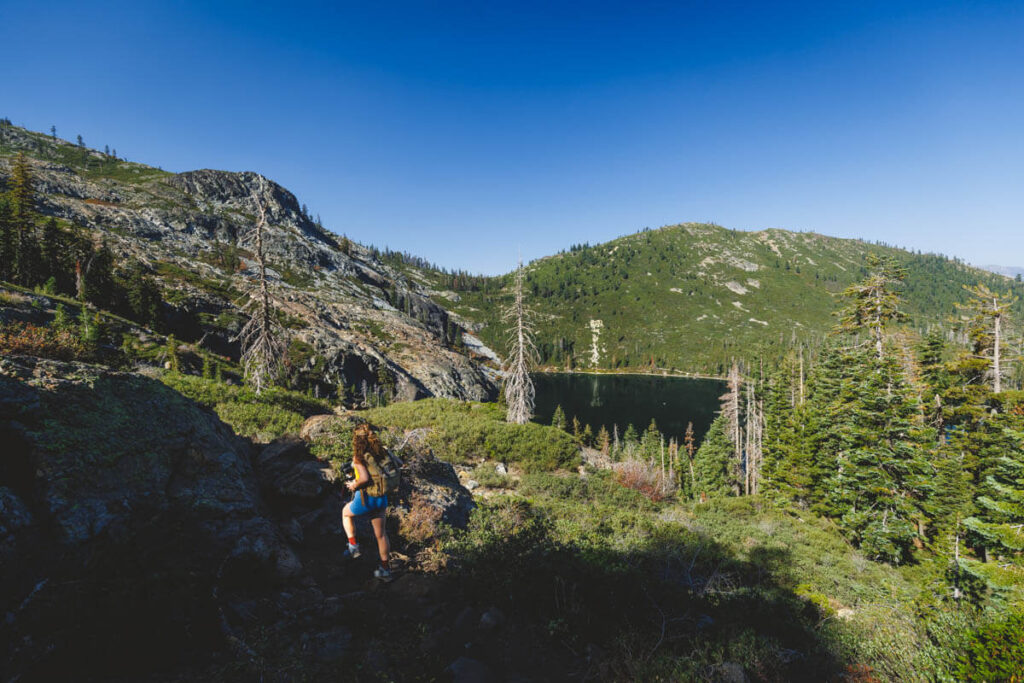 The lake is beautiful when you are at the same level as it, but it gets even better as you climb up the Heart Lake Trail, and there are a few handy viewpoints where you can see Castle Lake and its rich blue waters from above. From this point on, it is a steady incline most of the way along a dirt and rocky path.
After a bit more climbing, you will reach your first intersection. Now, you need to take the trail to the right to Heart Lake. At this point, it can get a little confusing, and with not much signage, it is hard to tell which trail you need to go on. Bring an offline map with you, as it will make it easier for you to follow the correct path.
Although the lakes are incredibly scenic, it is arguable that some of the best views are of your surroundings as you climb. Mount Shasta sits imposingly in the distance, and if you are like us, you will never get enough of seeing this majestic mountain from different viewpoints. The Heart Lake hike is a winner regarding views of spectacular alpine scenery, especially since it is such a short trail.
Reaching Heart Lake
After much climbing, you will come across the smaller Heart Lake, nestled within the rocky crags.
As much as the name promises great things, try not to get your hopes up that the lake will look like a heart, it doesn't! It is definitely beautiful and worth hiking to, but we think you will struggle to see the heart shape as we did. It looks more like a heart on the map than in real life, BUT…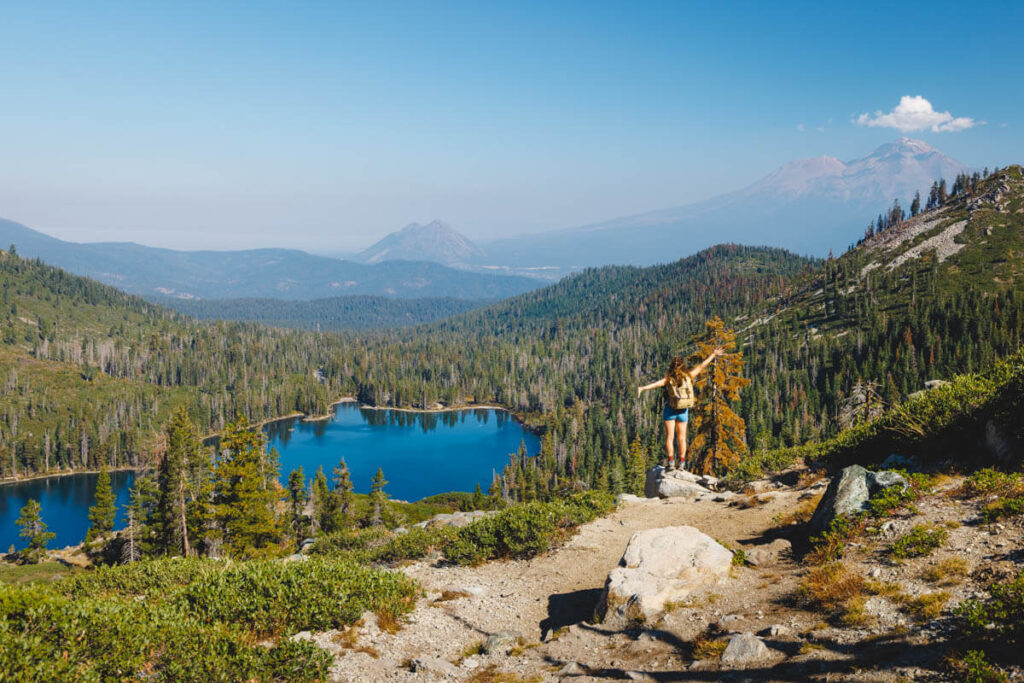 As you walk past Heart Lake, you'll see the trail continues a little bit to the right, and you should continue walking on it and go straight towards the rocky hill in front of you until you see a deviation towards the right. If you get confused, check All Trails; this app shows you the correct turning point.
Scramble up the rocks in front of you, and your effort will be rewarded with a spectacular vista of the mountains and Castle Lake down below. In fact, from this lofty viewpoint, Castle Lake is the lake that looks like a heart!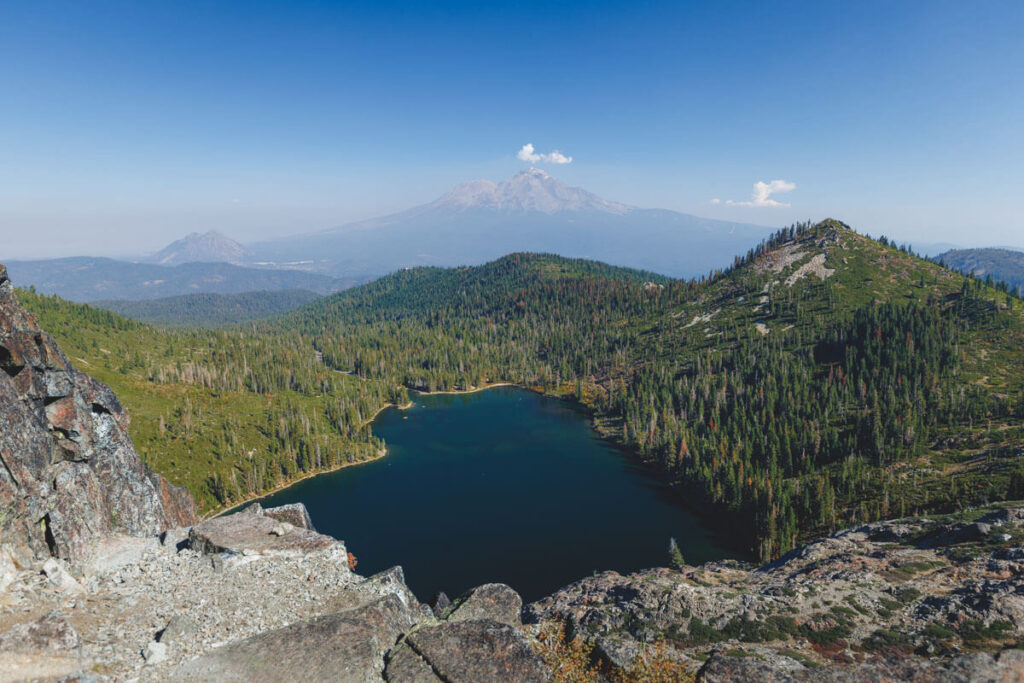 Yes, Castle Lake is kinda Heart Lake, but the other lake is named Heart Lake even though it doesn't look like a heart. But Castle Lake looks like the heart, but only from above—Did you get all that? Ha, yeah, we were confused about where this "heart lake" was when we got there until we explored a bit more—And now you know!
Getting Back
As this is an out & back hike, once you reach Heart Lake and have spent some time there taking in the views and relaxing around the shores, turn around and head back the way you came. Alternatively, if you would like a bit more climb, you can continue the trail up to the top of Castle Peak, with the summit just above Heart Lake.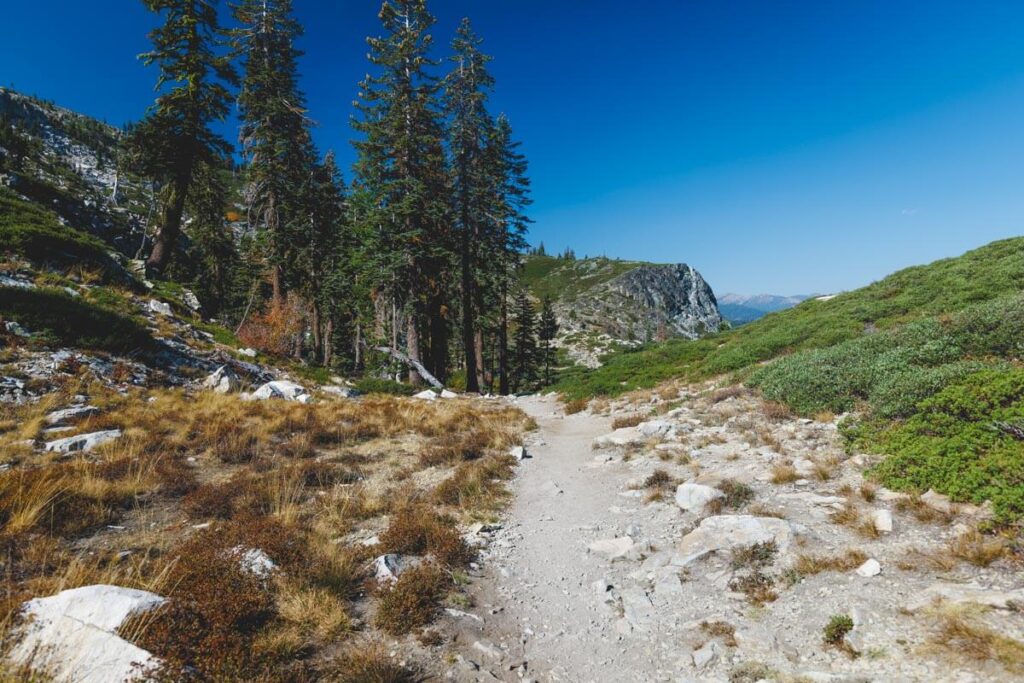 ---
READ MORE: 15 Must-Do Mount Shasta Hikes! – California is for Adventure
---
Other Things to Do Around Castle Lake
This spot is one of our favorite places to go in Mount Shasta. There isn't just an epic hike, you can plan to spend the day here! Remember, the trailhead is at Castle Lake—so this lake is very accessible and is fun even if you don't go for a hike around it.
Kayaking and Paddleboarding
When you park at the trailhead at Castle Lake, you have almost immediate access to the water. This is the ideal spot to put in your paddleboard or kayak and have a leisurely paddle around the lake, accompanied by impressive surroundings. At 50 acres, it is the perfect size for paddlers. The water is nearly crystal clear, allowing you to see what lurks below the waters and adds to the peaceful atmosphere.
Swimming
Because the water is crystal clear, and for the most part, the water doesn't get deep too quickly, Castle Lake makes a good swimming spot. A couple of nice "beaches" along the lake can be reached via the trail that hugs the shore.
Fishing
Fishing is quite popular in the lake, with rainbow, brook, and brown trout all present below the water. May and June are the best times for lake fishing.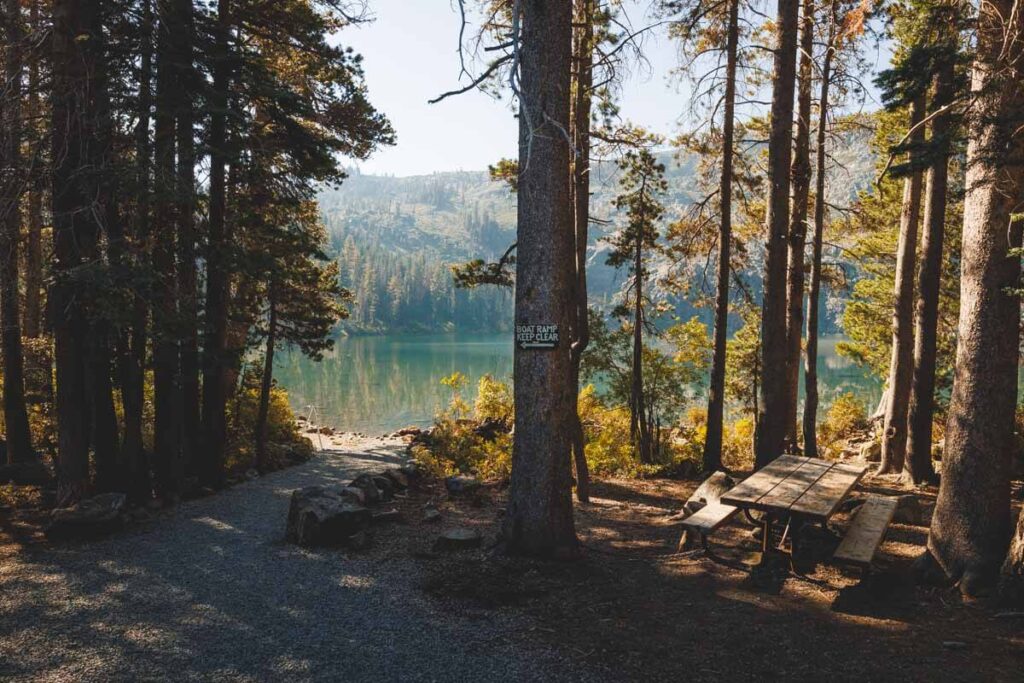 Picnicking
The picnic area is small but offers a couple of picnic benches and flat ground, with incredible views of Castle Peak. It is right on the shores of the lake, so you will have lovely surroundings while you eat, and due to the gradually sloping banks here, it is very easy to go for a paddle.
Camping Nearby
Castle Lake Campground is small. There are only six primitive campsites available, so you can't guarantee to get a spot. The campground is relatively close to the lake and the Heart Lake trailhead, sitting on the shores of Castle Lake Creek. Unlike the hike, the trees around the campground provide plenty of shade. It is free to camp here, but as we said, there are limited facilities.
There is no drinking water, so come prepared, but there are fire rings and vault toilets. There is a limit of 3 nights here.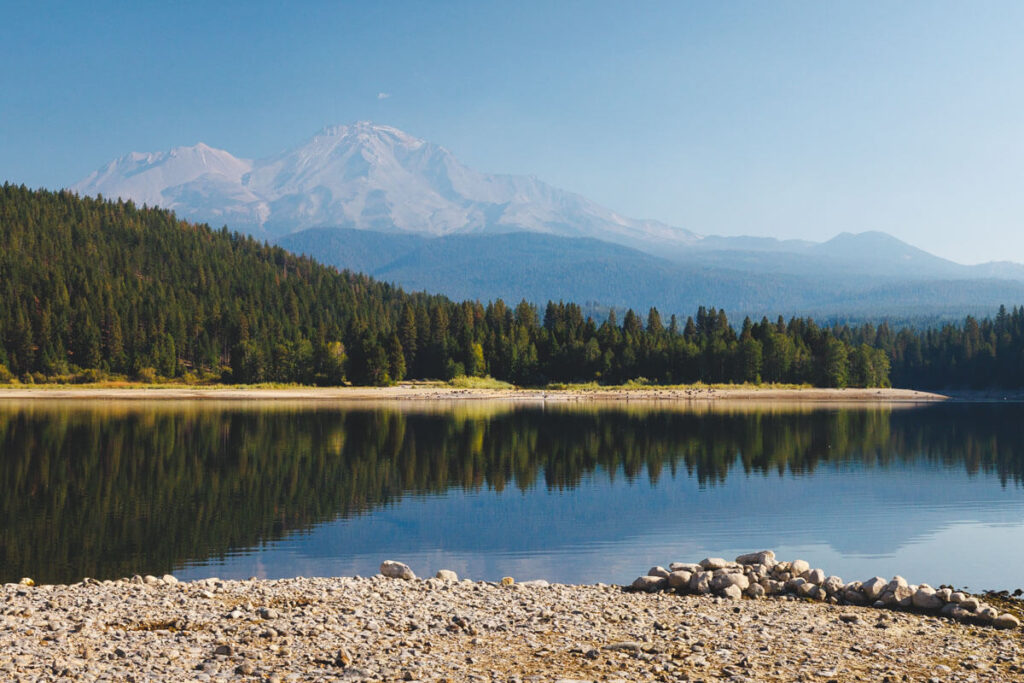 If you wanted something a bit more "on the grid," then you can stay where we stayed, Lake Siskiyou Camp Resort. We loved this spot! They have tons of space, and you're right on the gorgeous lake. The Heart Lake Trail is only about 15 minutes driving from here so you can get up and make it out here before everyone else does.
Tips Before You Tackle The Heart Lake Hike
Most of the Heart Lake Trail is exposed, with only a few areas that are shaded, so you should take some form of sun protection, especially on a hot day.
The trail can sometimes be a little challenging to follow, with a few different deviations that will take you the wrong way. You should use an offline map to assist you if possible to make sure
you are not walking off trail.
Heart Lake doesn't actually look like a heart! The pictures you have seen of a heart-shaped lake have been a photo of Castle Lake as seen from the top of the Heart Lake trail! You'll have to hike to the spot we mentioned above to actually see this shape.
The snow in this area doesn't tend to clear up until the end of May, and then there is usually snow again at the start of November.
Chances are you will not get any phone signal on the hike, so make sure you have everything you need before you arrive.
Take lots of water with you, and ensure you leave no trace.
Have fun tackling the Heart Lake Hike in Mount Shasta!
I've been perpetually traveling and living around the world for years but it's hard to beat California and the PNW. After years of road-tripping the area, I guess you can say I know it pretty well! When I'm not writing guides for you, you can catch me somewhere petting a dog, attempting to surf, hiking a volcano, or stuffing my face with bread and cheese.