These Mount Shasta hikes can't be beat!
The Mount Shasta region boasts one of the most incredible landscapes in California, yet it's often overshadowed by hiking giants like Yosemite, Joshua Tree National Park, and Big Sur.
But Mount Shasta certainly has its fair share of wow-worthy hikes that should not be missed, especially with the incredible formation of Mount Shasta dominating the horizon from almost everywhere you walk.
No matter your level, there are hikes for everyone, taking you along rocky ridges, across meadows, beautiful waterfalls, and up mountains; the choices are endless when it comes to Mount Shasta hikes.
Mount Shasta Hikes
---
✋ HOLD UP! Don't Forget…
You need some wheels! It's nearly impossible to get around the USA and check out the best adventures without a car! Here are our top recommendations…
🚗 Rent a car
If you don't have your own, renting a car is your best bet!
🚐 Rent a home on wheels
For the more adventurous, rent a van or RV and ditch the hotel.
1. Mount Shasta Horse Camp (Underrated Mount Shasta Hike!)
Distance: 3.5 miles
Type of Trail: Out & Back
Difficulty: Moderate
Elevation Gain: 955 feet
The Mount Shasta Horse Camp Trail is a moderate yet popular climb through the forest, leading up to the Sierra Club Stone Cabin. Although the hike to the cabin is popular as a stand-alone hike, the cabin also marks the start of more incredible Mount Shasta hikes.
You will head through grand sub-alpine forests to be greeted with stunning mountain views once you break the treeline, without having to deal with any seriously strenuous climbs.
2. South Gate Meadows Trail
Distance: 3.6 miles
Type of Trail: Out & Back
Difficulty: Moderate
Elevation Gain: 876 feet
The South Gate Meadows Trail offers something a little different from the standard lake loop, waterfall chasing, or mountain climbing fare of other hikes in Mount Shasta. Instead, it takes you through acres of lush alpine meadows, where you have nothing to obscure the views of surrounding crags and mountains.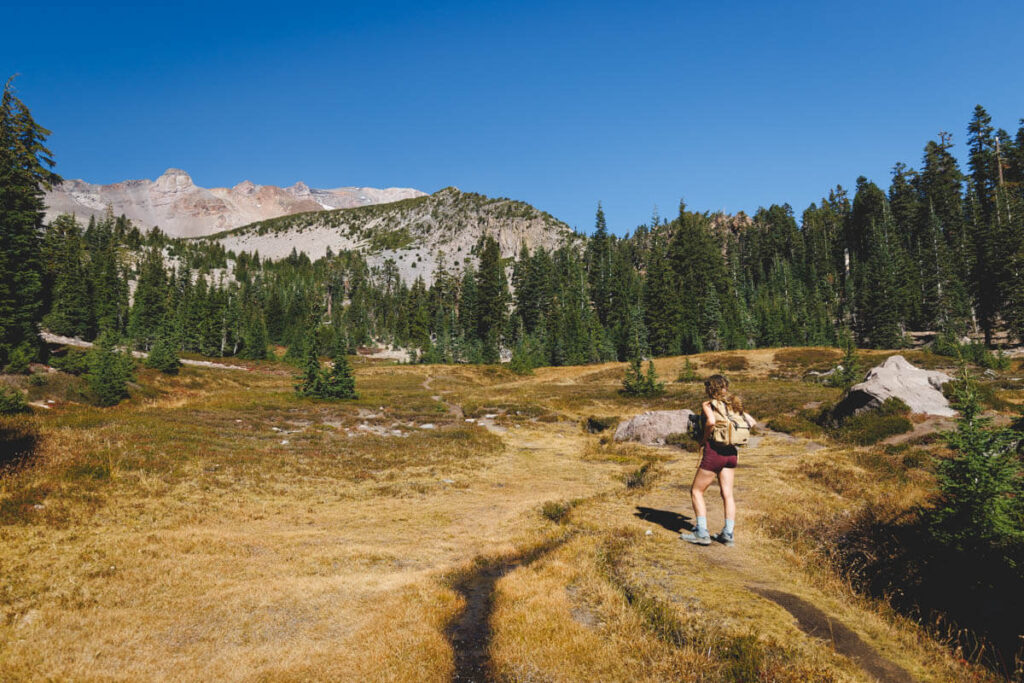 This is an insight into the barren volcanic landscape of this iconic mountain, taking you through the biggest meadow complex in the Mount Shasta area.
3. Bunny Flat to Panther Meadow
Distance: 7 miles
Type of Trail: Out & Back
Difficulty: Easy
Elevation Gain: 1,355 feet
With camping at either end of the trail, the Bunny Flat to Panther Meadow Trail offers you the perfect excuse to plan a multi-day adventure. The hike has a pretty steep incline and is incredibly beautiful from the get-go, with flower-filled meadows and breathtaking views.
The trail also rarely gets busy, so there is a good chance you will have stretches to yourself.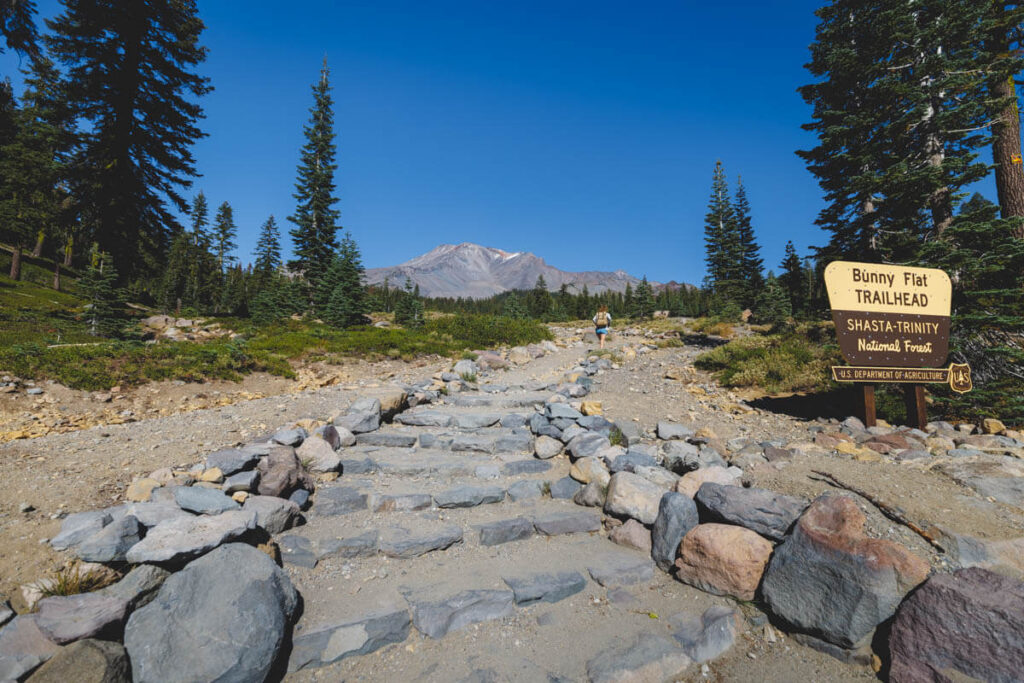 If you are visiting in the winter, it is also an easy route for snowshoeing, a perfect trip for all abilities.
If you want to sample a little of this beautiful hike, try the shorter Panther Meadow Trail, which just takes you through the delicate Panther Meadow. When it comes to scenery, this trail strikes big, with almost constant views of Mount Shasta and Green Butte.
The scenery awe-inspiring for such a short trail, combining rocks, cliffs, wildflowers, mountain views, meadows, and creeks, all in one neat hike of just over a mile.
4. Sand Flats
Distance: 3.2 miles
Type of Trail: Loop
Difficulty: Easy
Elevation Gain: 417 feet
The Sand Flat Trail offers a nice, easy hike through forested paths near Mount Shasta. In summer, it is a wide path that is easily walkable and could just be described as 'nice,' but in the winter, it transforms into a winter wonderland, with a wide path perfect for snowshoeing.
There are marvelous views and an easy path to follow made remarkably scenic thanks to the snow-smattered trees. If you are new to the cross-country skiing scene, this is a great place to start; you could almost head to these flat trails, even if it is your first time on a pair of skis.
With Mount Shasta cloaked in the background, it is a memorable place to head into the winter.
5. Old Ski Bowl
Distance: 2.1 miles
Type of Trail: Out & Back
Difficulty: Moderate
Elevation Gain: 906 feet
Be prepared for some killer elevation gain during the Old Ski Bowl hike. The Mount Shasta hike allows you to explore an old ski area. It was Mt Shasta's first ski area, but very little is left today.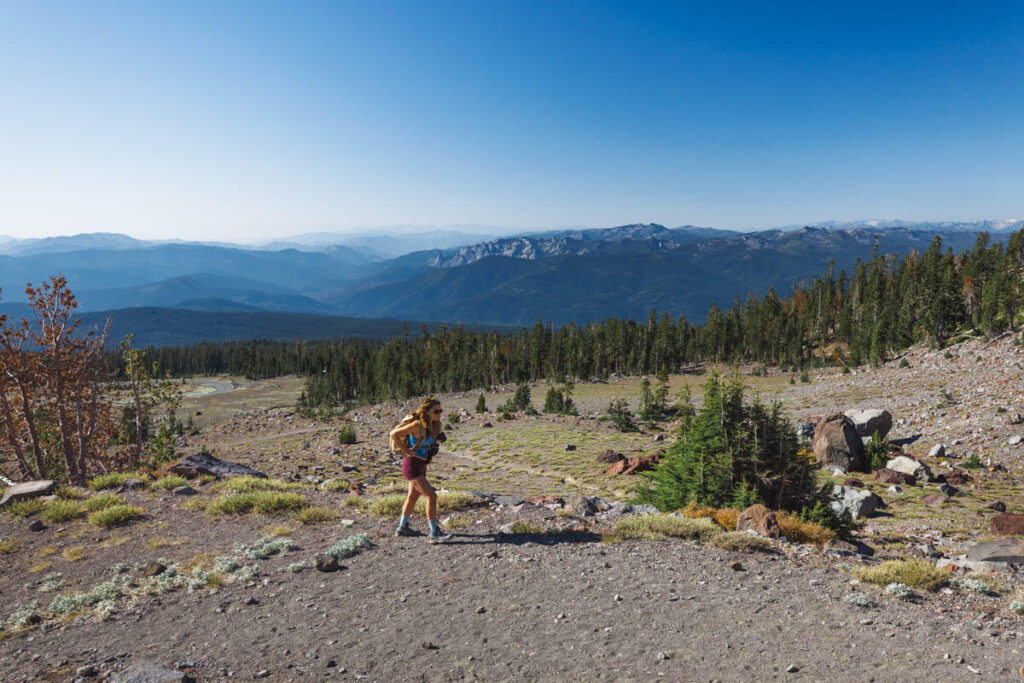 High up on the mountain's flanks, you are well above the treeline, dipping in and out of beautiful valleys, giving you incredible views of the surrounding landscape to the south of the McCloud area.
Paved roads lead to the trailhead, meaning getting there is rarely an issue, so all you have to do is enjoy the hike on one of the more unusual trails in the Mount Shasta region. It's not all about the history; however, the trailhead alone is visually spectacular, with Mount Shasta towering above.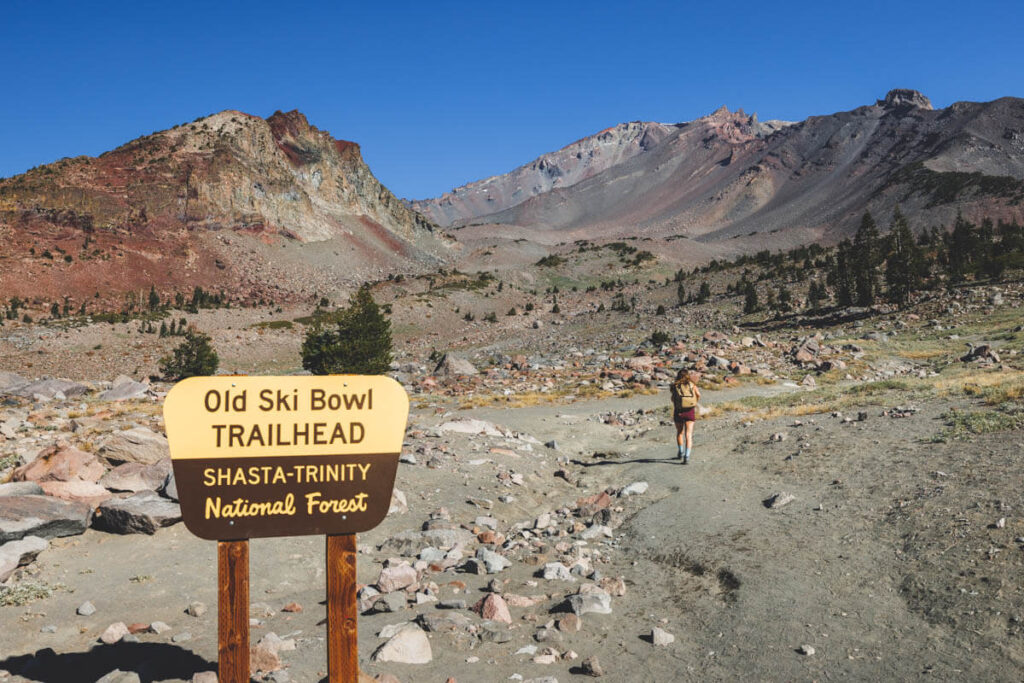 Along the way, you should also expect to enjoy sightings of Shastarama Point, Green Butte, Red Butte, and Gray Butte without too much of a crowd.
6. Gateway Trails (Least Effort With Amazing Reward Mount Shasta Hike!)
Whether you fancy hiking, jogging, mountain biking, or horse riding, the Gateway Trail System is a great system of trails with both short and long loops.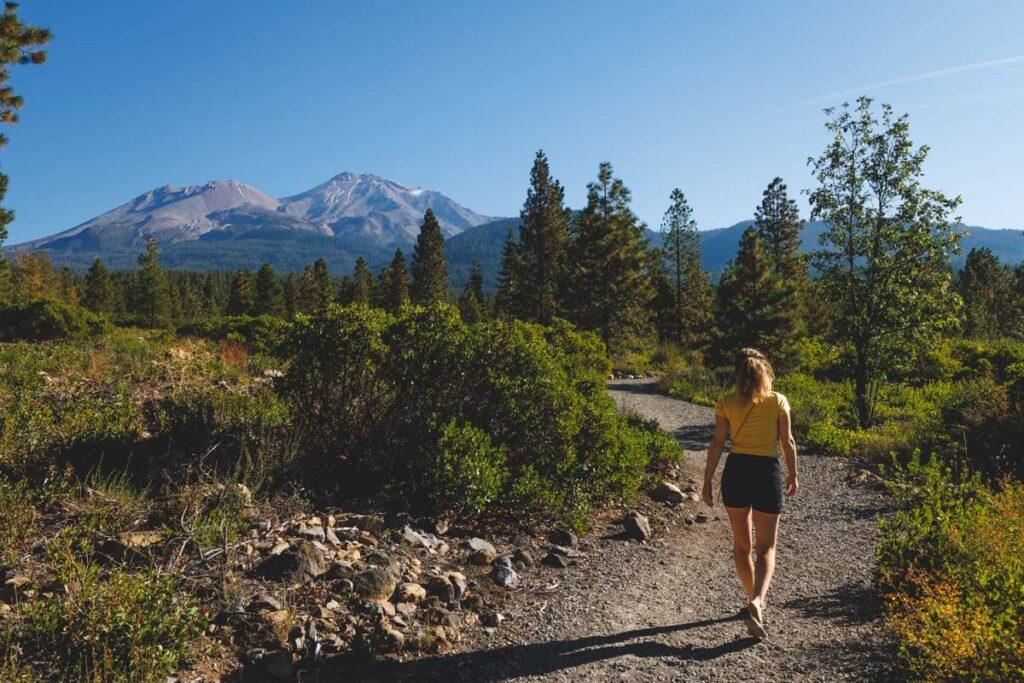 Each trail offers a very different experience, with more trails coming soon, so you should be sorted for a good few years when it comes to finding new hikes in Mount Shasta to tackle.
If you don't want to trek up the mountain, drive up to the top, or put too much effort into getting into nature and seeing Mount Shasta, this network of about six trails is perfect for you!
7. Spring Hill Trail
Distance: 2.6 miles
Type of Trail: Loop
Difficulty: Moderate
Elevation Gain: 666 feet
At the north end of Mount Shasta city sits Spring Hill. Although it doesn't look too strenuous, it is quite a climb up to the top of this butte. You can see this lofty hill from most places within the city, beckoning you to climb to its peak and witness the vistas of Mount Shasta, the Trinity Divide, and Strawberry Valley.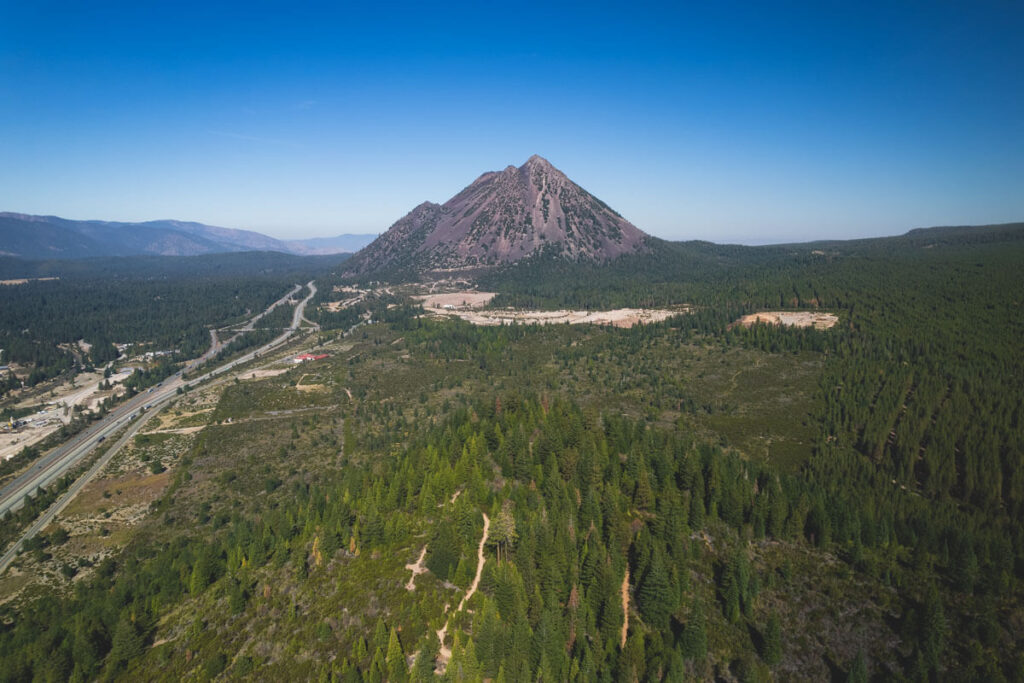 Although long, the path up to the summit of Spring Hill is not particularly steep, so you can take your time winding your way along the trail, switchbacking your way to the top, and looping around the summit.
If you have limited time or don't want to stray too far from the city, this is a good Mount Shasta hike for you.
8. Mount Shasta City Park
Distance: 0.9 miles
Type of Trail: Loop
Difficulty: Easy
Elevation Gain: 39 feet
On the outskirts of town sits the beautiful Mount Shasta City Park, home to the start of the mighty Sacramento River. The water here is said to have healing properties, so don't be surprised if you see a few people come and fill up their water bottles.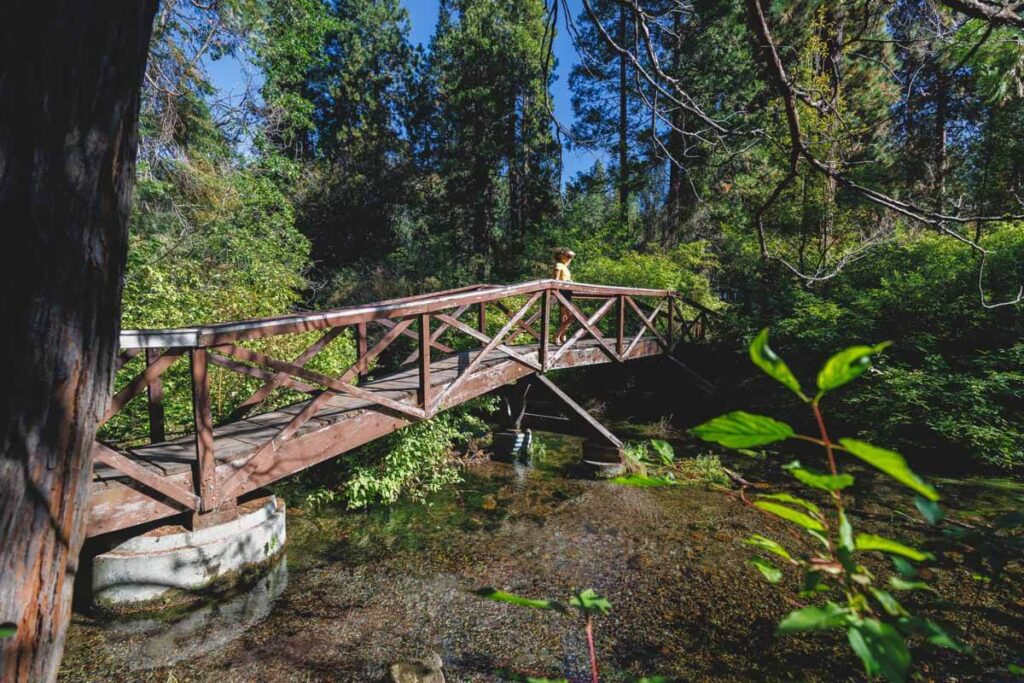 Take the Big Spring Meadows Trail to explore the park, taking the offshoot trails when they appeal to you. Running next to the creek, you can expect to cross a few pretty bridges, witness giant redwoods, and view colorful wildflowers in the spring.
9. Black Butte Trail
Distance: 6.1 miles
Type of Trail: Out & Back
Difficulty: Hard
Elevation Gain: 1,992 feet
The almost perfectly conical shape of Black Butte calls hikers from far and wide to come and climb to its peak.
As the largest of Mount Shasta's satellite peaks, it is a destination in itself, but it offers some incredible views of the whole area on the climb up and from the summit, where the 360-degree views are dazzling.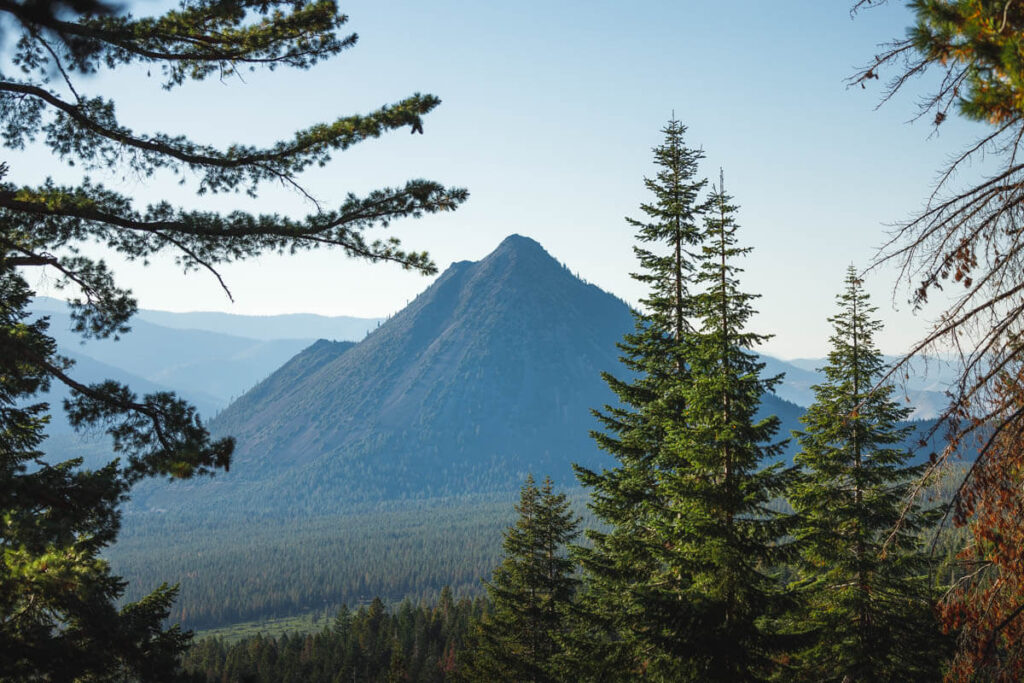 When looking at the steep slopes of Black Butte, many people are surprised to learn that there is actually a trail that will take you up to the summit, and not only that, but the trail itself isn't THAT steep. In fact, due to the lack of vegetation, the trail is easily visible, snaking its way up the northern flank.
It's a popular hike in Mount Shasta, the views are phenomenal, and climbing to the peak of iconic Black Butte is alluring. You will be in for a few surprises along the way, such as a hidden canyon and the foundations of an old fire lookout tower.
10. Castle Crags State Park
There are plenty of hikes in the Castle Crags State Park. There are so many options with a range of levels that traverse the craggy, rocky terrain. Whether you want a few hours of hiking or a whole day, check out the hiking options and pick one that works.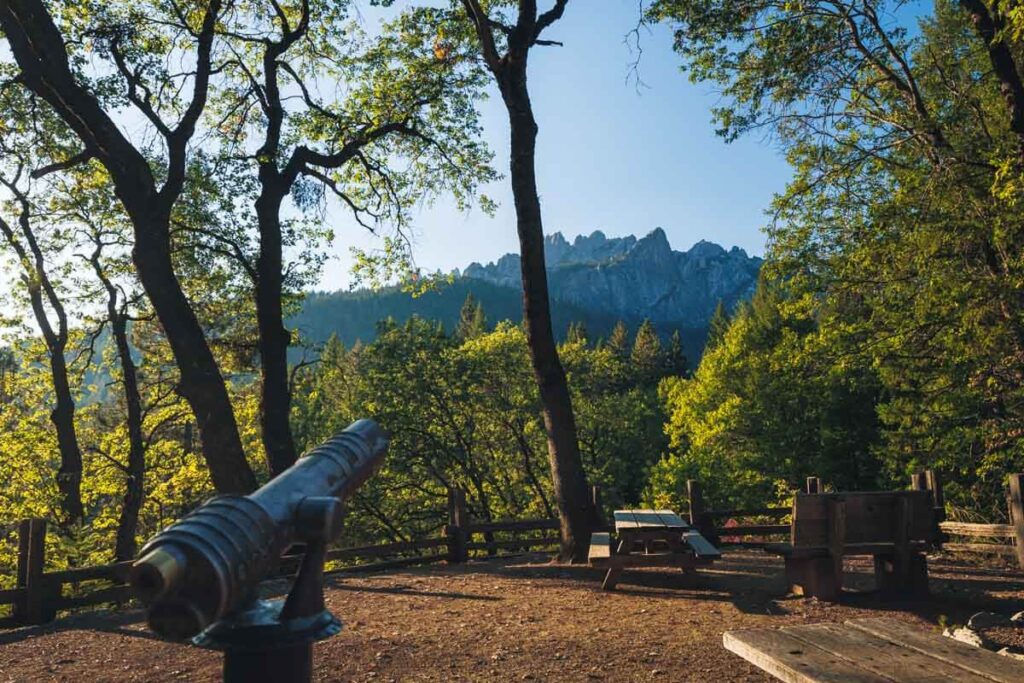 The area's geology is impressive, and much of it can be explored on a hike throughout the year, even in the winter when snowshoeing is popular.
The Bob's Hat Trail is a good option as the hike culminates in a stunning view of Mount Shasta, with the biggest elevation gain coming right at the last stretch, so be prepared.
---
RELATED: 13 Legendary Things To Do in Mount Shasta for Adventure Lovers
---
11. Castle Lake to Heart Lake (Everyone's Favorite Mount Shasta Hike!)
Distance: 3 miles
Type of Trail: Out & Back
Difficulty: Moderate
Elevation Gain: 814 feet
One of Mount Shasta's signature hikes is the walk from Castle Lake to Heart Lake. Not only will you tick off two stunning mountain lakes, but it is not too challenging, and you will be rewarded with beautiful views and sights along the way.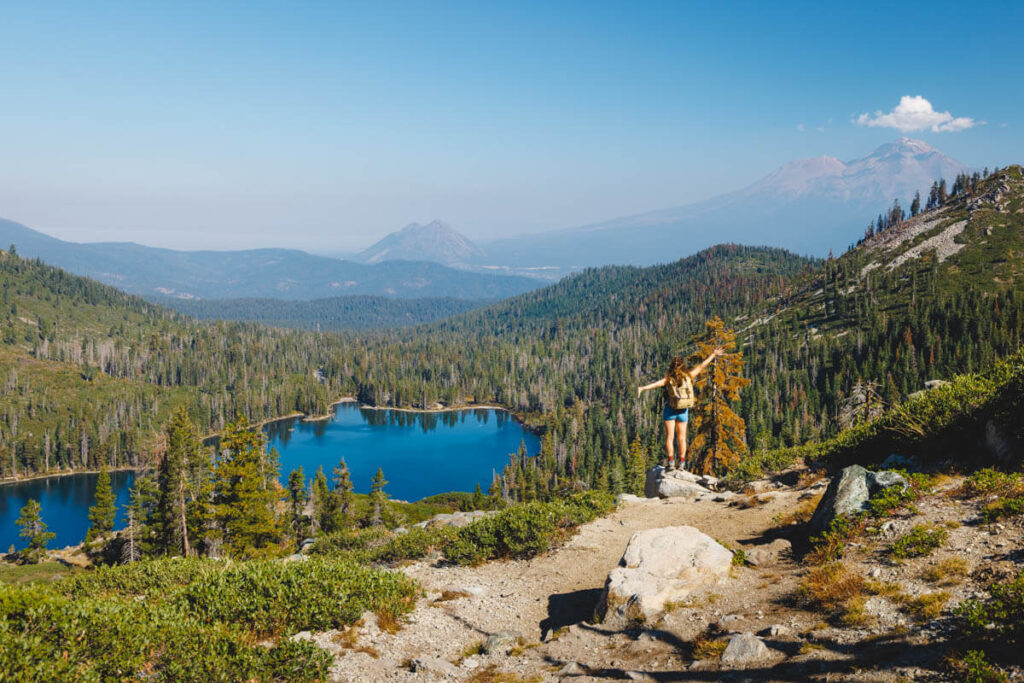 From Castle Lake, you will begin heading up a pine-filled path, which gradually clears as you reach Heart Lake. You will be greeted with a miraculous vista of Mount Shasta and Black Butte.
If you can't stop hiking, you can also carry on to the ridges surrounding the lake to take in the scene from an even loftier viewpoint. In fact, you need to hike up more and to the right to get that iconic heart shape lake view!
12. Lake Siskiyou Loop
Distance: 7 miles
Type of Trail: Out & Back
Difficulty: Easy
Elevation Gain: 400 feet
With both lake and Mount Shasta views almost the entire time you hike or bike, the Lake Siskiyou Loop is scenic without you having to find the strength to climb a mountain. The trail completely circles the lake, and although it isn't wild and has no crazy surprises or breathtaking lofty views, it's not needed on this hike.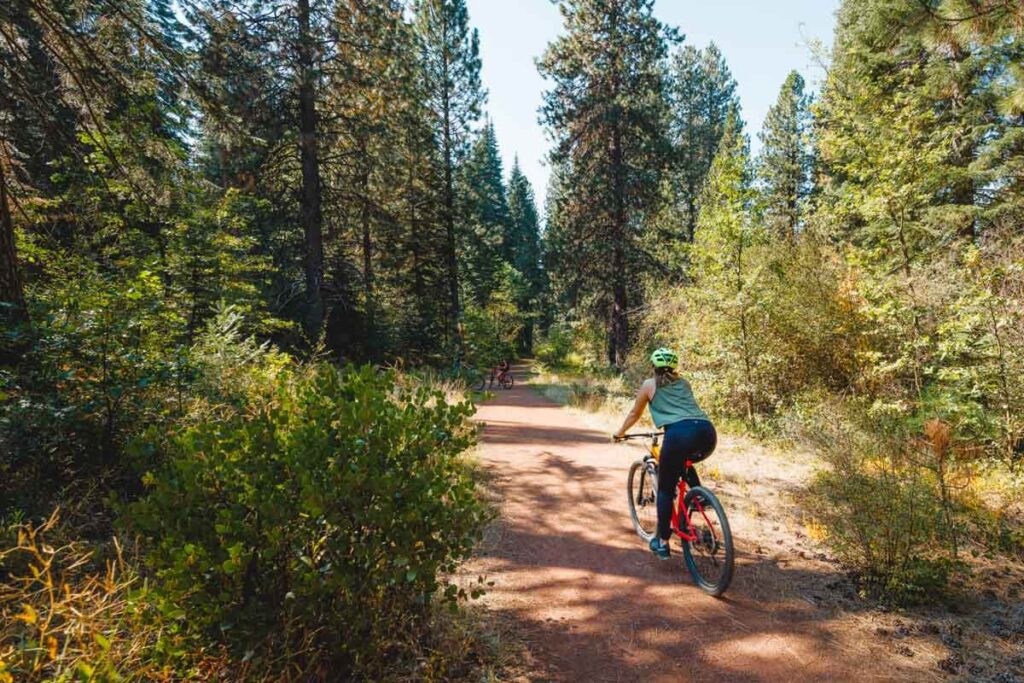 You can take your time strolling around the shore, enjoying the scenery, and making the most of the lake's amenities. An easy trail with easy access from the city is sometimes all you need as an excuse to get out and about.
And after you're done, you can lounge or take a refreshing dip at the lake.
13. McCloud River Waterfall Trail
Distance: 3.9 miles
Type of Trail: Out & Back
Difficulty: Moderate
Elevation Gain: 600 feet
Three waterfalls in one trail greet you on this Mount Shasta hike to McCloud River Waterfall Trail. There are multiple locations along the route to take a dip in the warmer months, and a campsite at the trailhead means you will have a comfortable base to dry off once you are done.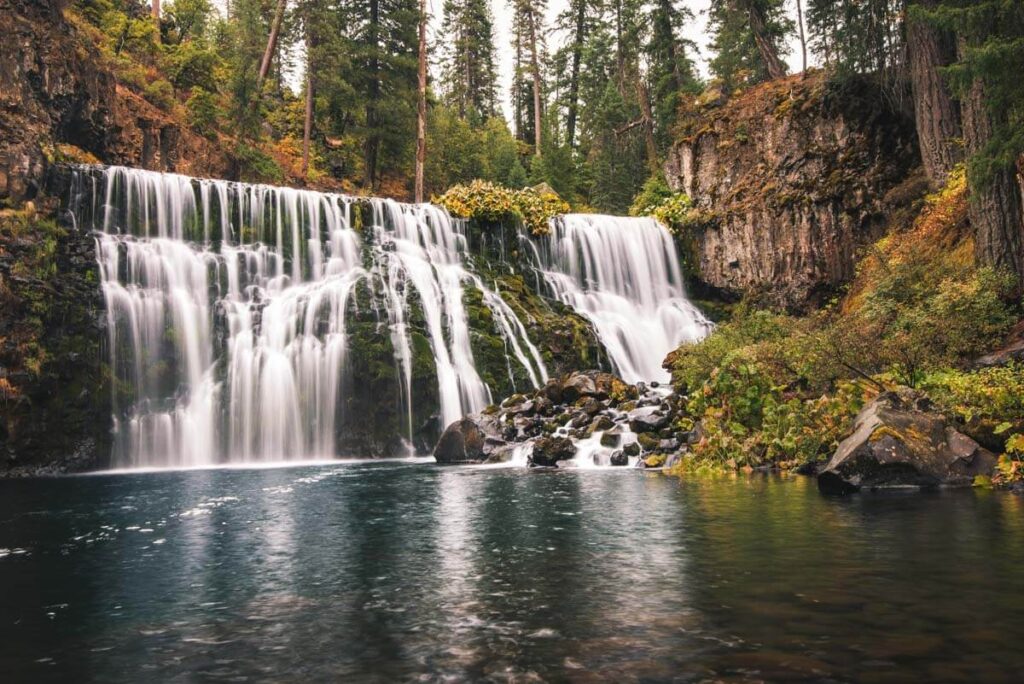 The trail winds its way around a canyon of basalt lava, with a paved section to the lower falls, making it accessible for strollers and wheelchairs. If you don't have time to make the hike, all three waterfalls have their own parking area, so you don't have to miss out on some waterfall action if you have places to be.
With accessible overlooks and picnic areas, you could easily spend the whole day in the McCloud area.
14. Hedge Creek Falls
Distance: 0.6 miles
Type of Trail: Out & Back
Difficulty: Easy
Elevation Gain: 161 feet
Some would say hike, others would say walk. However you classify it, one thing is for sure: Hedge Creek Falls's grand finale is a fantastic ending.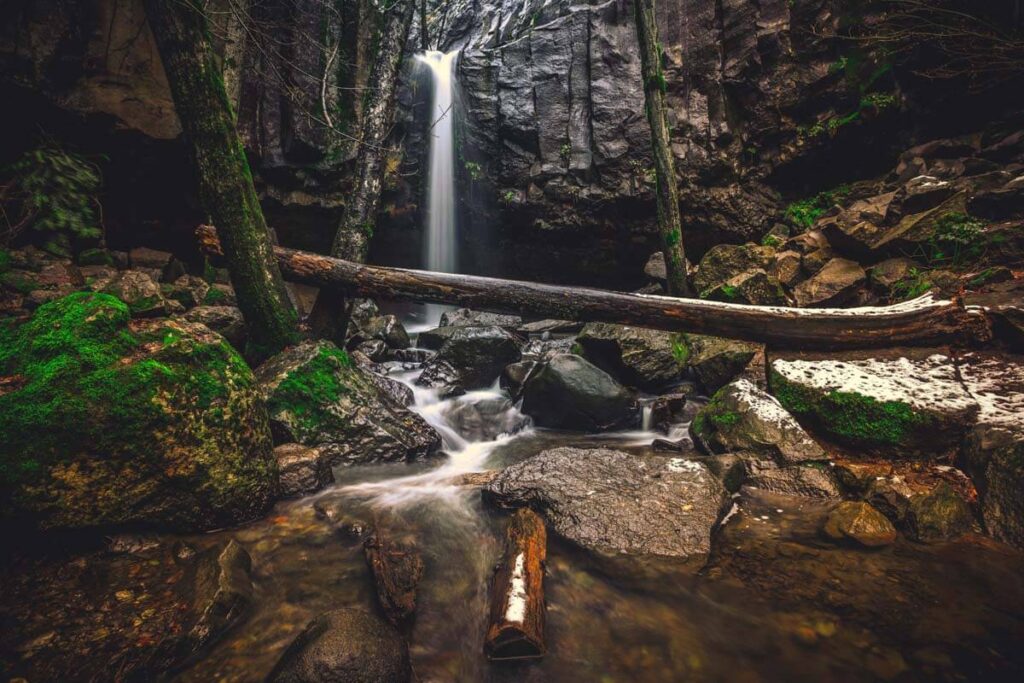 Although not incredibly tall at 30 feet, the fact that the water of Hedge Creek Falls plunges through a hanging wall of columnar basalt makes it a pretty unique waterfall.
You can then follow the trail behind the cascading water, following the river and other smaller waterfalls, before reaching an observation deck overlooking the Sacramento River.
In addition to the river, the view of Mount Shasta from this vantage point is equally as impressive, making it a significant hike in Mount Shasta.
Be warned that if you come in the dry season, you won't see more than a trickle!
15. Ney Springs and Faery Falls
Distance: 1.3 miles
Type of Trail: Out & Back
Difficulty: Moderate
Elevation Gain: 256 feet
Any hike with a waterfall at the end is well worth it, and Faery Falls is no exception. The trail is wide, easy to traverse, and accessible all year round, although a winter hike here is quite different from one in summer. There are plenty of trees the whole way to keep you shaded.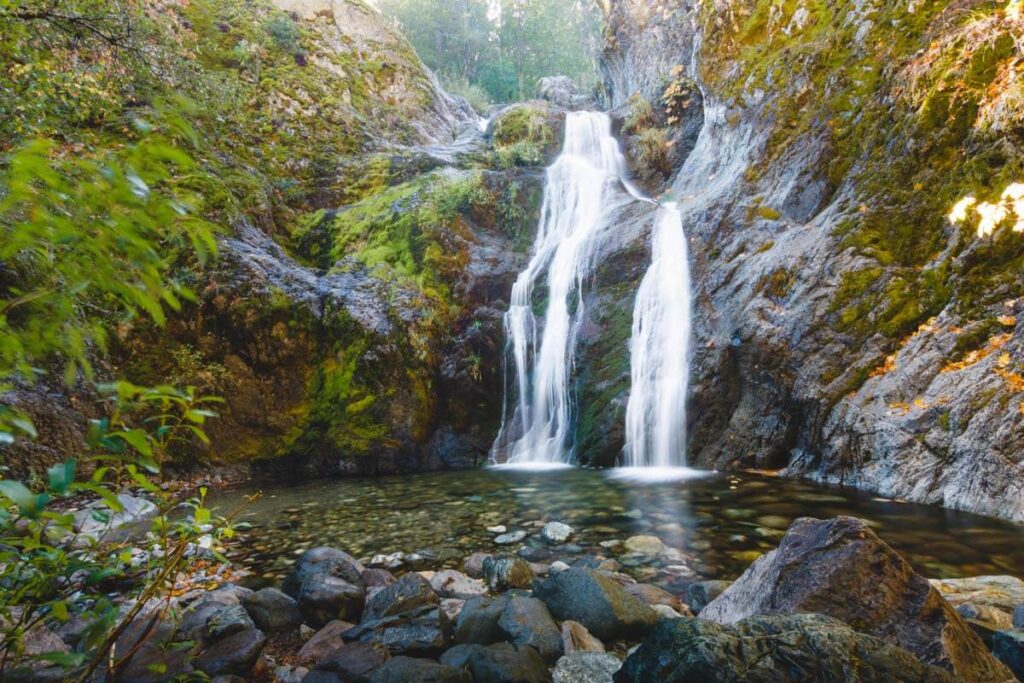 You can even head down to the creek at various points along the trail to dip your toes in and cool off a little. Once you reach it, the waterfall is the epitome of natural serenity.
We hope you found some stellar hikes in Mount Shasta to tackle from our list!
---
RELATED: 15 Top-Rated Things To Do in Redding, California for Adventurers
---
I embark on expeditions around the world but can't get enough of California or the PNW. I'm a VW nerd with a Bug and a Bus. You can probably find me surfing or snowboarding somewhere.