A trip to the Mojave Lava Tube in Mojave National Preserve is an experience not to be missed in California. Yes, the roads may be a little rough, but you will just have to grin and bear the bumps to get there, as once you see it, you will forget all about your sore bum!
The Mojave National Preserve is an incredible destination in itself, a patchwork of sand dunes and Joshua Trees. The lava tube is just the icing on the cake. You may have seen plenty of photos all over the internet of this cave, known for the light beam that cuts its way dramatically through the darkness.
Yet this cave offers so much more than a pretty picture, and it is very cool to say you have walked through a cave formed by the flow of lava! Ready to claim these bragging rights? We got you!
Everything You Need to Know to Explore The Mojave Lava Tube
---
The Mojave Desert Lava Tube was formed when volcanic activity caused lava to flow along this part of the world. The top layer of lava cools and solidifies, leaving a tunnel for the rest of the lava to flow through.
Seeing as this lava is not exposed to the elements, it stays in its liquid form, flowing through the tunnel and leaving it hollow!
Location of The Mojave Lava Tube
For many, the Mojave National Preserve can be a little off the beaten path, but it is well worth a little detour on a California Road Trip.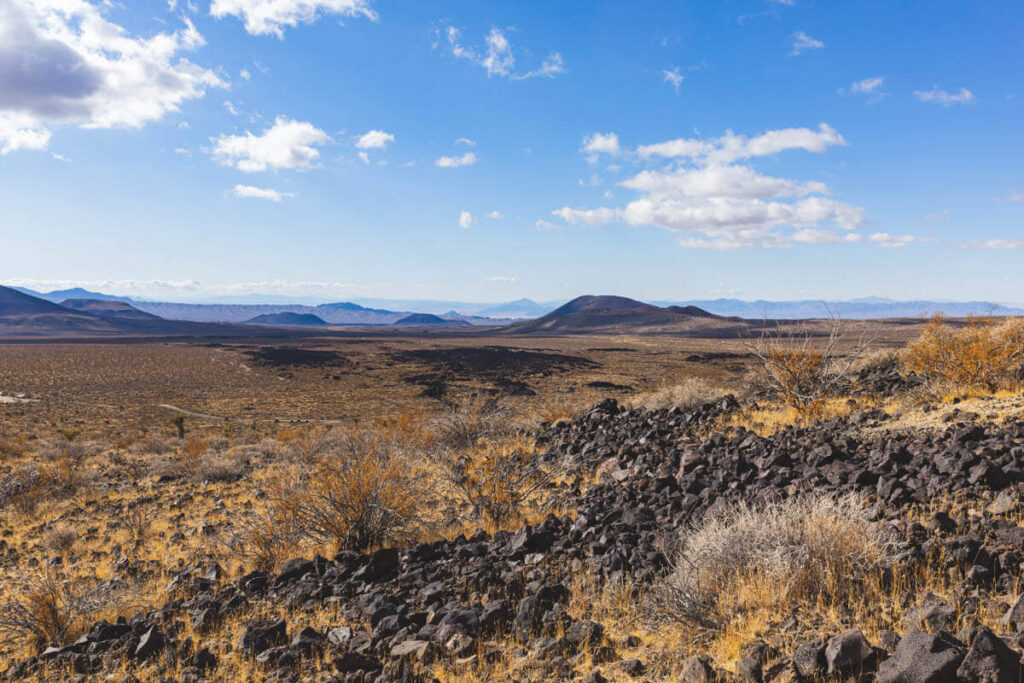 This unique natural landmark can be found in the northwest section of the preserve. The trailhead is located about 5 miles down Aiken Mine Road after turning off Kelbaker Road.
Road Conditions—Important!
To reach the start of the Mojave Lava Tube hike, you will be driving along a dirt road for a good few miles, so you will have to be prepared for a very bumpy ride. Be careful when driving, as lots of loose rocks could severely damage cars, especially smaller vehicles that are in no way built for this kind of road.
The road is narrow and sandy, but you should also keep an eye out for larger rocks that have fallen into your path. Although not vital, a high clearance vehicle is HIGHLY recommended and will make your life much easier.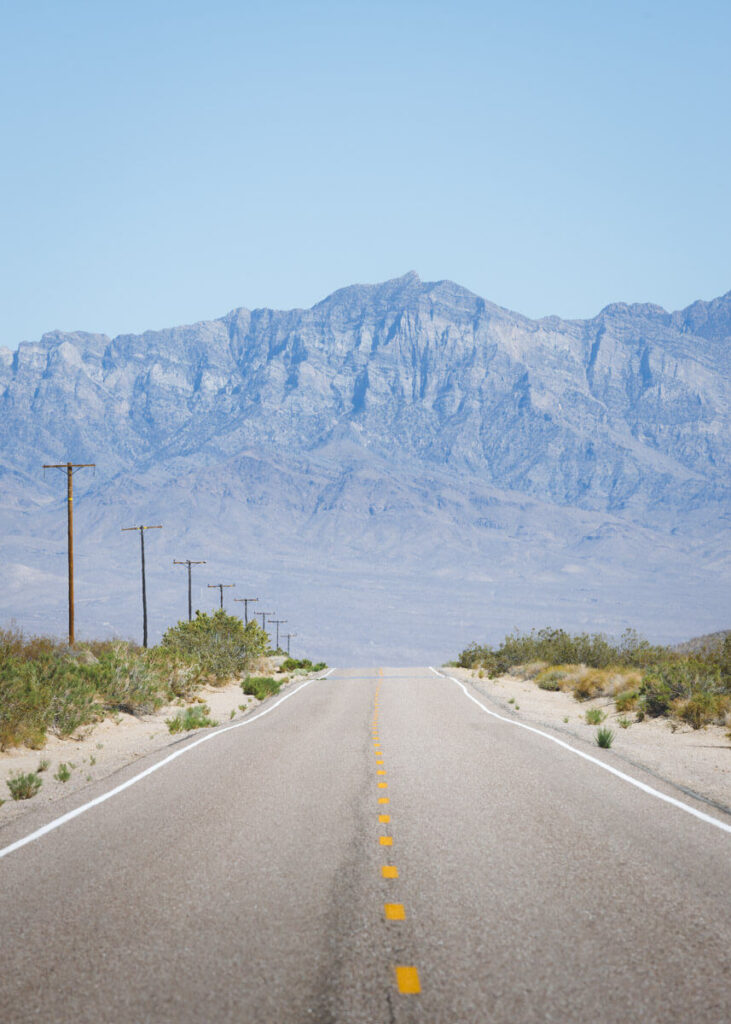 To put it simply, the road is CRAZY, but if you want to reach this incredible natural attraction, you will have to put up with it. It is part of the adventure, after all.
The actual hike is easy; getting there is the challenge for most people.
Once you finally reach the trailhead, there is space for about ten cars to park easily, so you shouldn't have any problems pulling up and setting off. If those ten spaces are full, it won't be challenging to pull up at the side of the road and head off from there.
Check here for current road conditions around the park.
'Hiking' the Mojave Lava Tube Trail
Distance: 0.5 miles
Type of Trail: Out & Back
Difficulty: Easy
Elevation Gain: 62 ft
Once you reach the trailhead, getting to the Mojave Lava Tube is surprisingly easy. The actual hike is short, well under a mile, with no challenging aspects. It takes, on average, 12 minutes to tackle this out-and-back hike.'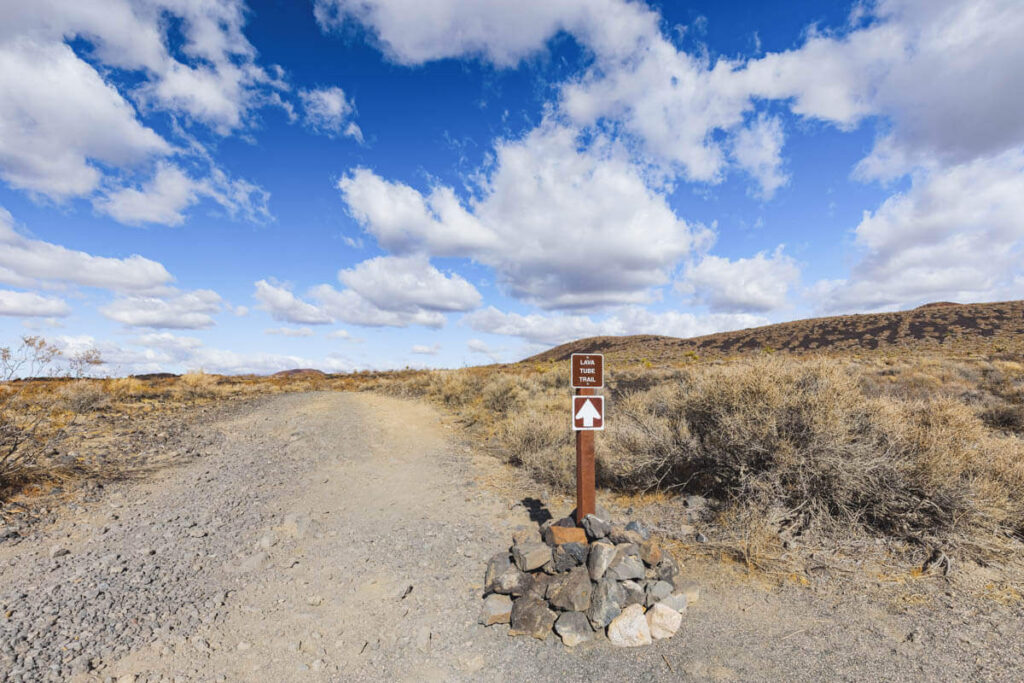 It may be an easy hike, but it gets hot out, so this is something to be aware of. Luckily the cave is cooler! After parking, signs point you in the right direction, and then it is simply the case of making the short walk to the entrance following the signage.
Take in the other-worldly landscape as you hike, but keep an eye out for the entrance to the cave, which will be on your left.
Getting Into Mojave Lava Tube
Once you have made your way across the sand and rock, you will know you have reached your destination when you see the gaping hole in the ground. This is the entrance to the lava cave.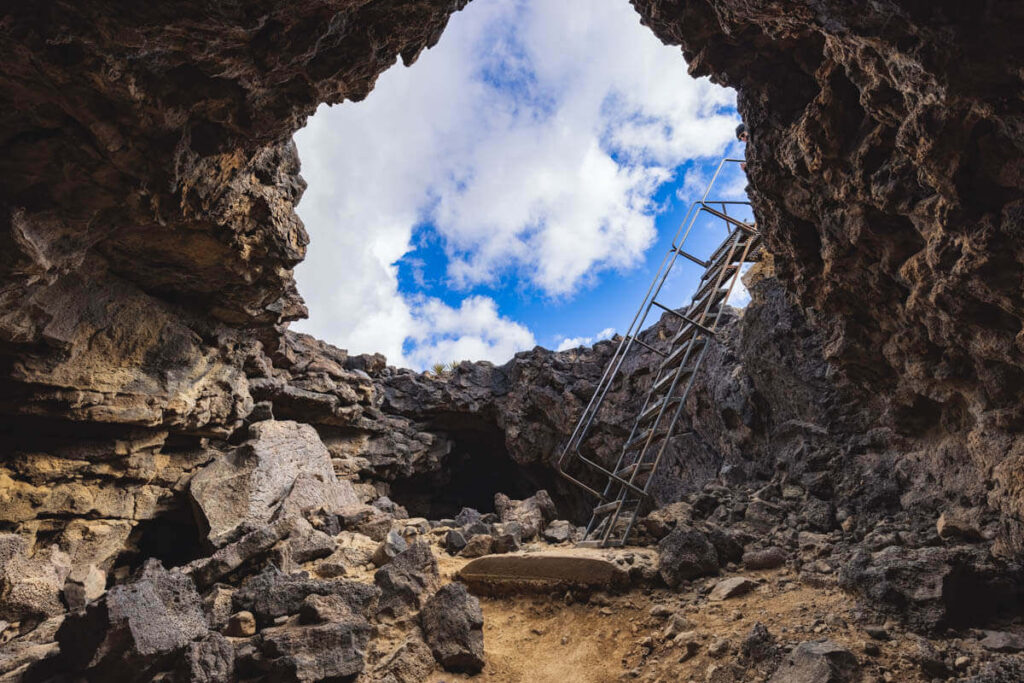 A sturdy metal ladder will help you descend safely into the tunnel. It may look a little intimidating, but it is only around 16 steps until your feet will be on solid ground again.
Here things may look a little sketchy as you have to bend down to get through the small opening to the tubes, but then the cave opens up before you. You are then in the chamber that you have made the bumpy journey for!
If you time it right, you will see the sunbeams through the cave ceiling shining down at full force, creating the photo opportunity of dreams.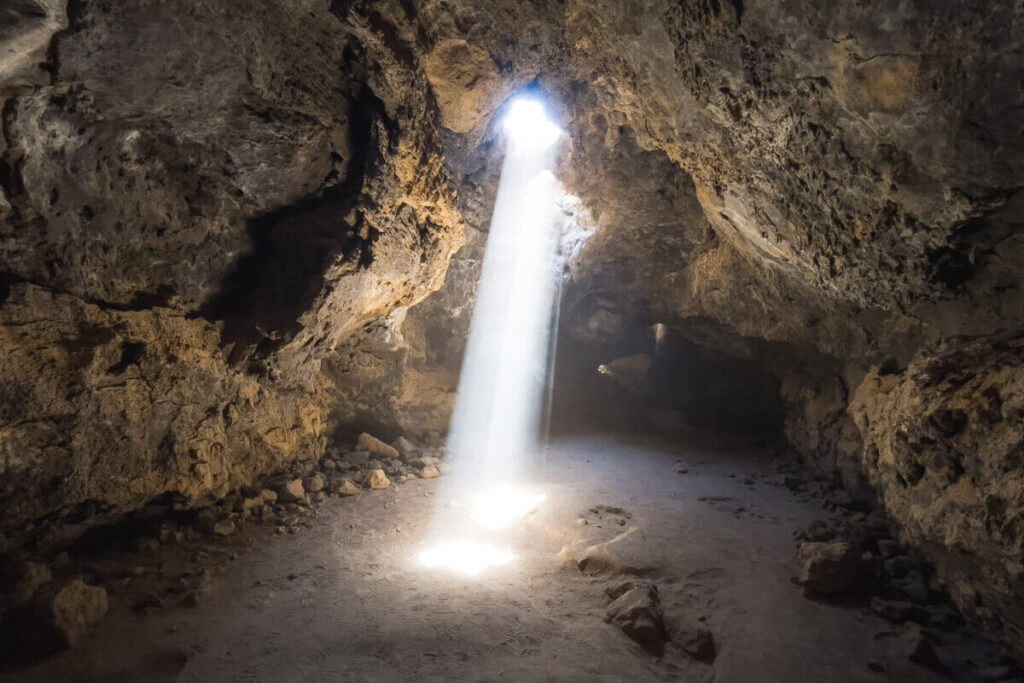 You cannot say you have seen a lava tube from the inside every day! At its smallest, the cave can be a claustrophobic 3 feet but don't worry, the main section of the cave is much more extensive, lit up by the skylights that have made it so famous.
Tips For Visiting: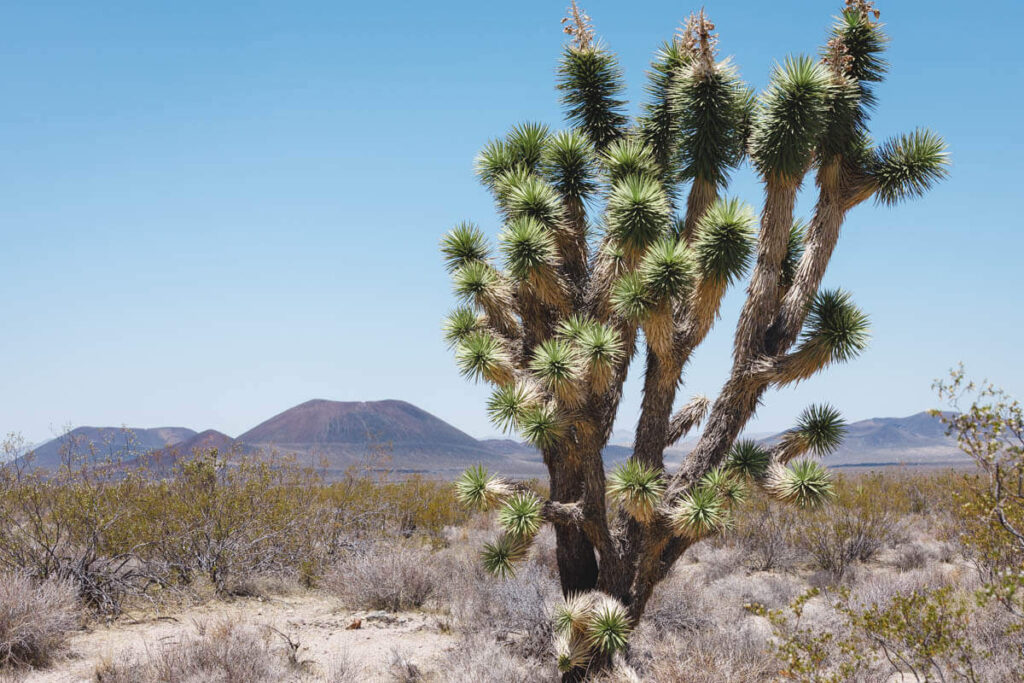 If you want to capture 'that' photo, visit the lava tube around noon. 1-2 hours before or after should be okay as well. This is when the sun pours through a hole in the roof of the Mojave Desert Lava Tube, creating a magical beam of light onto the dusty floor. The pictures you see here were taken around 2 pm in June.
The cave can be very dark, so a headlamp is highly recommended. Torches are great too, but this way, your hands will be free for scrambling and photo-taking.
If you are scared of small flying mammals, this hike may not be for you! You will likely be sharing the cave with any number of bats. Don't worry; you probably will not see any, and if you do, they won't bother you.
If possible, use a high-clearance vehicle to reach the trailhead, as the road is full of bumps and sharp rocks.
Always take your things with you when you leave. There are no trash cans or facilities at the trailhead, so it is up to you to pack up your car and take what you bring. Always leave no trace.
The Mojave Lava Tube is an epic stop in your adventures around the Mojave Desert, don't miss it!
I've been perpetually traveling and living around the world for years but it's hard to beat California and the PNW. After years of road-tripping the area, I guess you can say I know it pretty well! When I'm not writing guides for you, you can catch me somewhere petting a dog, attempting to surf, hiking a volcano, or stuffing my face with bread and cheese.