While most people are preoccupied with what's happening above ground in the Mount Shasta area, very few people think to venture underneath it. With towering mountains, epic hikes, cascading waterfalls, and incredible views, this oversight could be forgiven.
However, if you are looking for a smaller hike that delves into a darker side of the mountain, why not try Pluto's Cave?
Pluto's cave is a stunning collapsed lave tube, with Mount Shasta as a backdrop. After a very short hike through the desert, you can actually venture inside the cave and experience this slice of natural history.
This lesser-known cave lies on the north side of Mount Shasta, and if you are preparing to travel a long way into the cave, it is not a hike for those scared of the dark. There are a few cave-ins along the first stretch of the cave, which lets a little light in, but after that, you can journey for over a mile in the dark, and with no exit, you will have to be prepared to turn around and make your way back.
Exploring Pluto's Cave
---
Pluto's Cave was created due to a collapsed lava tube. It is roughly 190,000 years old—Old, even for a lava tube! One of the reasons for its long existence could be down to its location in a semi-arid environment, which means limited erosion and longer life. It has been named after Pluto, the Greek god of the underworld, which we think is quite fitting.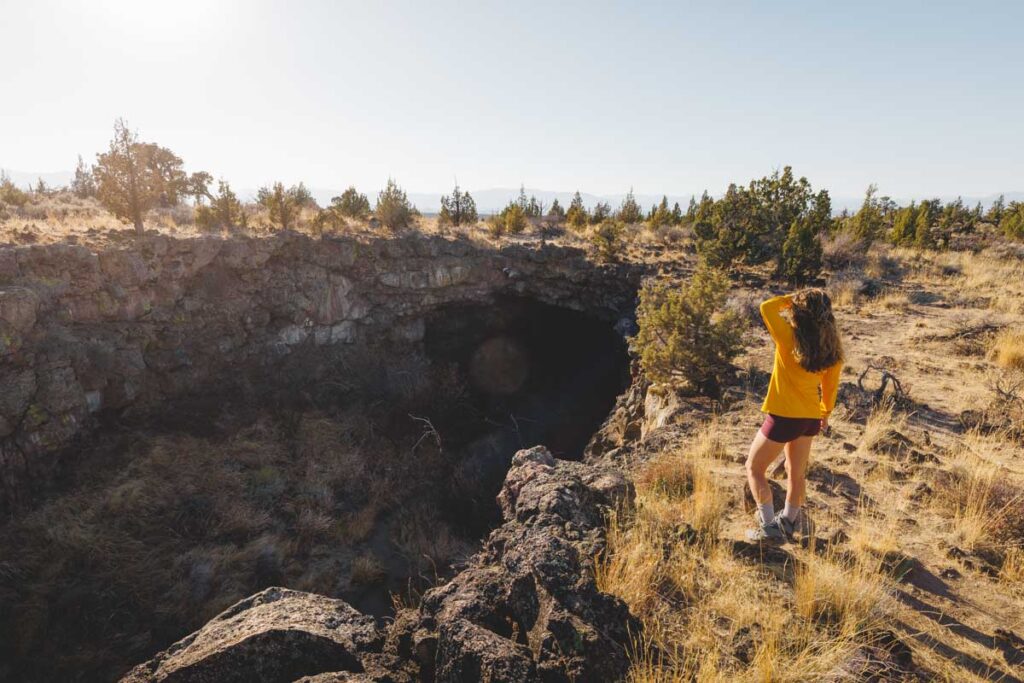 Here's everything you need to know about exploring this magnificent wonder, which is one of our favorite things to do Mount Shasta!
How to Get to Pluto's Cave
Although seemingly in the middle of nowhere, Pluto's Cave is just a 30-minute drive from Mount Shasta Town, making it an easy half-day trip. It's a nice drive, as you will have views of Mount Shasta along the route.
Start your drive from downtown Weed and head north on Highway 97. After 12 miles, turn left to County Road A12 for just over 3 miles. There is a turning left again, although it is hard to spot, and proceed to the trailhead along a dirt road; keep an eye out for the tiny sign for Pluto's Cave. This point will take you there.
Pluto's Cave Trail
The trail isn't really a trail, but it does give you a nice opportunity to venture the 1200 feet into the accessible part of Pluto's Cave. Start heading west from the trailhead, cutting through a high desert environment.
Although there is not much to see in your immediate environment, the Klamath Mountains stand proud in the distance, and towering Mount Shasta sits to the south. At this part of the hike, you will walk along a dusty wide path surrounded by a range of desert shrubs. After about a quarter of a mile, you will hit Pluto's Cave.
You may only notice the cave due to portions collapsing, exposing the open channel and inviting you inside. As soon as you reach the end of the trail above ground, trail markers indicate you are to descend into the rocky mouth. It is now time to delve into the darkness.
The cave, at this point, is only accessible for about 70 to 80 feet, but you are not done yet. Climb back out of the cave, continue following the path north, and pass under a large archway.
Getting Further into the Cave
You will know that you have arrived, as the entrance to the cave is large and very, very dark. This is where your headlamp comes in. Even if the temperature is boiling outside, the temperature inside the cave stays at around the high 40s.
Once inside the cave, it is pitch black. There is a rough trail to follow, but there is nowhere else to go but forward. Follow the rocky ground, and soon you will find yourself on the sandy floor of Pluto's Cave. This is where the most famous section of the trail can be found. A small section of the cave's roof has caved in, allowing a beam of light to puncture the darkness and light up the cave's floor.
You can continue on past this point for a while with another small caved-in section. After this, you can descend into the darkness of Pluto's Cave with no further openings. The cave continues for about another mile, but it will be in pitch blackness, so if you are up for it, expect a very dark and rocky journey.
Once you reach the point where you can't continue anymore, you will have to turn back and make your way back the way you came to get back to the parking lot.
TIP: You might want to use Maps.Me for this trail, this is what I used and it helped us a lot. We found people in the parking lot who got lost and never found the cave! So this spot is not as obvious as you'd think.
Tips For Visiting Pluto's Cave
Make sure you wear proper footwear, not just sandals or flip-flops, as the terrain is rocky and uneven. This can be particularly hazardous in the dark, so you need shoes with a strong grip and ankle support.
Bring layers, such as a jacket or a sweatshirt, even if it is hot outside. Inside the cave, there is a notable temperature drop, and even in the summer, it can be chilly once you are underground.
Bring a headlamp with you. This is a must, as there the no lights within the tunnel, so the trail will only be as light as you make it. You are entirely underground at this point, and the darkness is intense. If you don't have one, you can still wander around the cave openings safely since there's plenty of light there.
As you walk towards the caves, keep an eye out for snakes. You will unlikely see them, but they have been spotted on the trail, so this is something to be aware of.
Leave no trace. Like all trails in the great outdoors, don't leave any sign that you have been there. Unfortunately, some people have taken it upon themselves to graffiti in the cave and use it as a bathroom too, so don't be one of those people.
The caves have susceptible ecosystems, so don't bring any food or drink inside the cave. Smoking, pets, and fires are also not permitted.
Where to Go After
There isn't much around Pluto's Cave! Here are the best places to base or go after you're done exploring here…
Mount Shasta
Mount Shasta, California is a haven for outdoor enthusiasts looking for some thrilling adventures! With plenty of hikes in Mount Shasta to choose from, you'll find something to suit your skill level and interests.
One of the best things to do in Mount Shasta is exploring the McCloud Falls Trail. This scenic hike offers breathtaking views of three stunning waterfalls along the way, making it an ideal trail for nature lovers and photography enthusiasts alike. The trail is well-maintained and relatively easy, making it accessible to hikers of all levels.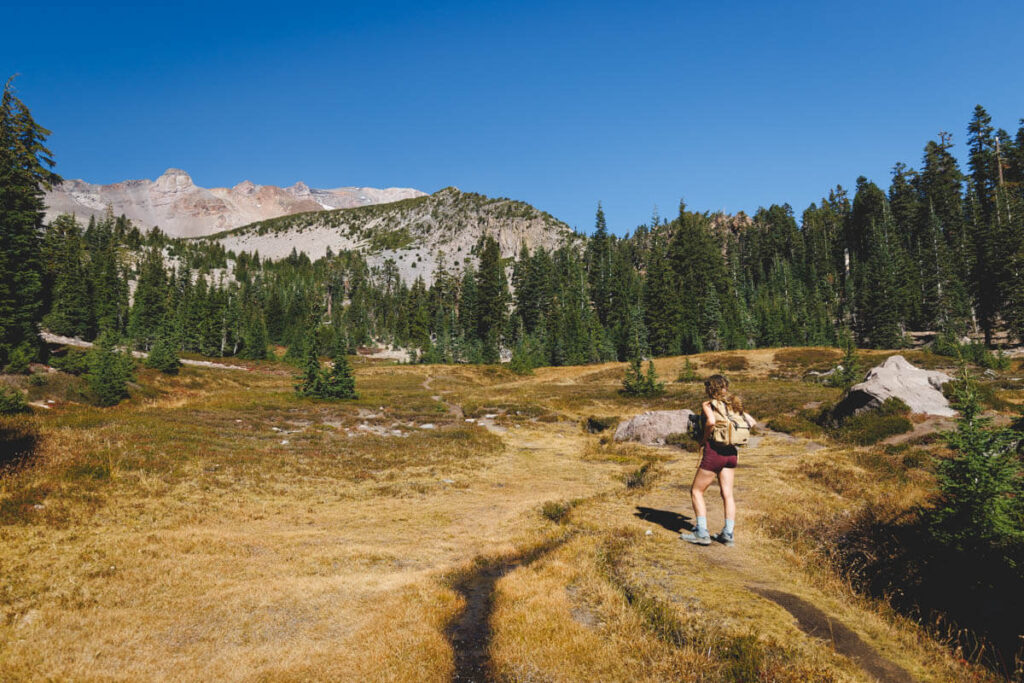 For those seeking more of a challenge, the Black Butte Trail is a great option. This hike offers incredible panoramic views of Mount Shasta and the surrounding landscape, and it's sure to get your heart pumping. The trail is moderately difficult and covers a total of 6.4 miles, making it a great workout for anyone looking to get in some exercise while enjoying the great outdoors.
Aside from hiking, there are plenty of other things to do in Mount Shasta. You can go kayaking or boating on Lake Siskiyou, take a leisurely stroll through the Mount Shasta City Park, or visit one of the area's many museums and art galleries. And don't forget to check out the New Age shops and spiritual centers that make this area famous.
Redding
The city boasts many trails to explore, varying in difficulty, and offering breathtaking vistas of the surrounding landscape.
Bailey Cove hike is a serene and easy hike that covers a distance of 3.3 miles. The trail meanders through the forest and runs parallel to Lake Shasta's shoreline, giving hikers magnificent views of the tranquil lake. The trail is perfect for beginners, nature lovers, and families, and is often less crowded than other hiking spots in the area.
For experienced hikers looking for a challenge, Chamise Peak is an excellent option. The trailhead is located in Whiskeytown National Recreation Area and is a strenuous 9.6-mile round trip. The trail takes hikers through an oak woodland and a chaparral ecosystem before reaching the summit, which offers stunning panoramic views of the surrounding wilderness. This hike is perfect for those seeking a more challenging and rewarding experience.
In addition to hiking, there are plenty of other things to do in Redding like visiting the Lake Shasta Caverns, a subterranean wonderland! Or, you can explore the Sacramento River by renting a kayak or paddleboard.
Klamath Falls, Oregon
Heading north? Then you must be heading to Oregon!
Klamath Falls, Oregon is the perfect destination for those who love to explore the great outdoors. The city and surrounding areas offer a plethora of activities that are sure to get your adrenaline pumping.
One of the top things to do in Klamath Falls is Lake of the Woods, a stunning lake that offers endless opportunities for adventure. You can rent a kayak or a paddleboard and explore the crystal-clear waters, take a swim, or cast your fishing line and try your luck at catching some trout. The lake is surrounded by lush forests and towering mountains, making it the perfect backdrop for a day of outdoor fun.
For those who prefer to stay on land, Klamath Falls has plenty of hiking trails to explore. The Spence Mountain Trail System offers over 20 miles of trails that wind through the forest and provide stunning views of Upper Klamath Lake and the Cascade Mountains. There are trails for all skill levels.
If you're a wildlife enthusiast, grab a kayak and head out on the kayak "trail" out on the lake for views of tons of different birds.
We hope this helps you plan your visit to Pluto's Cave!
I've been perpetually traveling and living around the world for years but it's hard to beat California and the PNW. After years of road-tripping the area, I guess you can say I know it pretty well! When I'm not writing guides for you, you can catch me somewhere petting a dog, attempting to surf, hiking a volcano, or stuffing my face with bread and cheese.