If you're looking for a steamy escape—Wild Willy's Hot Springs is a gem you won't want to miss!
This popular hot spring is near Mammoth and June Lakes in the heart of the Eastern Sierra Nevada Mountains. Wild Willy's has been gifted with wonderful geothermal waters that can be a soothing experience… If you get here at the right time!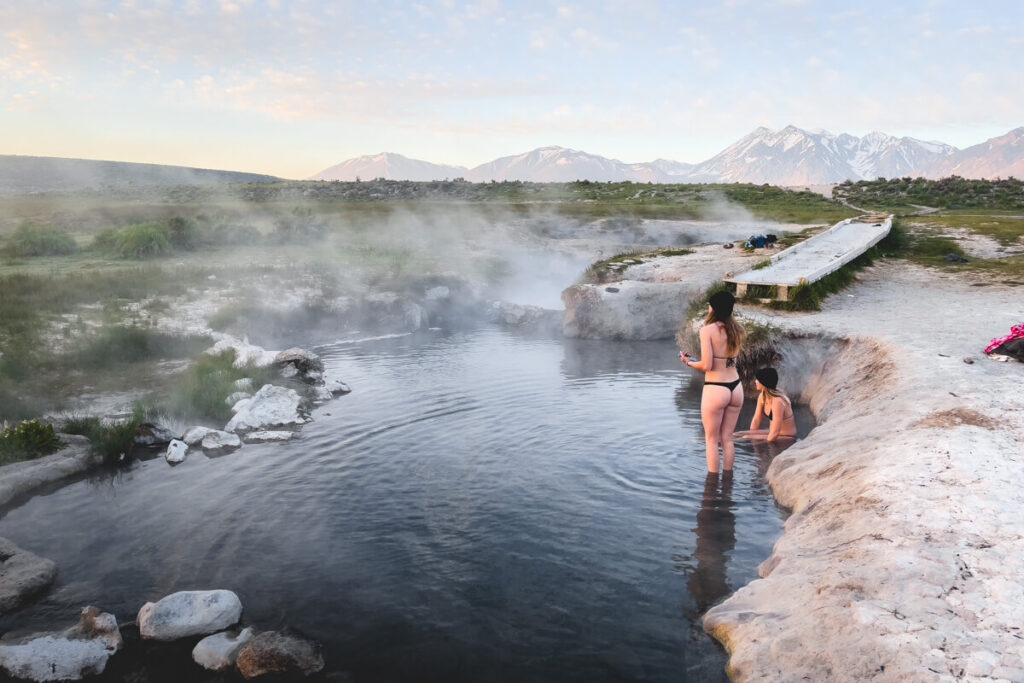 In this guide, we'll take you on a journey of what to expect at Wild Willy's Hot Spring, how to get there, the best time to visit, and all the tips you need to know before you go!
Wild Willy's Hot Springs—What You Need to Know:
---
Wild Willy's stands out among the hot springs in the area due to its unique natural setting. Unlike many other nearby springs, Wild Willy's features natural hot pools formed by geothermal activity. The hot water flows directly from the source into several pools, creating a one-of-a-kind experience.
One remarkable aspect of Wild Willy's is its size. While most hot springs in the region can accommodate only a handful of people in artificial stone tubs, Wild Willy's boasts a tiered hot stream and a relatively large separate pool, providing space for around 30 visitors.
And luckily so, because trust us, this spot gets filled up! It's hard to blame anyone for its busyness, though, it's genuinely stunning out here. It's a pretty hot spring that's easy to get to, surrounded by mountains, and has an opportunity for camping—How can anyone pass this up!?
How to Get to Wild Willy's Hot Springs
Finding your way to Wild Willy's Hot Spring is part of the adventure. You can route yourself here. If you're coming from Bishop and heading north on Highway 395, turn right onto Benton Crossing Road.
Drive approximately 3 miles until you pass the second cow grate. You'll spot a dirt road on the right shortly after the grate. Follow this road for 1.5 miles until you reach a dirt parking lot marked by logs. Note that the parking here gets packed during the day; it's not a big lot for the amount of people that can come through (maybe 20-30 cars).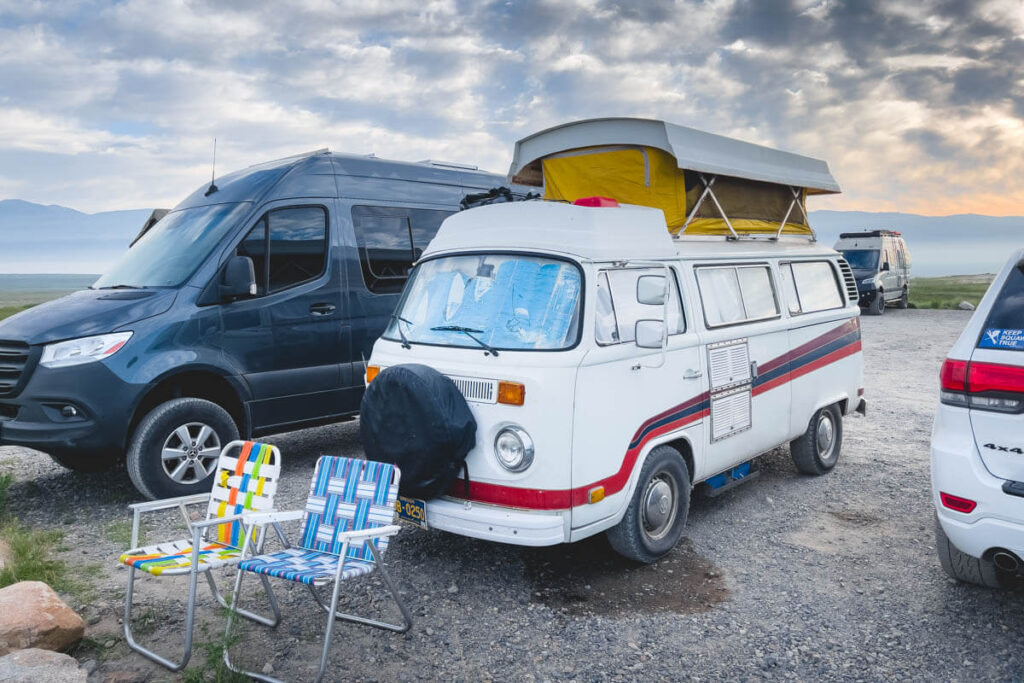 If you have a two-wheel-drive vehicle like we do, take it slow! Mainly depending on the weather and current road conditions. As you can imagine, it's not a great drive after rainfall, so just be careful. If anything, park at the start of the turn-off and walk the rest of the way.
Walking to The Hot Springs
Once you've parked your vehicle, a short hike awaits you before you can take a dip in Wild Willy's Hot Spring. There's an elevated wooden walkway that extends for approximately 0.2 miles.
As you stroll along this path, take a moment to soak in the stunning surroundings—The Sierras surround you! As you continue along the trail, it gently descends, leading you to a small creek that feeds the hot springs.
You'll come across about 4-5 "main pools" first. They are perfect for a soothing shallow soak. Even though it's not deep, the water is pleasantly warm! I was pretty surprised, considering it was chilly out, even when we were here in June!
Just about 50 feet away, near rocks, there's a second pool, which is hotter and deeper but usually is the one that's filled up first. Even at sunrise, when we got here, some early risers were already posted up in this tub.
Best Time to Visit Wild Willy's Hot Spring
To fully savor the experience at Wild Willy's, spring is usually the winner. The pleasant weather, minimal bugs, and snow-capped peaks of the Sierra Nevadas in the background create a magical setting.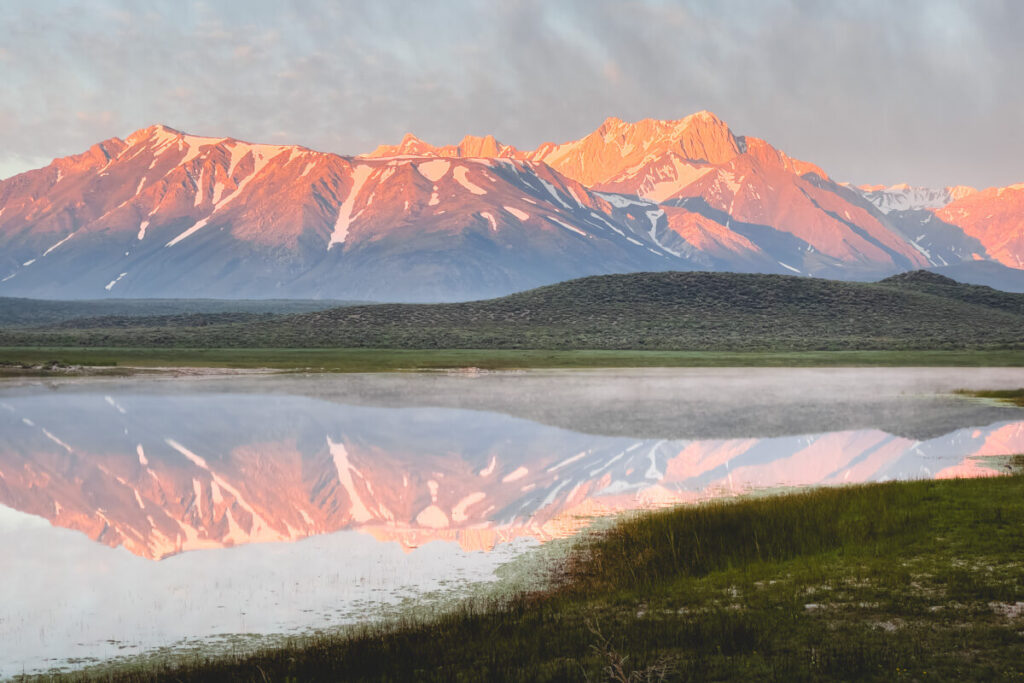 Summer is another popular season in the Eastern Sierra, but it can get too hot to enjoy the springs during the day. However, twilight and evening dips are great, though you'll need to battle the mosquitoes.
With that said, We were here at the end of June and still had a magical time! It was a longer winter, though, which may have helped keep the temps cool enough for us to enjoy the springs.
Autumn offers conditions similar to spring, but wildfire smoke can occasionally affect air quality, so keep that in mind.
If you're keen on visiting during winter, Mammoth's ski resorts provide excellent opportunities for winter sports and a perfect way to cap off a day on the slopes with a soak in the hot springs.
Do note the access road may close after heavy snowfall. However, you can park along Benton Crossing Road and hike or snowshoe to the springs, adding a scenic three-mile round trip to a hot spring visit!
Best Time of Day to Visit
Aside from the best season to visit, let's talk about the best TIME! This place has two different sides.
During the day, this hot spring is a party spot. Lots of people are rolling through, and the spring can get crowded. If you show up during the day, don't be surprised if your time here isn't the most relaxing.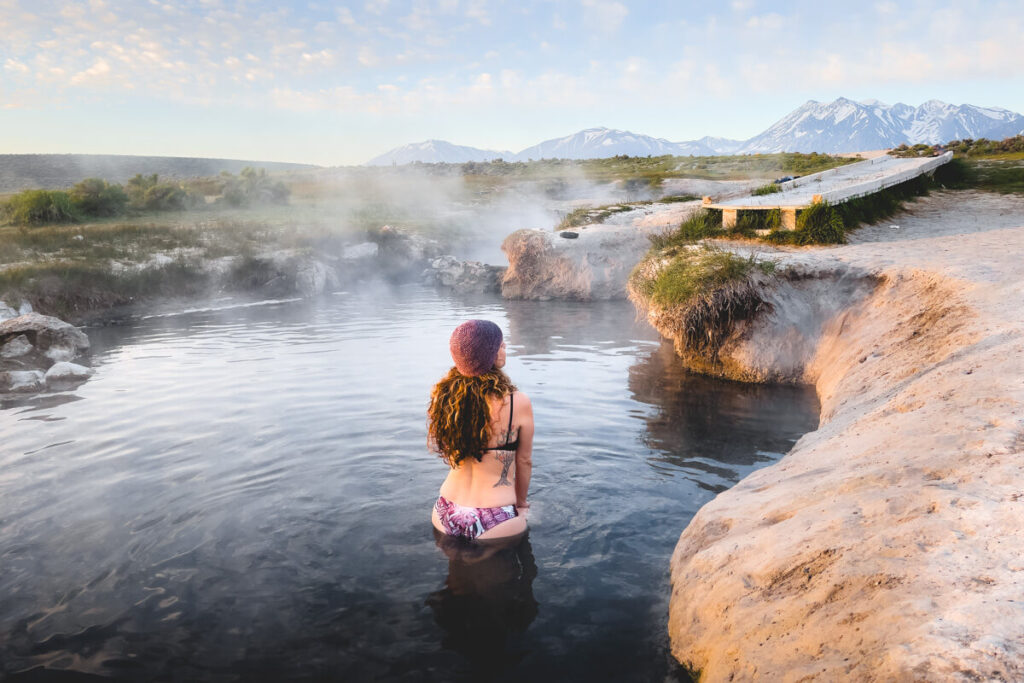 Even at sunset, many people will be out and about at the hot springs, and only after the sun has fully set will it get a bit less crowded and more relaxing.
So when is the best time to visit Wild Willy's? SUNRISE! Sorry if you're not an early riser, but this will be the quietest time to visit and the only chance for a relaxing soak. Even at sunrise, when we went, there were at least eight other people up and soaking here!
Tips for Visiting Wild Willy's
Wild Willy's is a place of natural beauty and serenity (well, sometimes), so treating it with respect is essential. This spot is FREE, so let's keep it that way and take care of it!
Leave No Trace: Dispose of waste properly and pack out all trash, including cans and wrappers. If the parking lot bins are overflowing, please just dump it at your next stop.
Use the Outhouse: The only restroom available is in the parking lot, and it's a singular potapotty; please use it instead of relieving yourself near the springs-ew.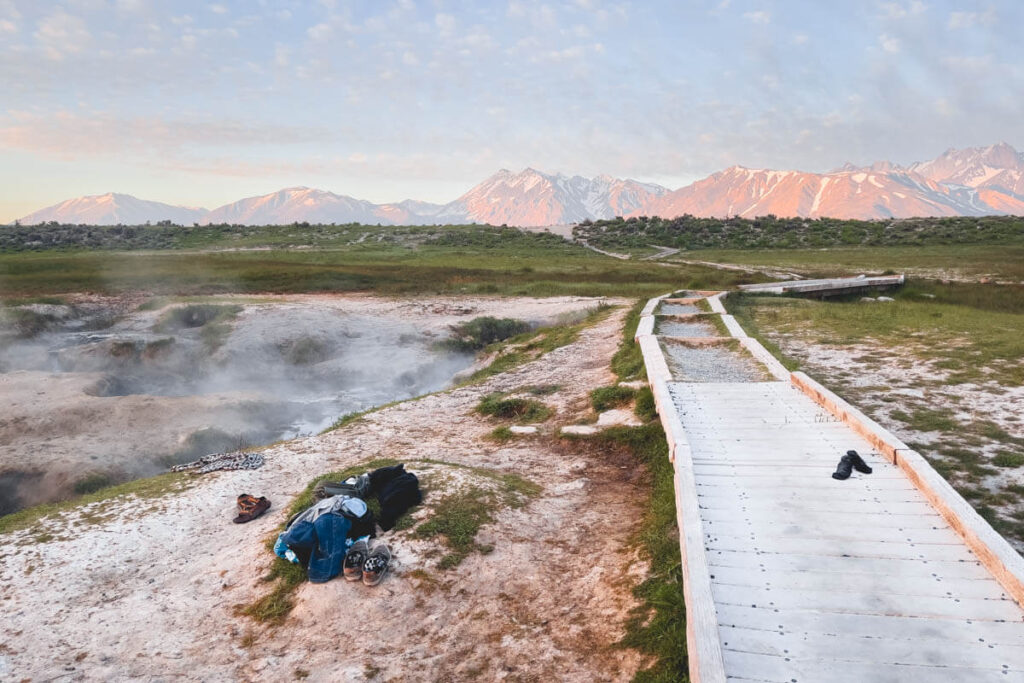 Be Considerate: Share the space with others, keep noise levels down, and follow courteous behavior guidelines.
Plan Ahead: Download offline maps, check the weather (especially in winter), and come prepared with the right gear.
Can You Camp at Wild Willy's?
You sure can! The parking area here allows for free overnight camping—again, please be courteous and use this privilege in a respectful manner.
We got here early to relax and to get a parking spot. We hung out all day, saw the throngs of people coming in and out all day, loud music, drinking, partying…. and we waited until we woke up bright and early the next day to take our dip, and it was perfect!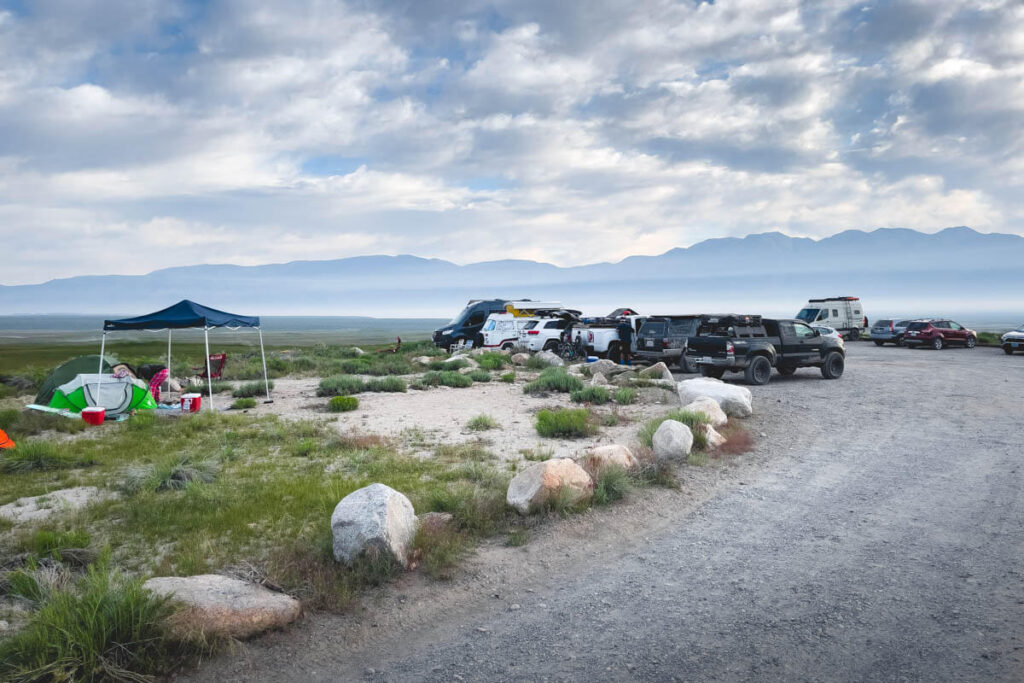 If you camp overnight, you'll get more chances to take your dip at the ideal time. We also saw some people setting up tents along the entrance road, but it didn't look great as they were in some taller grass, and again, it was right off the dirt road to get in, so I can only suggest car/van camping.
Don't expect much space, either. You're literally just camping in the parking lot, and you are right next to your neighbors. It's great for a night, but I wouldn't stay much longer.
What to Pack For Wild Willy's Hot Spring
Swimwear: Duh! But also, you should know nudity is allowed here, so if you forget yours, there's that option!
Change of Clothes: Bring a change of clothes after your soak to stay warm and dry.
Warm Clothing: Even in warmer seasons, temperatures can drop, so pack layers.
Dry Bag: The only bag you should bring so it can keep your stuff dry! We never travel without one.
Towel: Bring a towel for drying off after your soak.
Mosquito Spray: Insect repellent is crucial, especially during the evening hours. They get brutal here.
Sunscreen: If you plan to soak during the day, you'll want some.
Water and Snacks: There's nothing around for miles, bring some stuff!
Footwear: Comfortable walking sandals for the trail to the springs.
Trash Bags: Carry trash bags to pack out any waste, following Leave No Trace principles.
Camera: You'll want to capture shots here!
We hope this helped you plan your visit to Wild Willy's Hot Springs!
I've been perpetually traveling and living around the world for years but it's hard to beat California and the PNW. After years of road-tripping the area, I guess you can say I know it pretty well! When I'm not writing guides for you, you can catch me somewhere petting a dog, attempting to surf, hiking a volcano, or stuffing my face with bread and cheese.